In Peter Greenaway's recent movie "Eisenstein in Guanajuato", the famous Soviet film director arrives to Guanajuato to shoot a movie. After spending a few days in the city, he has a severe diarrhea, on which he comments: "In Russia you are always constipated, but here it's the opposite…".
Having spent my childhood in Russia, and having traveled enough time in Mexico, I can attest to some truth in Eisenstein's character's words.
Mexico is a land of abundance. Abundance of food, of colour, of smell, of music. One that fills you to the brim and spills over. And if there is one city that embodies that abundance, it's Guanajuato.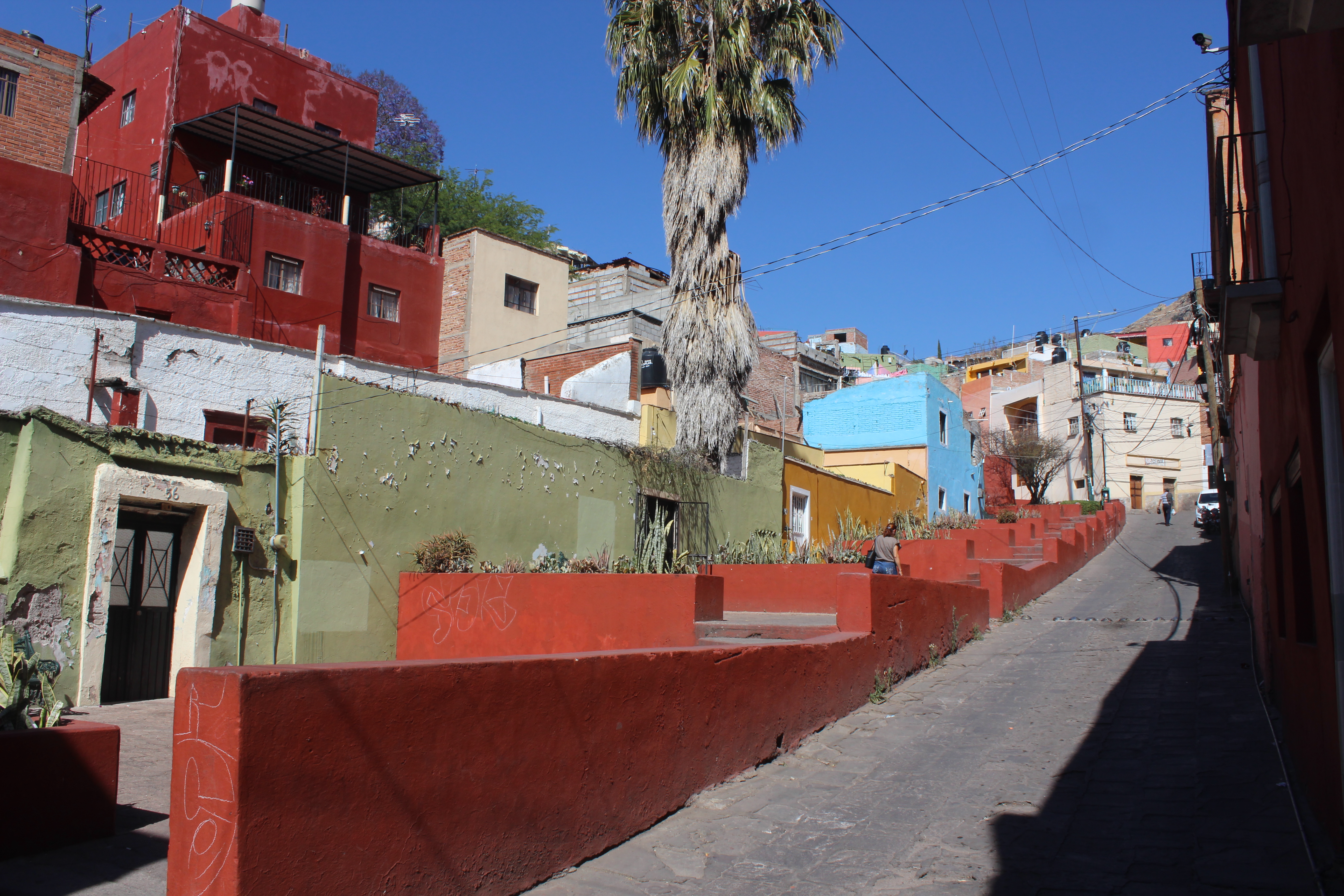 Guanajuato is situated in a narrow valley, which makes its streets narrow and winding. The city was founded in the 16th century on lands rich in silver and gold. The discovery of deposits and construction of mines brought thousands migrants to the area. In the 18th century, it was the world's leading silver extraction center, making it the richest city in Mexico for much of the early colonial period.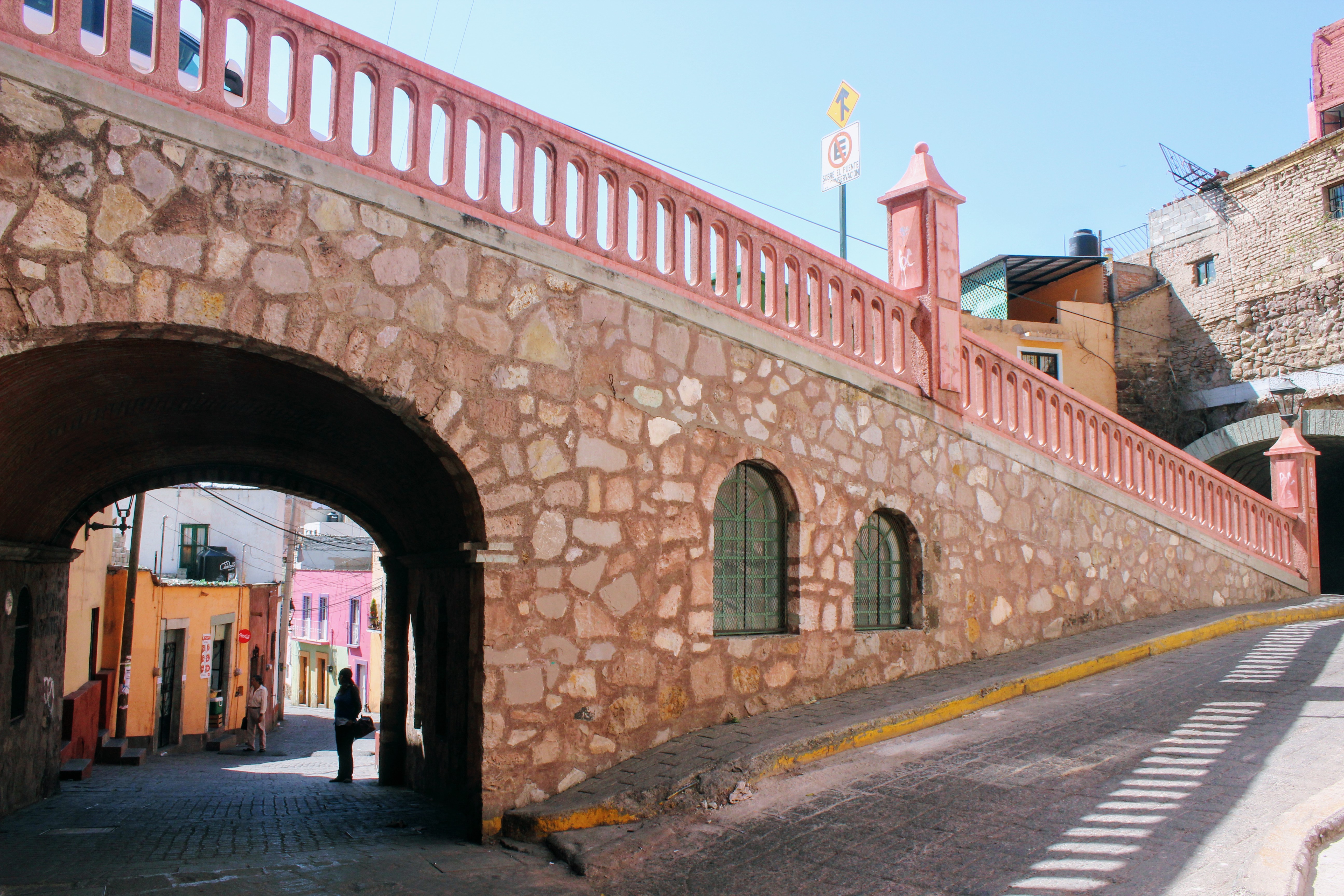 Many of the city's thoroughfares are partially or fully underground, following the old drainage ditches and tunnels dug during colonial times.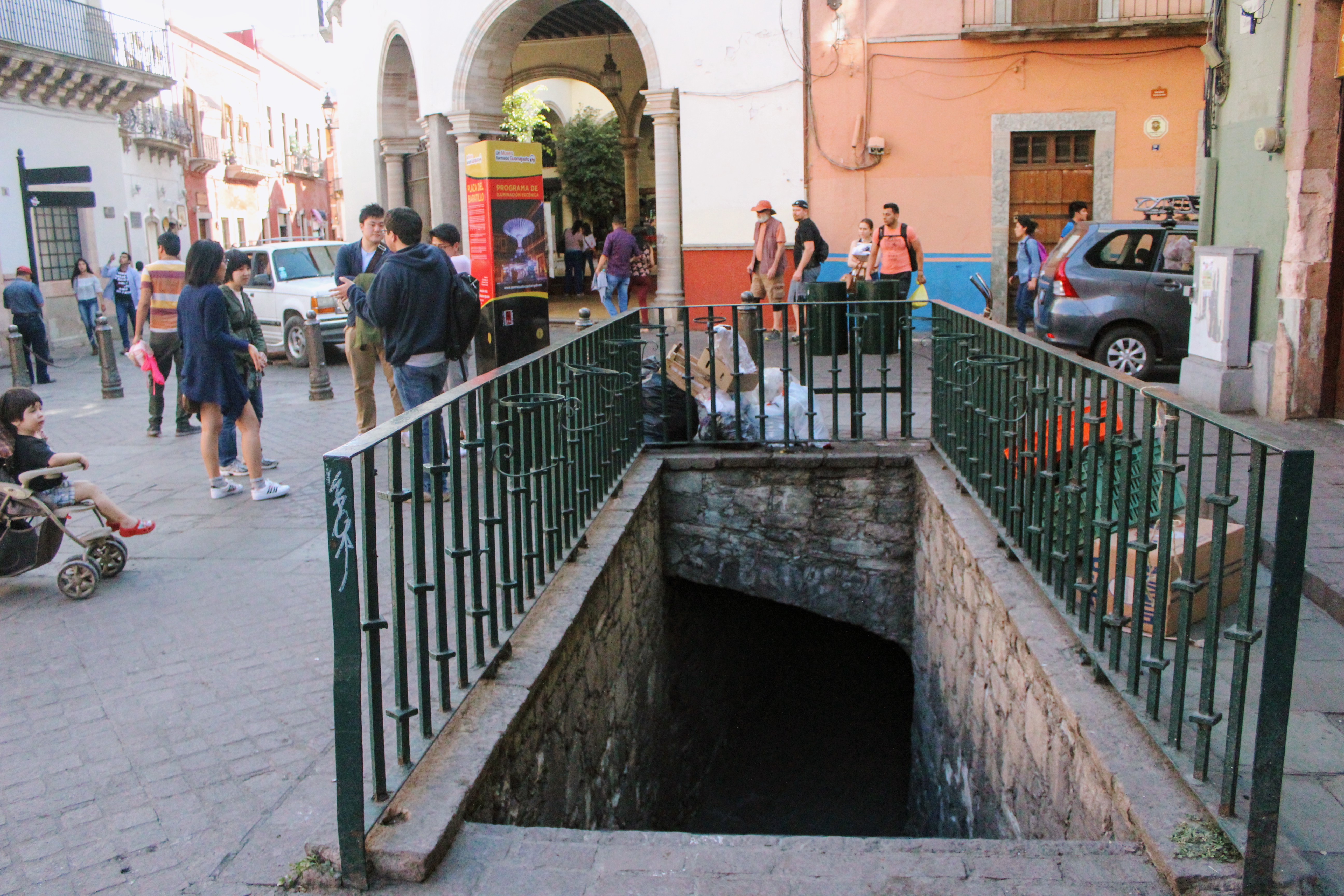 Patches of colour, vistas of houses sitting on top of each other, virgins with flowers. Wherever you look, your eye lands on a frame worth recording.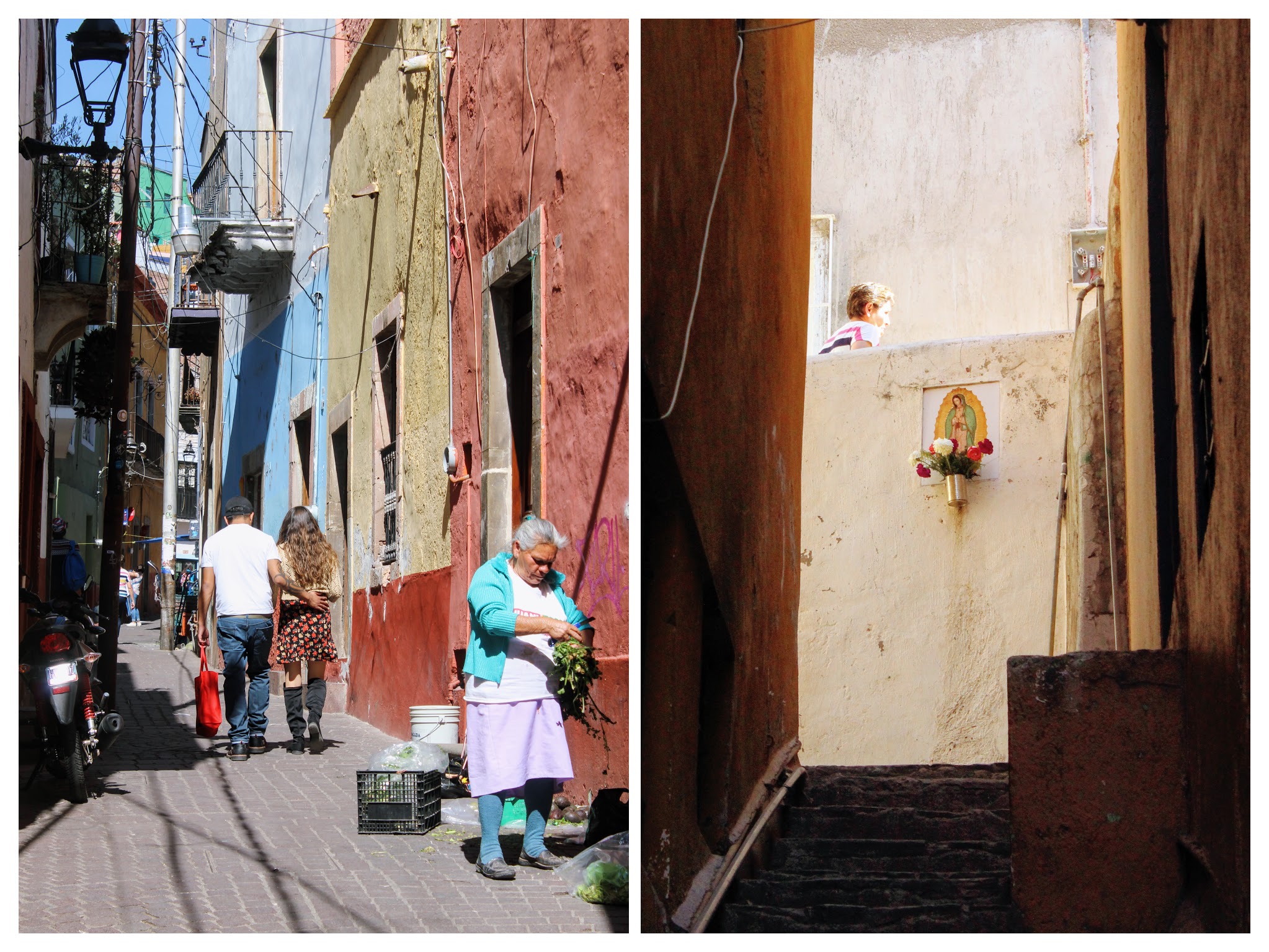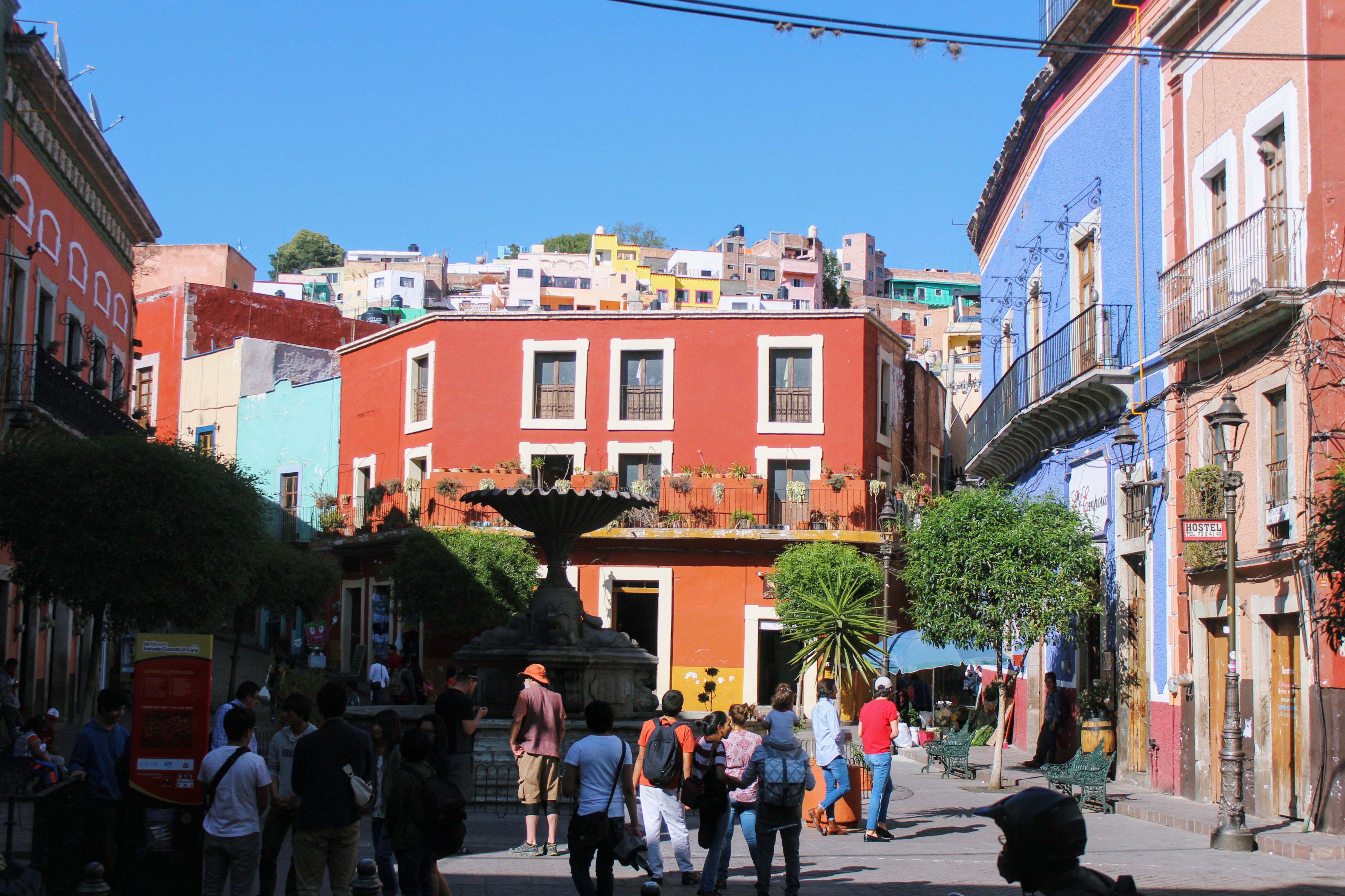 The limited amount of open space created by narrow alleys is used up by vendors preparing tortillas and selling snacks.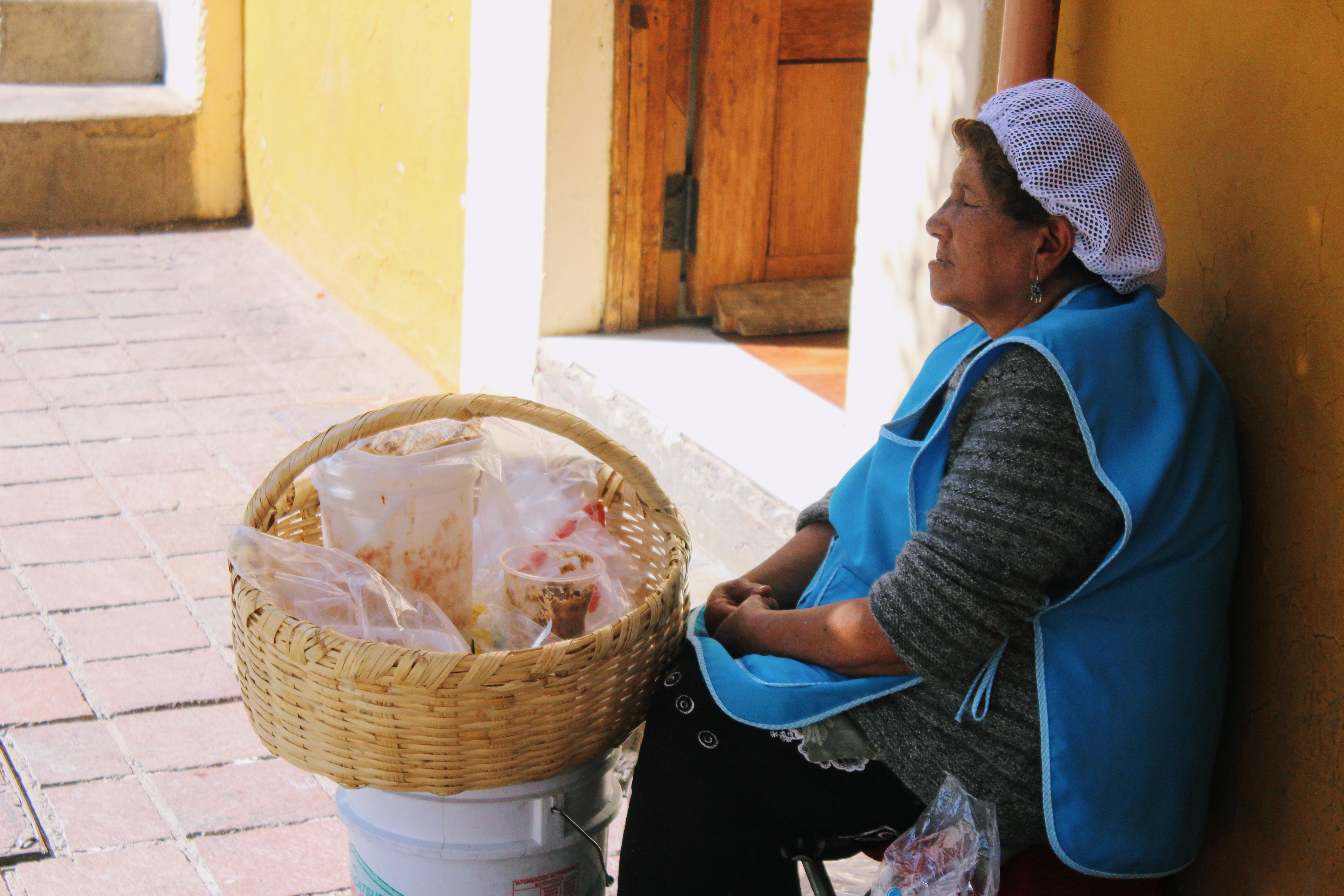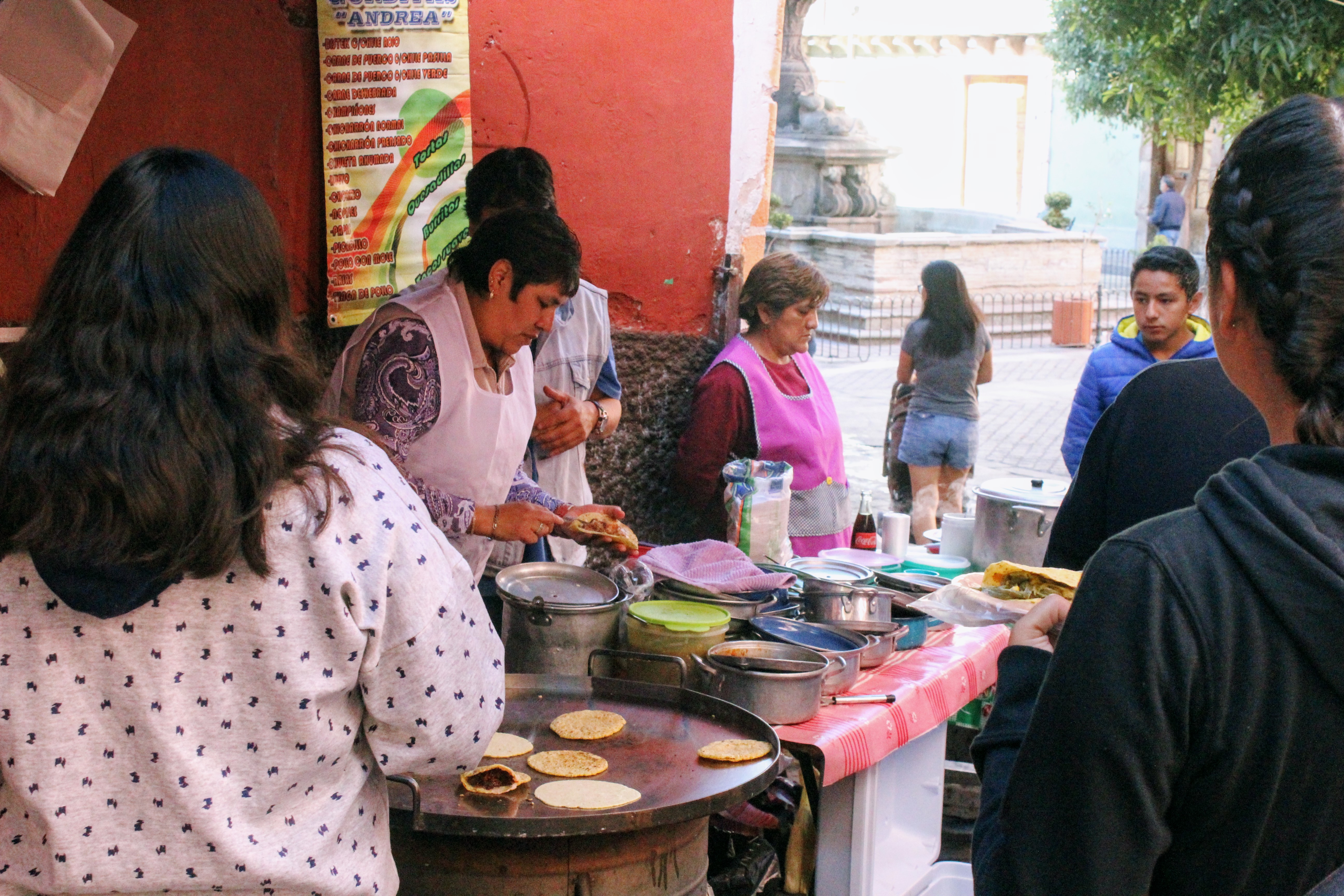 Look up – house rooftops and cornices are as interesting as walls.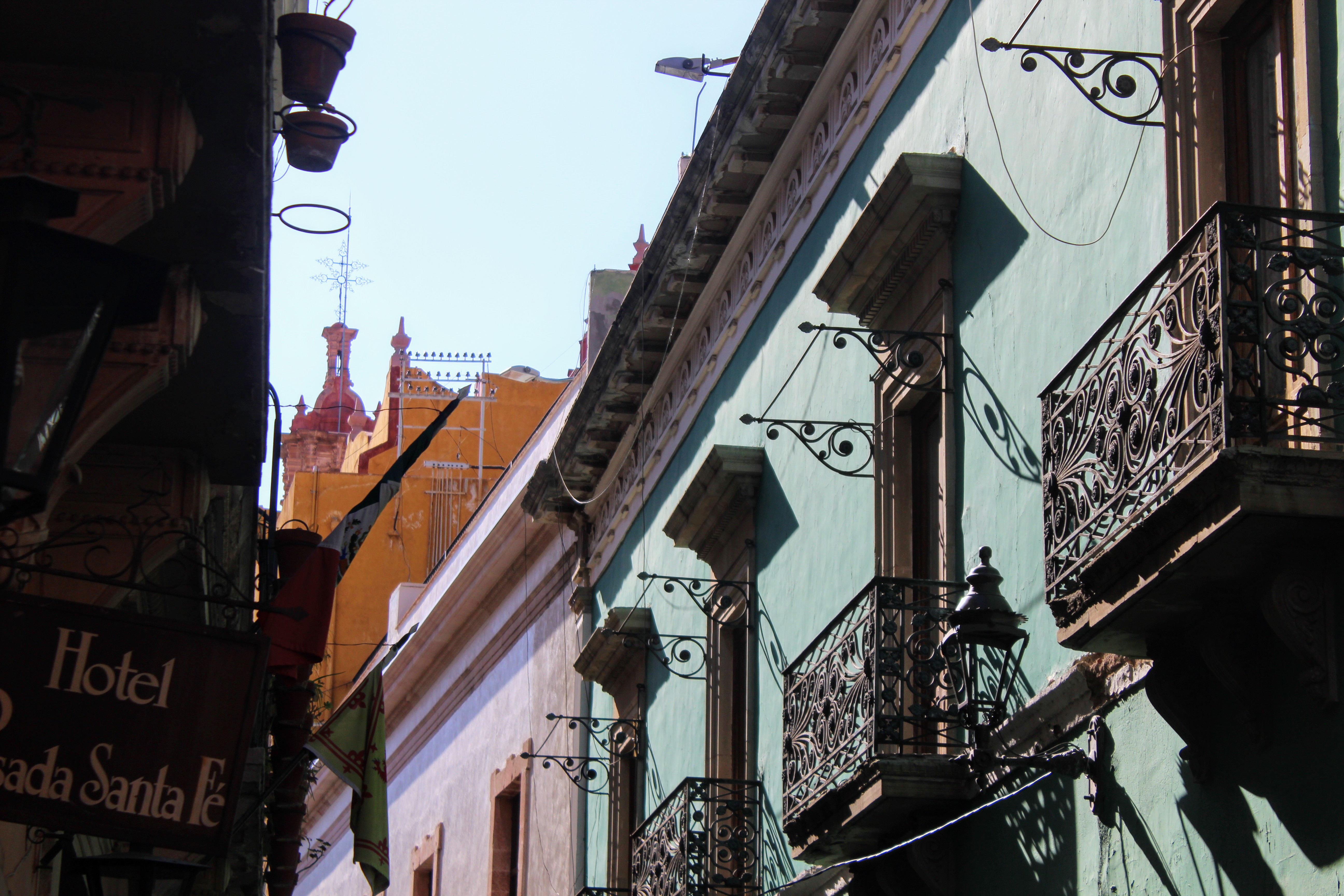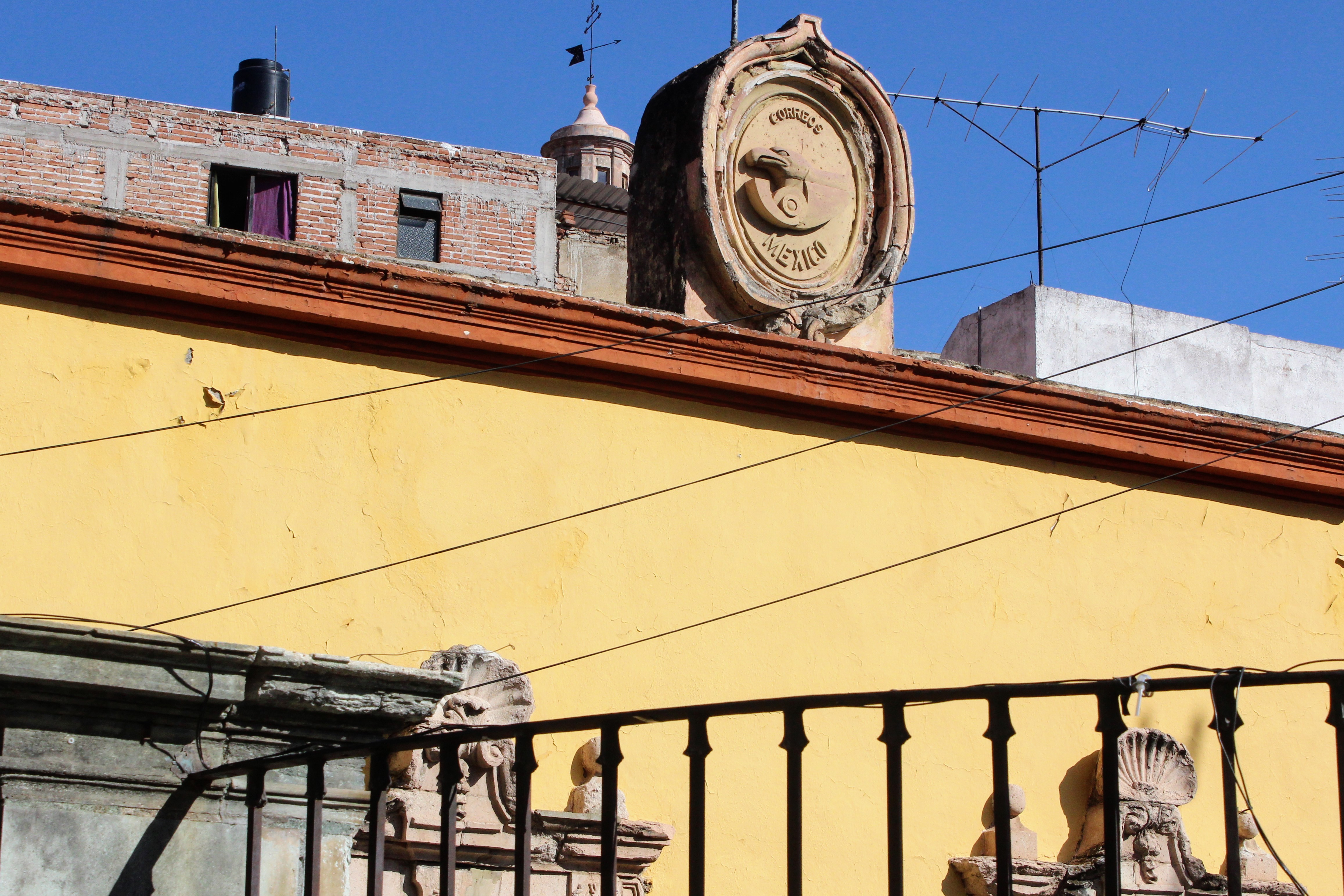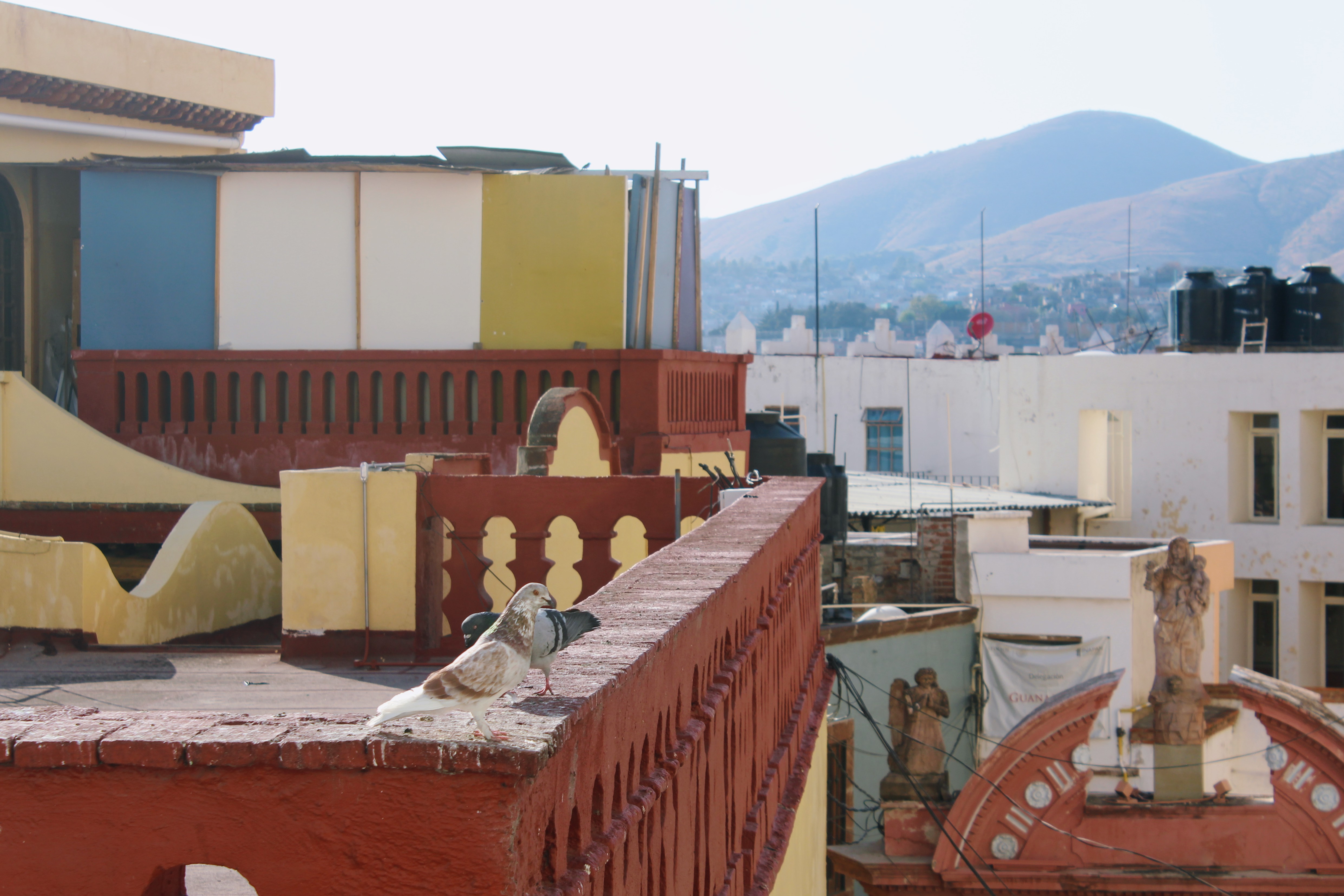 La Compañia Jesuit Church is a beautiful example of Baroque architecture in the New World.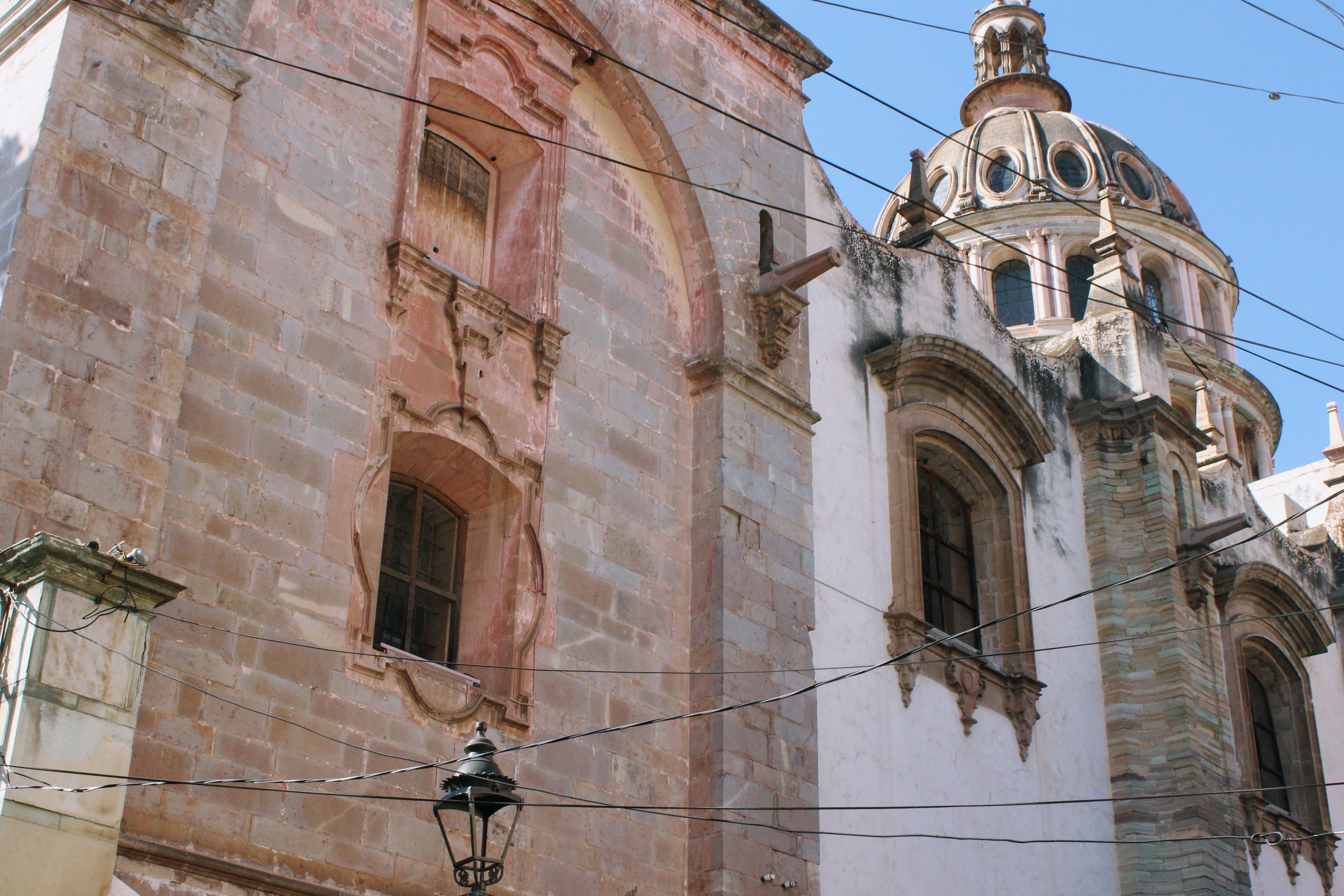 Inside young children were playing hide and seek.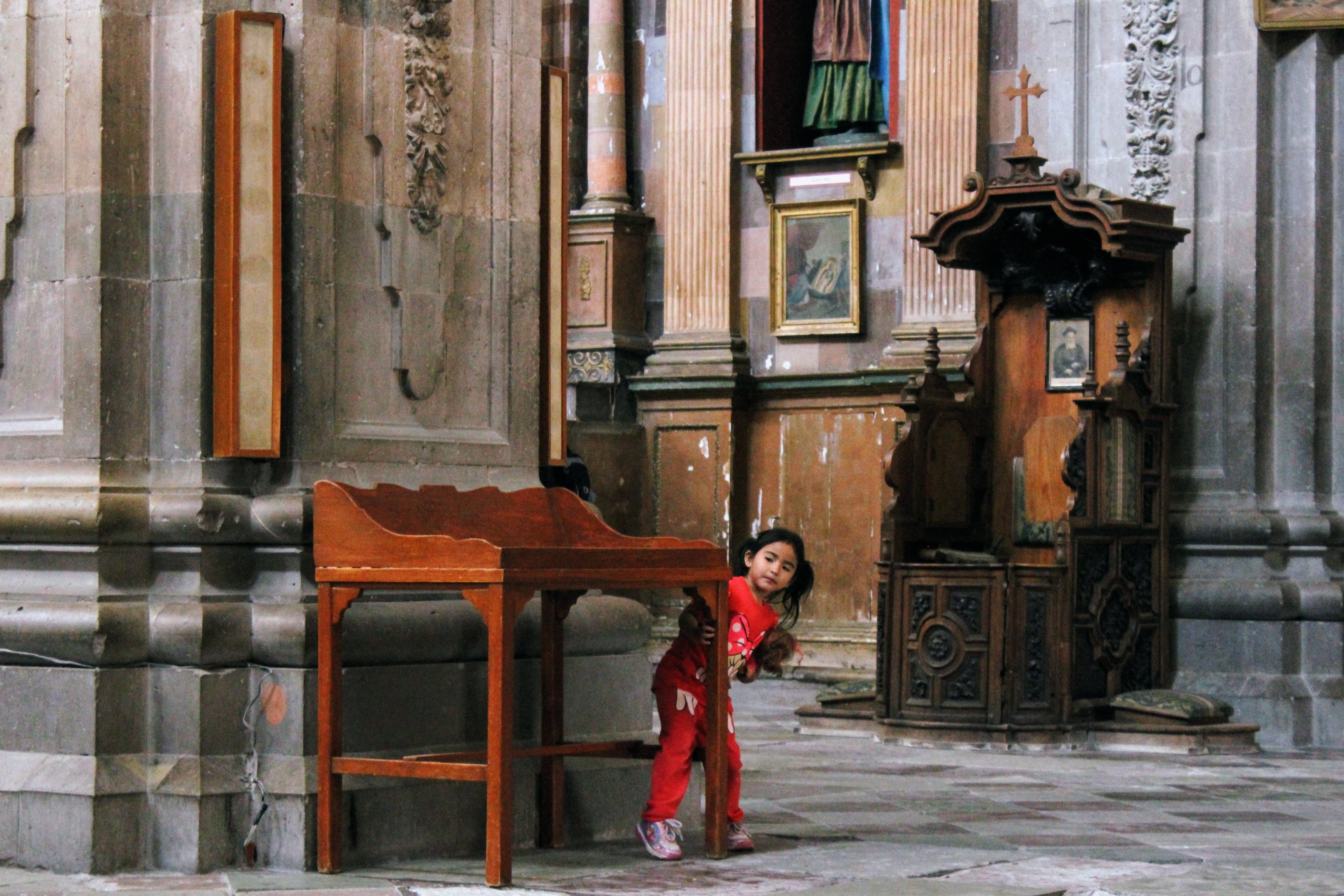 Older ones were having a sunday school.
Materials at the entrance teach "natural methods of family planning".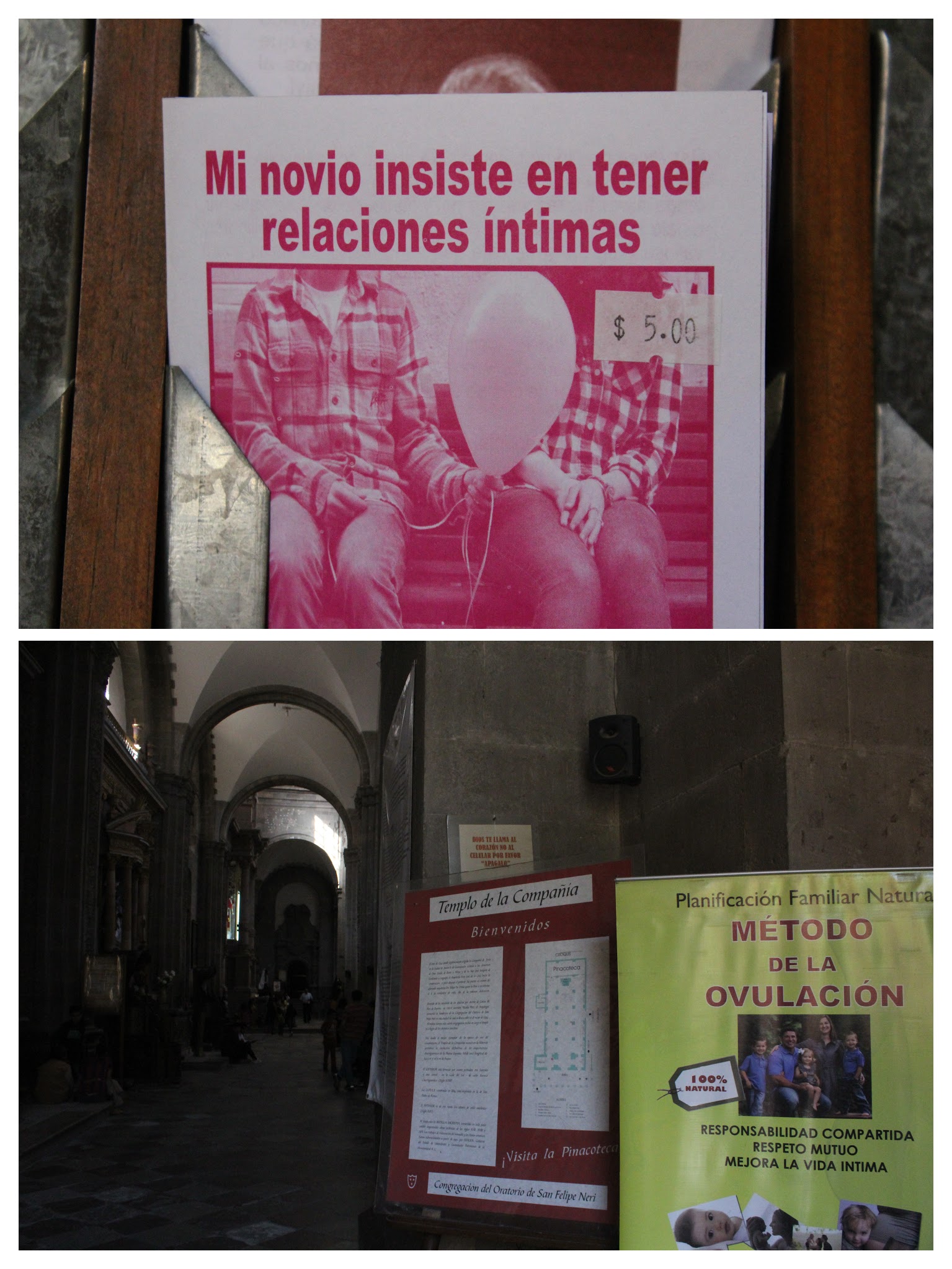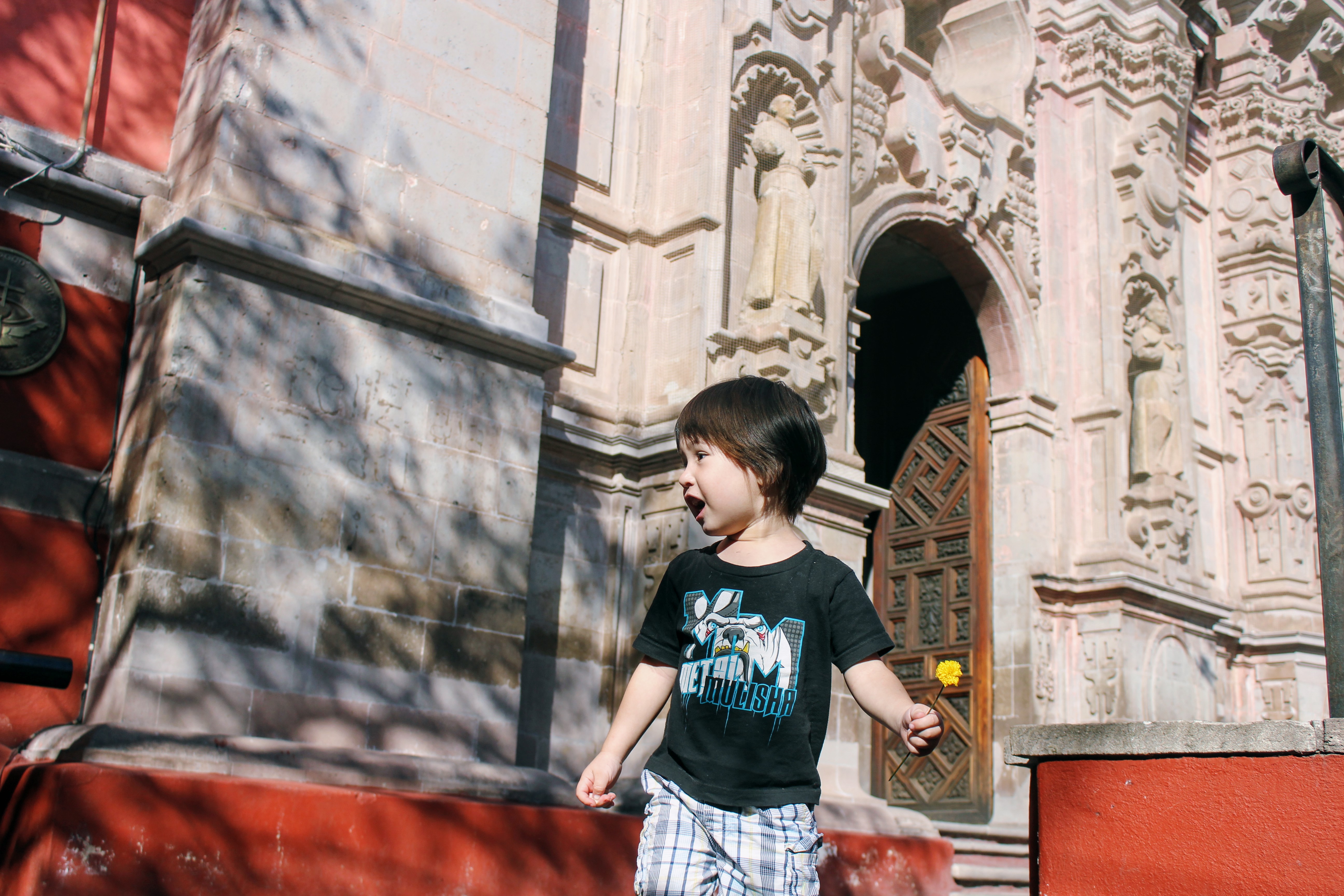 The nearby University of Guanajuato began as a Jesuit school for children in the first half of the 18th century.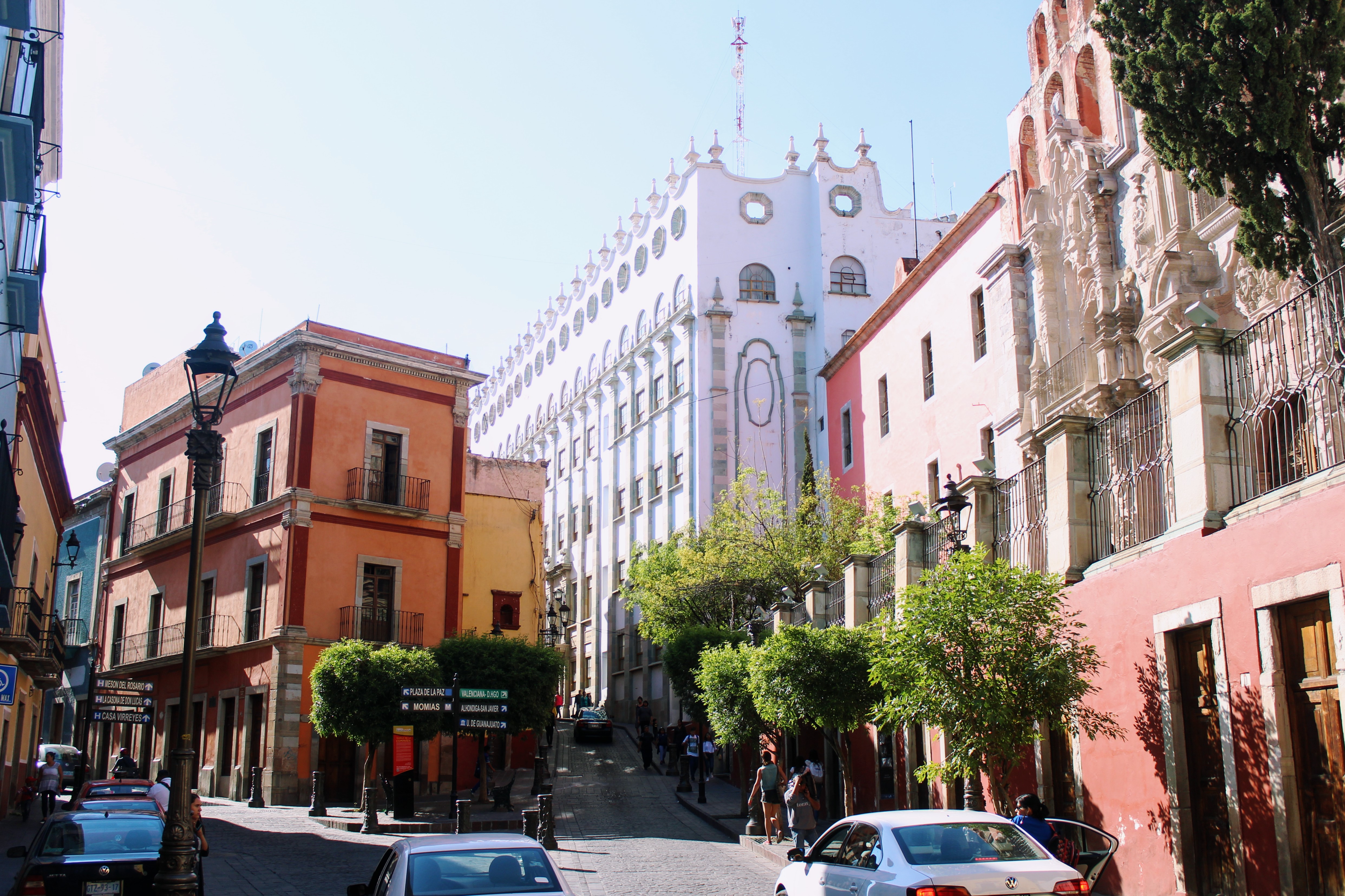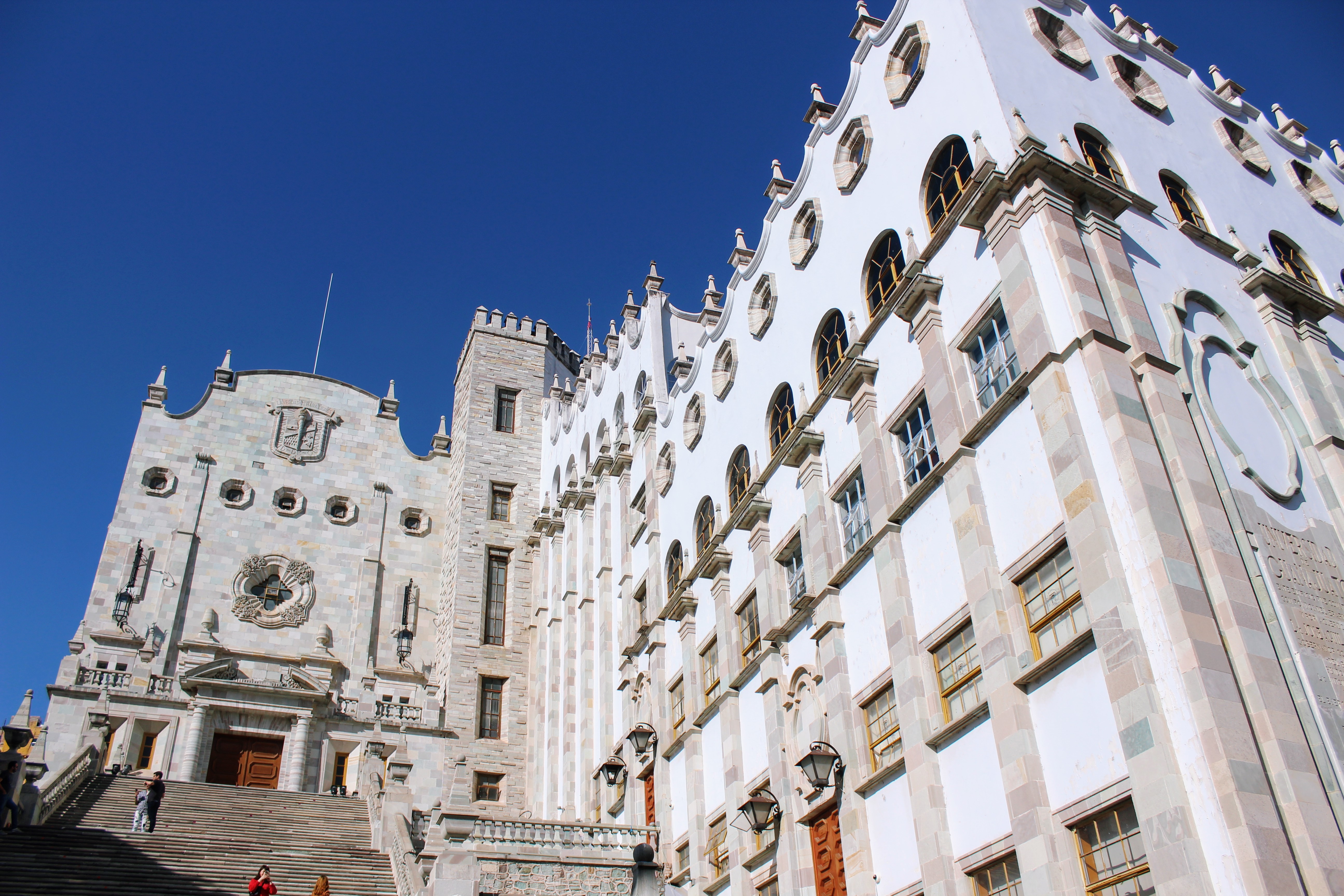 It's unmistakable facade was built in the 50's, when it was turned into a state university. Since then it has become one of the most recognizable buildings in Mexico.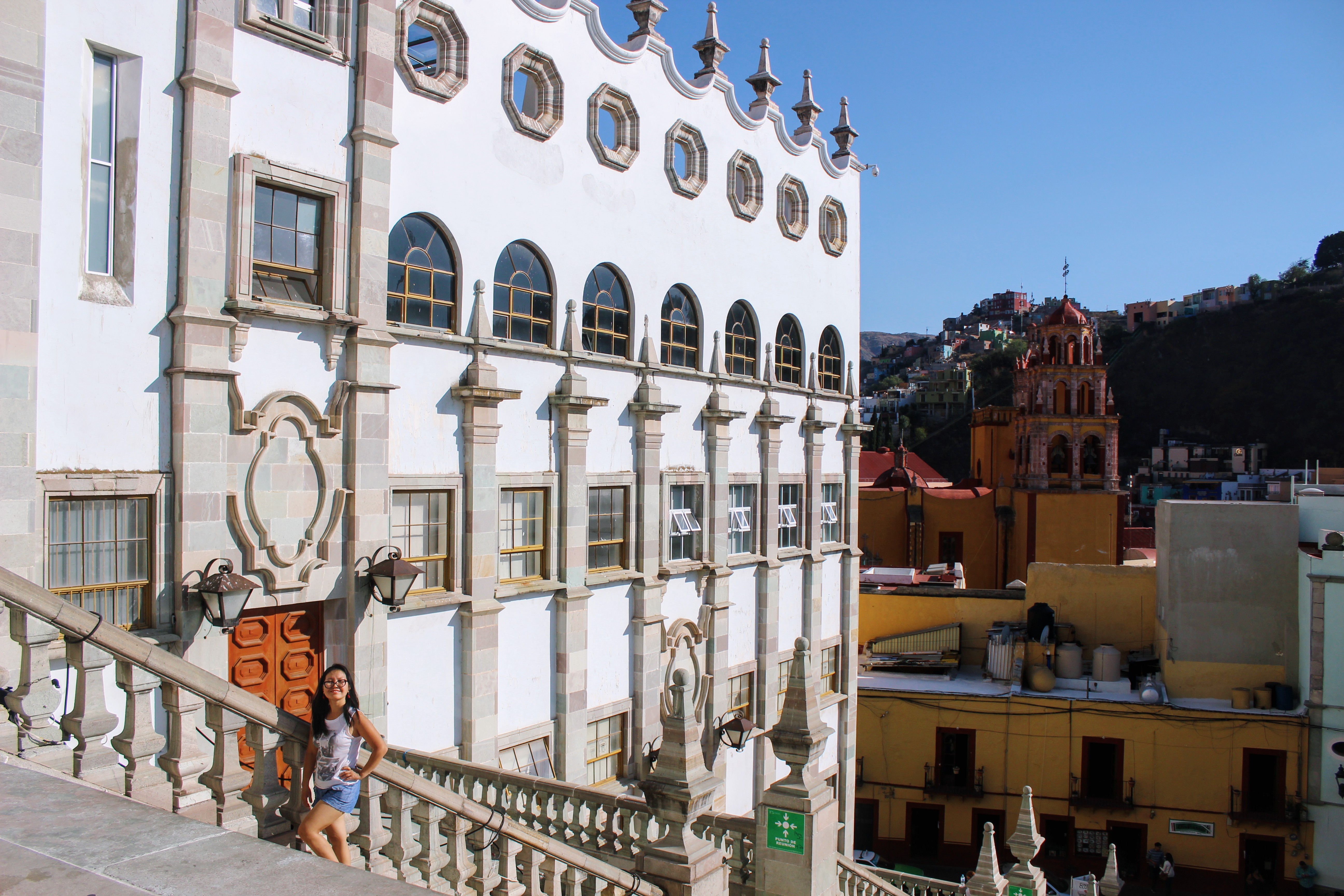 At the top of a long staircase, the view is breathtaking.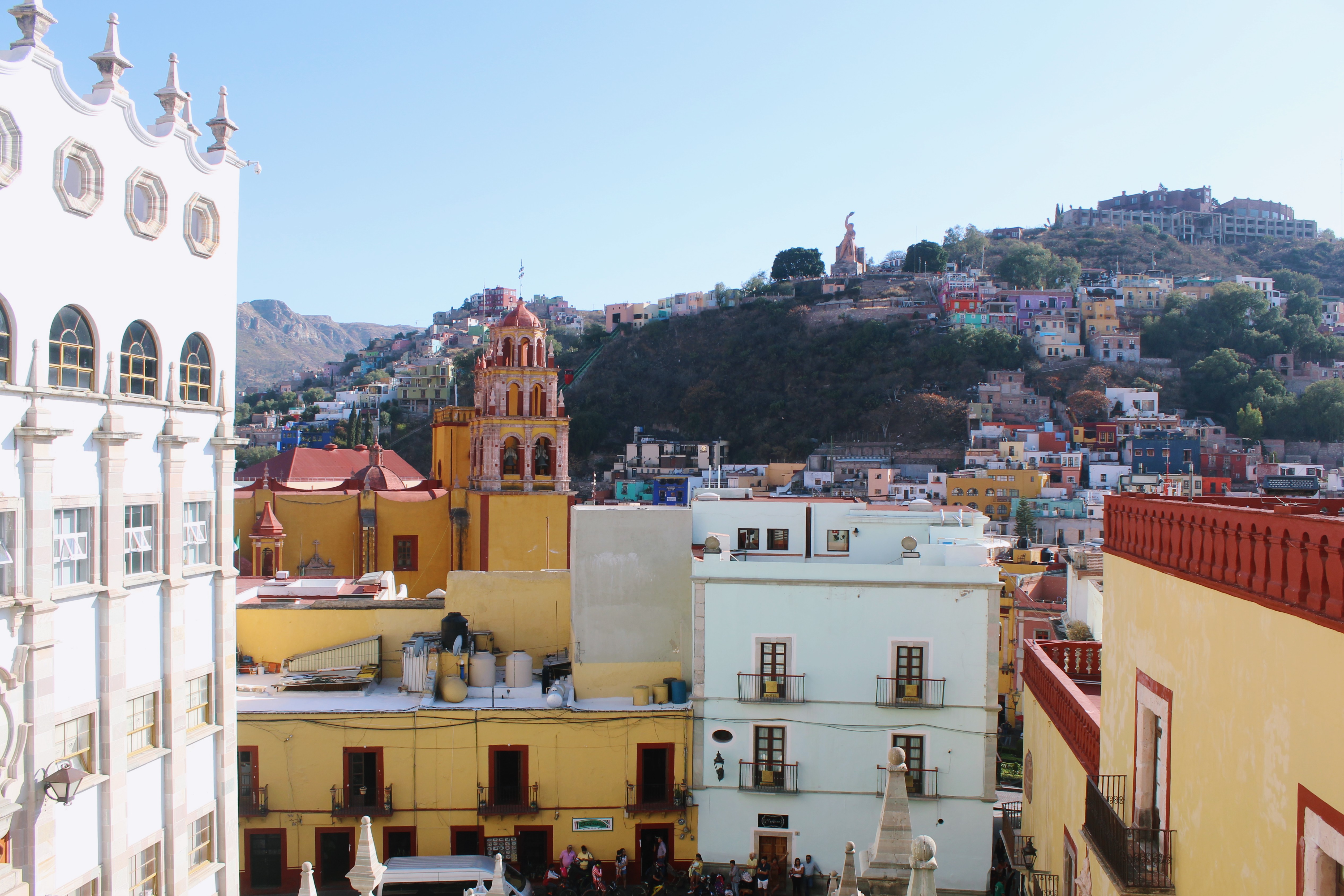 Today 30,000 students study here, giving it a feeling of a young, vibrant city, unlike its neighbouring San Miguel de Allende that is home to an older population of locals and expats.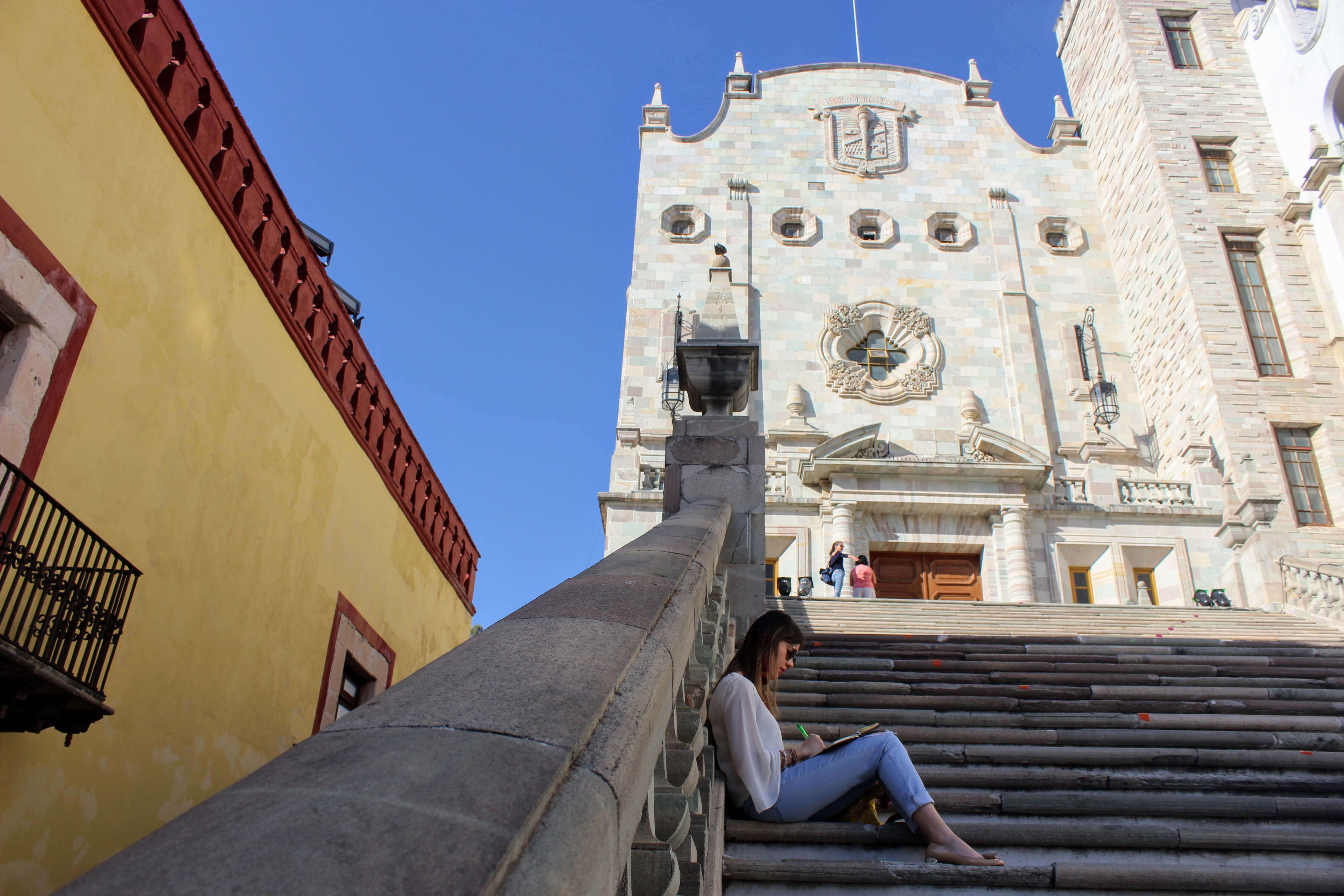 Taking right from the University on calle Positos and down the stairs we arrive at Ponciano Aguilar street and Plaza de la Paz.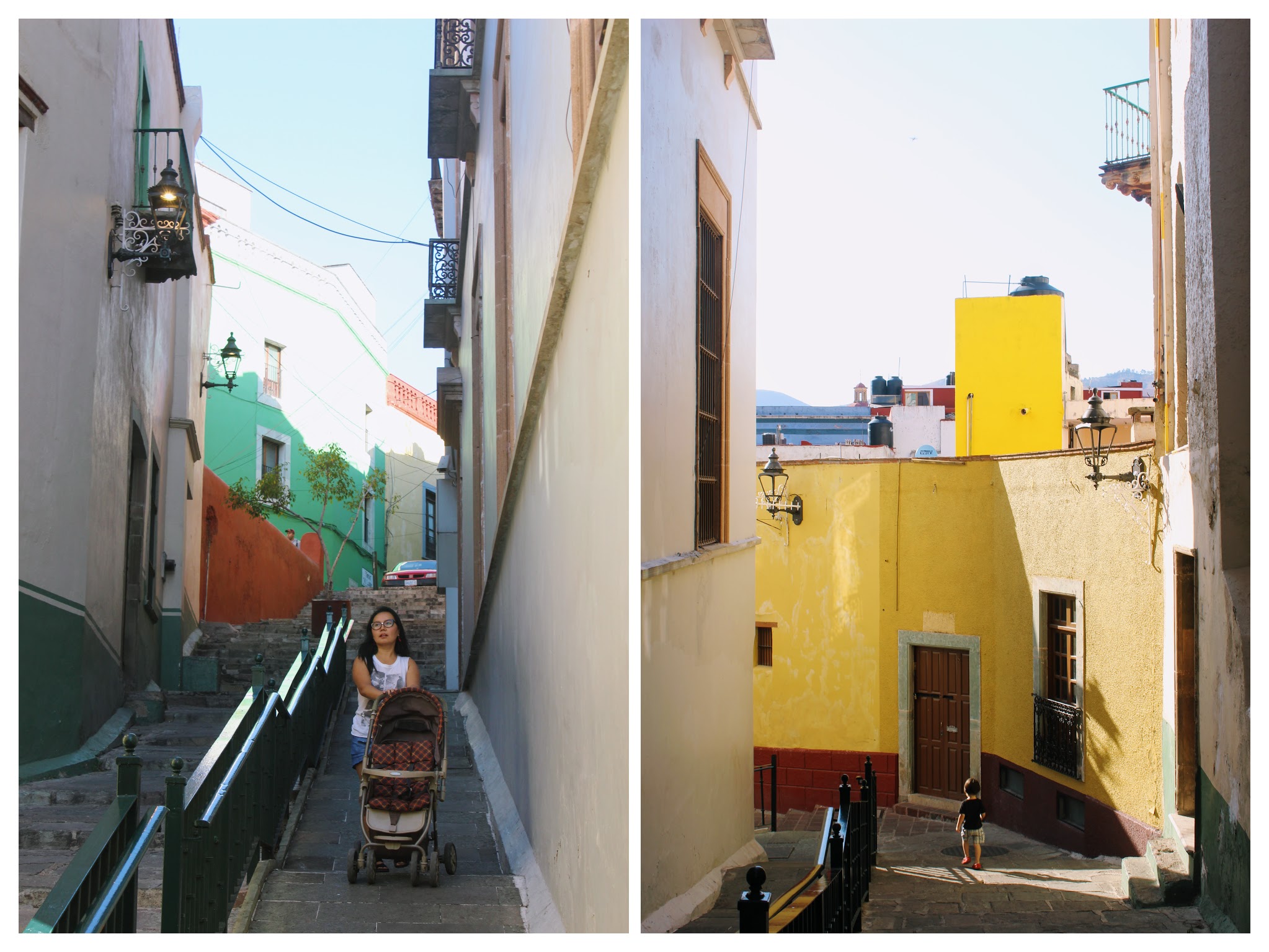 Plaza de la Paz is the center of the city. Since the colonial period, the richest of the city's families built their main homes here, along with government buildings and the parish church, now a basilica.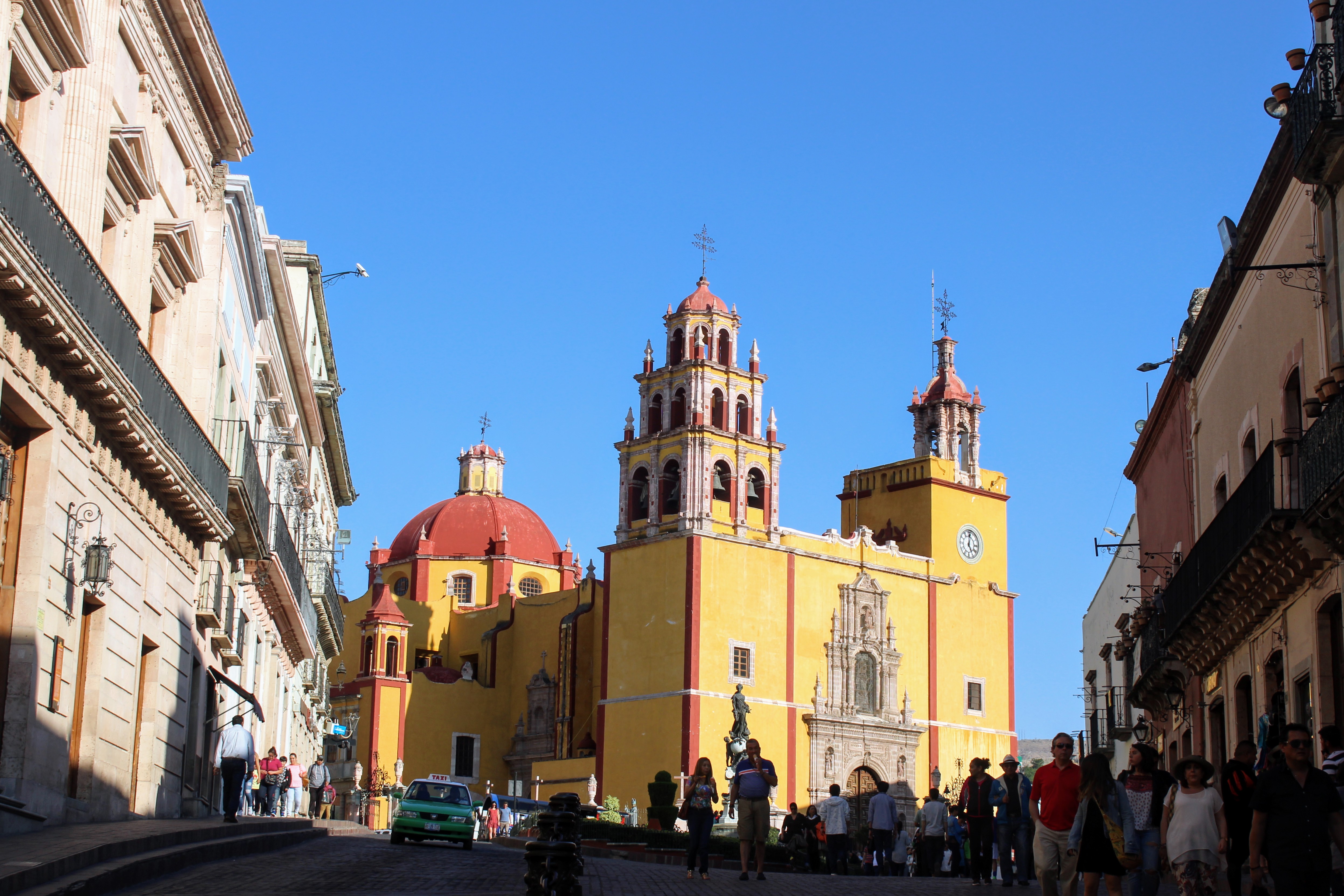 Basílica Colegiata de Nuestra Señora de Guanajuato is the main church of the city. A sculpture of a woman in front of it represents peace.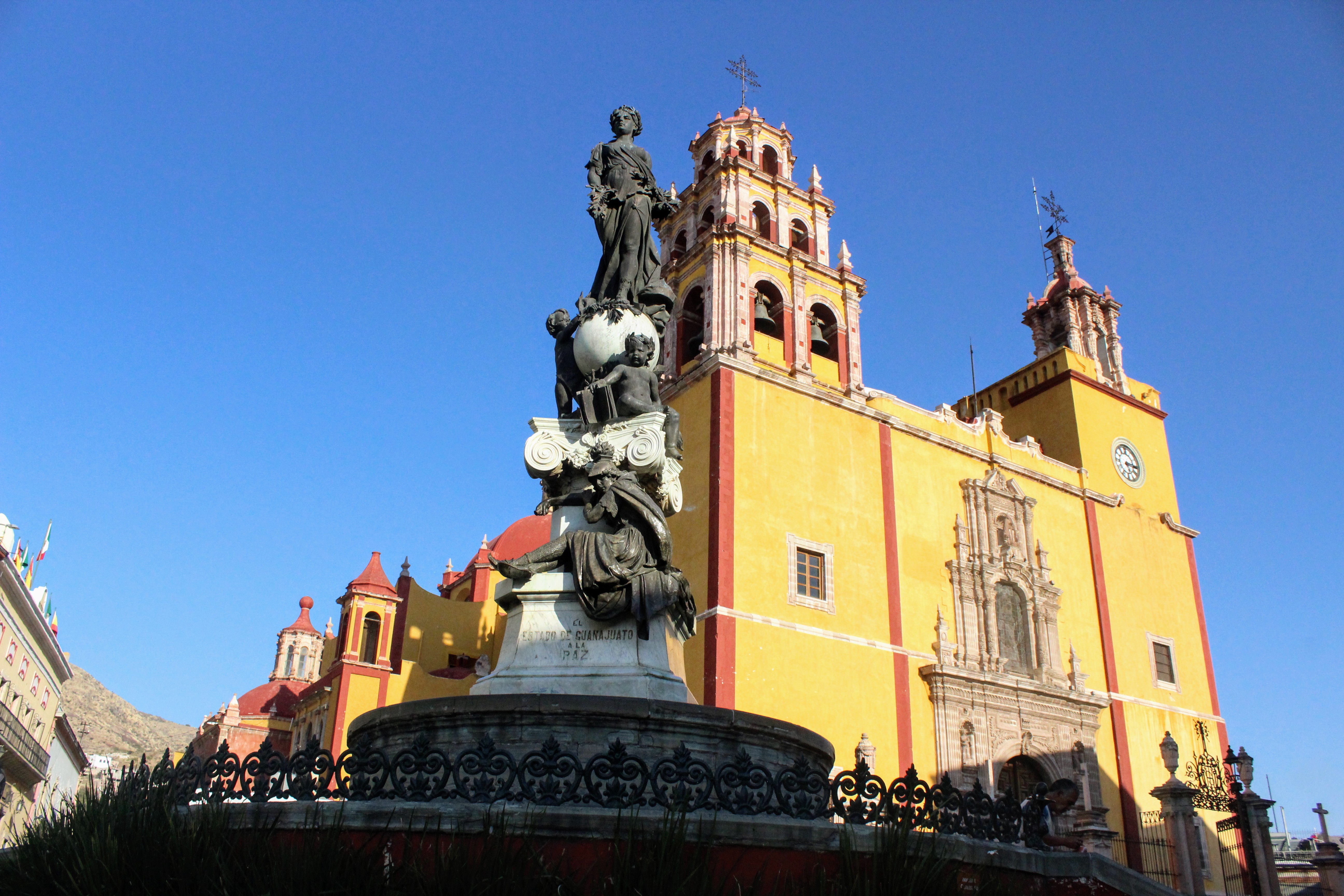 This 17th century church is built in a Mexican Baroque style. As the name hints, Our Lady of Guanajuato (Nuestra Señora de Guanajuato), is the patroness of the city. In Mexico, almost every municipality venerates its own virgin, who is often credited with miracles performed in the past to protect the city from disasters and plagues.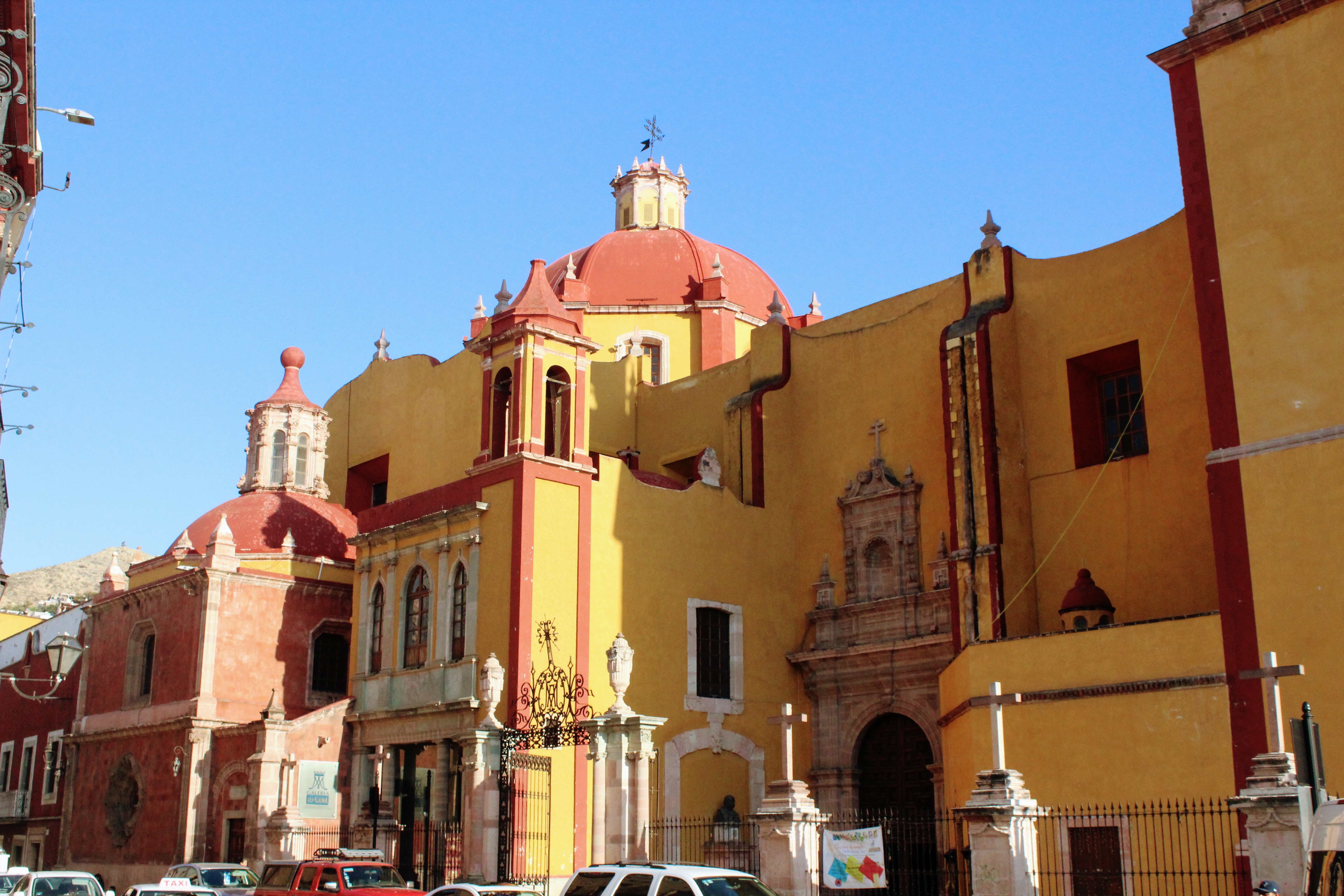 Surrounding the plaza are mansions that belonged to local nobility.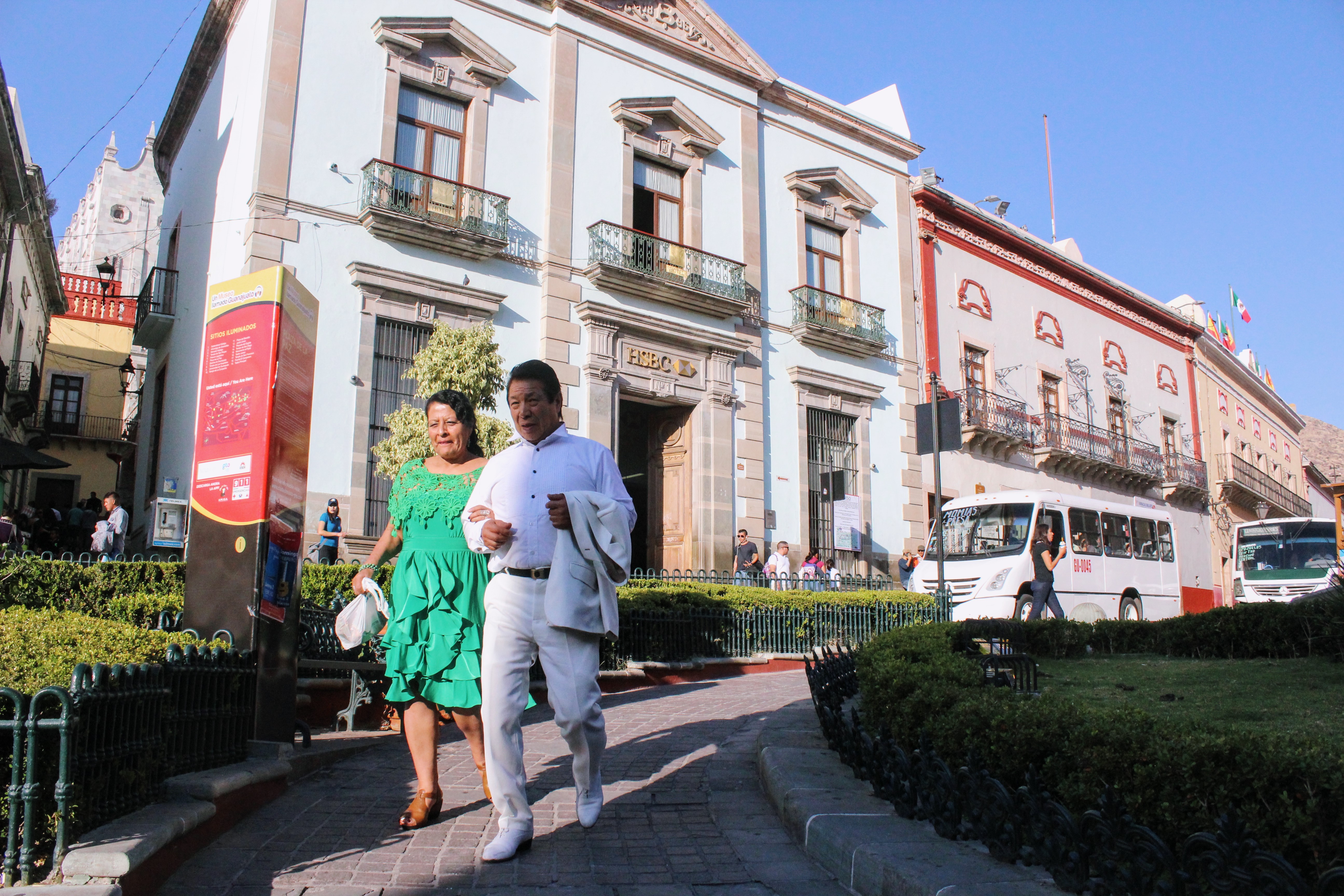 While some enjoy the weekend in the cafes around the plaza, others have to work to make ends meet.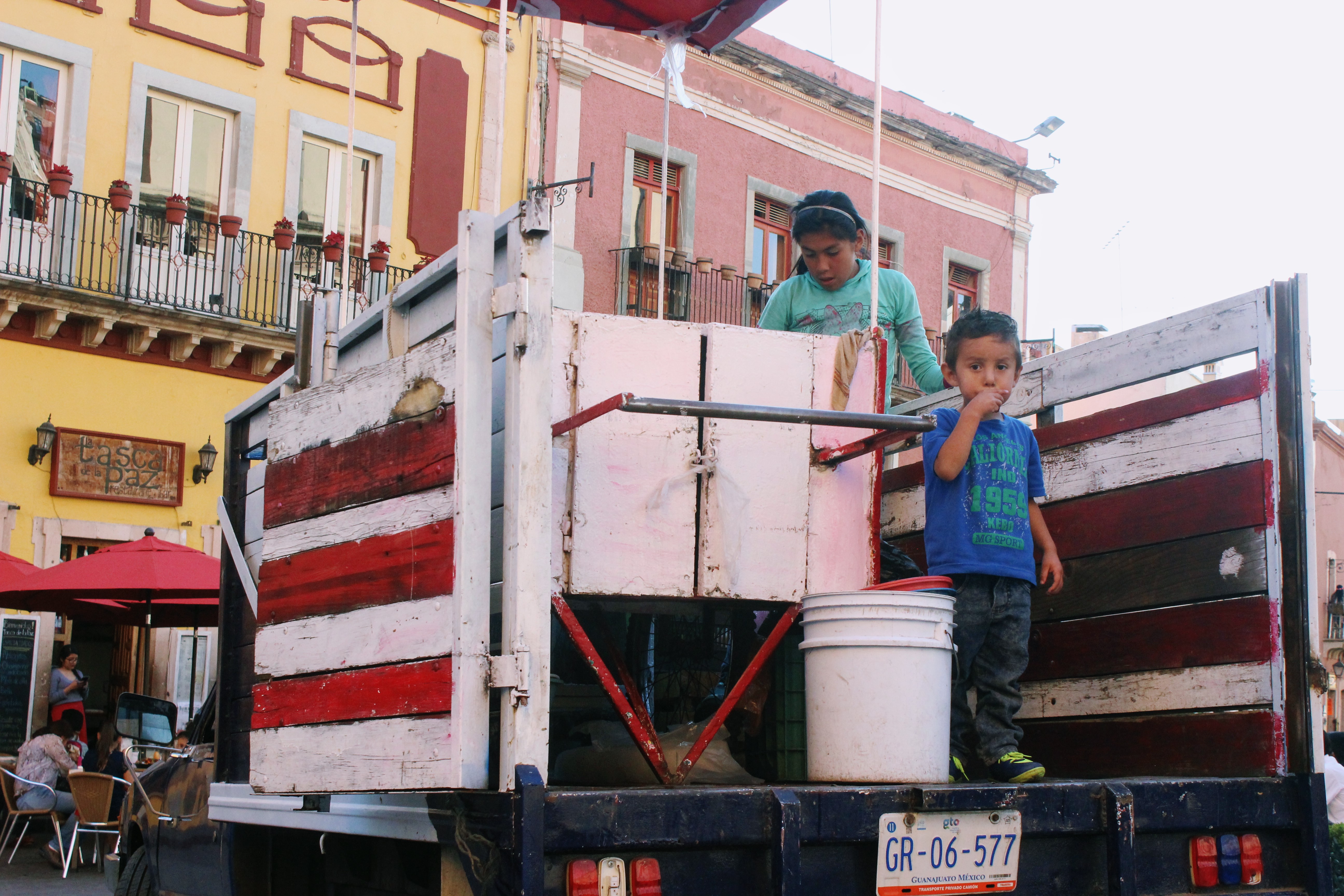 Newlyweds cruising to their new life.
When that's the view you see before you, it's easy to beleive life will be good to your marriage.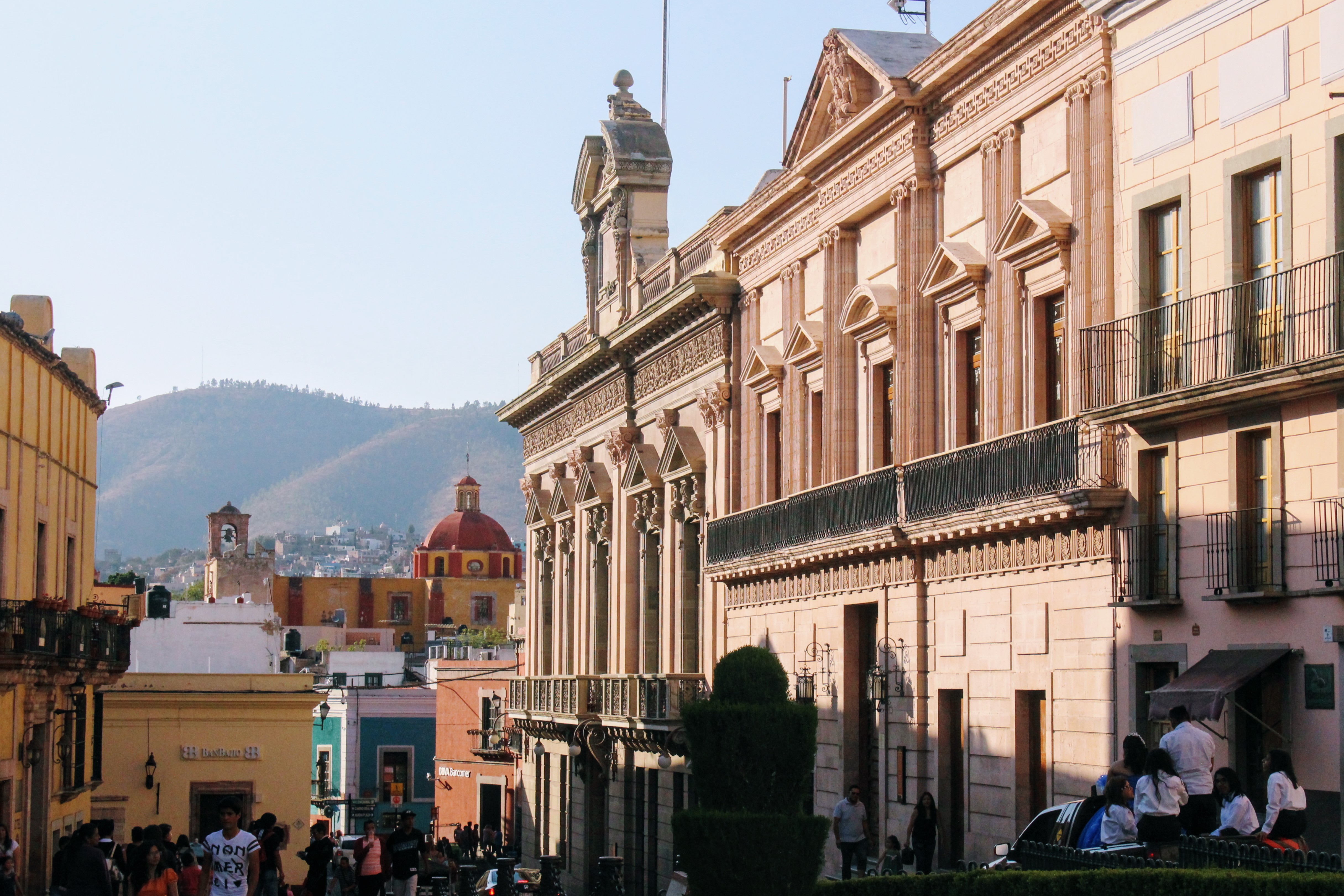 Calle Del Truco leads from the plaza to the artsy quarter of the city. Teatro Principal de Guanajuato was the first theater opened in the city.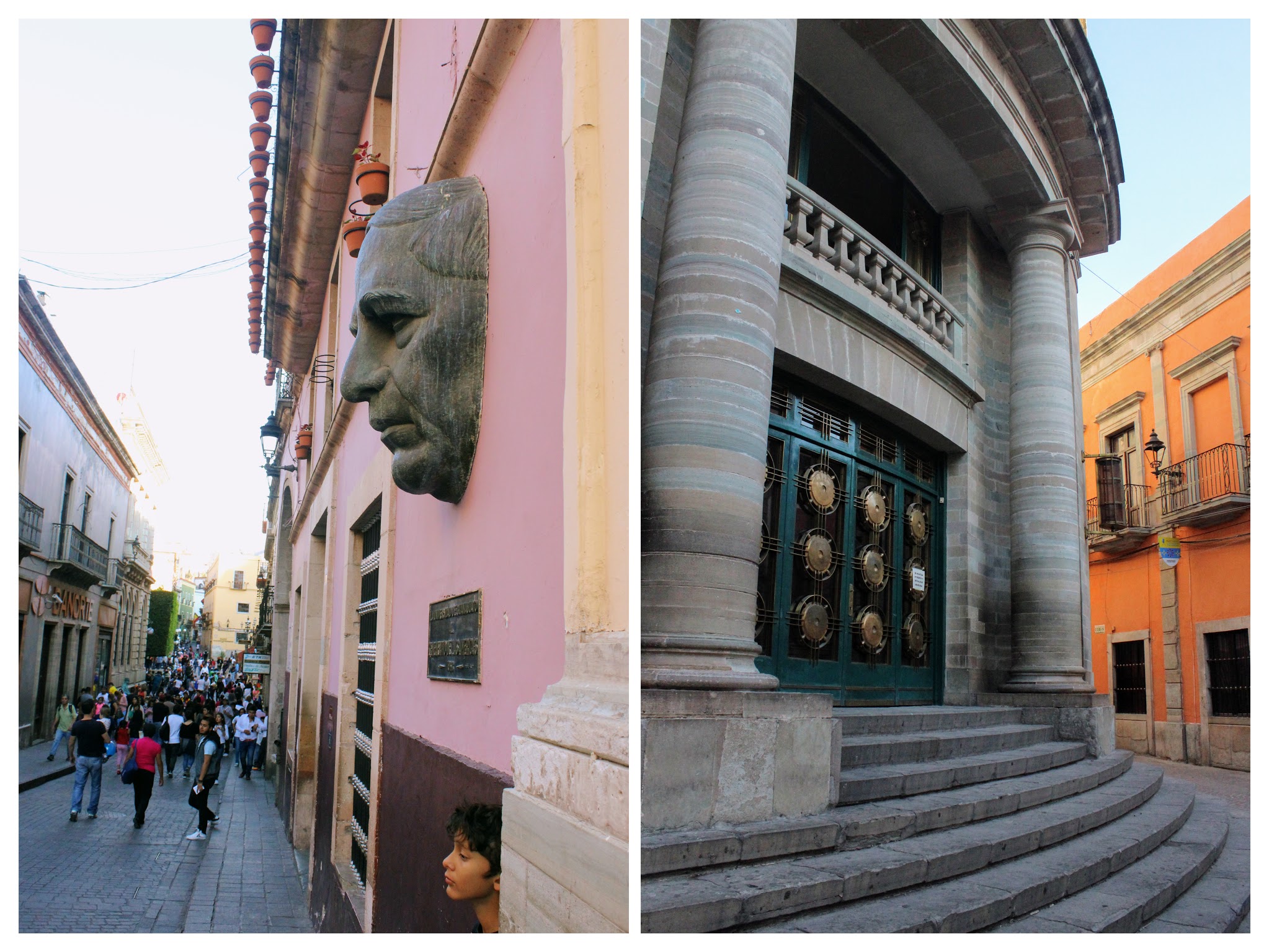 Templo de San Francisco more than anything looks like a ripe pomegranate.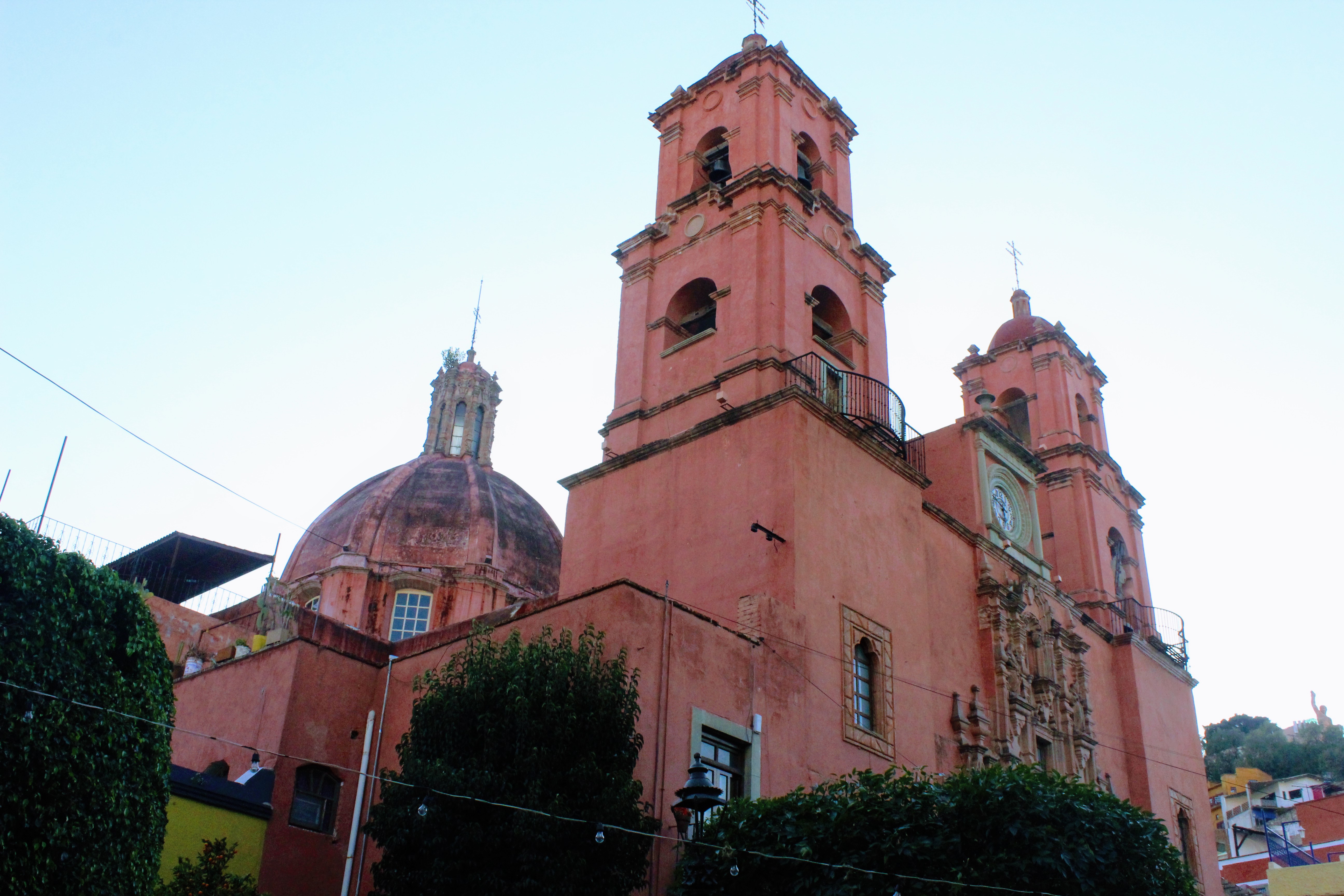 The vivid red of Templo de San Francisco lives on the same square as the blue of Museum of Don Quijote. Colours and angles bumping into each other without a reason other than delight.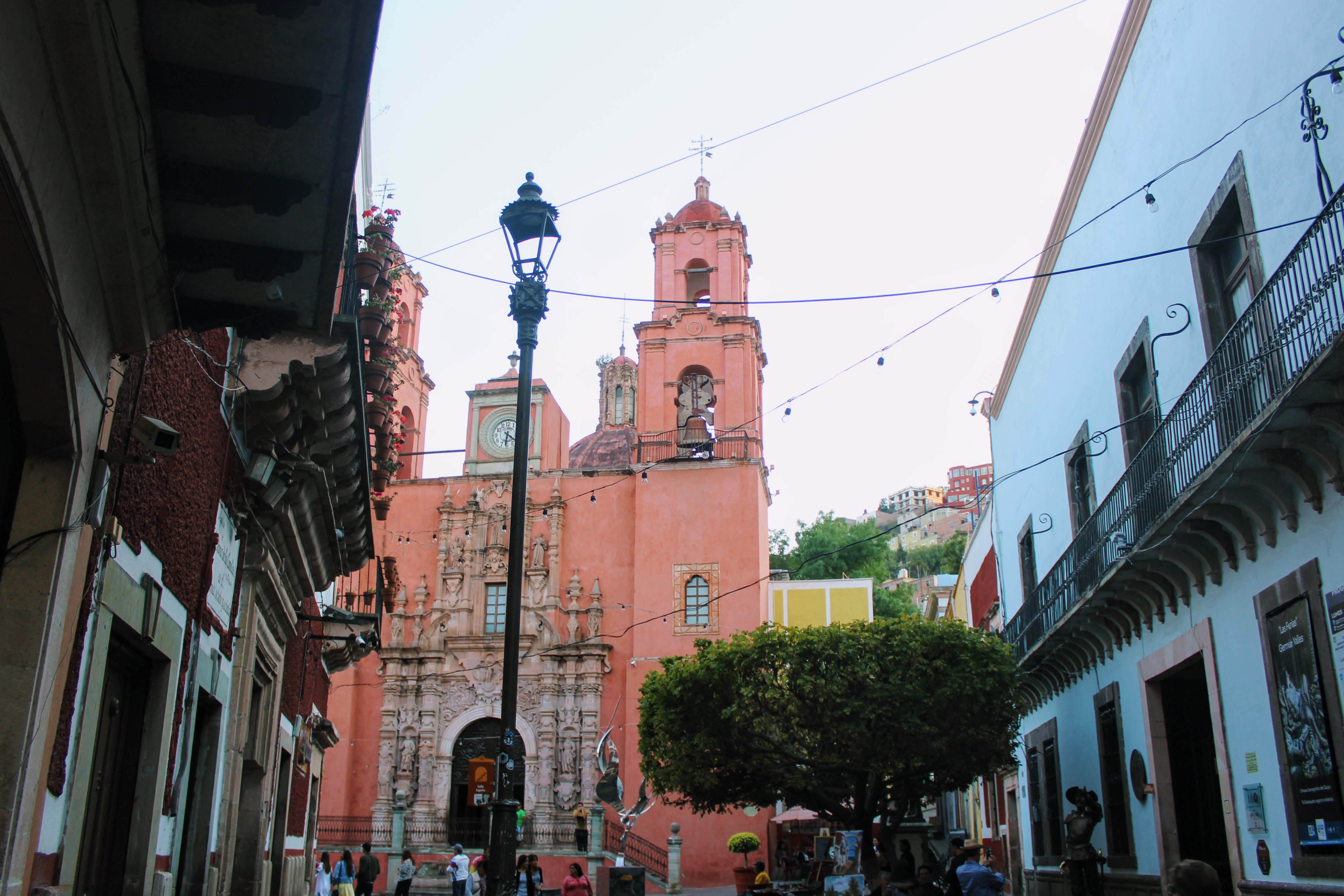 Guanajuato calls itself the Cervantes city of the Americas. In addition to a Don Quijote museum and statues around the city, every year it holds Festival Internacional Cervantino, an annual cultural event hosting opera, theater productions, film showings, art exhibitions, concerts and dance recitals.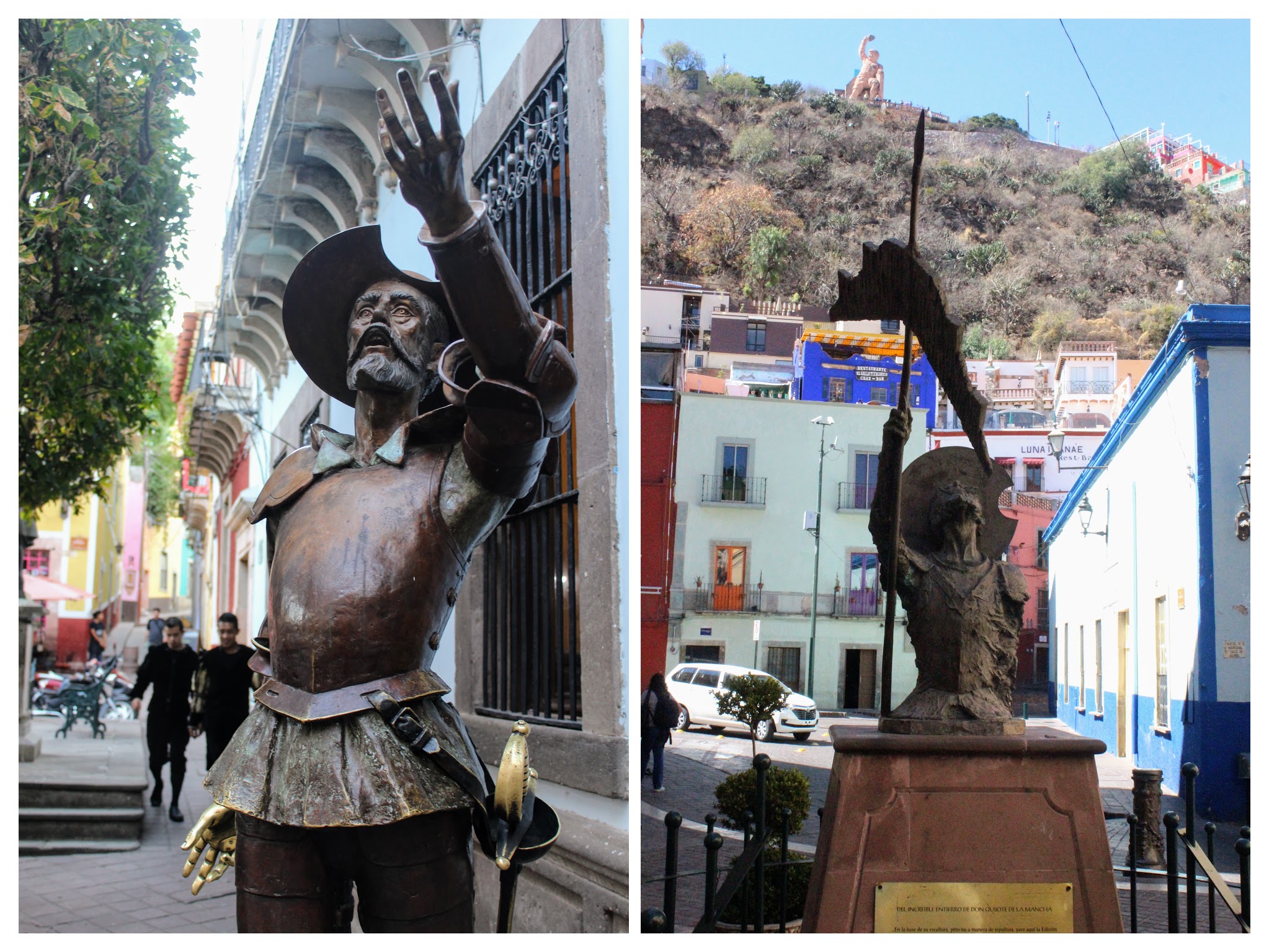 As if to establish the city's cultural credentials, this pair was playing Eastern-European Jewish tunes, right next to the Don Quijote museum.
Teatro Juarez is probably one of the most beautiful theaters in Mexico. The theater was built in the end of 19th century by Antonio Rivas Mercado, who designed the Angel of Independence monument in Mexico City.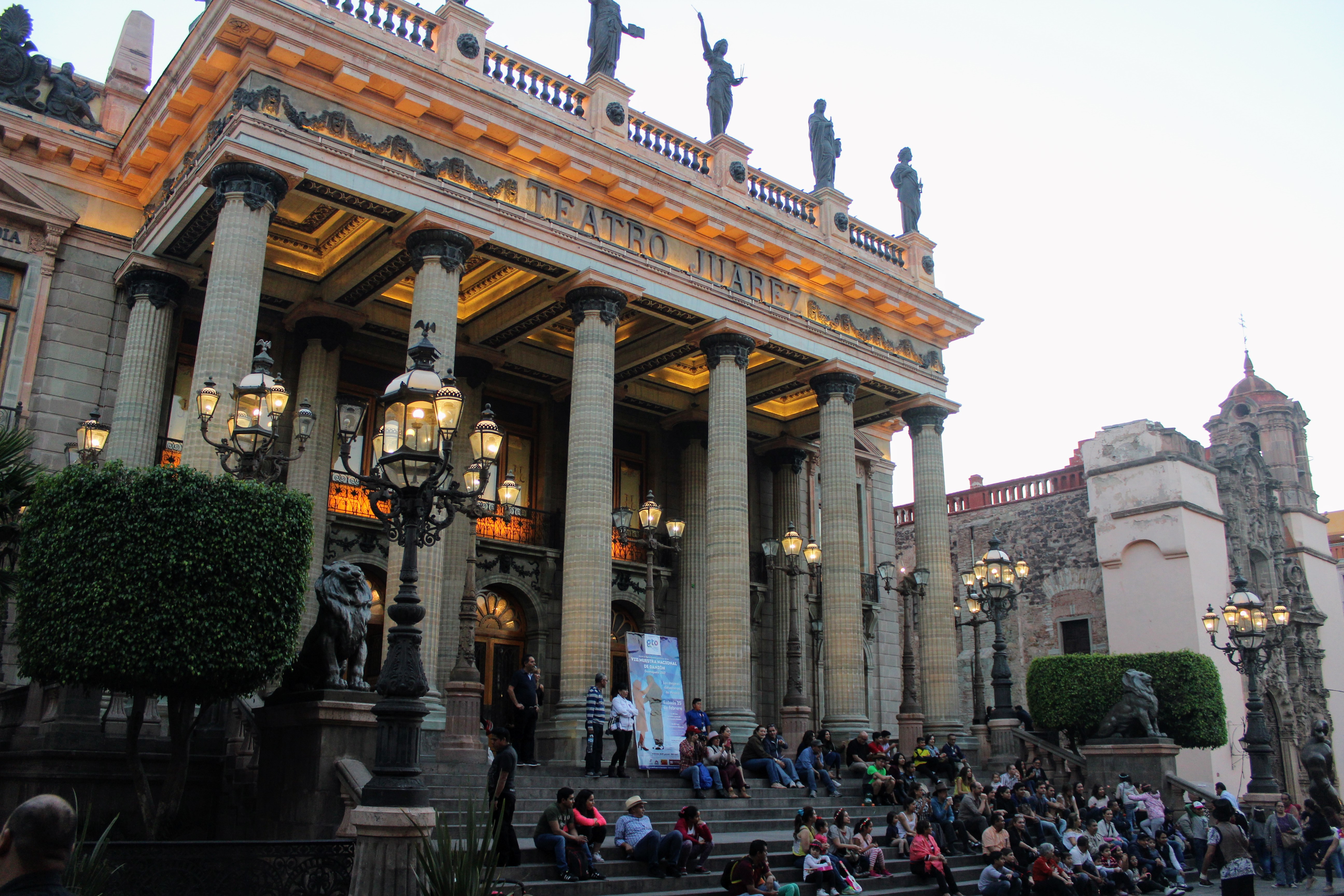 A brilliant mime artist was entertaining the passers by with his first class act.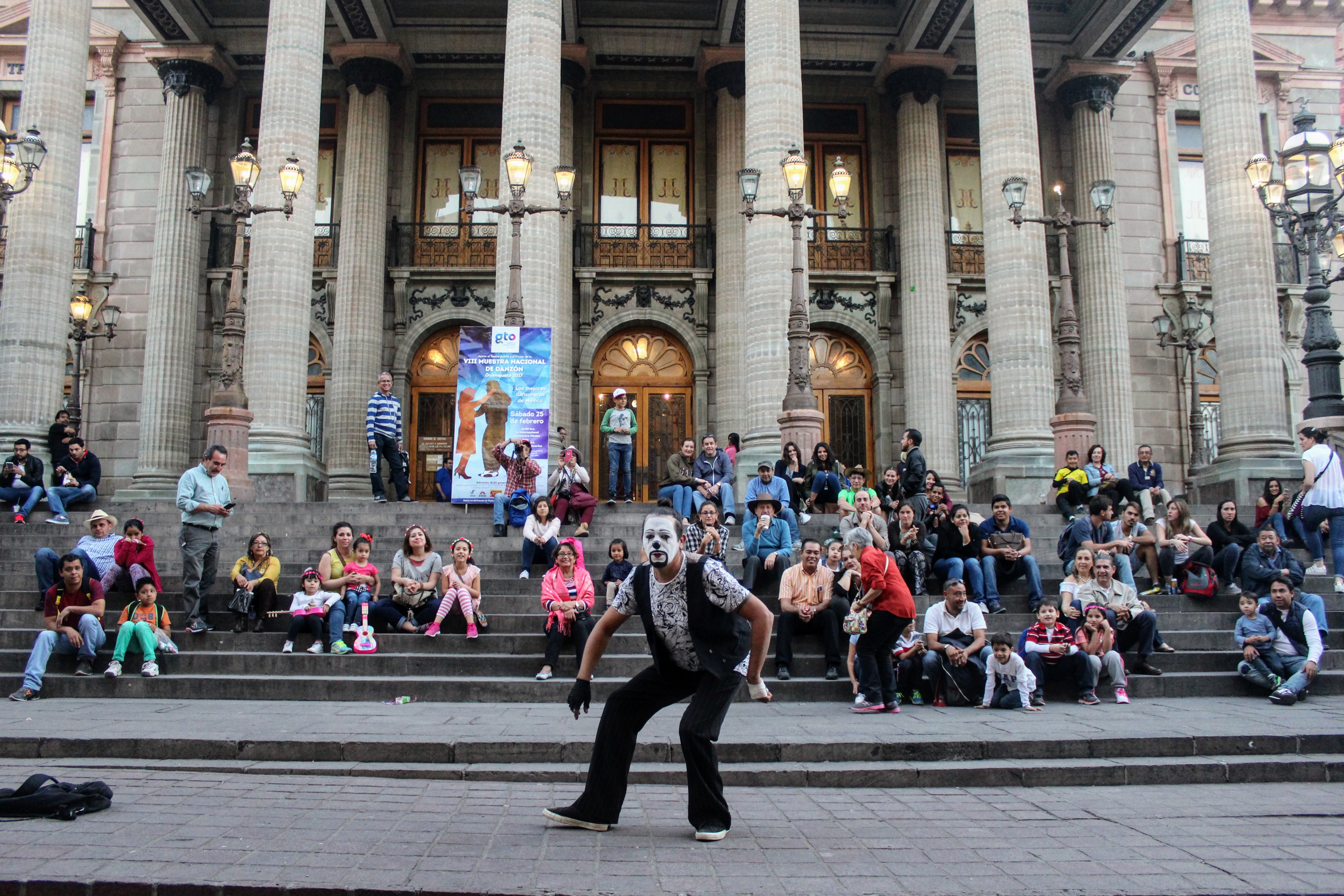 Naturally, Ayan was mesmerized by the show, as were we.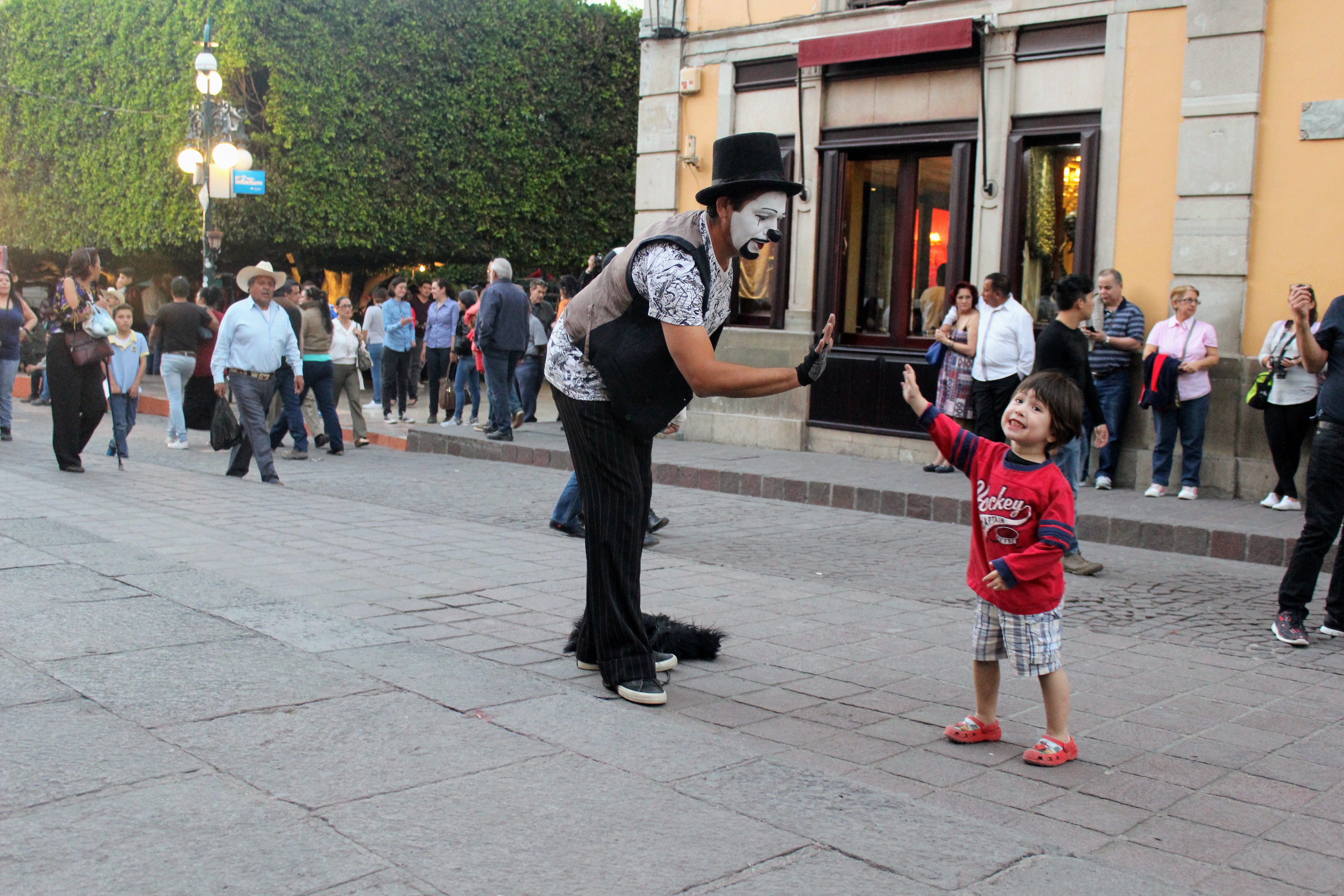 A woman with a sad face was sitting silently on a nearby sidewalk, somehow removed from the hustle and bustle of the street. She lives in a rural area outside the city, coming here to sell her craft work. She taught her children to make these wooden donkeys. Together, her family of five makes about 40 of them each day. But how many is she able to sell?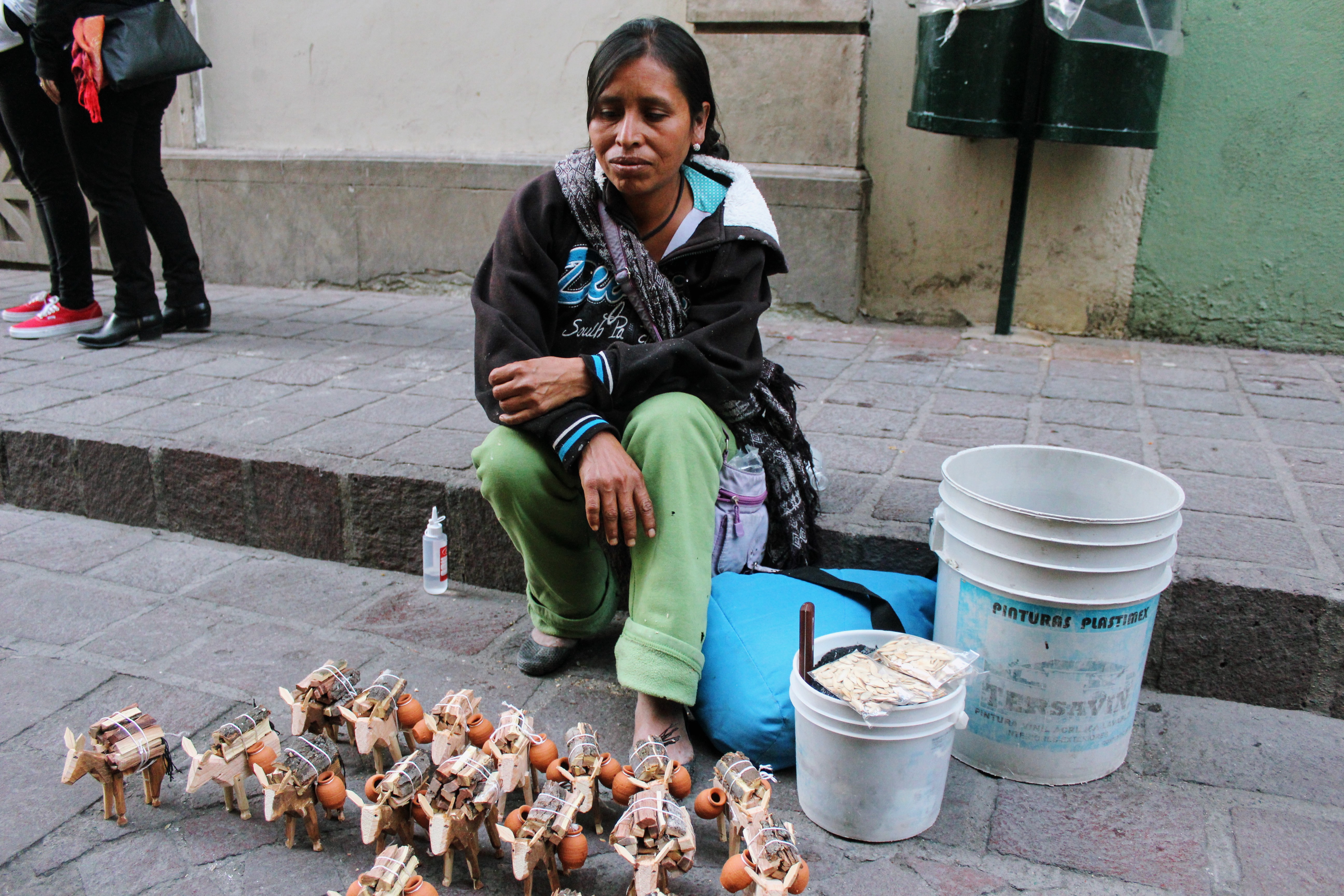 Iglesia de San Diego next to Teatro Juarez has a beautiful facade, a striking sculpture of Quasimodo-like figure in front of it, and another of those pomegranate domes.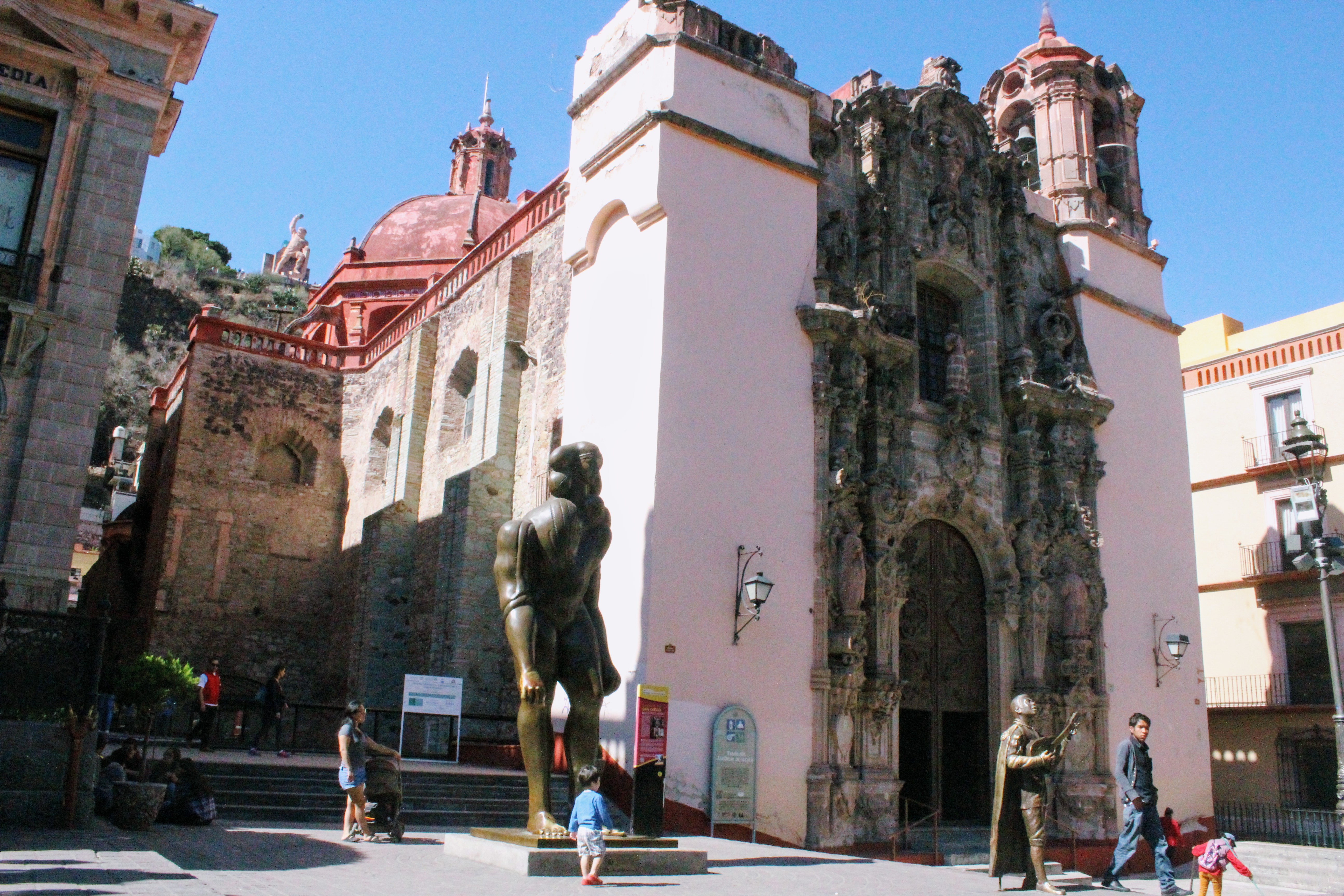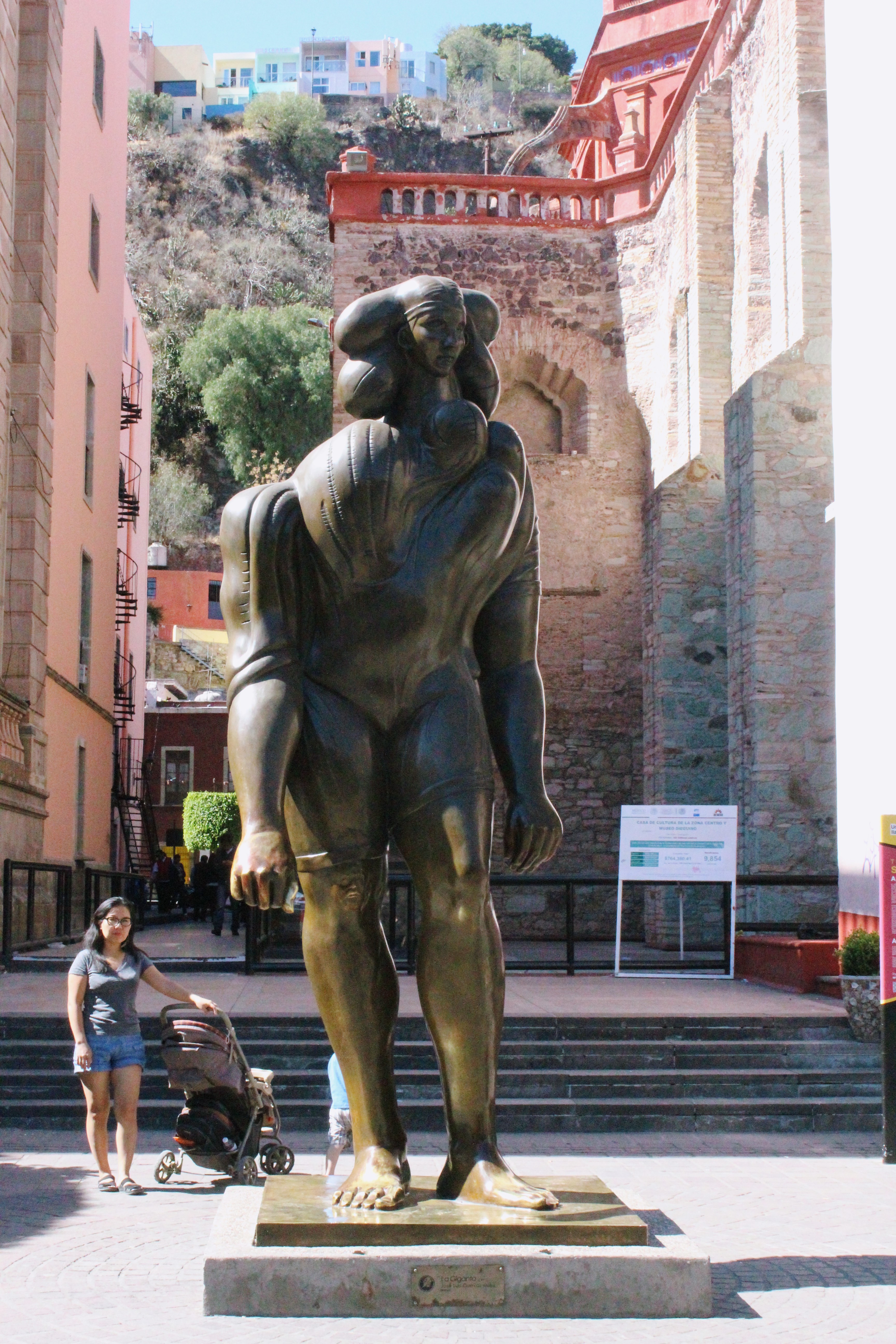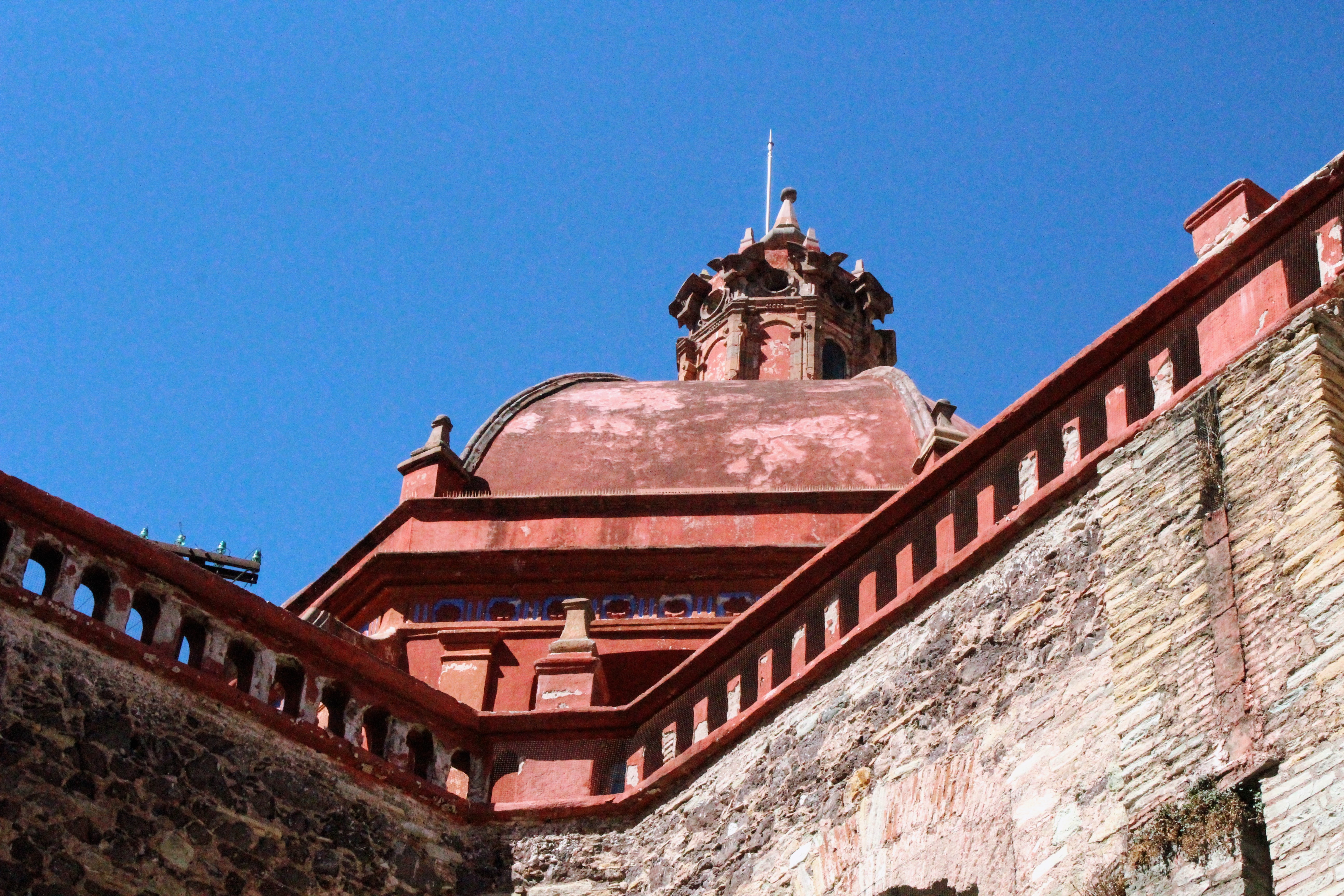 The statue on the hill of a man holding a torch is a hero of the Mexican Independence War. The insurgent army of Miguel Hidalgo which marched to Guanajuato from San Miguel was unable to take the heavily defended building in which royalists have barricaded.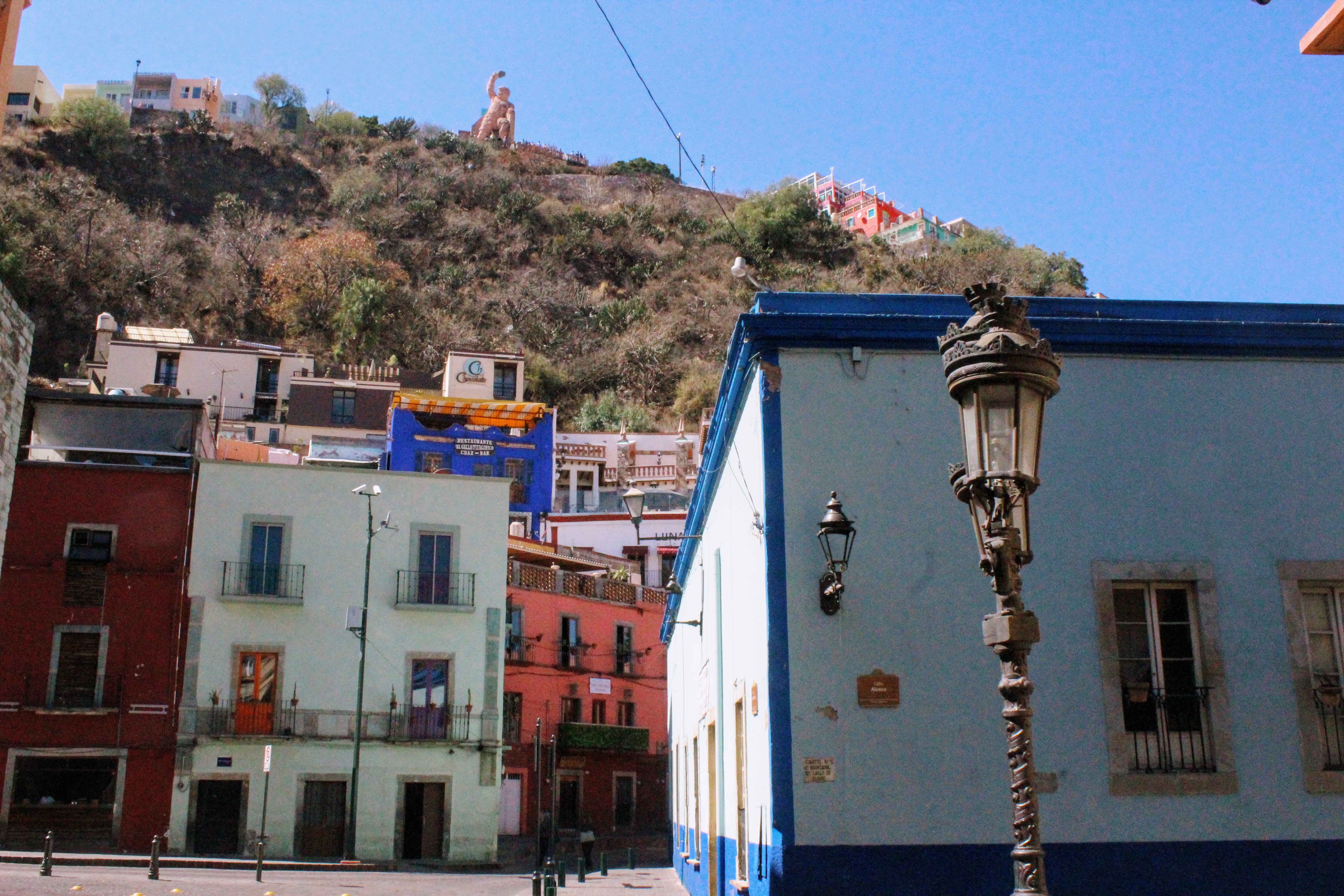 Then a miner, today known as El Pípila, crawled under fire carrying a flask of tar and a torch. When he reached the wooden doors of the main entrance, he smeared it with the tar and set it on fire. This allowed the insurgents to penetrate the building, defeat the Spanish royalist army and elite, and take over the heavily fortified building.
A cable car takes you up the hill. The statue of El Pípila is certainly interesting. Until you turn around.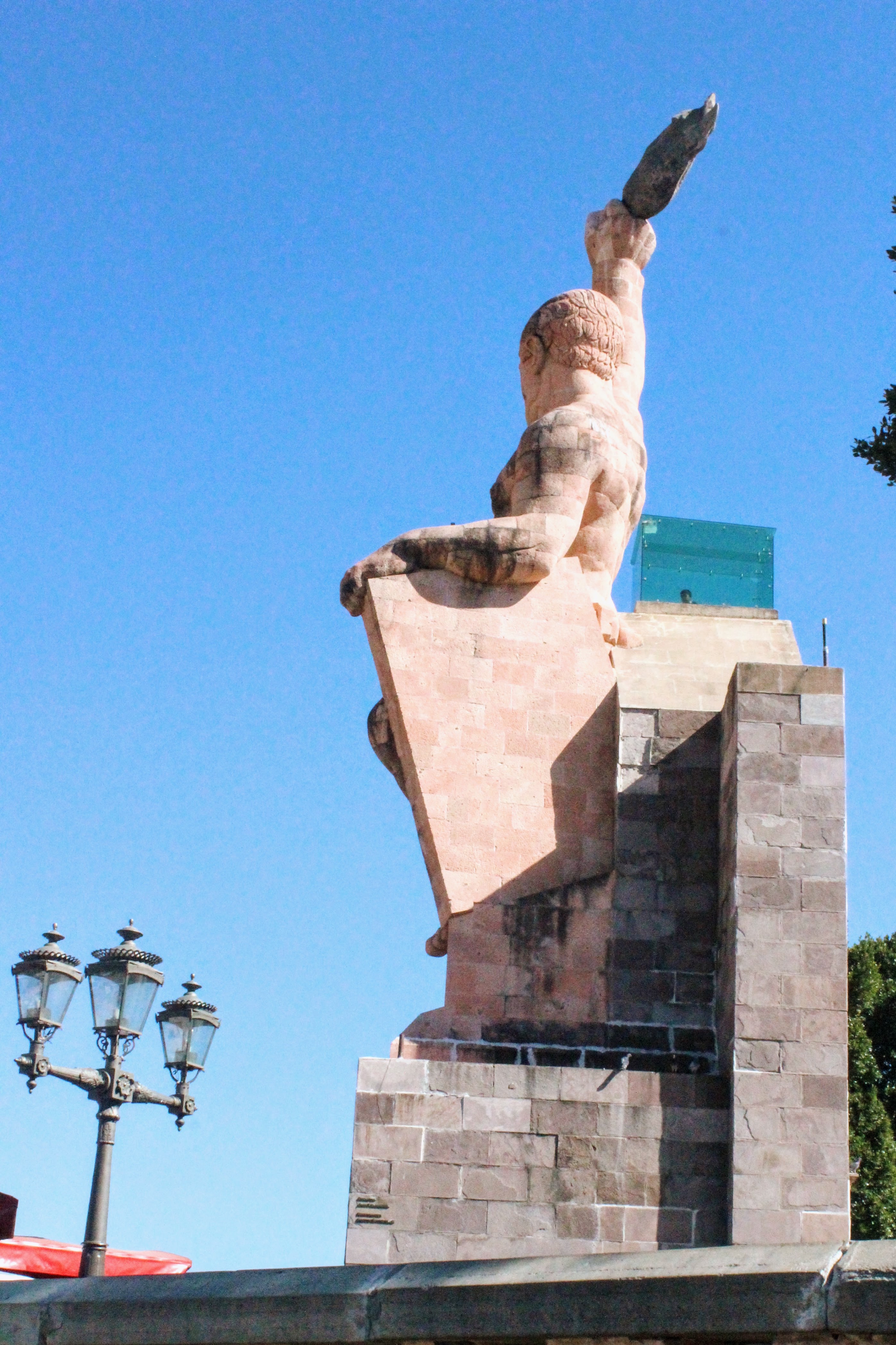 Guanajuato. Lying bare open. Confined. Bulging. Vivid. Breathing color. Facing all directions at once.
Entirely Mexican. But also pertaining to the world.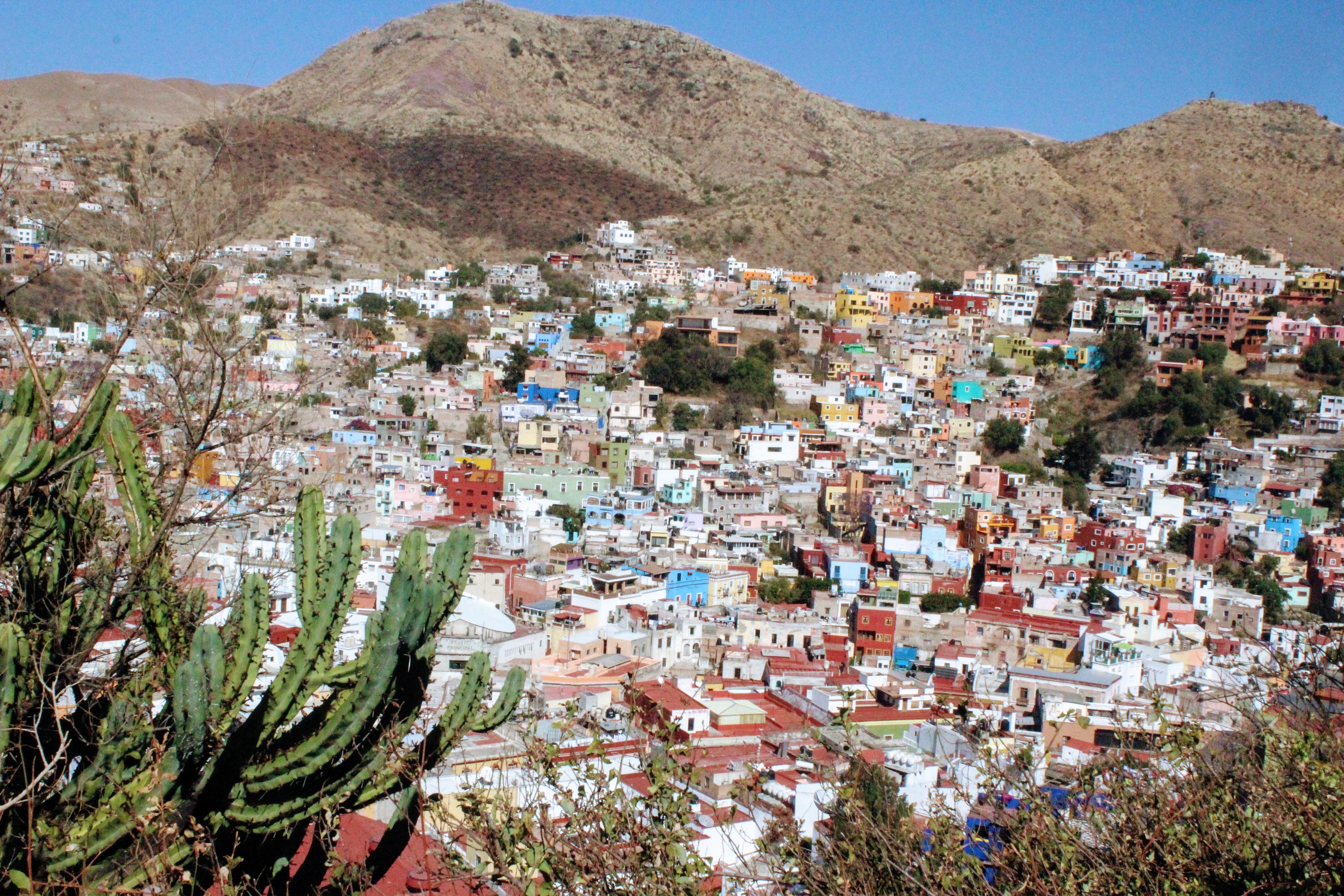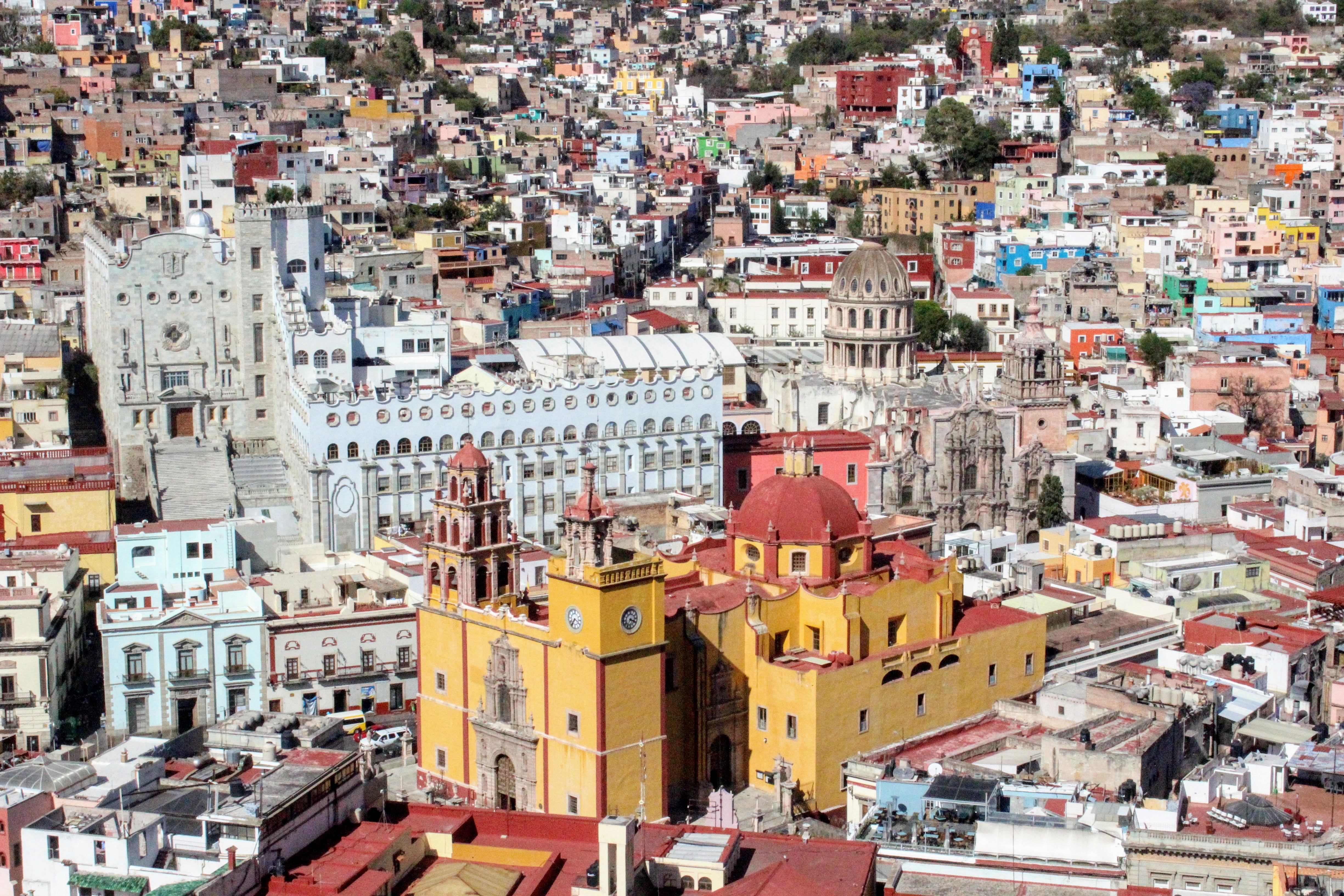 Papier-mâché of a city. A patchwork of misfits (not unlike that Quasimodo figure), that together make a perfect fit.
If it doesn't make you sick from a bewildered perfection, your stomach is stronger than mine.