After almost 2 months in Yucatan, we were ready to get back to central Mexico. Landing in Mexico City airport, the plan was to take a bus to San Miguel de Allende, and stay there for a month as the next anchor in our slow traveling drift. But the bus takes almost 5 hours to get there, so instead we decided to make a weekend stop in Queretaro, a city that lies right on the way to San Miguel de Allende. For some reason travel guides don't mention it among Mexico's highlights, but this one-time capital turned out to be one of the most stunningly beautiful cities we have visited in Mexico.
The colours, angles and forms in Queretaro defy expectations at every corner. Like this nondescript building next to where we stayed. Why it's there, and why it's the way it is? I have no idea, but it's beautiful.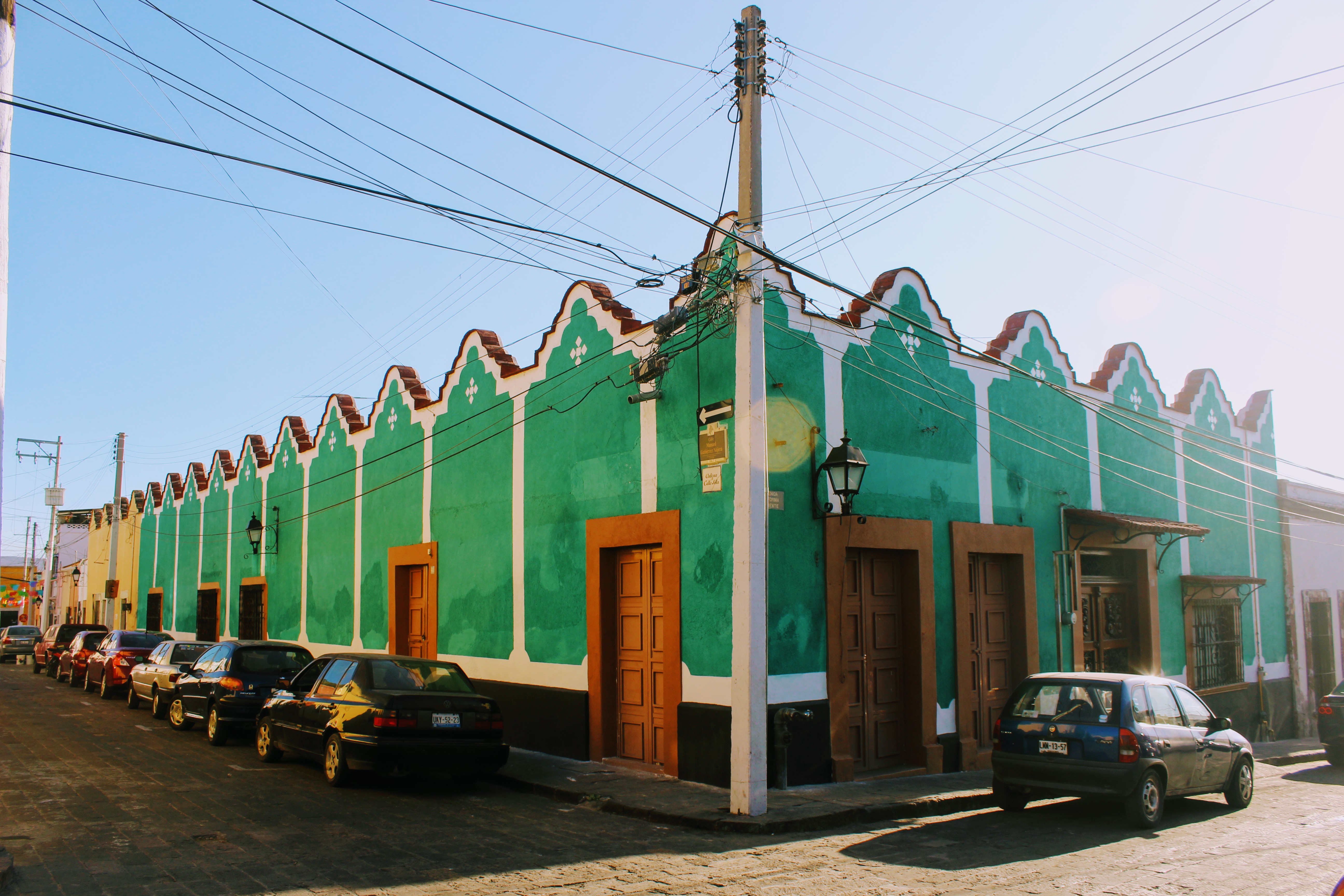 Plaza de Los Fundadores
Plaza de Los Fundadores, where we started our acquaintance with the city, is a small square with the mandatory pretty church and a fountain.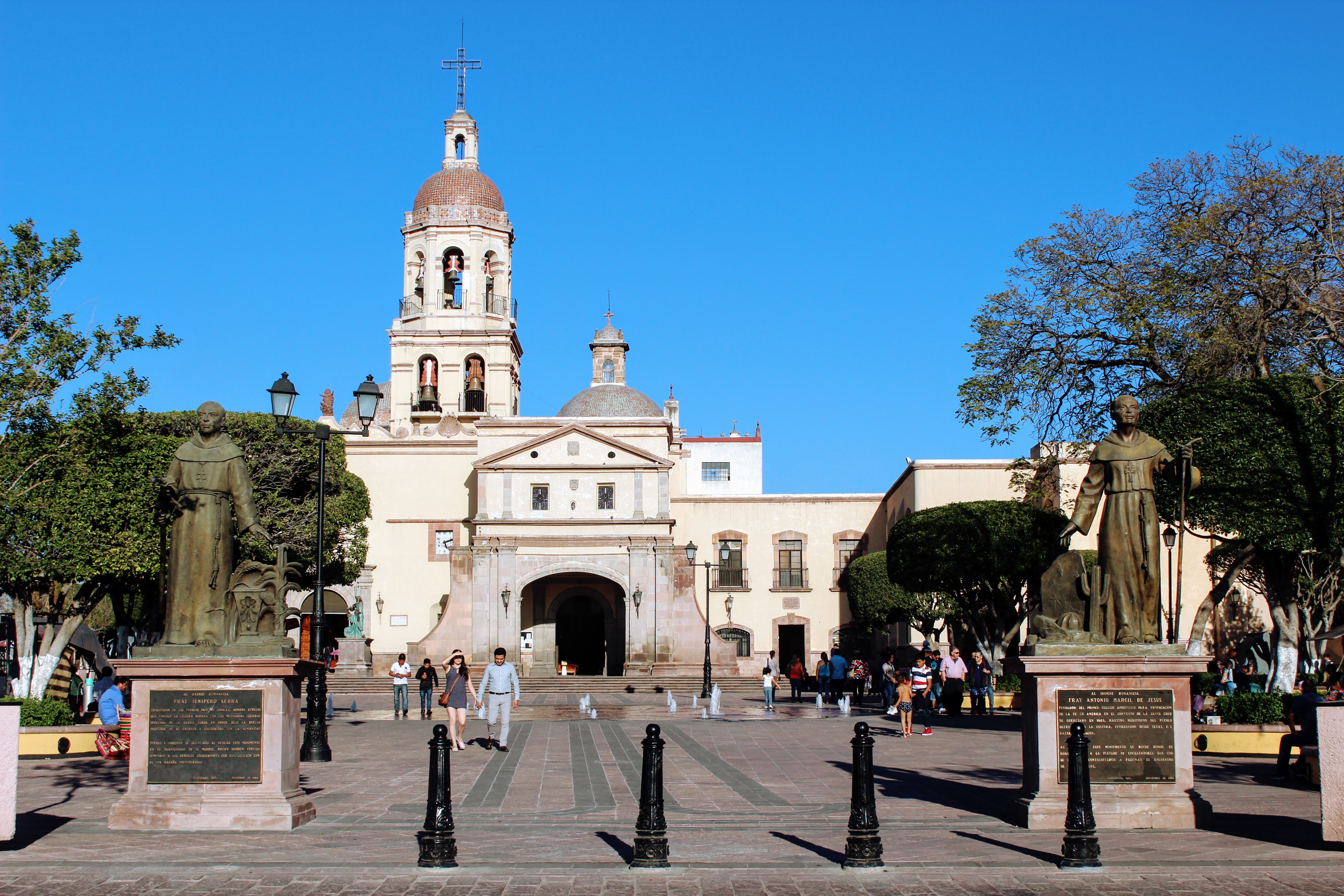 But less typically, right next to the church stands a monument to the indigenous people of the area. The indigenous people of Otomi, Tarasco and the Spanish lived together peacefully in the town with similar standards of living, a rare occurrence at a time when the Indigenous and Hispanic were usually separated by a large income gap and at odds with one another in other parts of the nation.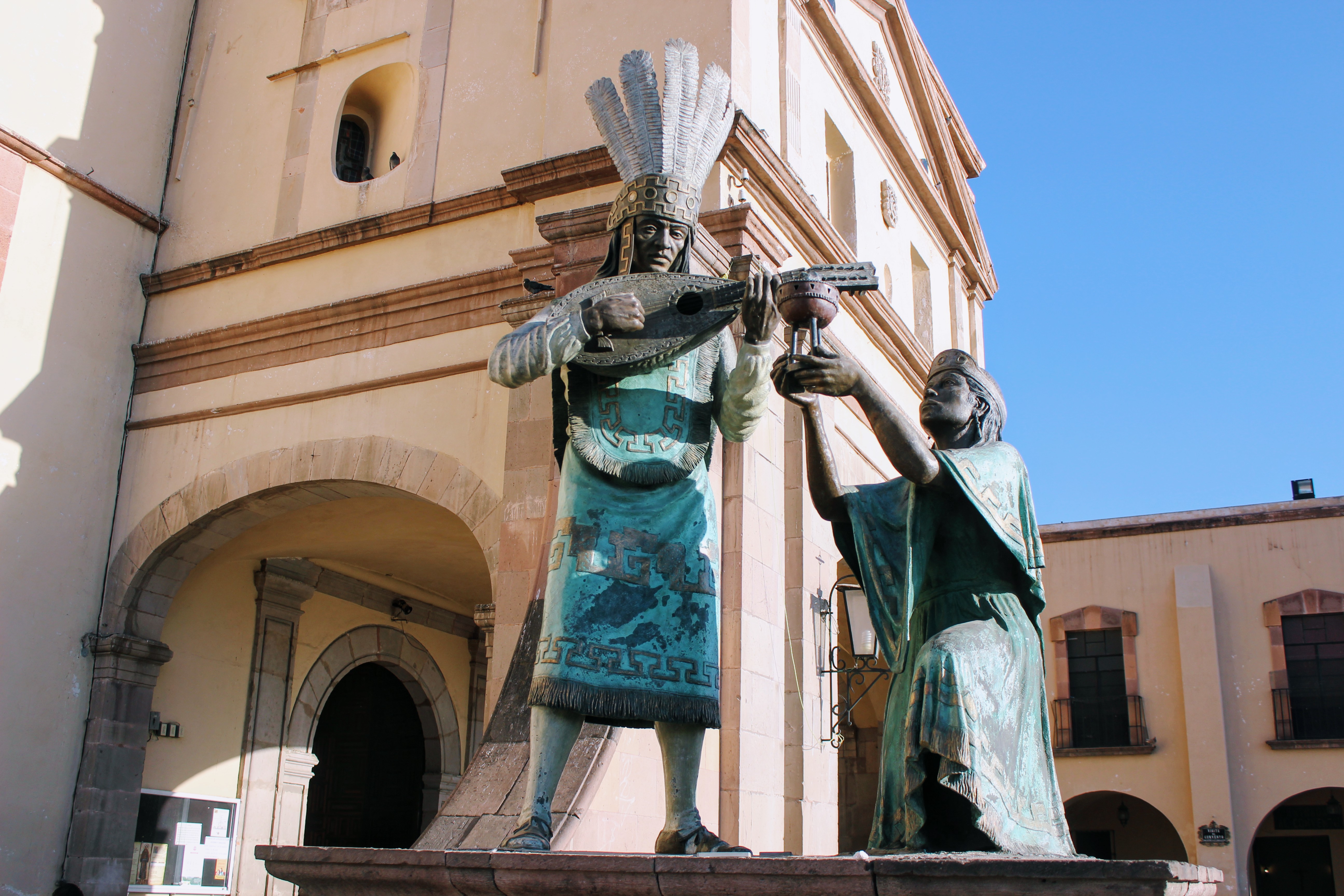 This peace and similarity of social integration is largely attributed to the fact that the local Indigenous ethnicities and Spanish reached peace early after contact and both functioned concurrently with the Indigenous retaining their own economic and social systems while the Criollos operated in a separate but integrated society within the city.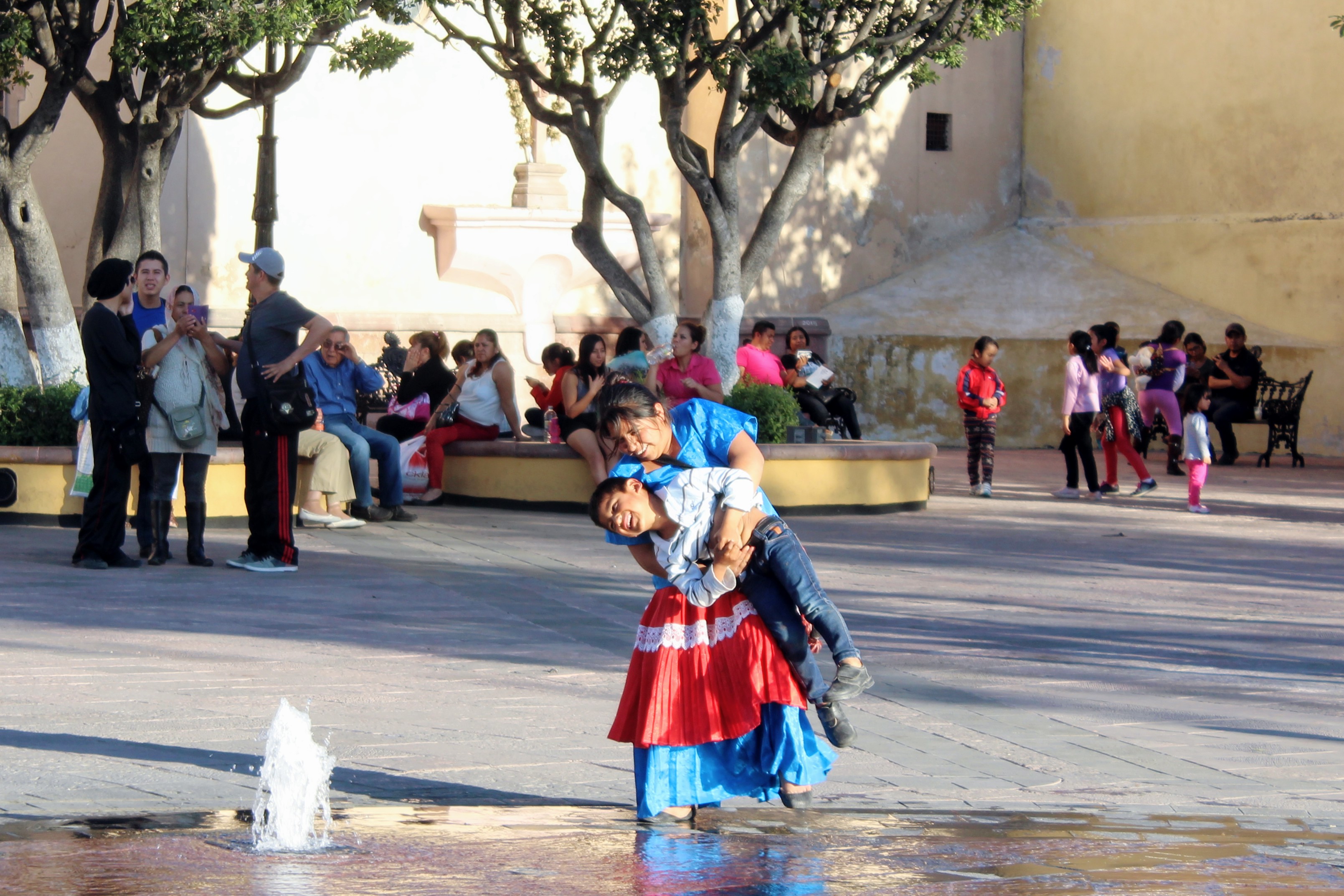 As if partaking in some ancient ritual, locals are bent on making sure their shoes shine.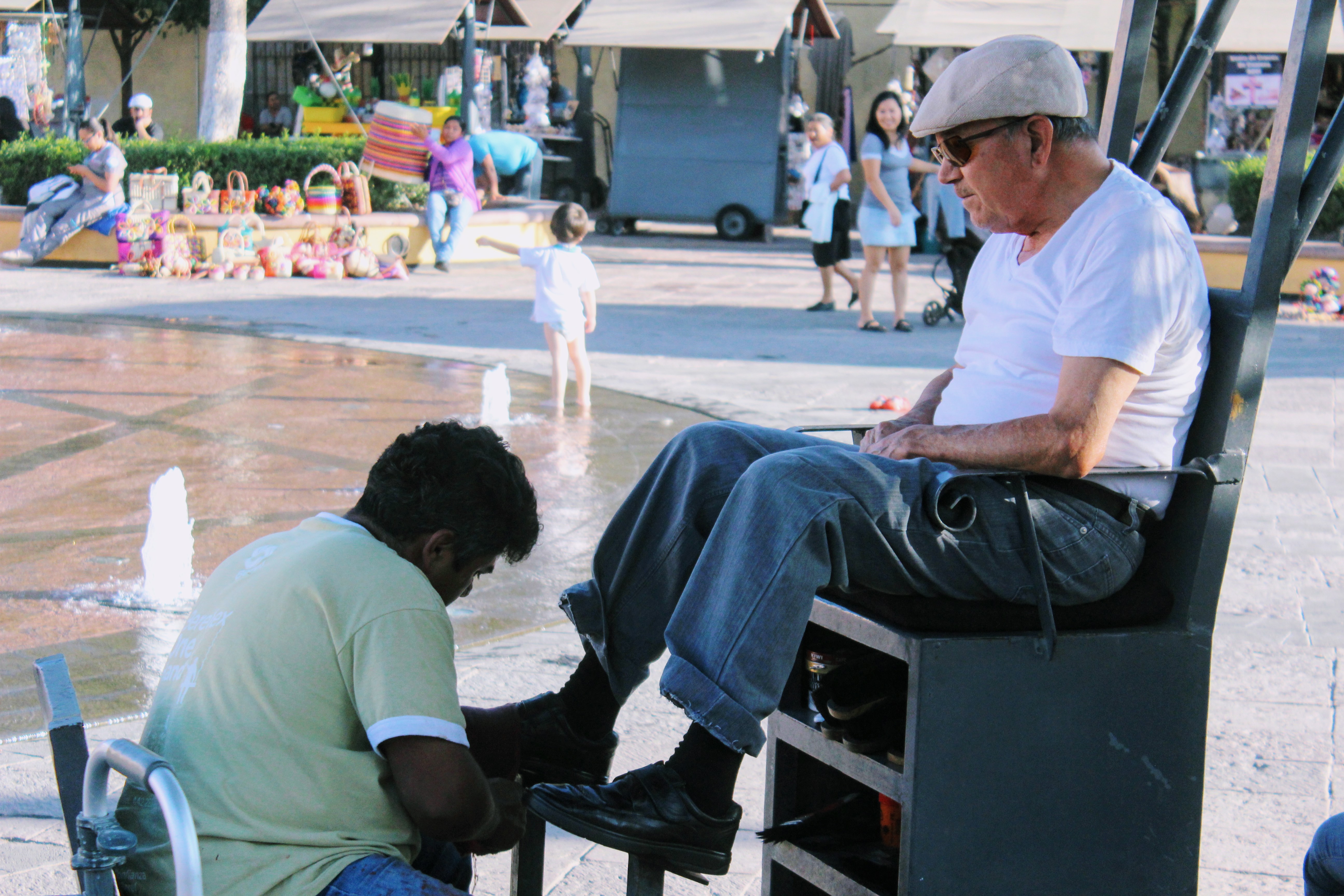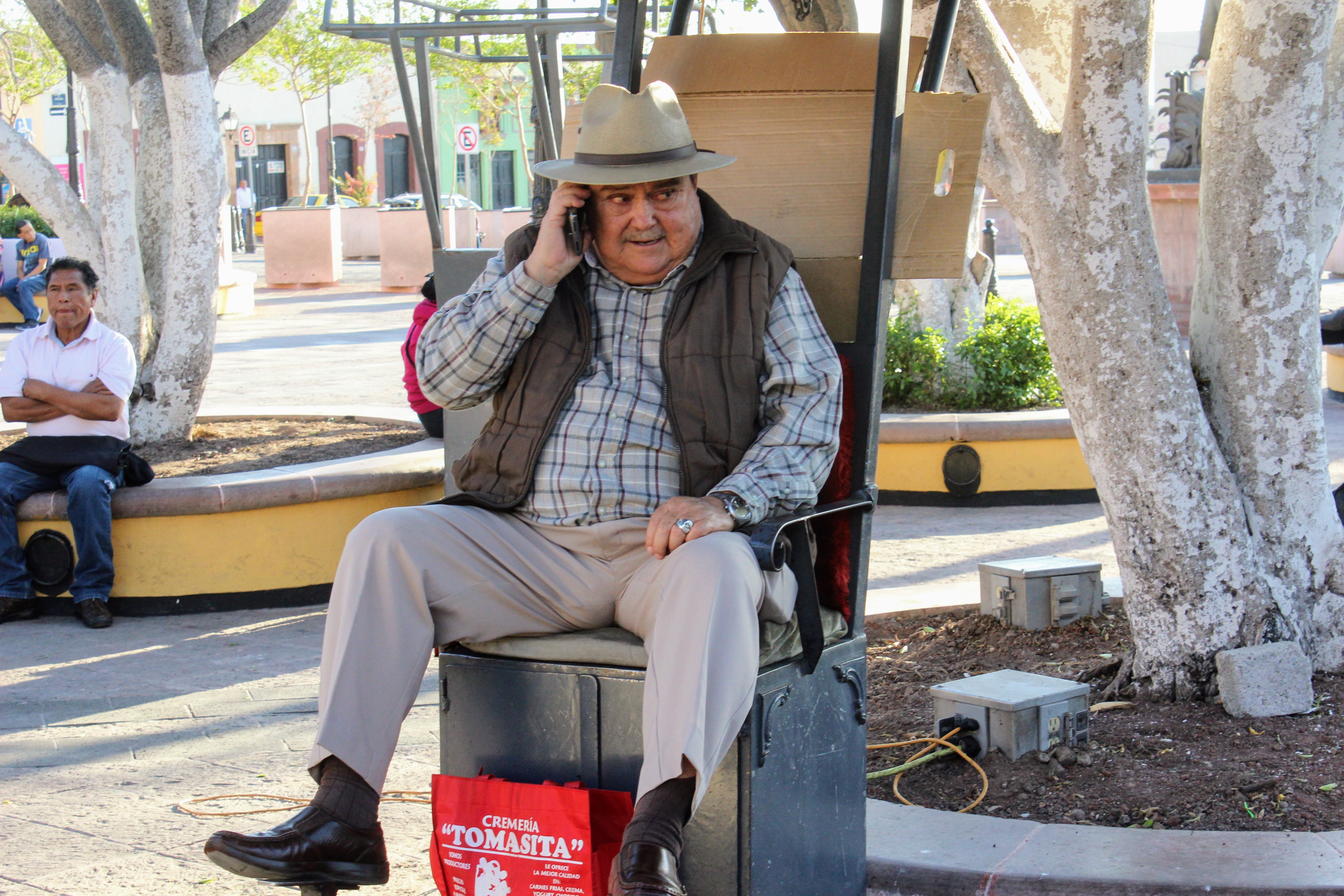 Leading east towards the center of the city, the small Progresso calle is home to many charming houses, with surprising colour choices.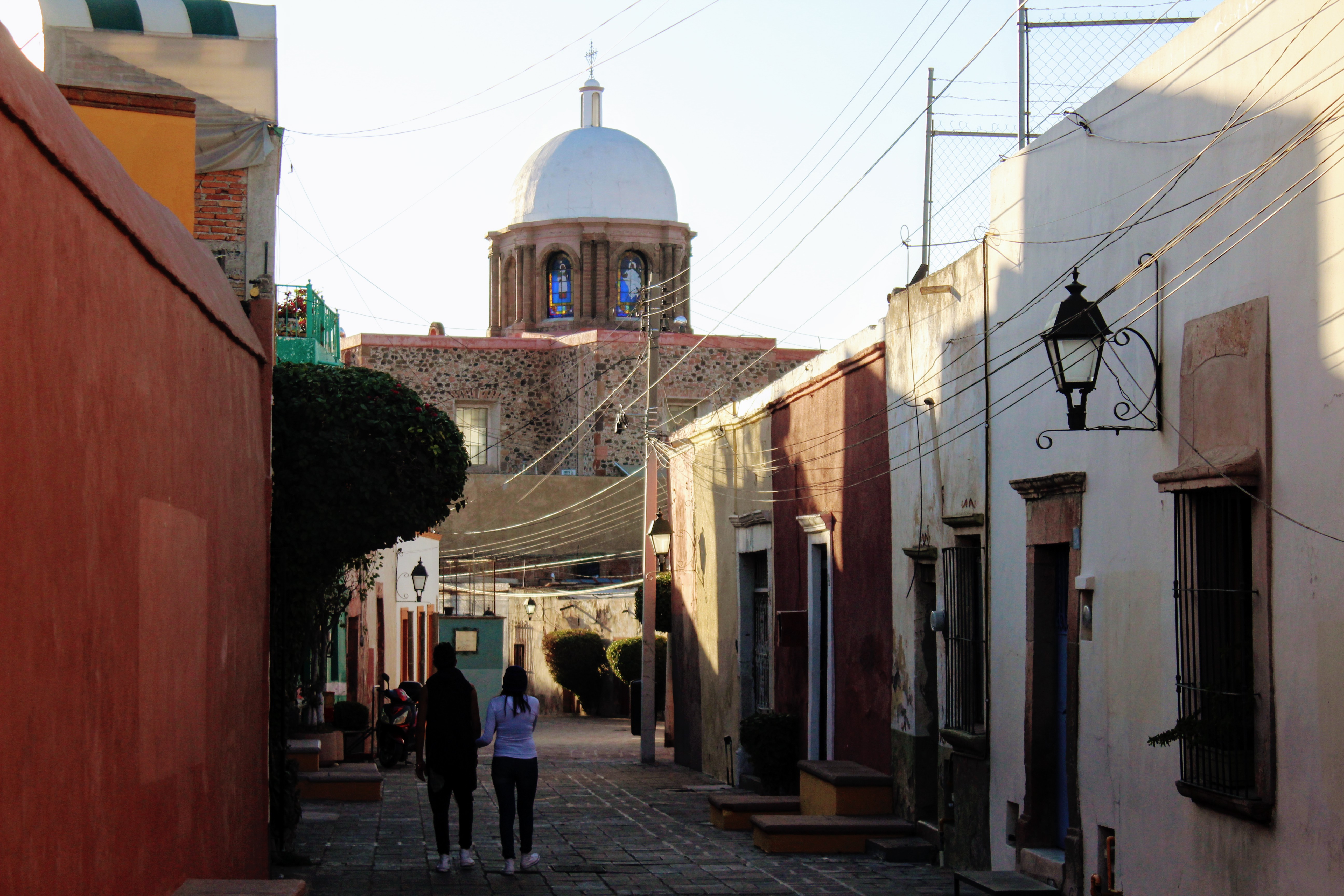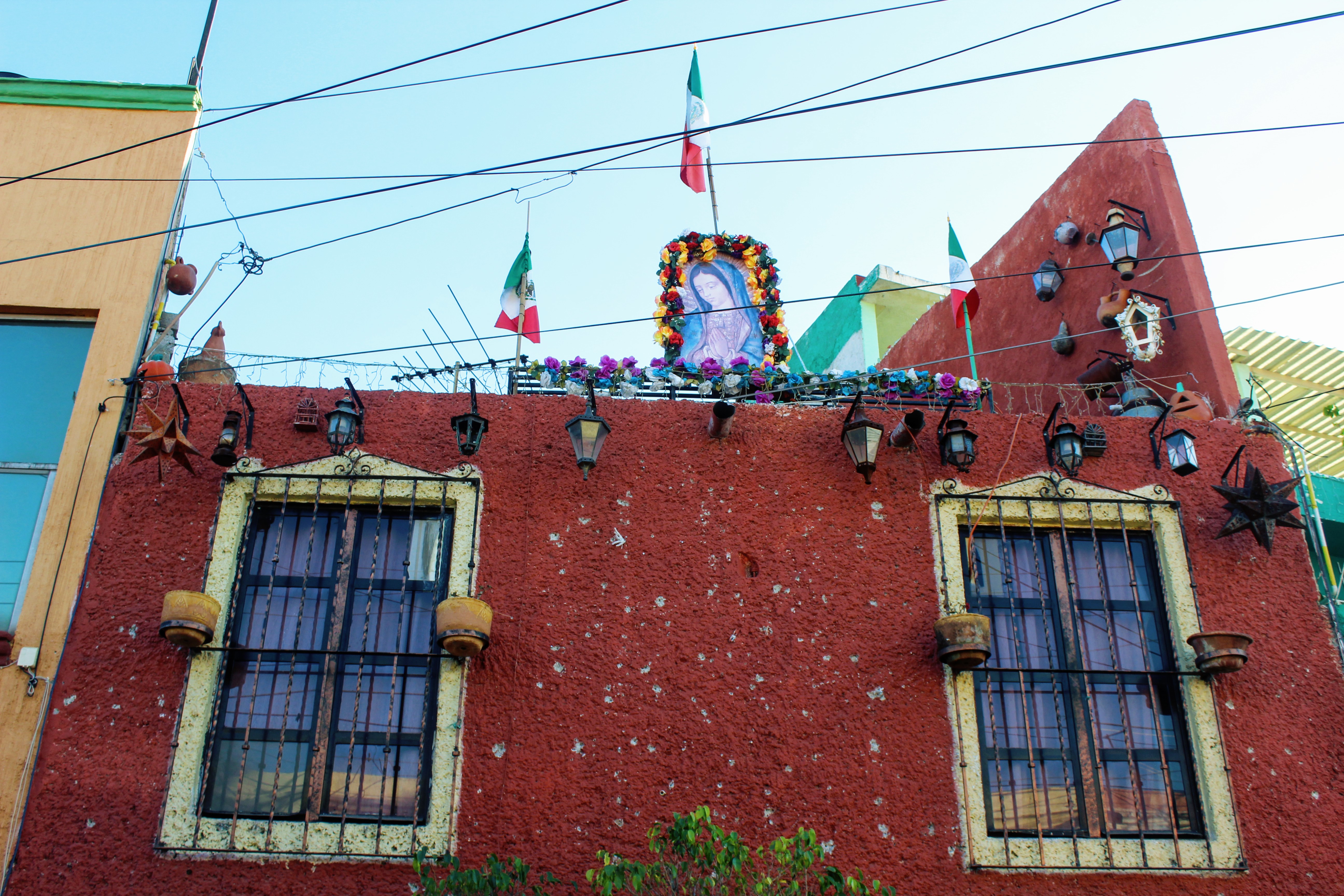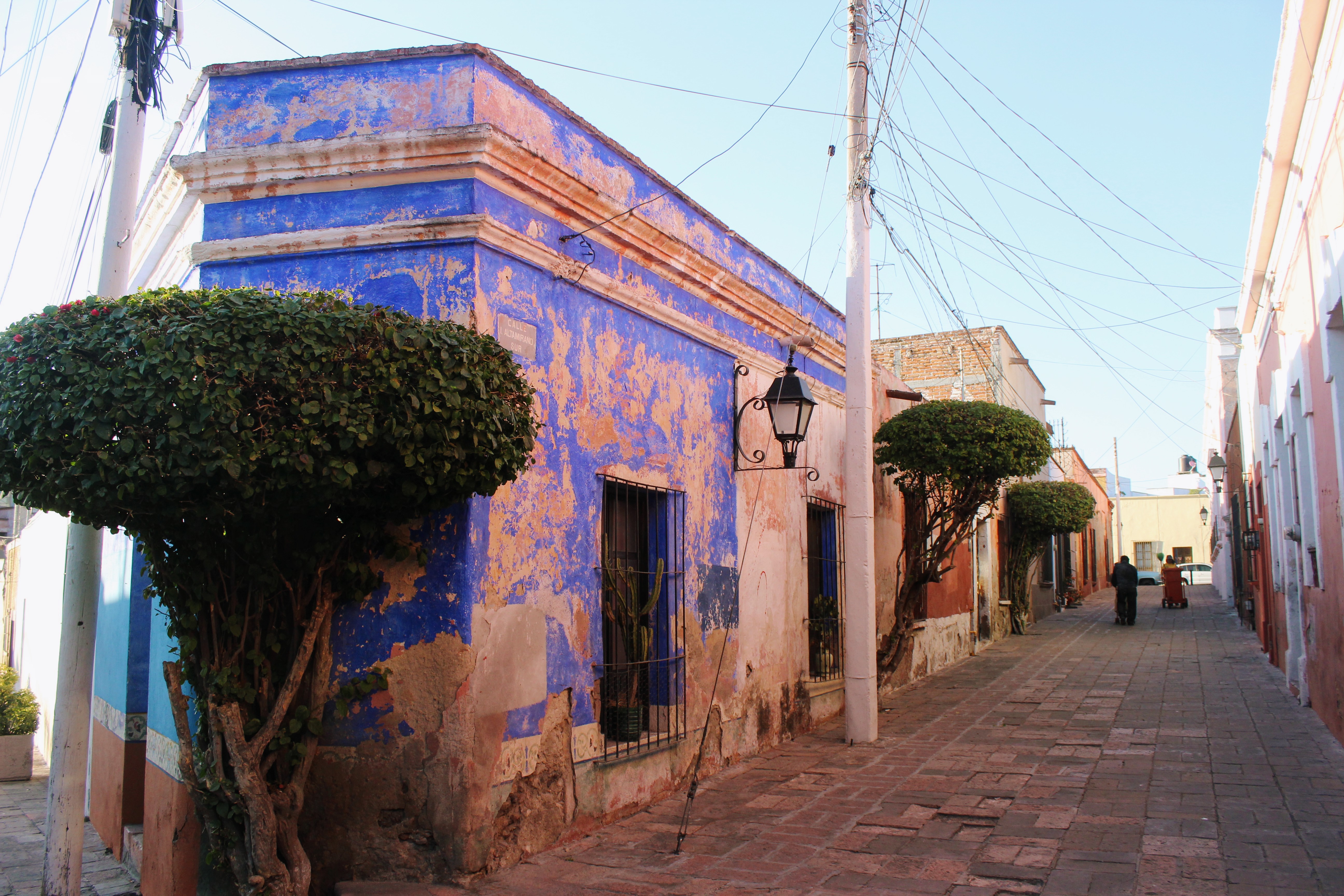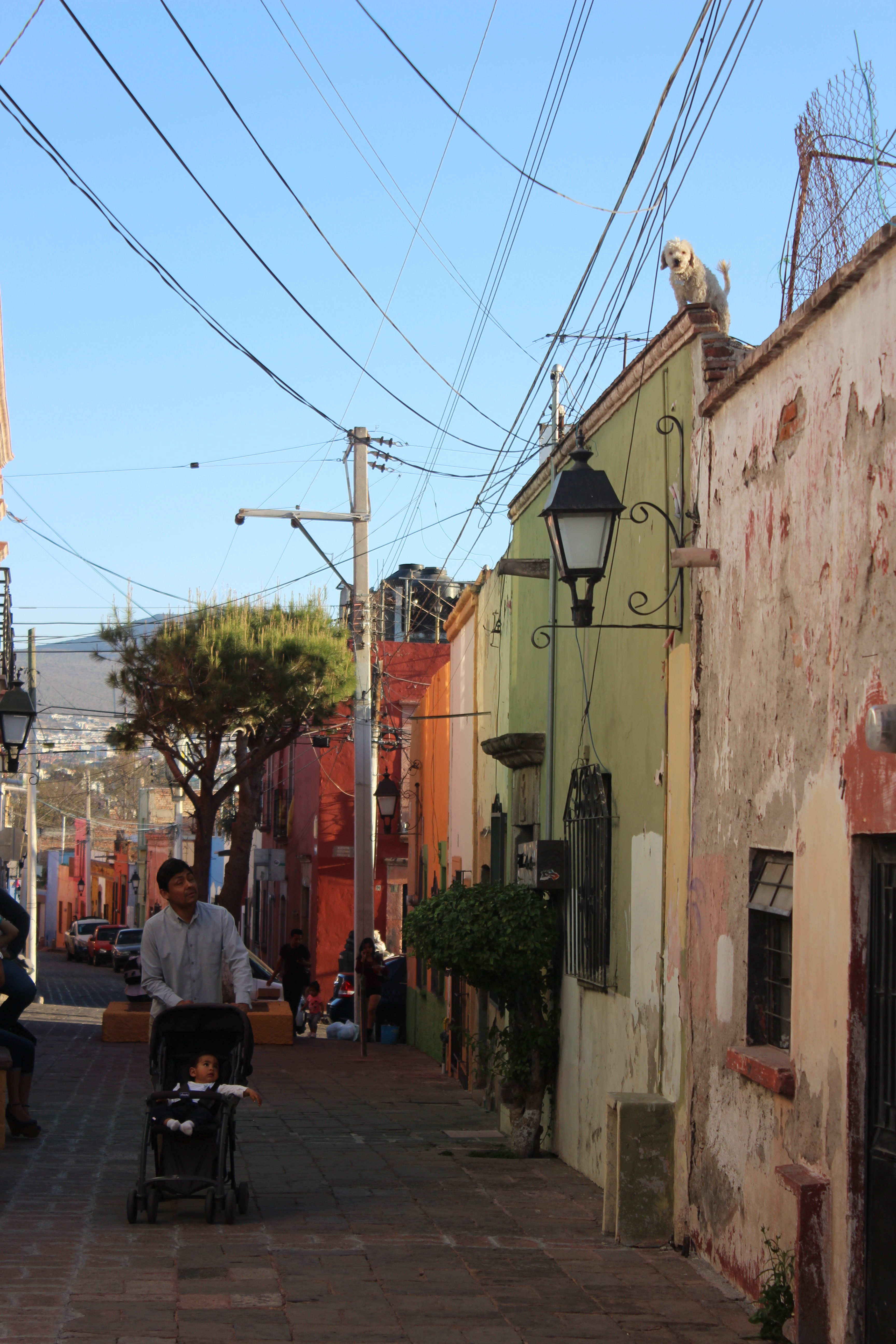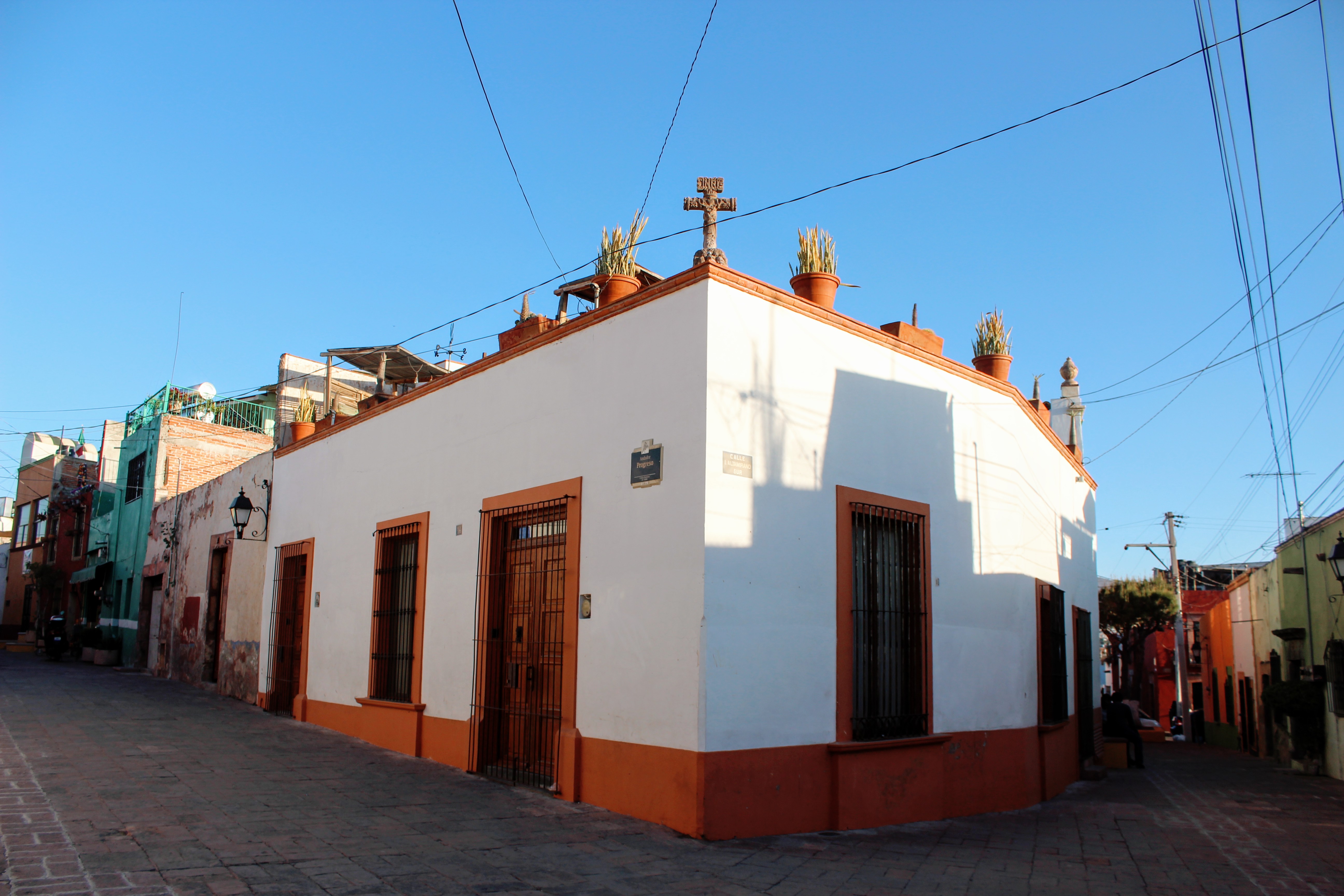 Up close, the geometry of angles of Capilla de la Merced holds the eye and brings strange satisfaction.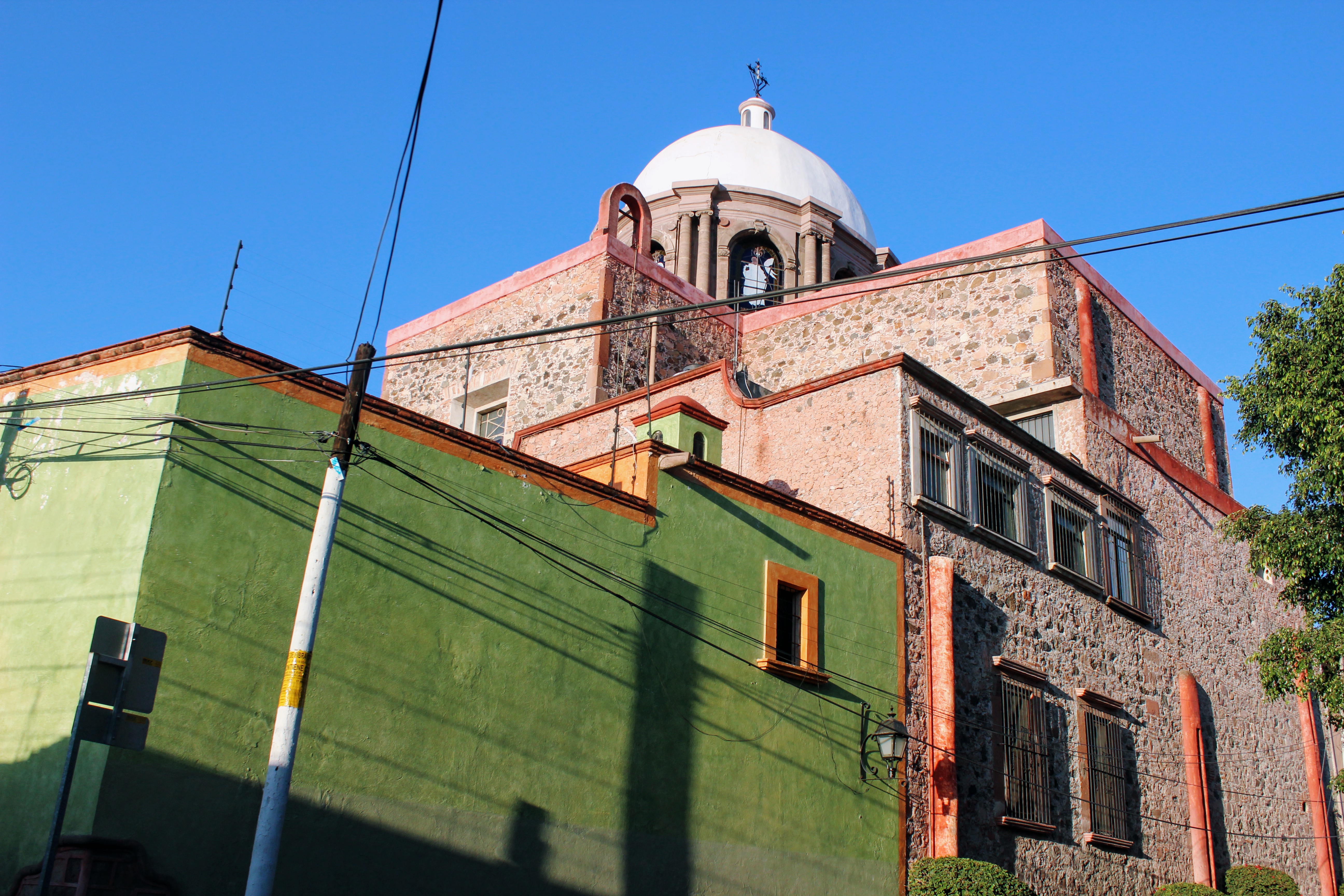 Calle Independencia
Calle Independencia leads further to the center of the city. Since it was Saturday, the street was full with vendors selling artisan products.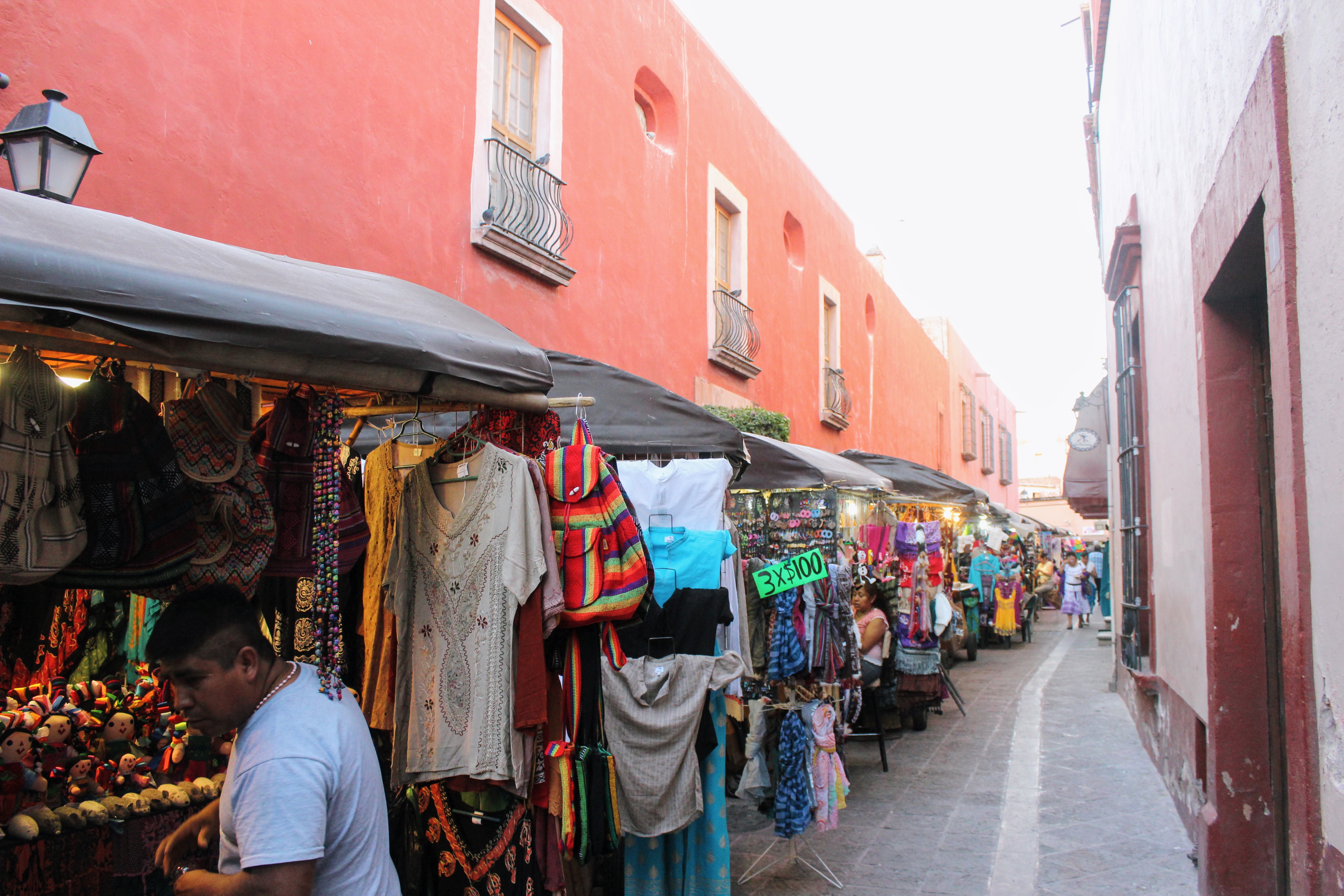 Small children staying by their mom's' side from morning till evening in the middle of market bustle reflect the difficult reality of these working women.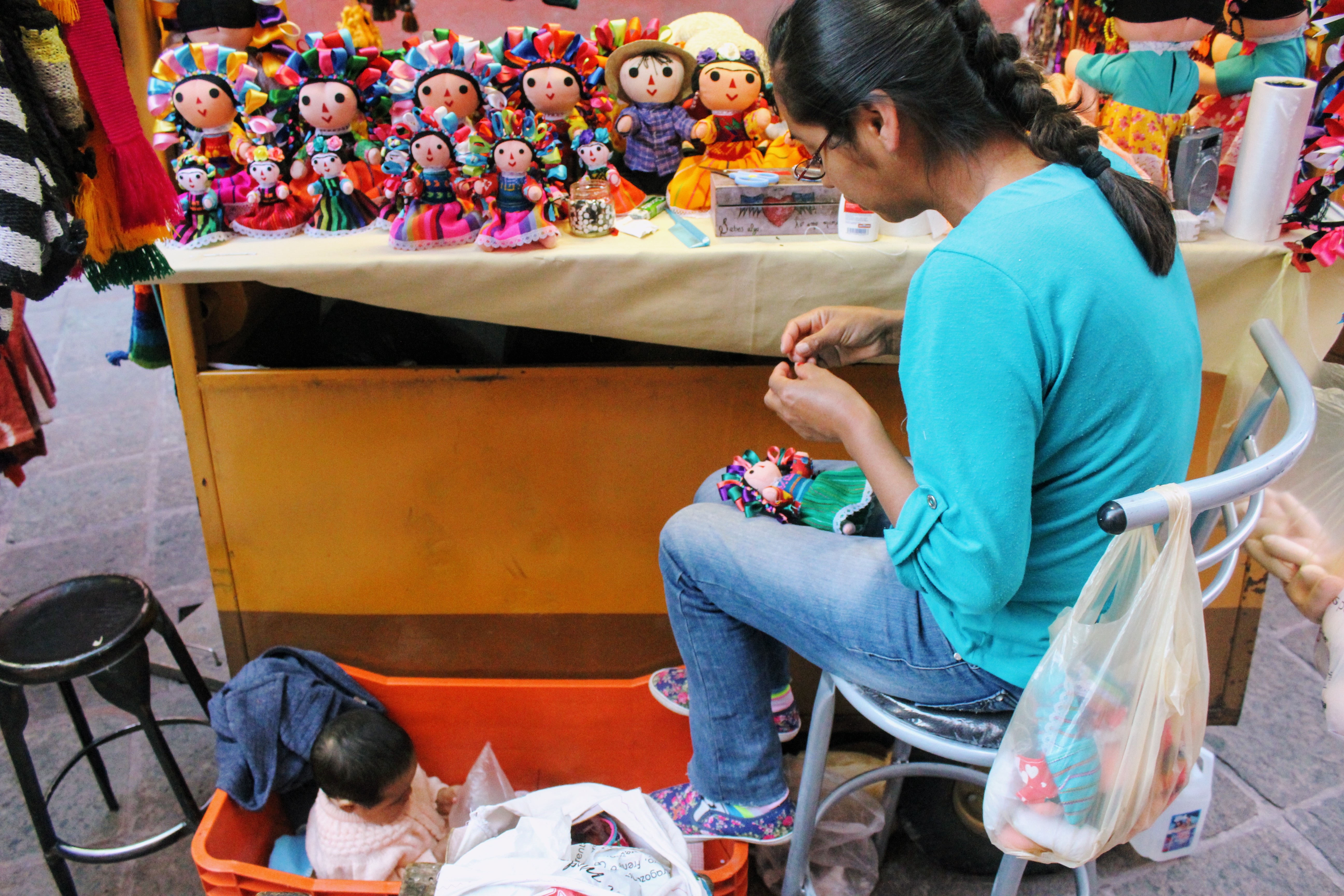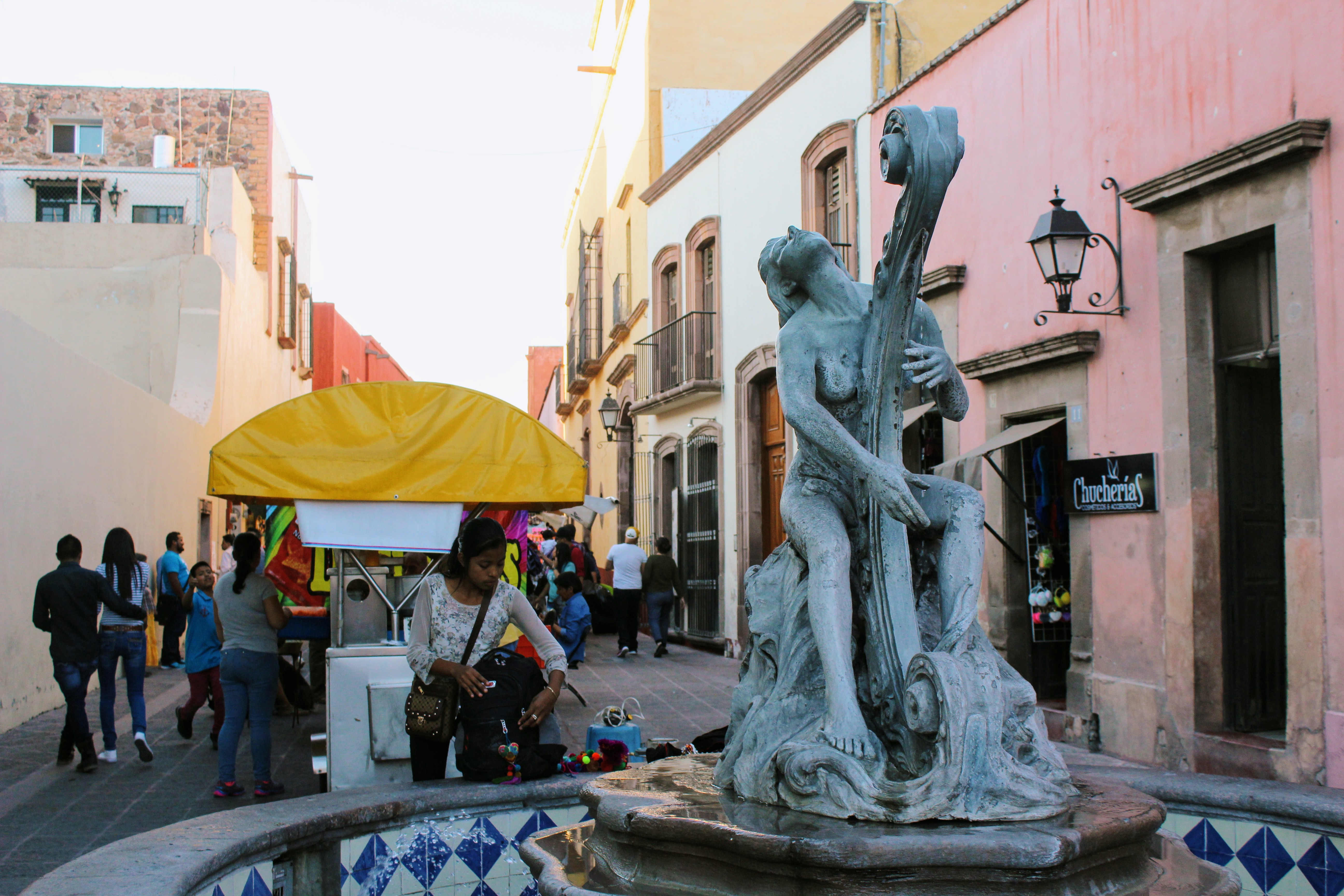 For a pretty conservative country, the sculptures in Queretaro are surprisingly sensual.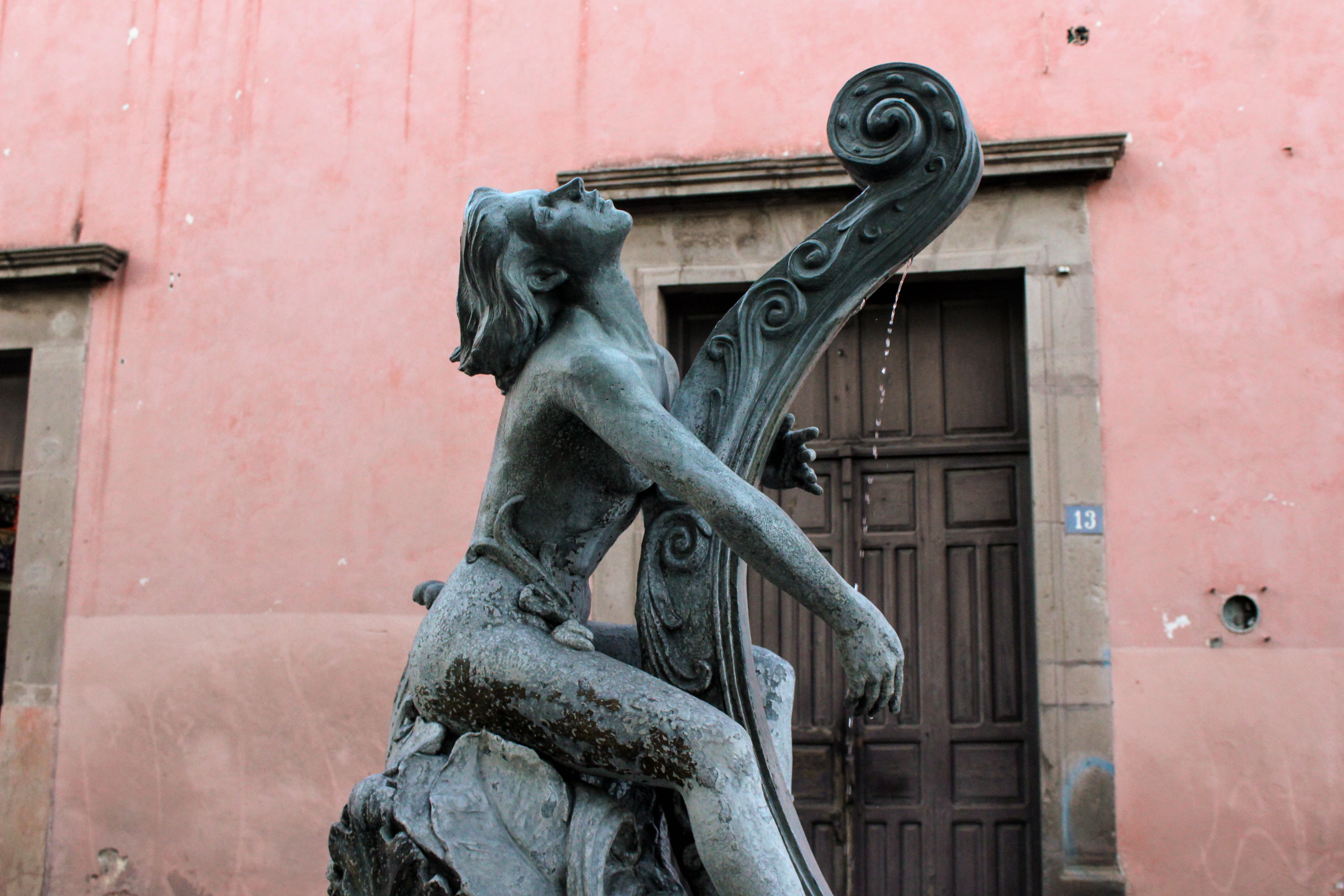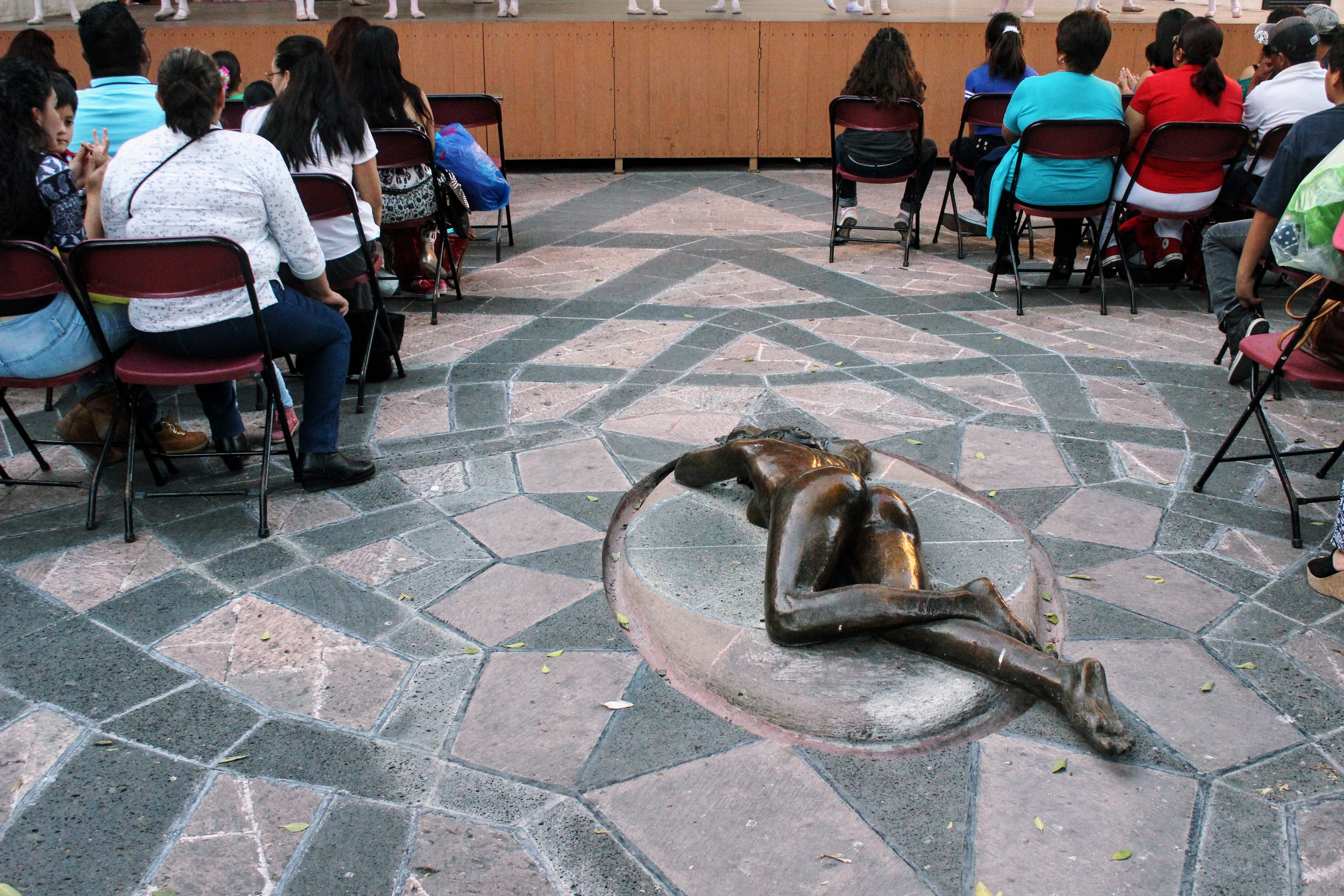 While I was appreciating the artistic value of those curvy forms, on the stage in Jardin Del Arte little ballerinas were performing for their parents.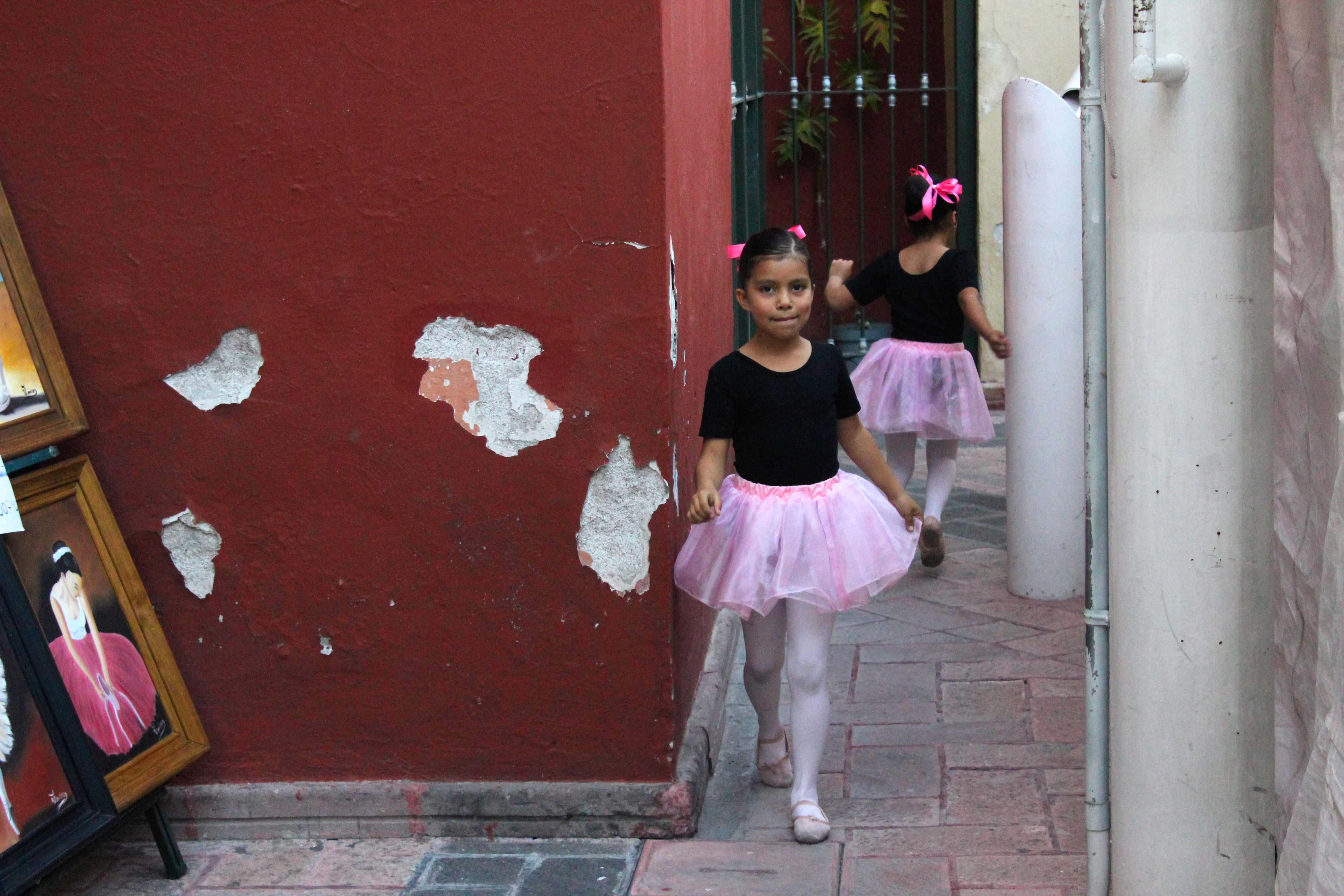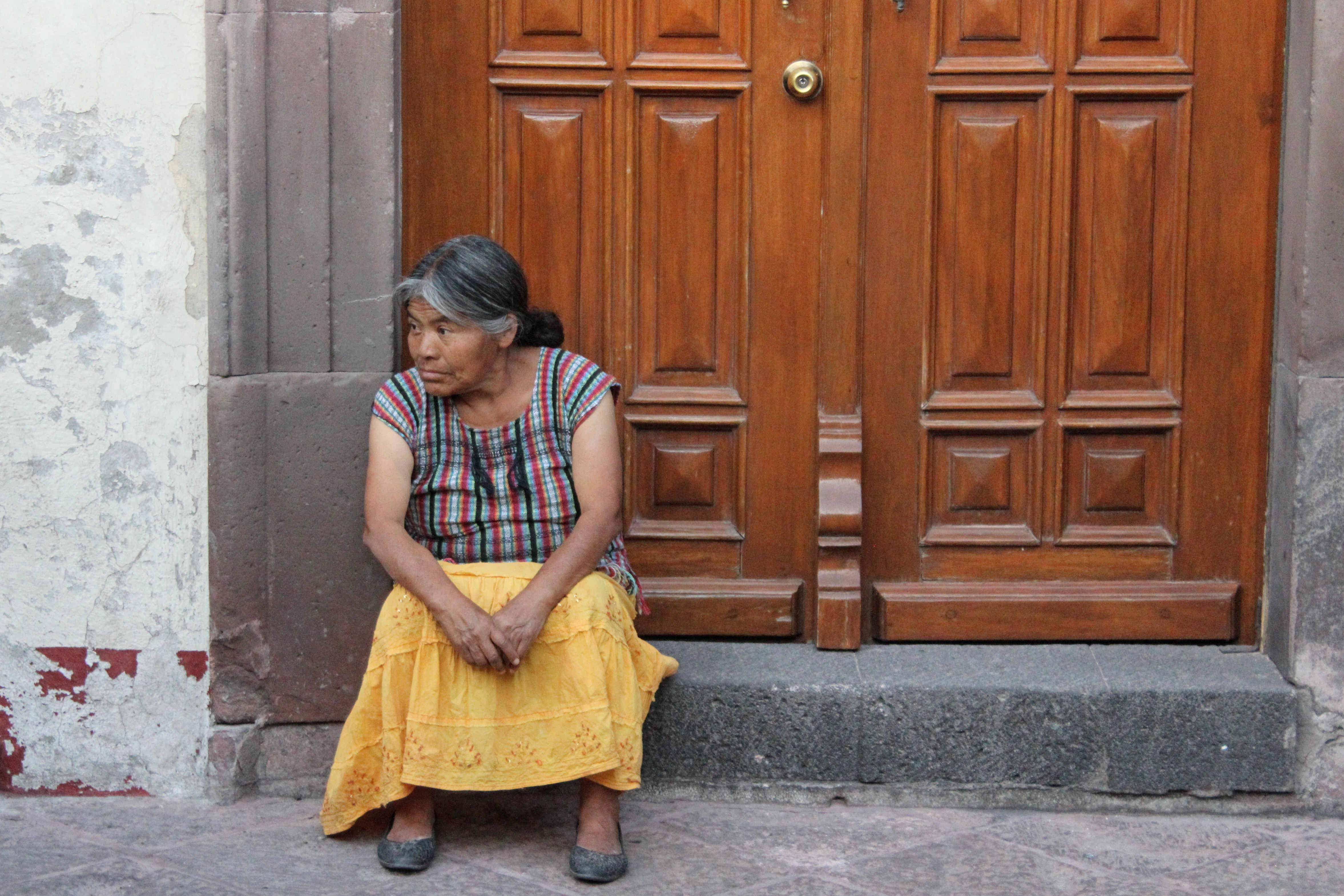 Templo de San Francisco
In 1996, the historic center of Querétaro was declared a World Heritage Site by UNESCO. Templo de San Francisco provides another piece of evidence for the decision.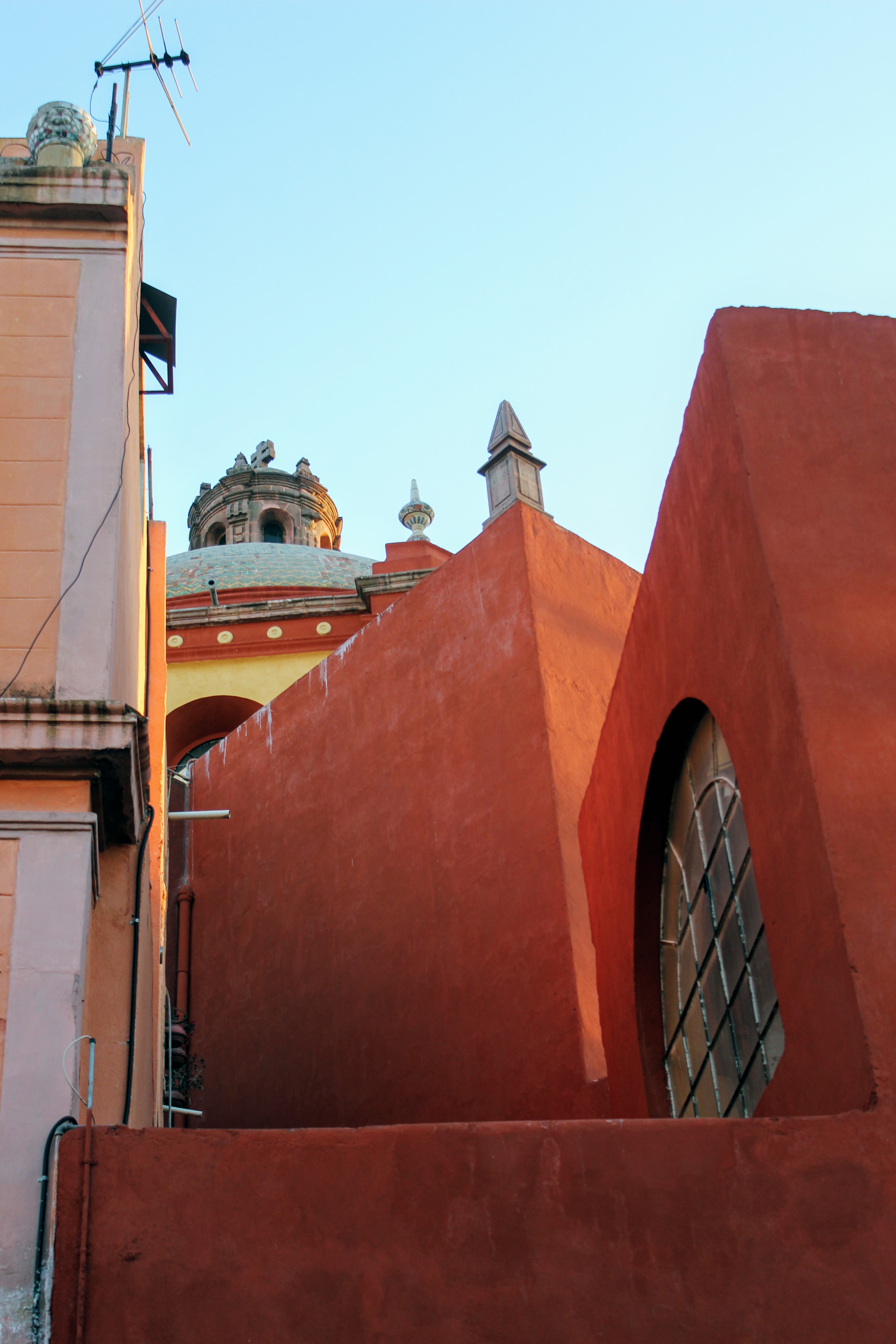 Halfway between a European town-hall and a fire tower, Templo San Francisco defies explanation in a spectacular way.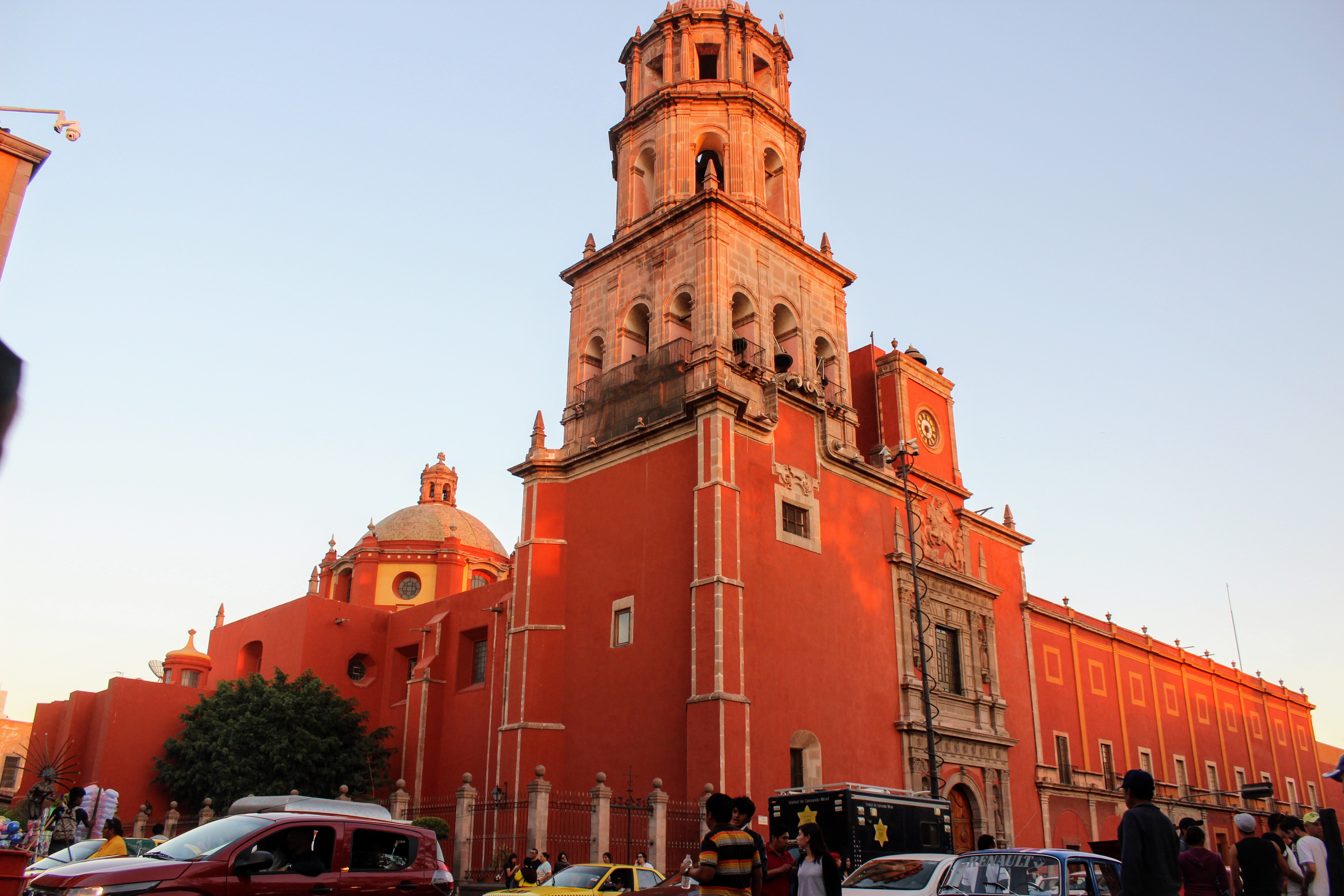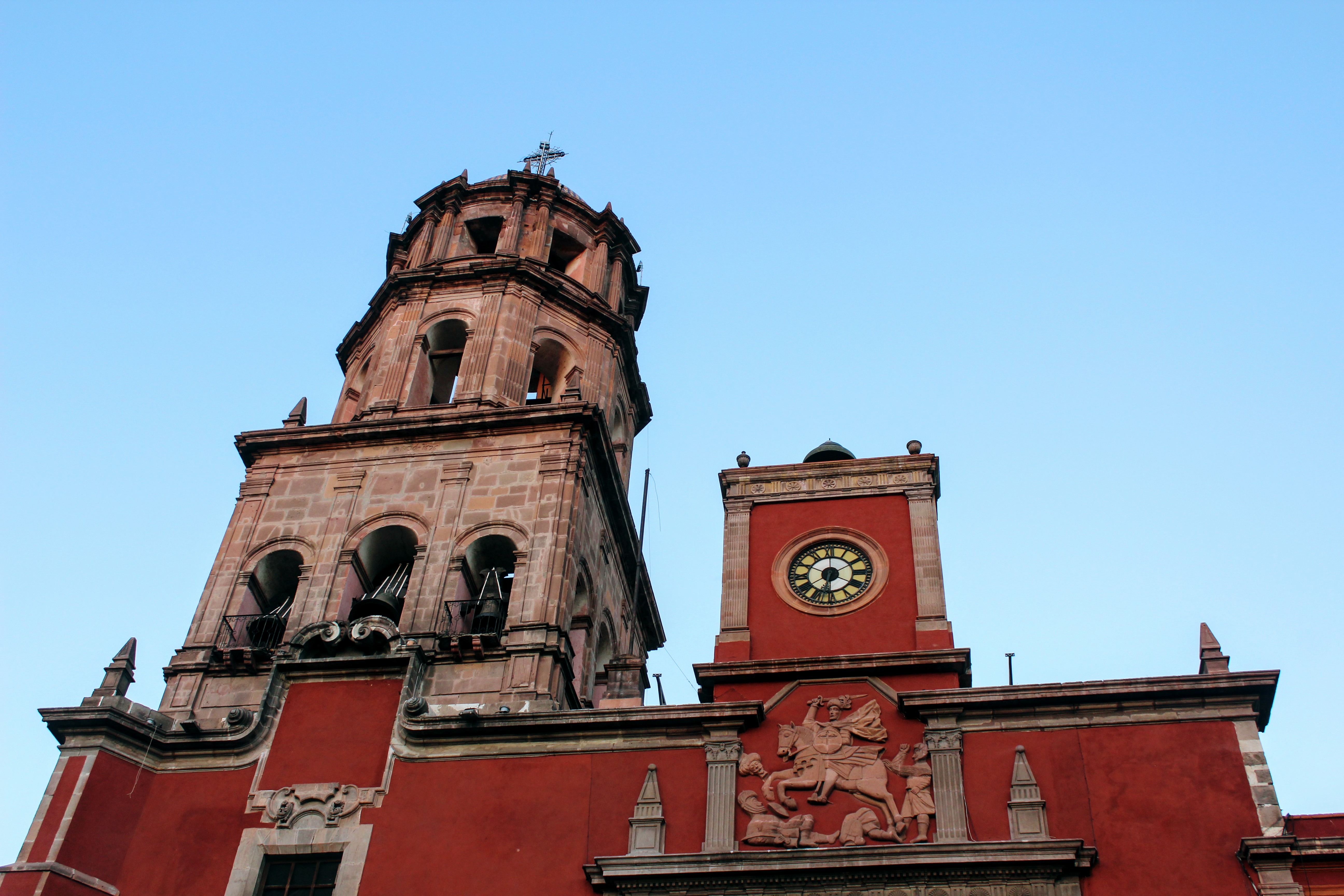 Plaza Constitución, behind Templo San Francisco, is another city landmark where odd parts make for a perfect whole.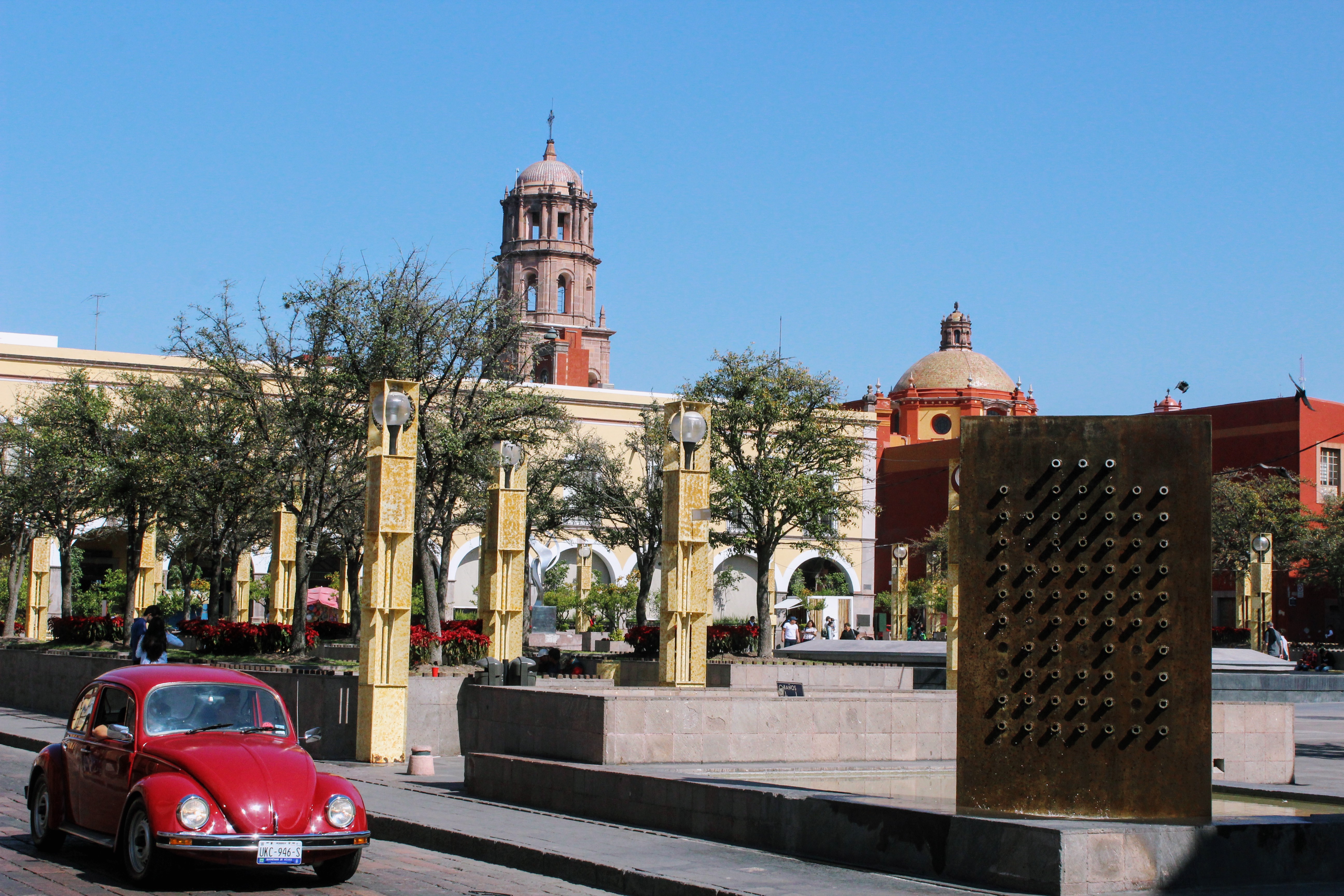 Querétaro is considered to be one of the "cradles" of Mexican Independence and much of the credit is given to Josefa Ortiz de Domínguez. She was the wife of the city's mayor, at the beginning of the 19th century, and used her prominent position to gather intelligence for the insurgency. This statue commemorates her.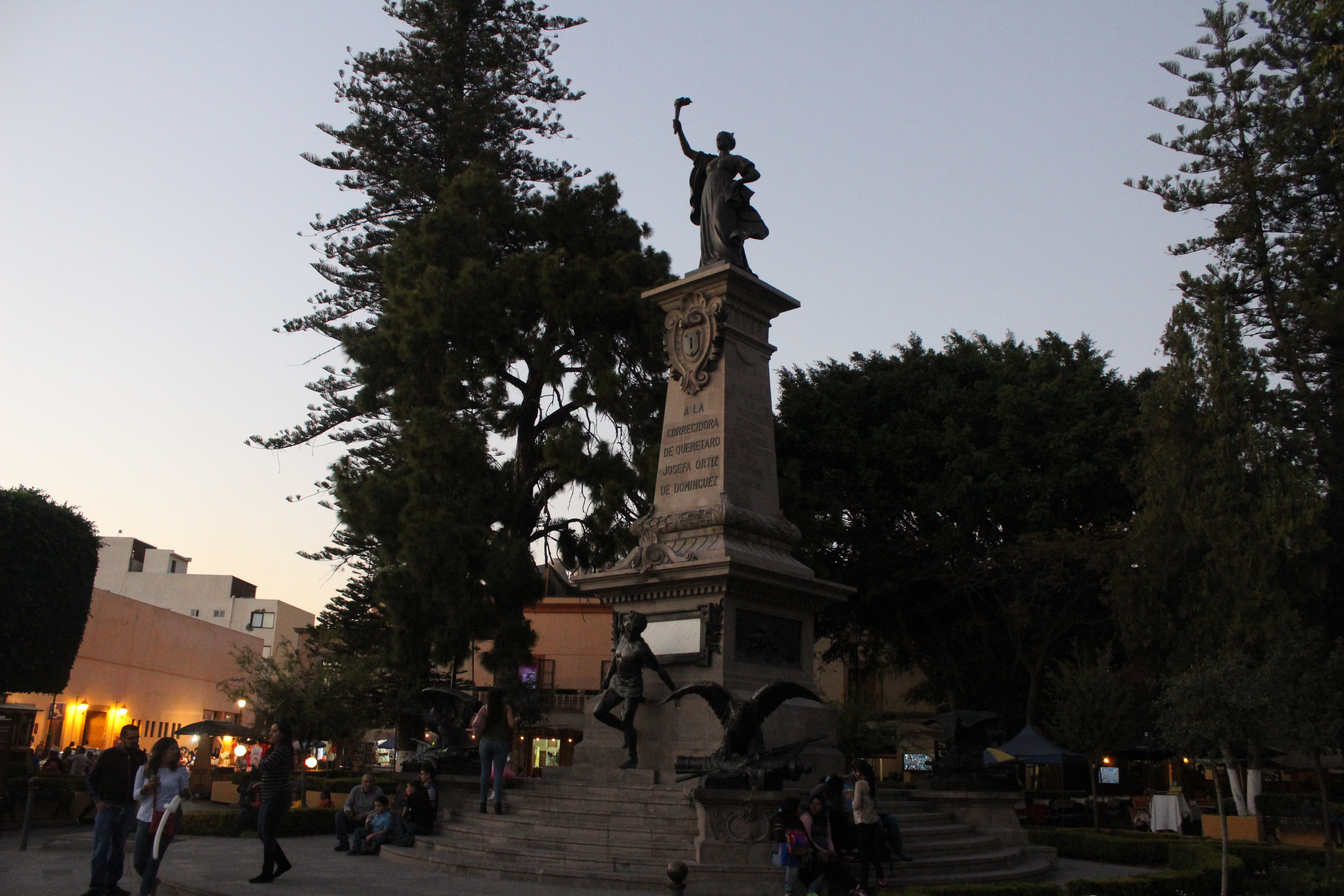 The dolls we saw first in the market welcomed us, now framed, on the walls of 1810, a renowned restaurant on Plaza de Armas where we stopped for dinner. It fuses Mexican tastes with French sophistication rather succesfully.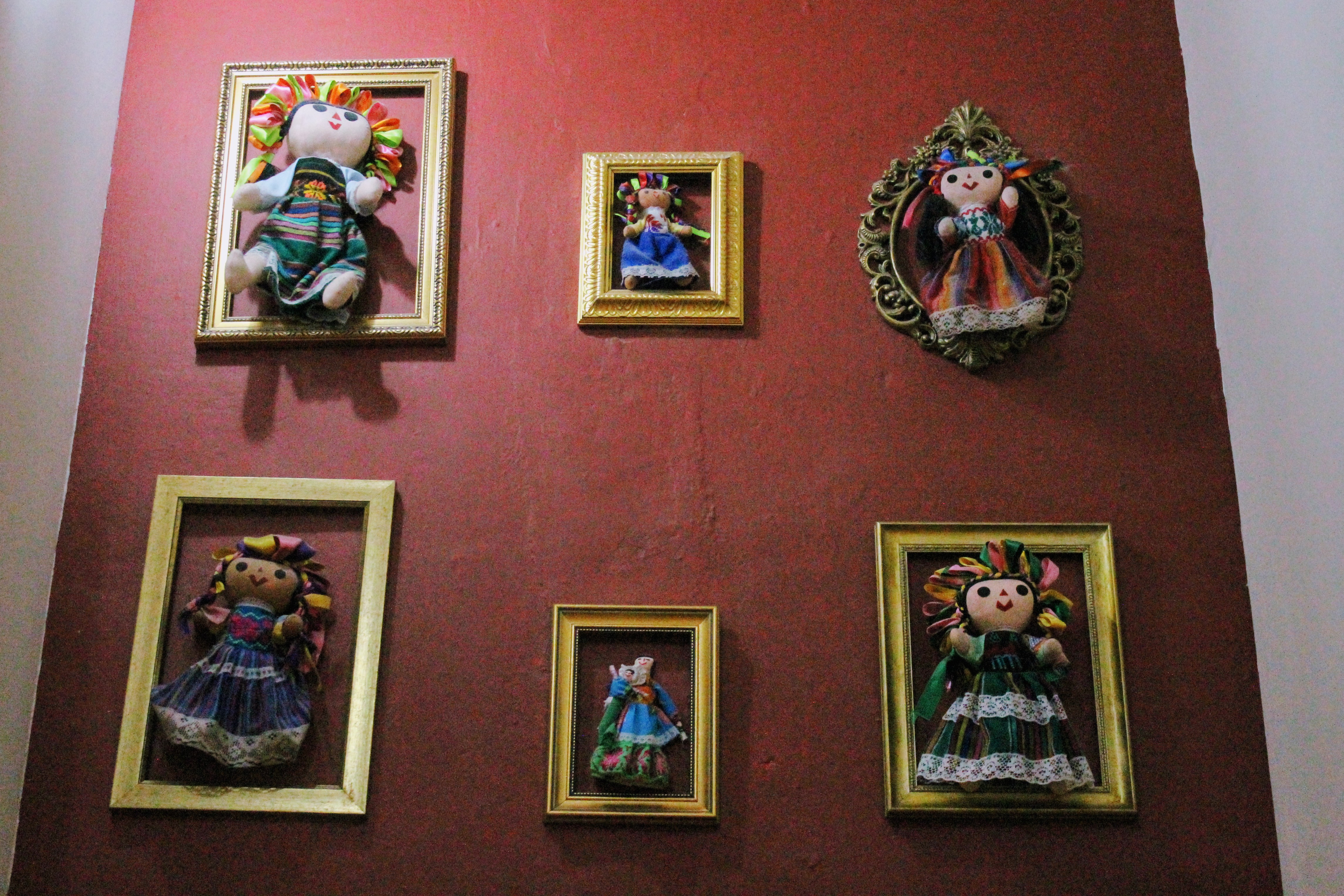 This is Mauritzio, a local self-taught young painter. He was selling his work on Plaza de Armas, outside of the restaurant, when I noticed that he signs his paintings in Hebrew. Turns out he is a fan of Israel, learned the Hebrew script by himself, and looks forwards for the Third Temple to be built. Surprises are lurking in this city on every corner.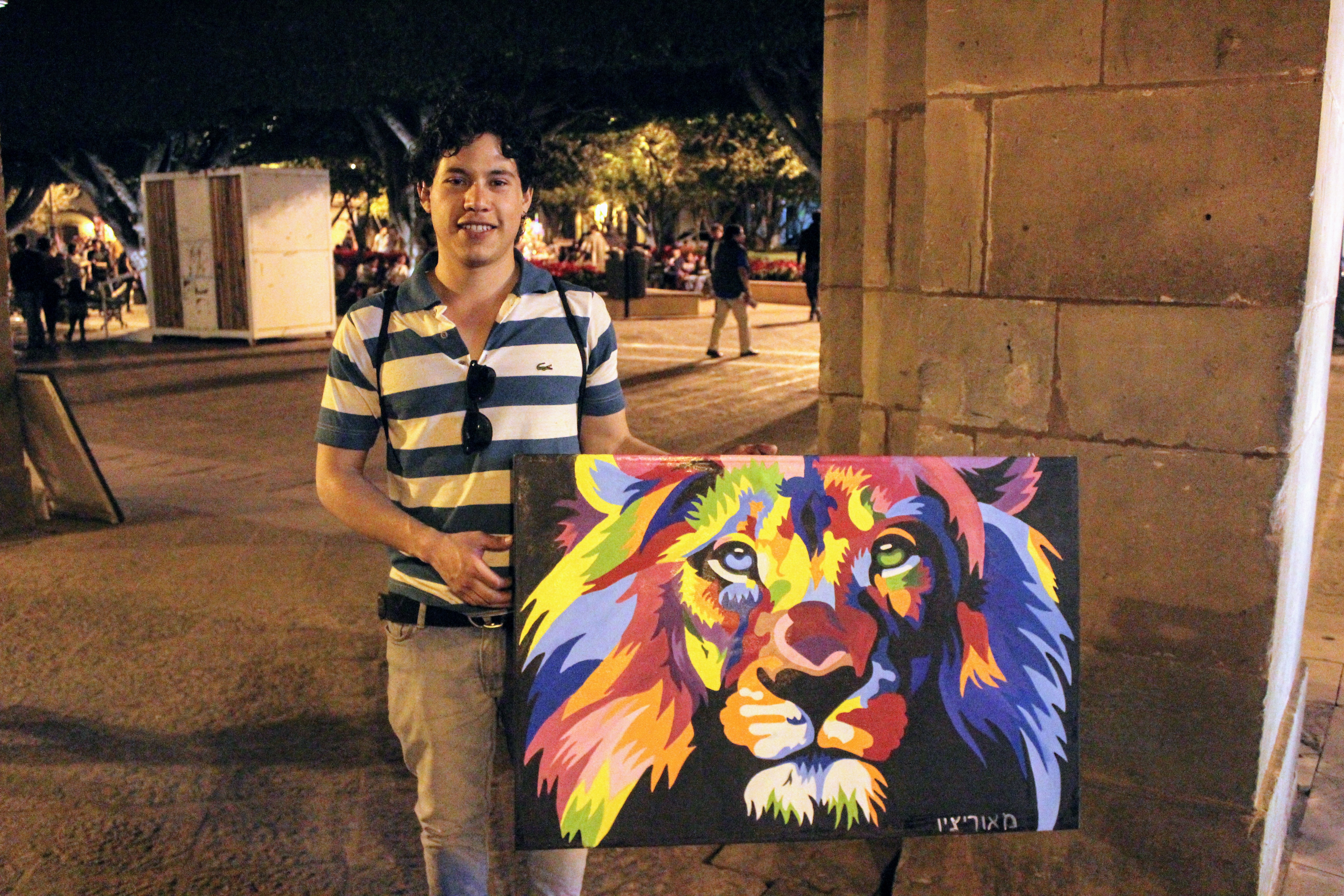 Churches
Next day started with churches. In Mexico they are on every corner, and in Queretaro they come in all shapes and sizes. This is Diocesis de Queretaro, a beautiful church that looks like classical Greek temple.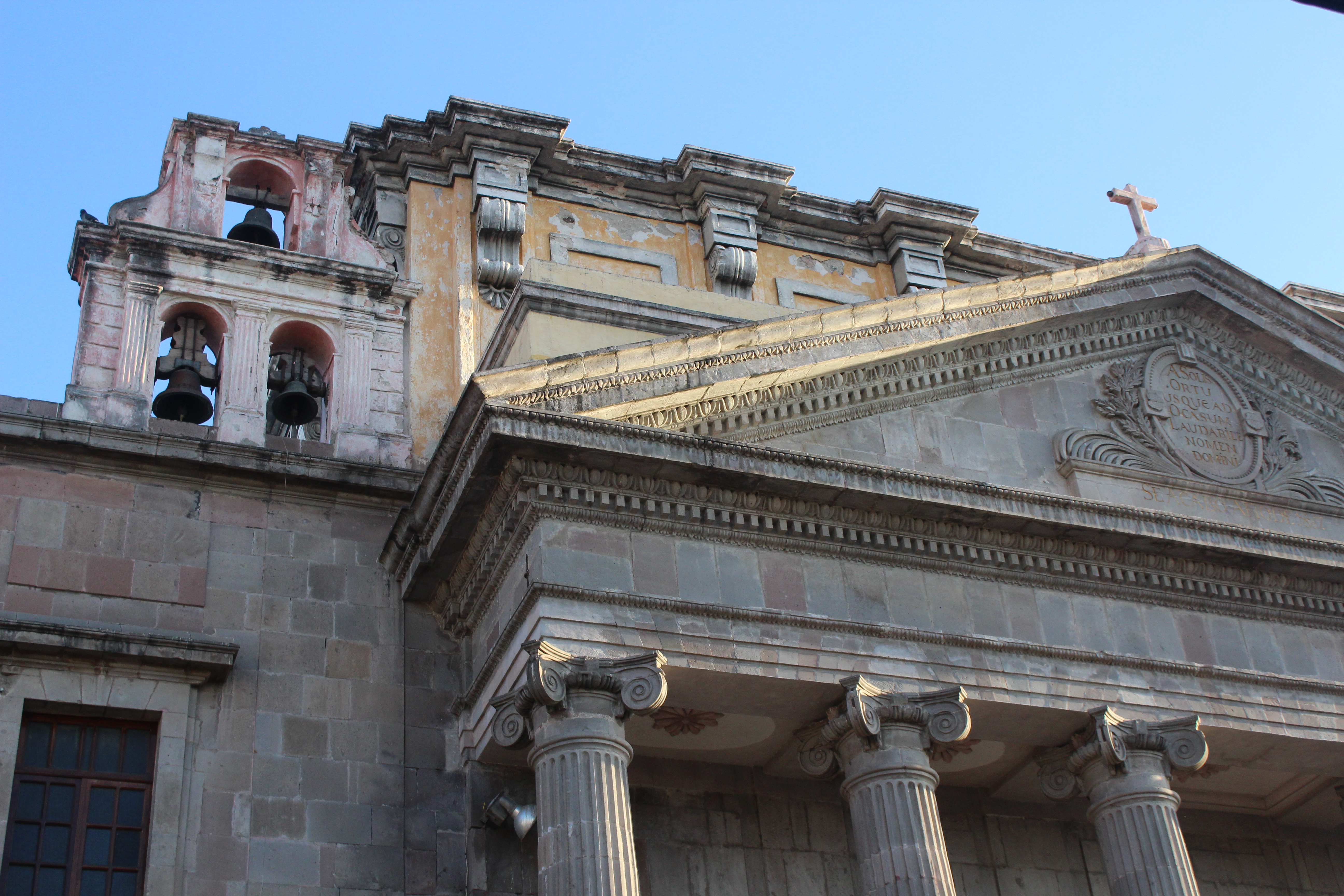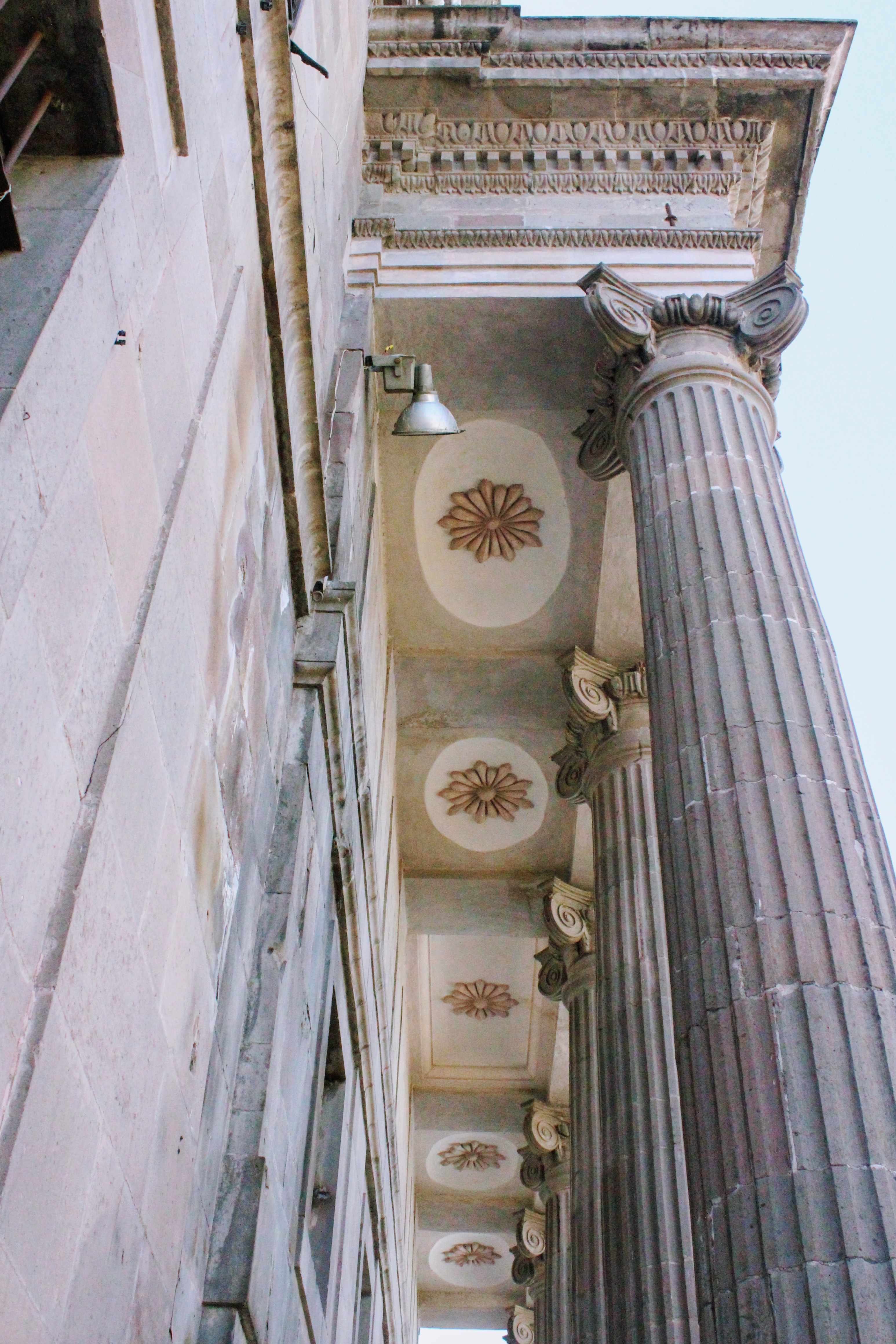 This is Templo de San Agustin.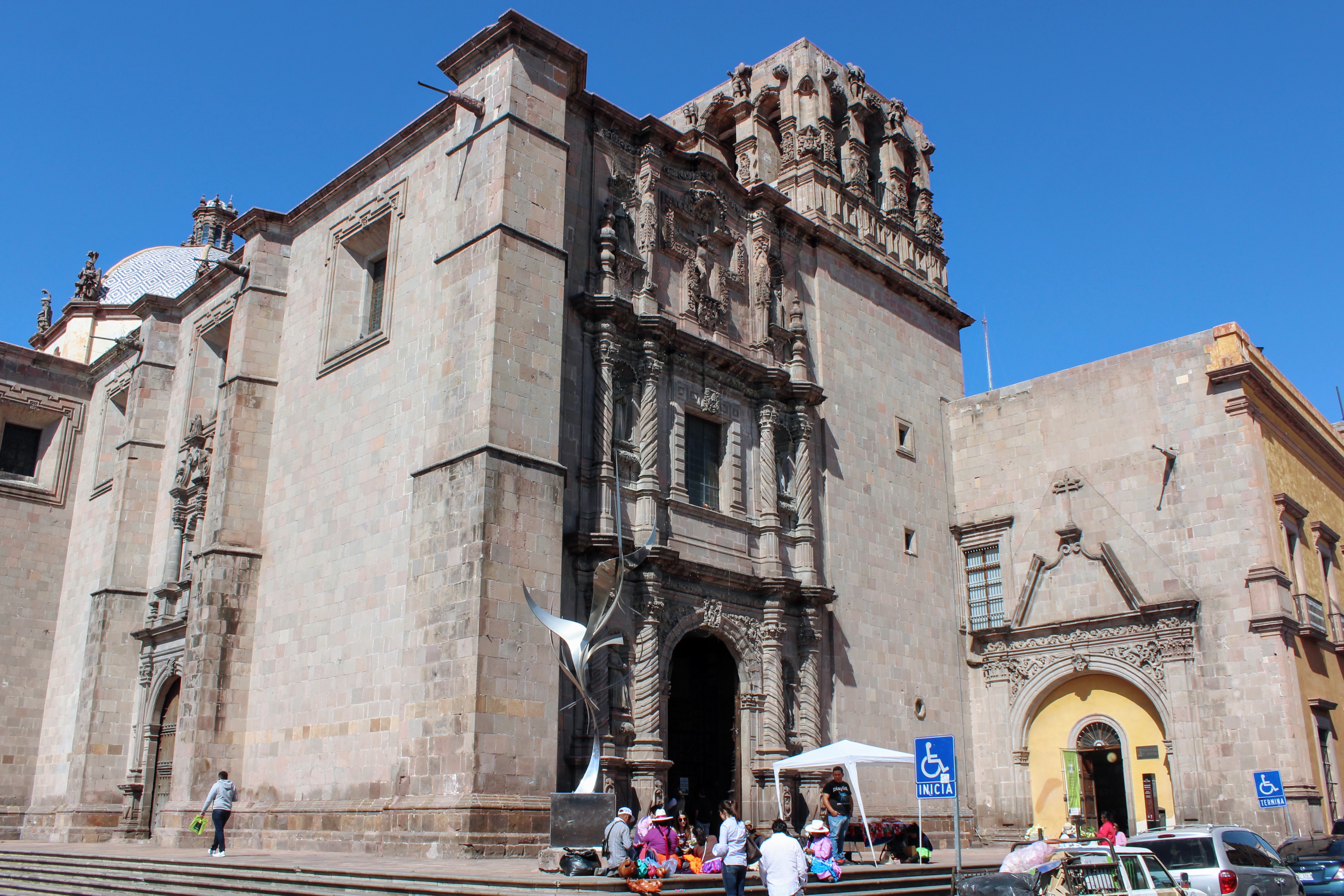 It may not look like much from afar, but it's facade's meticulous sculpture work is beautiful.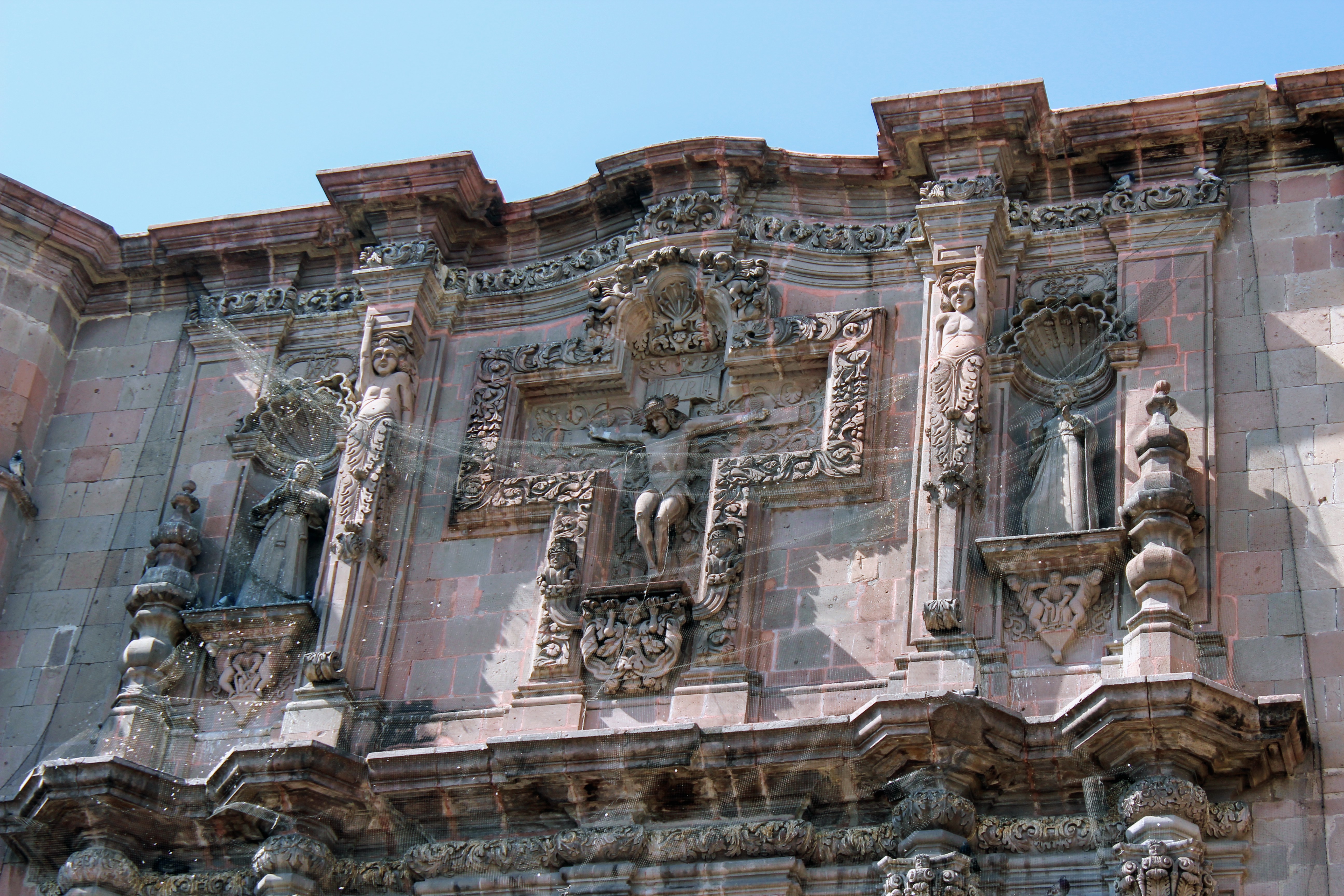 It was Sunday, and local poor lined up outside the church. Here, like everywhere else in Mexico, you are much more likely to be poor if you are of indigenous ancestry. Structural inequalities are hard to miss.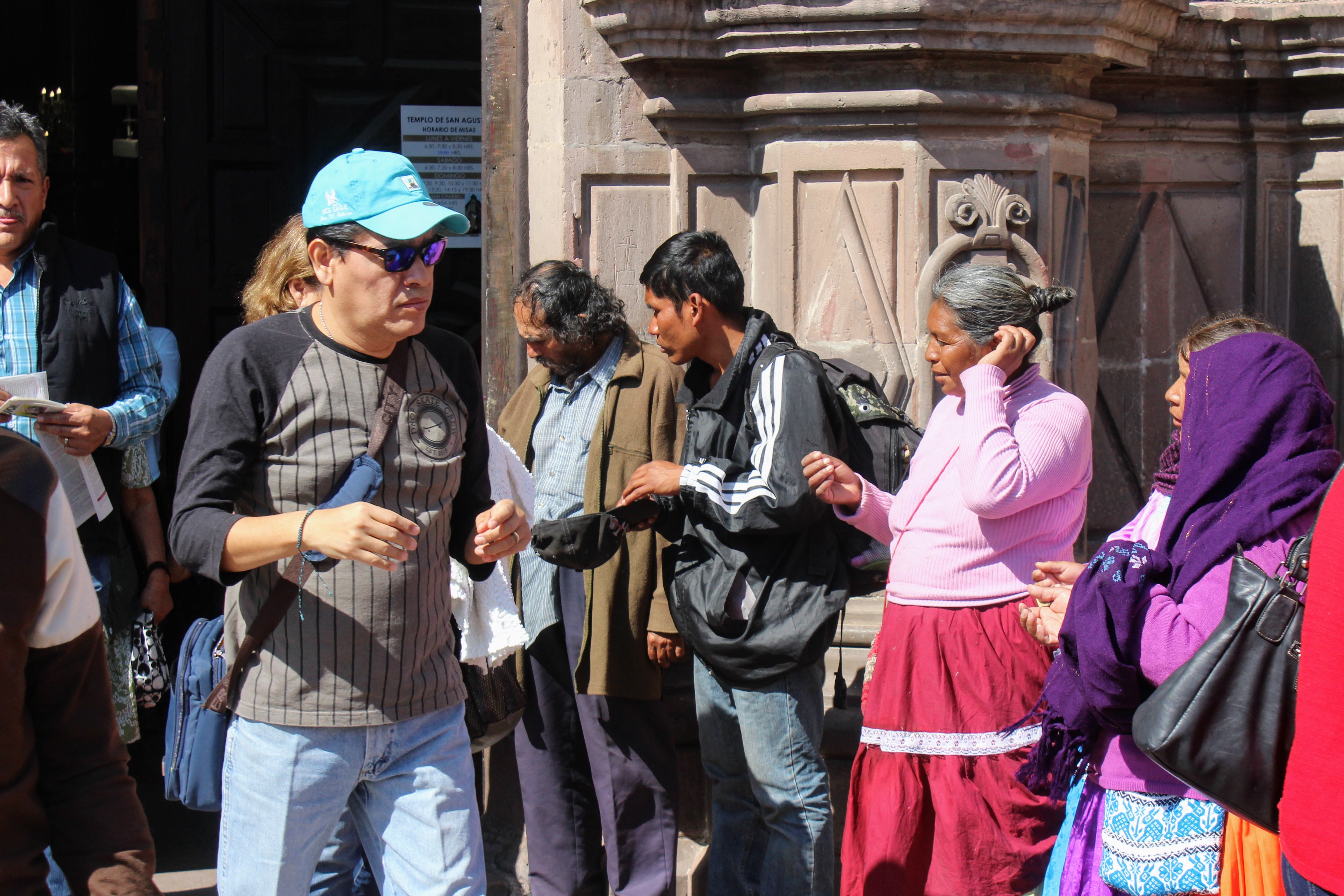 And this is Parroquia del Sagrado Corazón de Jesús – "Church of Jesus sacred heart".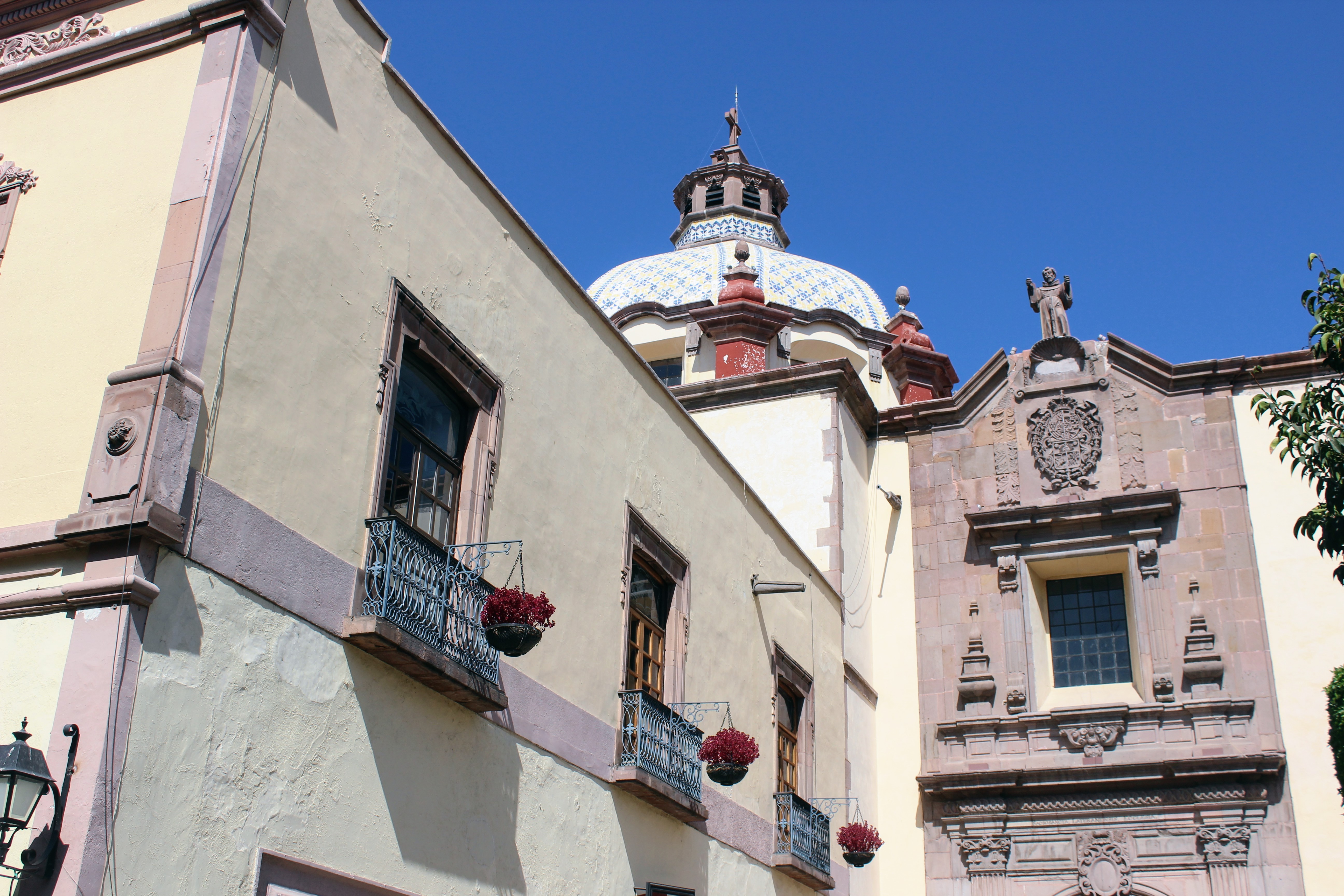 Before making a judgement, you need to peek inside.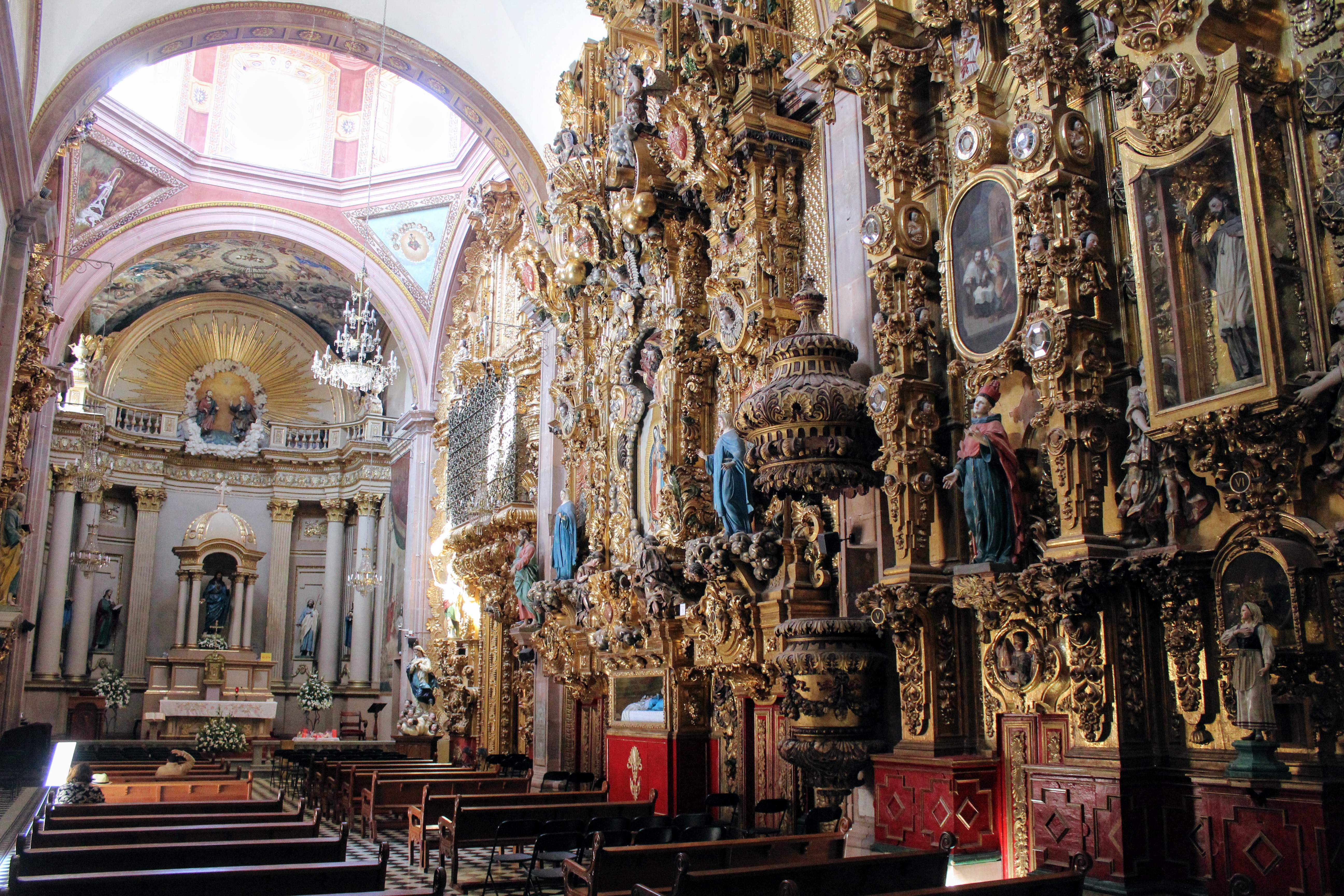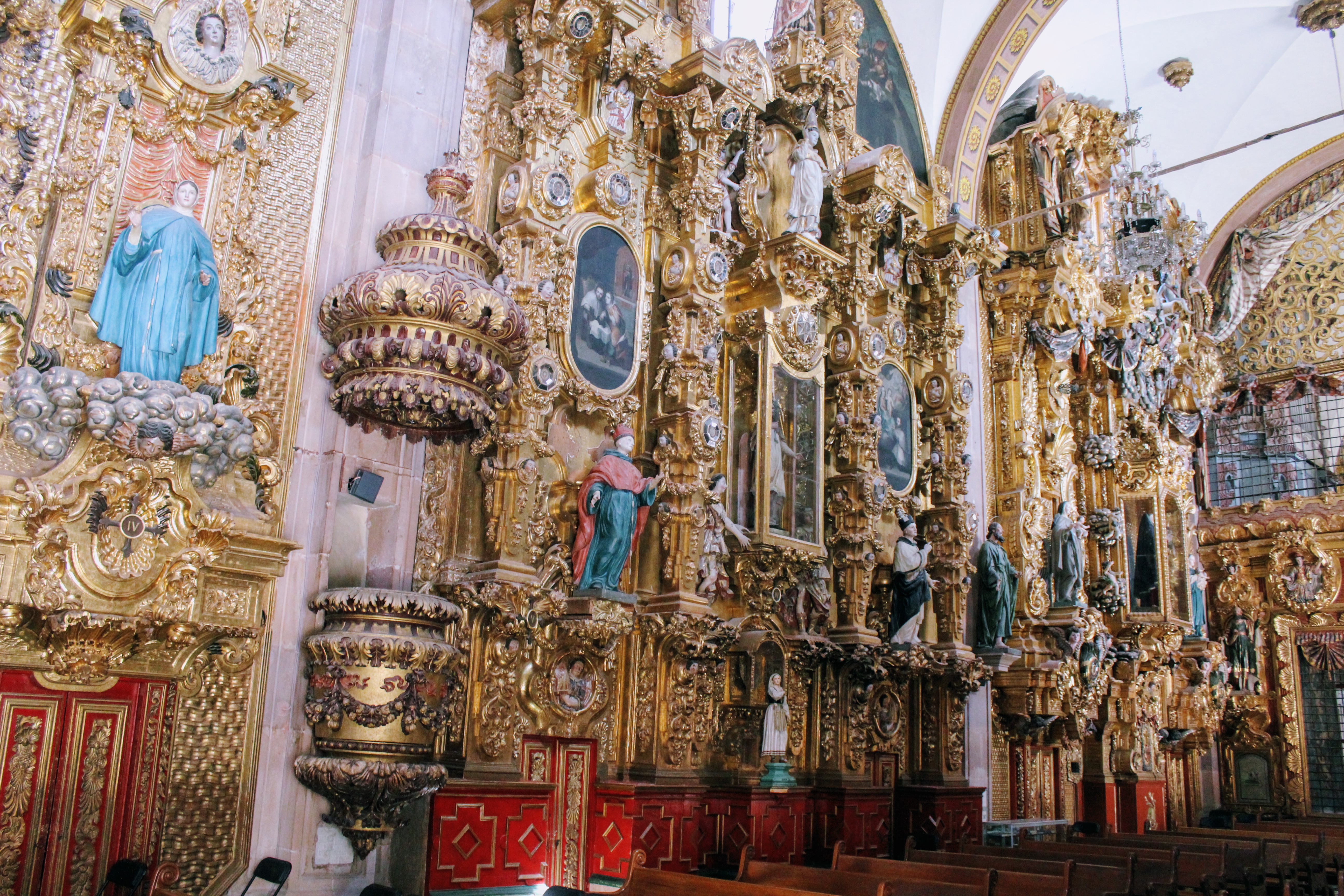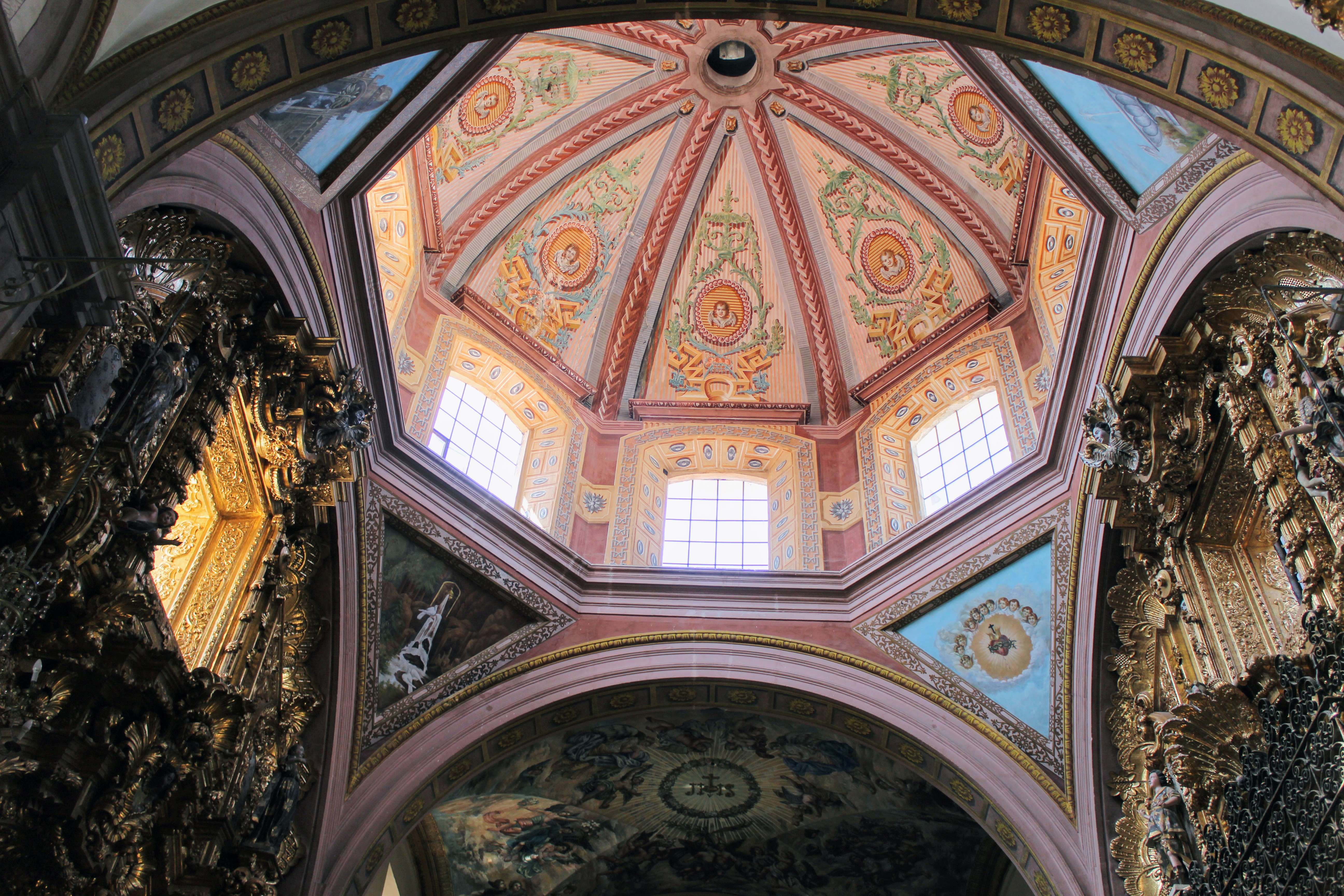 Sunday is not only for going to church. It's also a good time to take your kids out or just read a newspaper.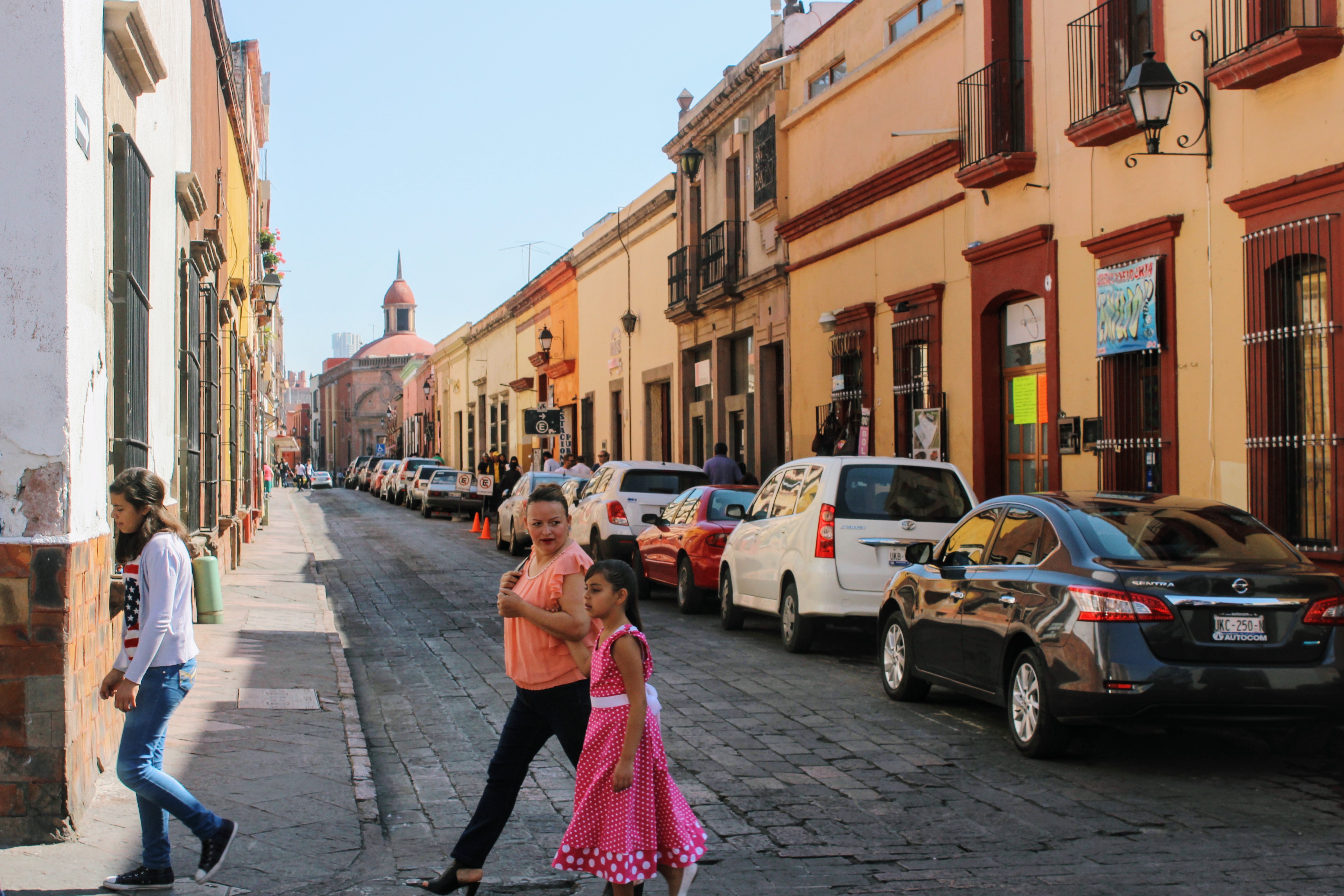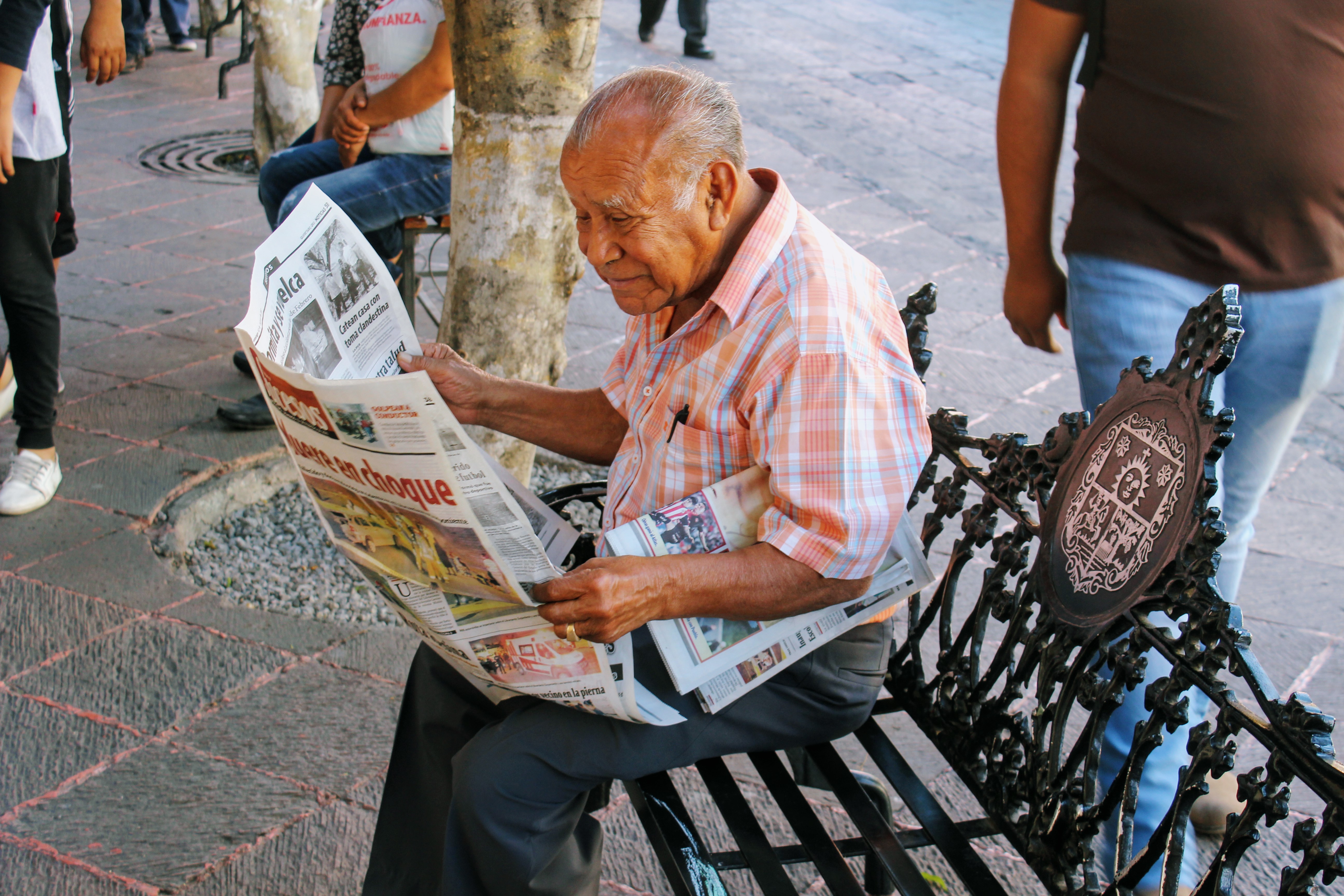 Casa de la Marquesa used to host the Foreign Secretary when Querétaro was the capital, today it's a hotel.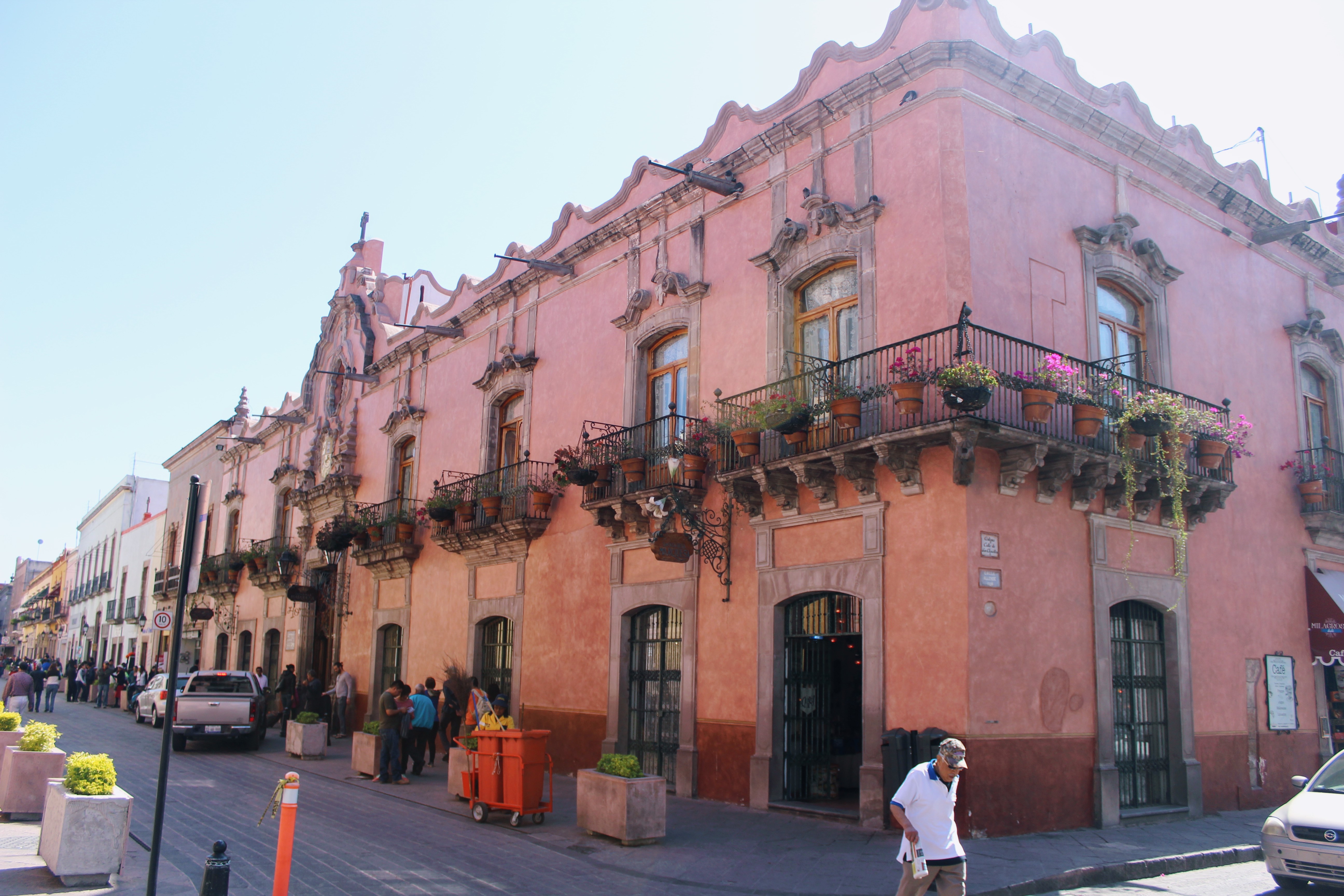 The sun was scorching, and it was a good time to look for cover in the jewel of Querétaro's crown.
Museo de Arte
Querétaro's art museum, located next to the Templo de San Agustín is a former monastery. Built in the 18th century, the building is considered one of the major Baroque works of art in Mexico.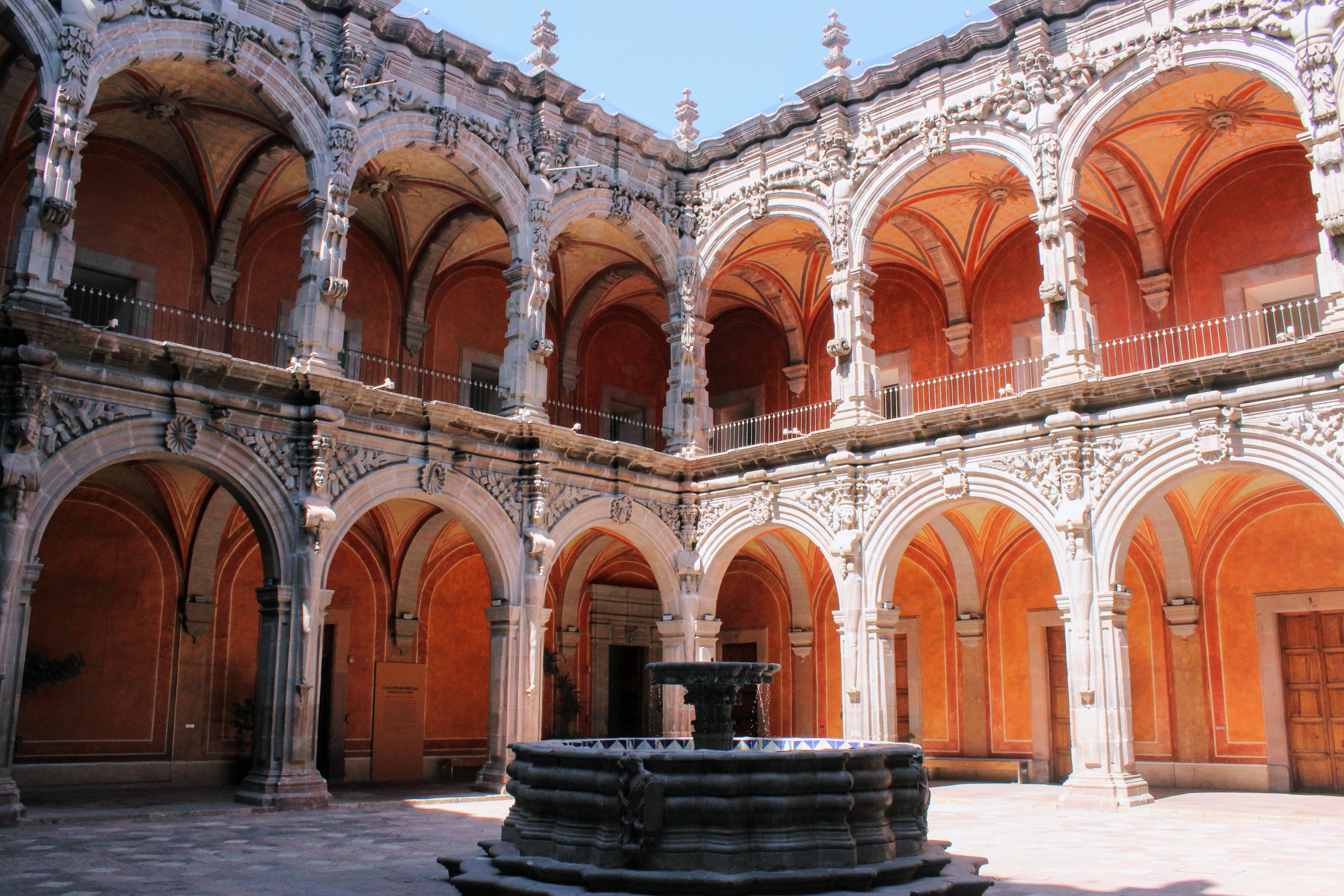 It's worth visiting to see the building alone: angels, gargoyles, statues and other ornamental details abound, particularly around the stunning courtyard.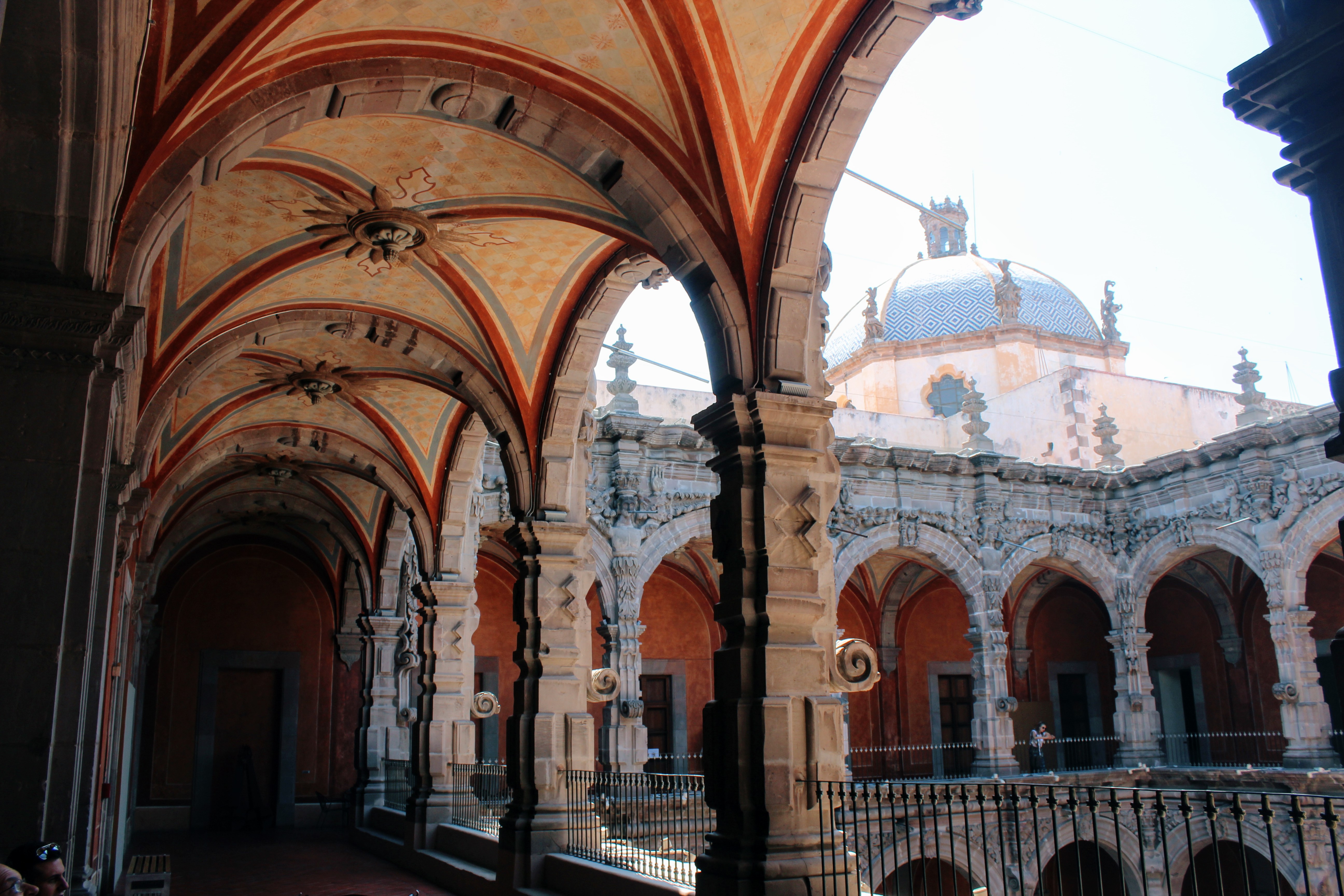 While the ground-floor displays 16th- and 17th-century European paintings, the most interesting part of the museum is the excellent collection of Mexican 20th century painters, among those Orozco, Frida and Siqueiros.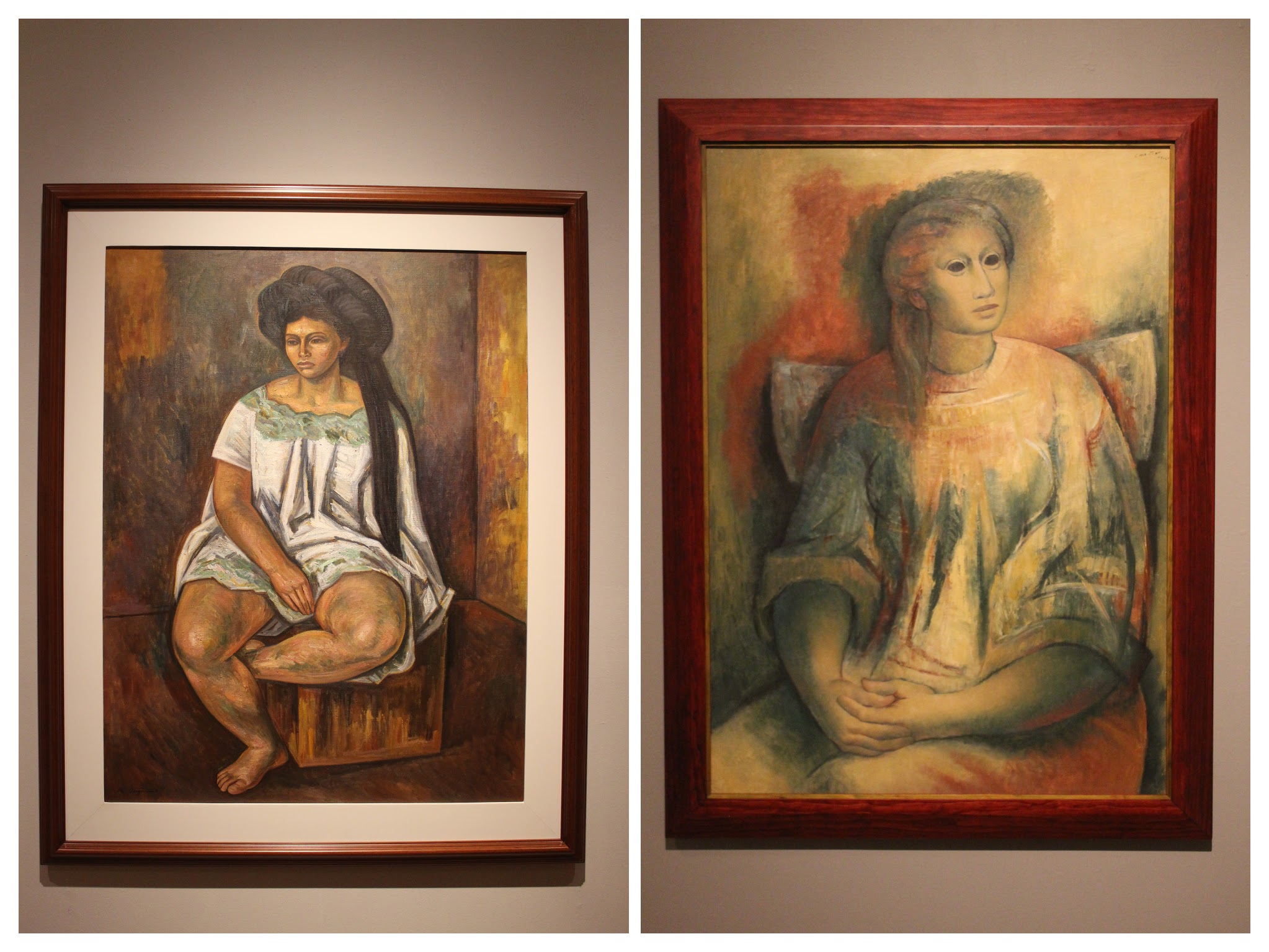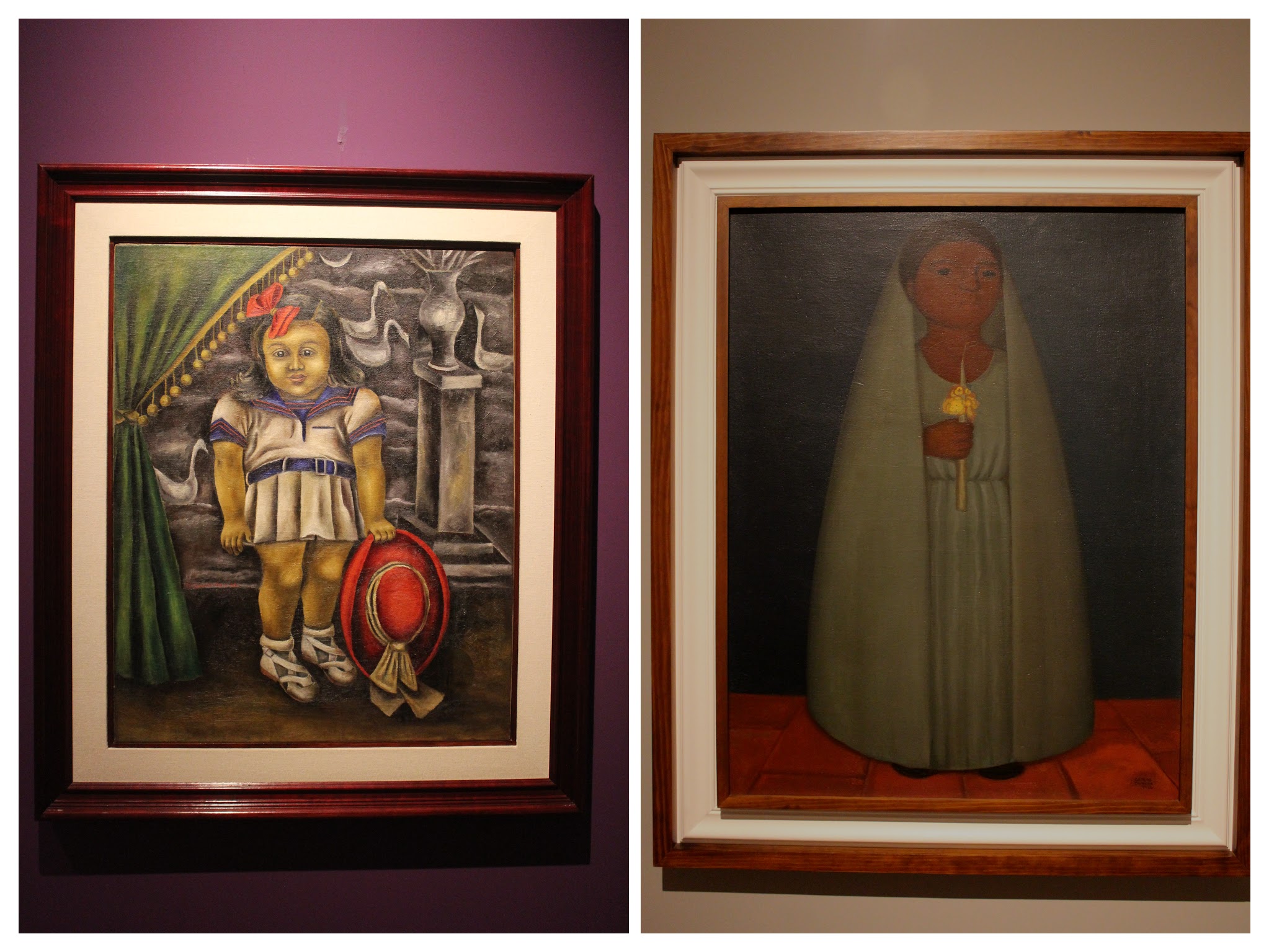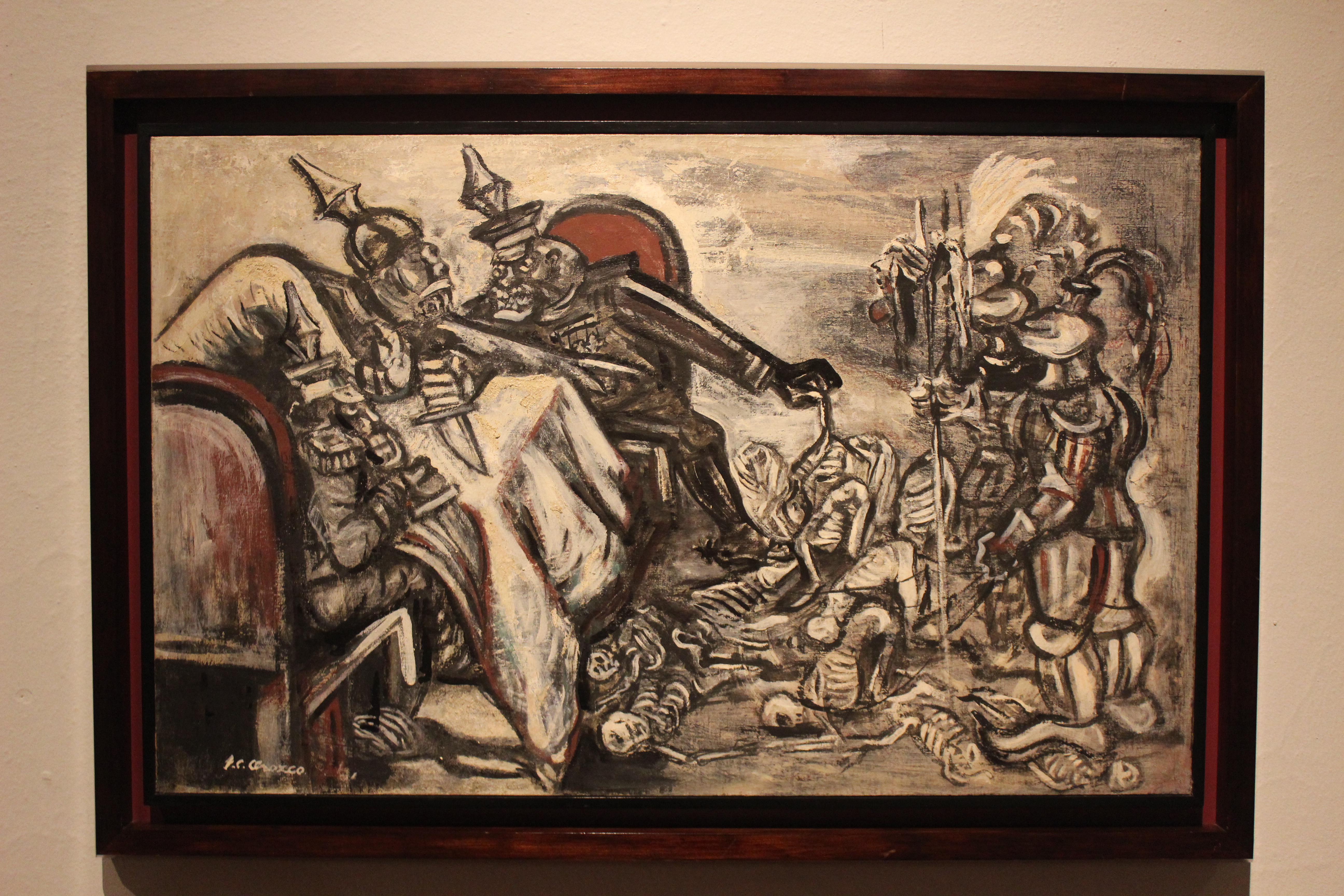 A small memorial plaque in the museum reveals an interesting historical connection. It says that the monastery was turned into a federal building during the rule of General Porfirio Diaz, when Queretaro was the capital of Mexico. Díaz who stayed in power for 35 years, has been a controversial figure in Mexican history; while his regime brought stability after decades of conflict, it grew unpopular due to civil repression and political stagnation. He is the reason for the beginning of the bloody Mexican Revolution in 1911 which lasted for 10 years. Today, closing the circle, the museum carries the works of artists that were inspired by the winds of the revolution.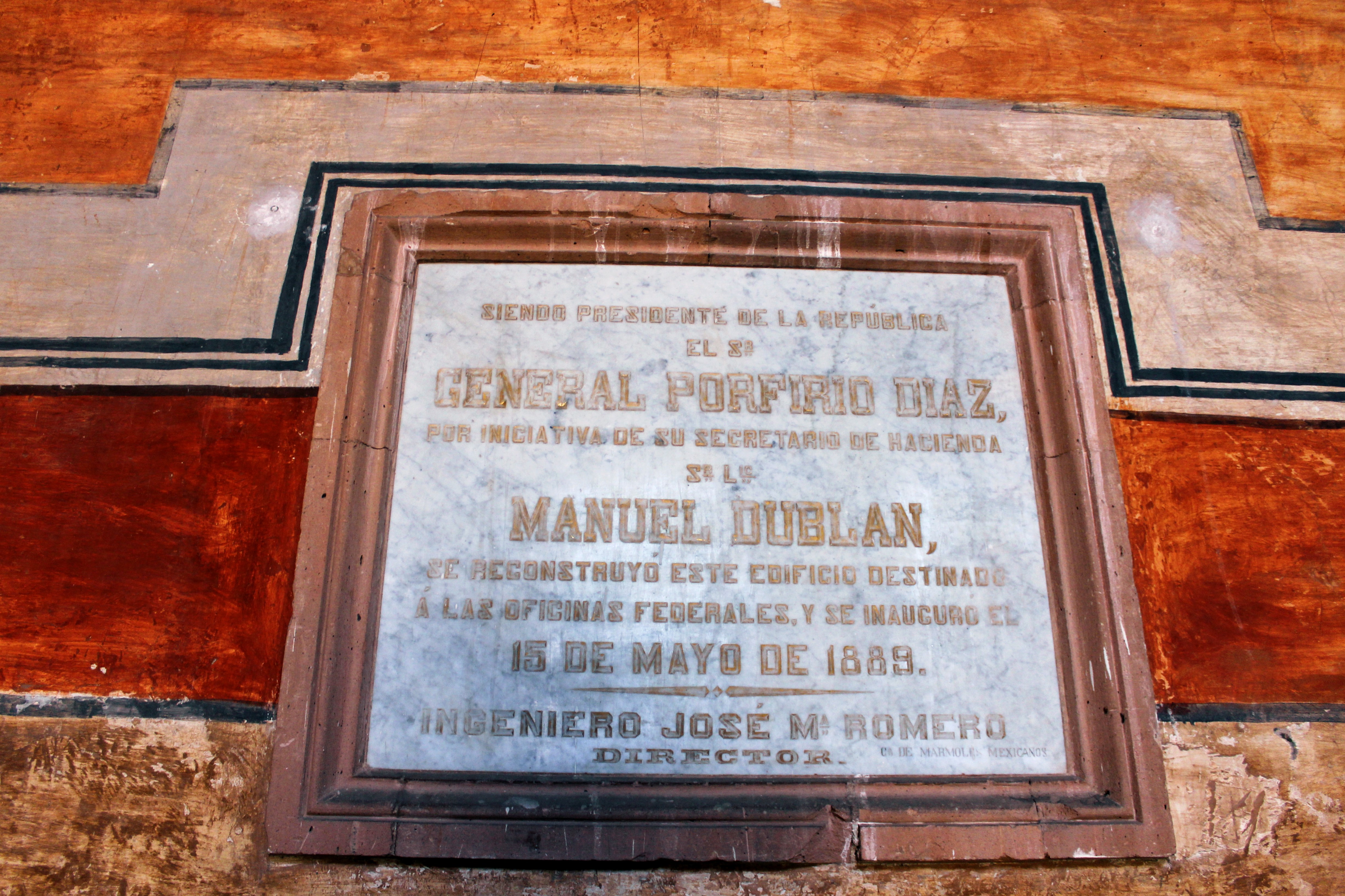 As we were loading our bags into a taxi and saying goodbye to the  dolls following us everywhere, I was wondering why this city doesn't hold the same high standing among travelers as some other cities in Mexico.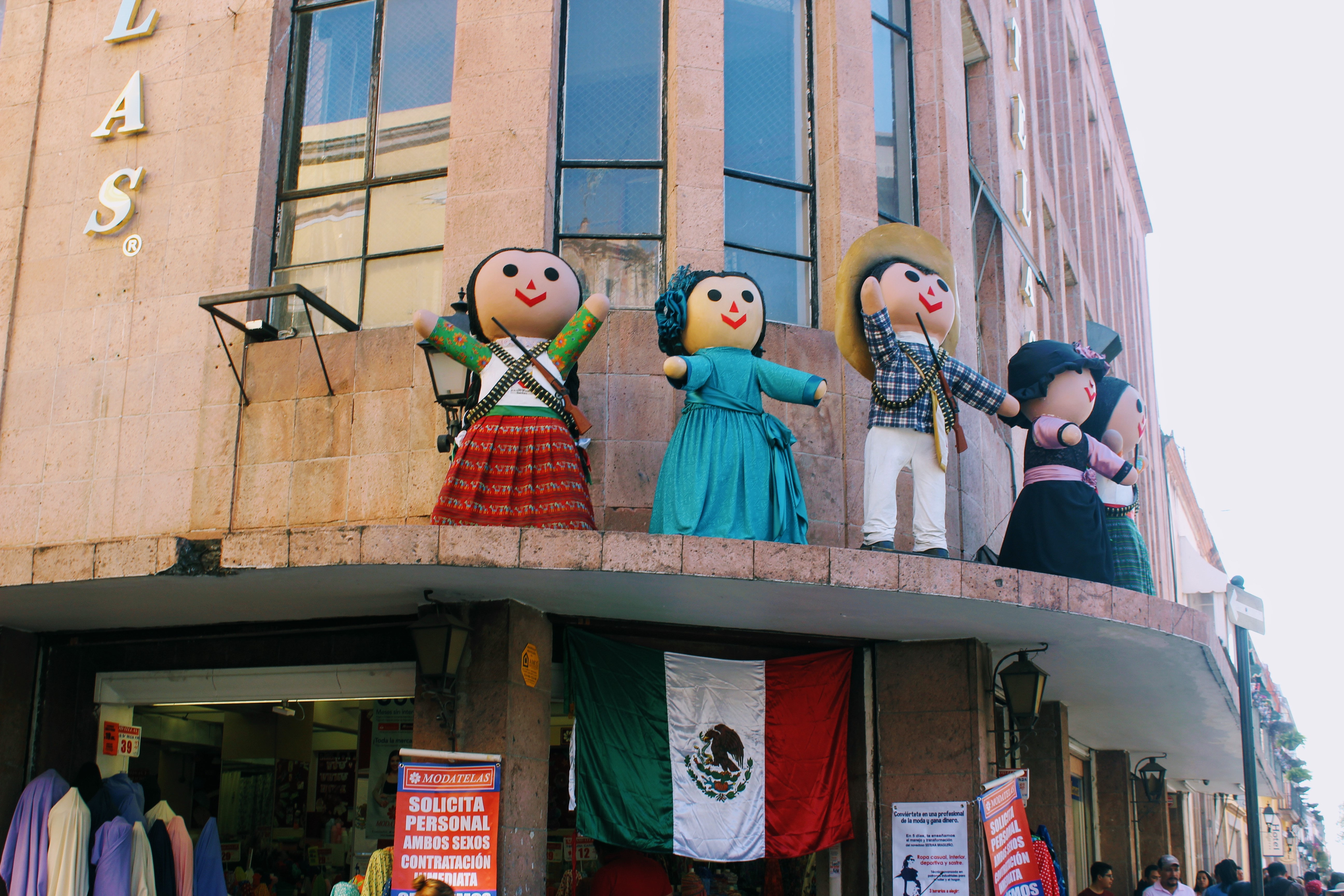 This is still a mystery to me.