We came to Guadalajara by chance. Without knowing anything about Mexico, we were attracted by its manageable size (compared to that of Mexico City), a reputation of safety and cheap plane tickets. A composite of 3 cities – Guadalajara proper, Zapopan and Tlaquepaque, it's a 4 million people urbanity, the second largest in Mexico. We spent here two months exploring the metropolitan without rushing. Our first encounter with Mexico, in Guadalajara I tried my first Taco de pastor, our 3-year-old beat his first piñata. And we made our first Mexican friends. Open, courteous and humble, mexicans don't need a lot of time to win you over.
Guadalajara suffers from some of the same maladies many cities of its size often do: pollution, urban sprawl, lacking or not well maintained public infrastructure. But if you are willing to overlook that, you'll discover a place rich in history and character, not bent by the demands of tourism. In fact, during our time there, most of the tourists we saw were Mexicans from other parts of the country. And that's the promise of Guadalajara: an immersion into a modern Mexican life, connected to its past, and beaming with culture and creativity.
Casual: Street Life
Where do you get the first sense of a place? In a museum, in a gallery, on the streets? When does a city open up to you? In viewing a timeless piece of art, or witnessing a fleeting scene which will never return?
The people going about their life, living in and of the city, filling the streets with emotion, giving the reason for the existence of all the things that surround them. They must be the city's first ambassadors.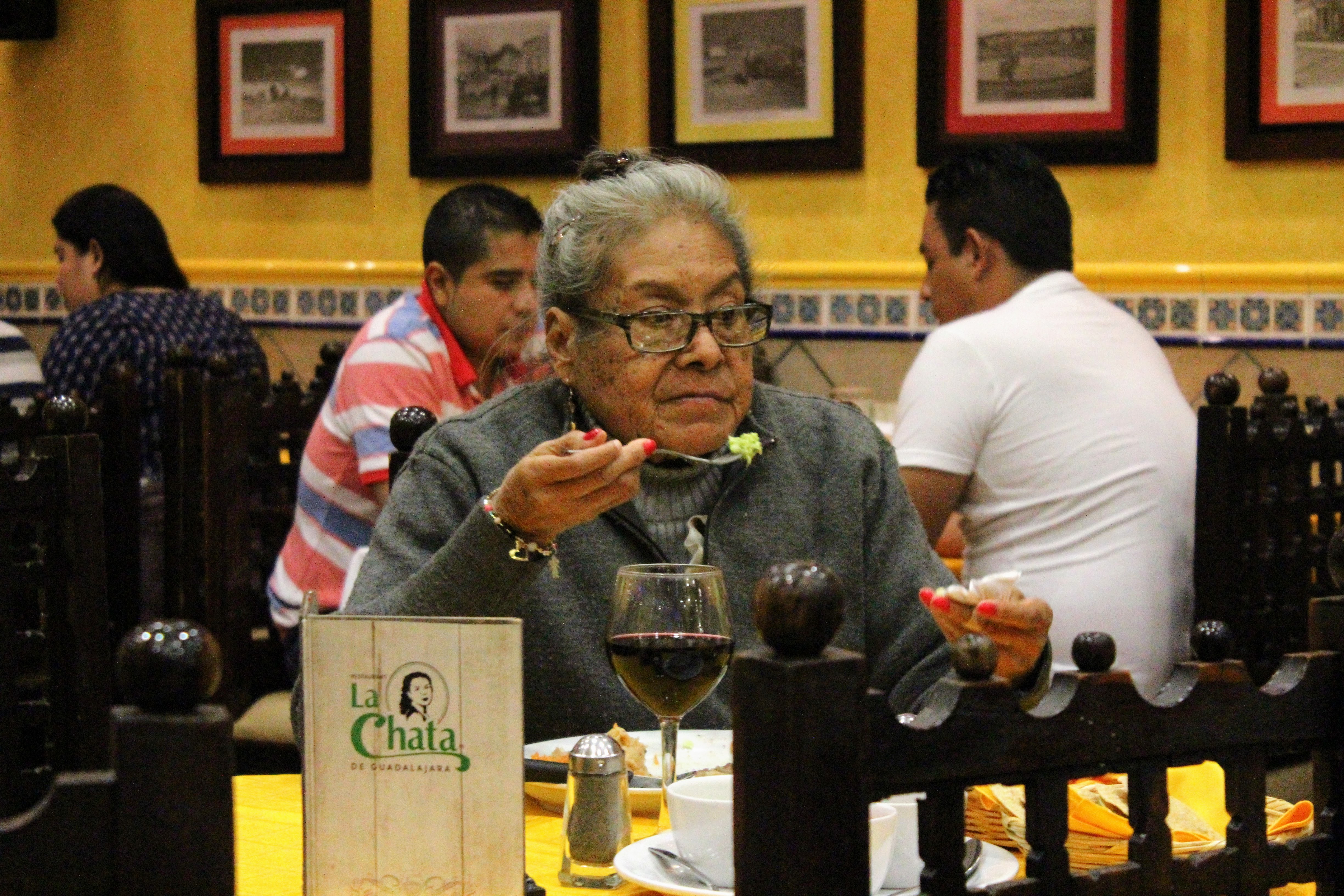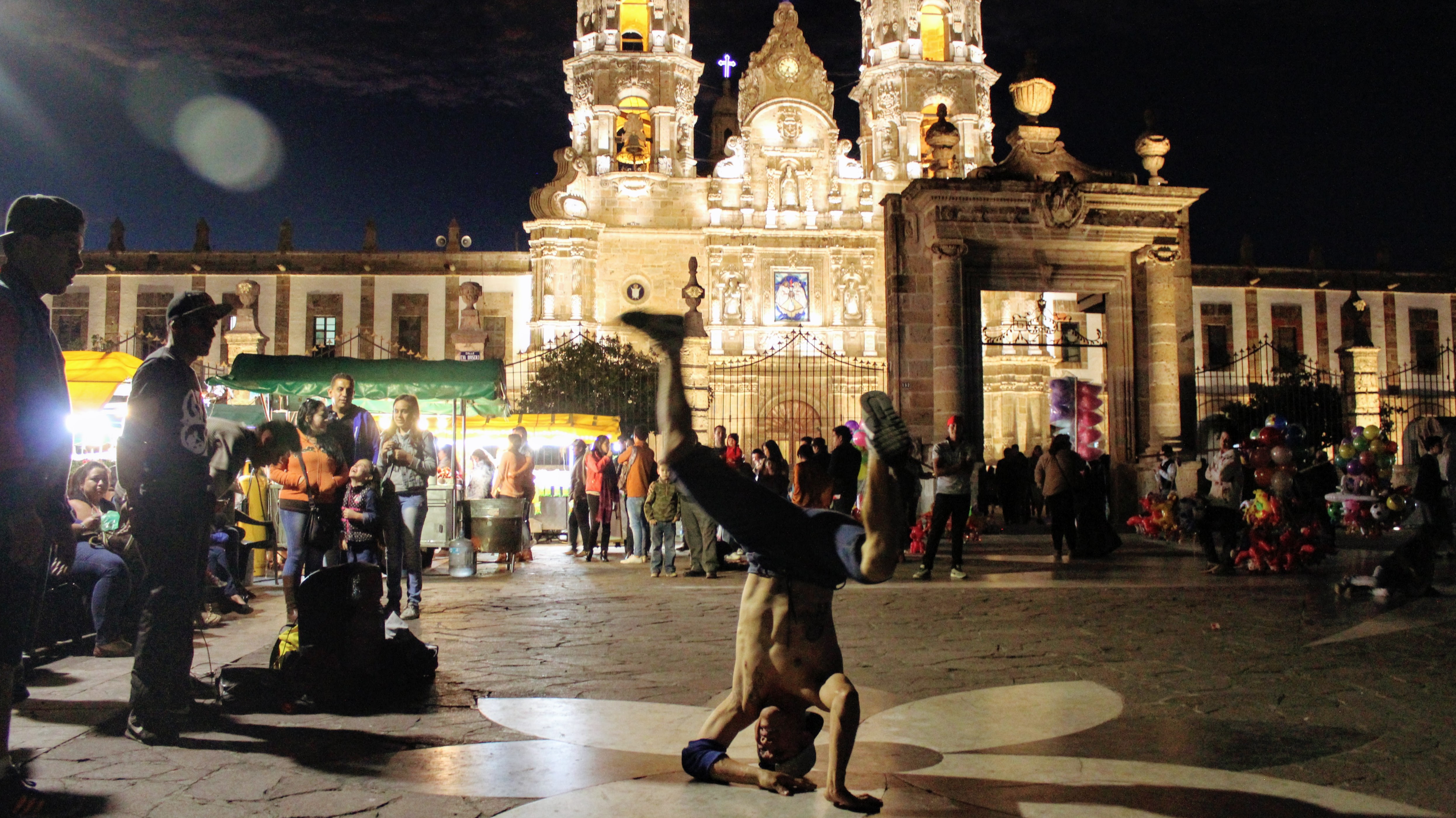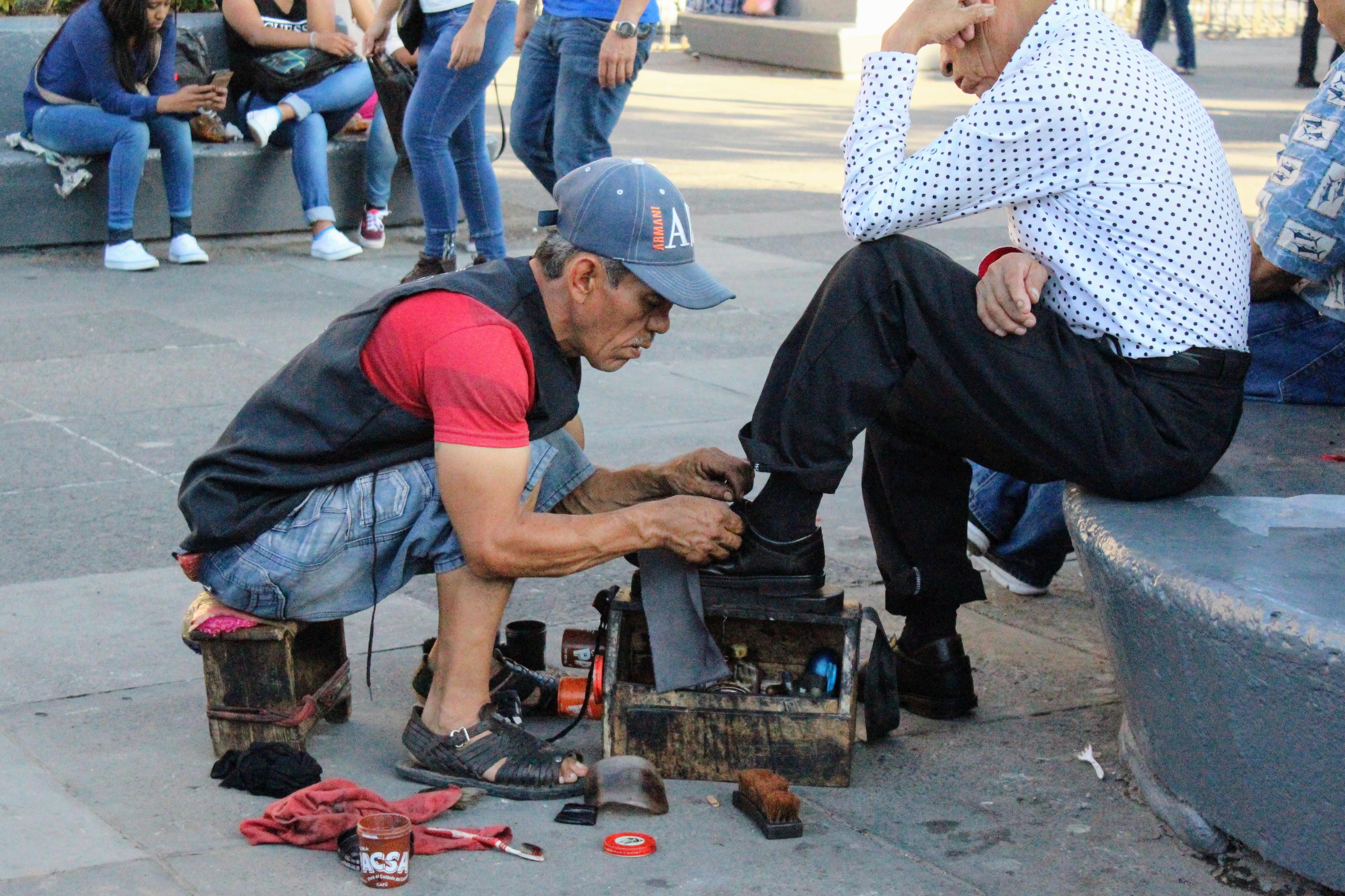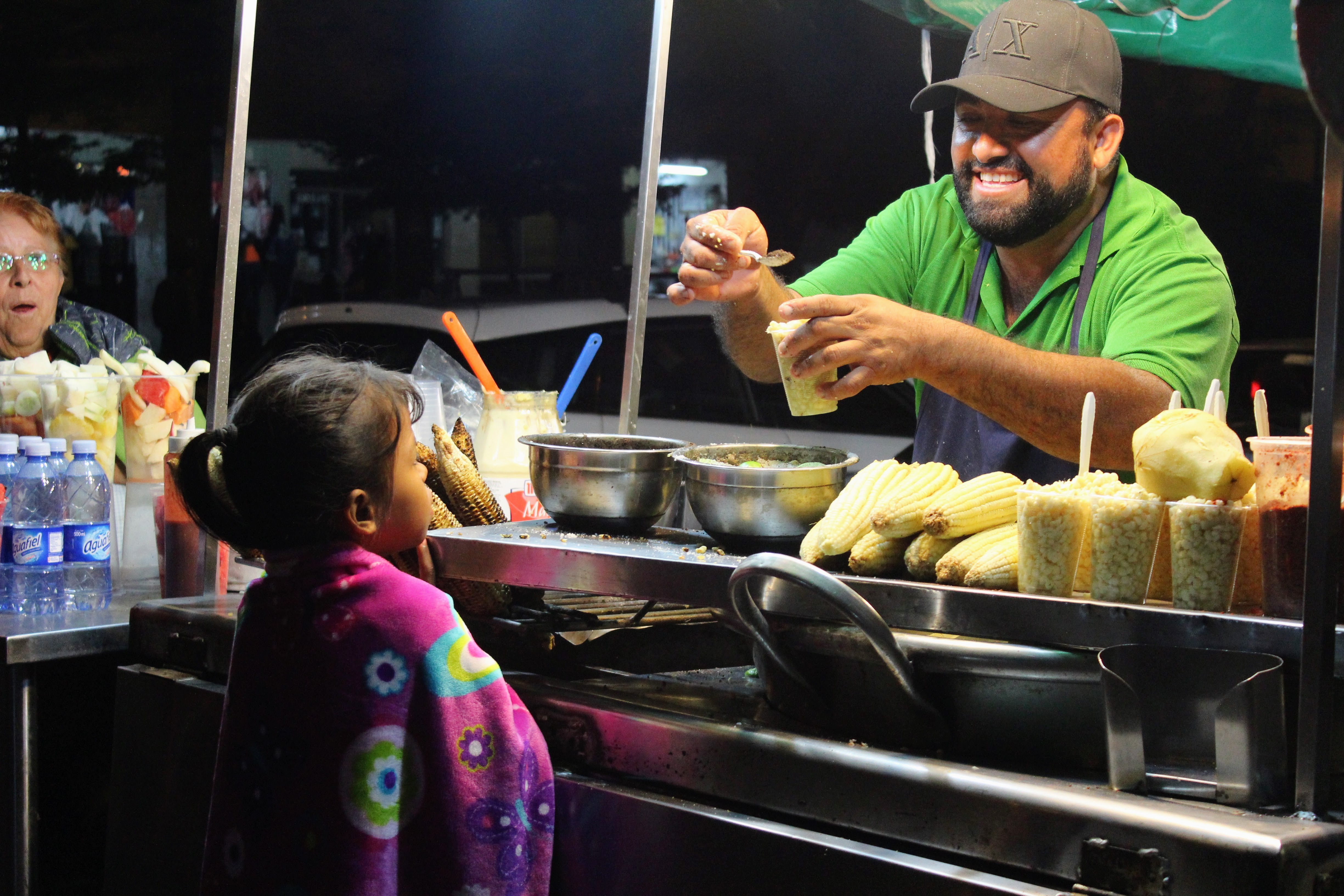 Happy: Chapultepec
The beating heart of Guadalajara, Chapultepec promenade crosses the center of the city from north to south. Staying nearby, we came here on our first morning in the city. Since it was Sunday, a side of the street was closed for traffic, and people flocked here to bike, play ball games, dance and have fun.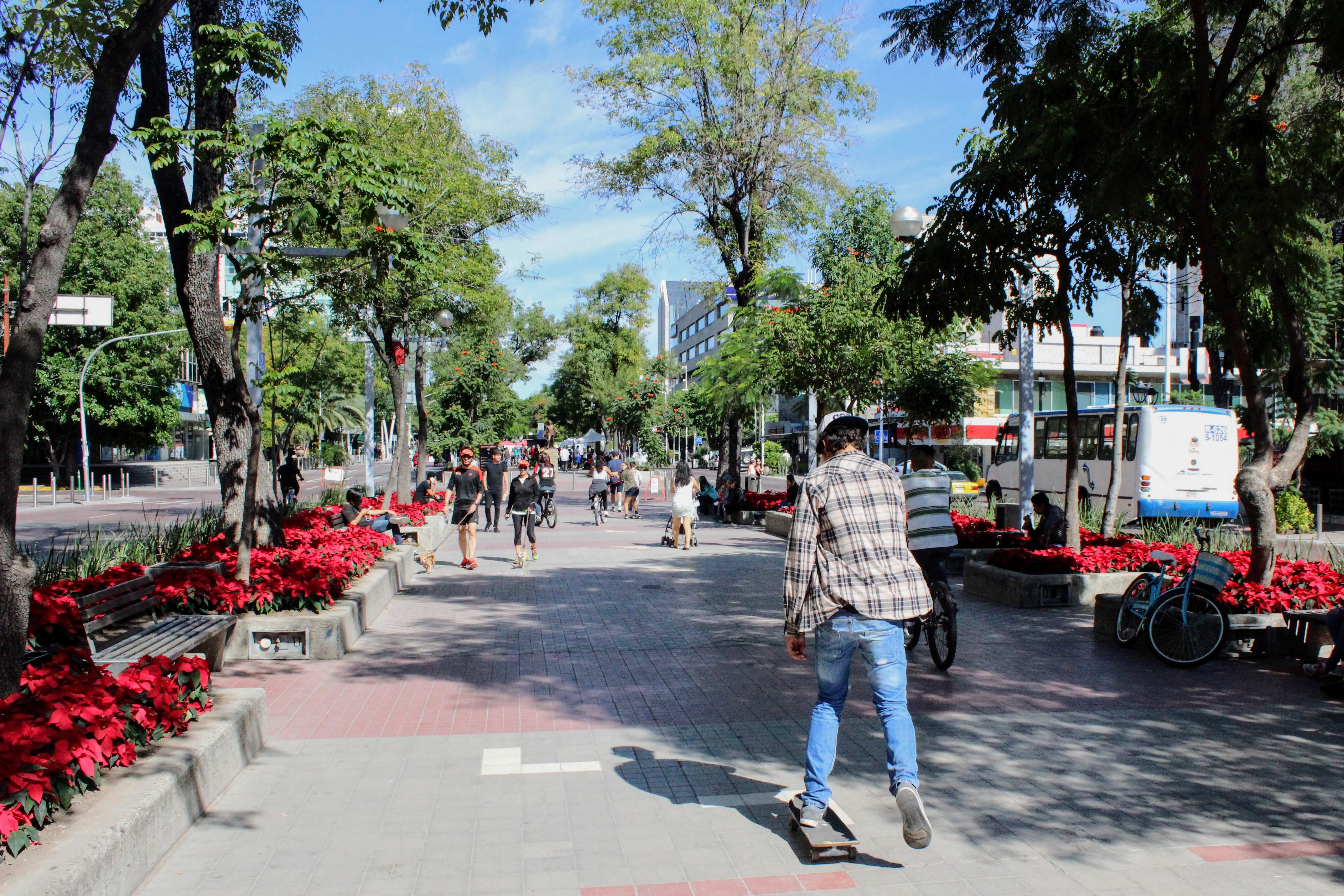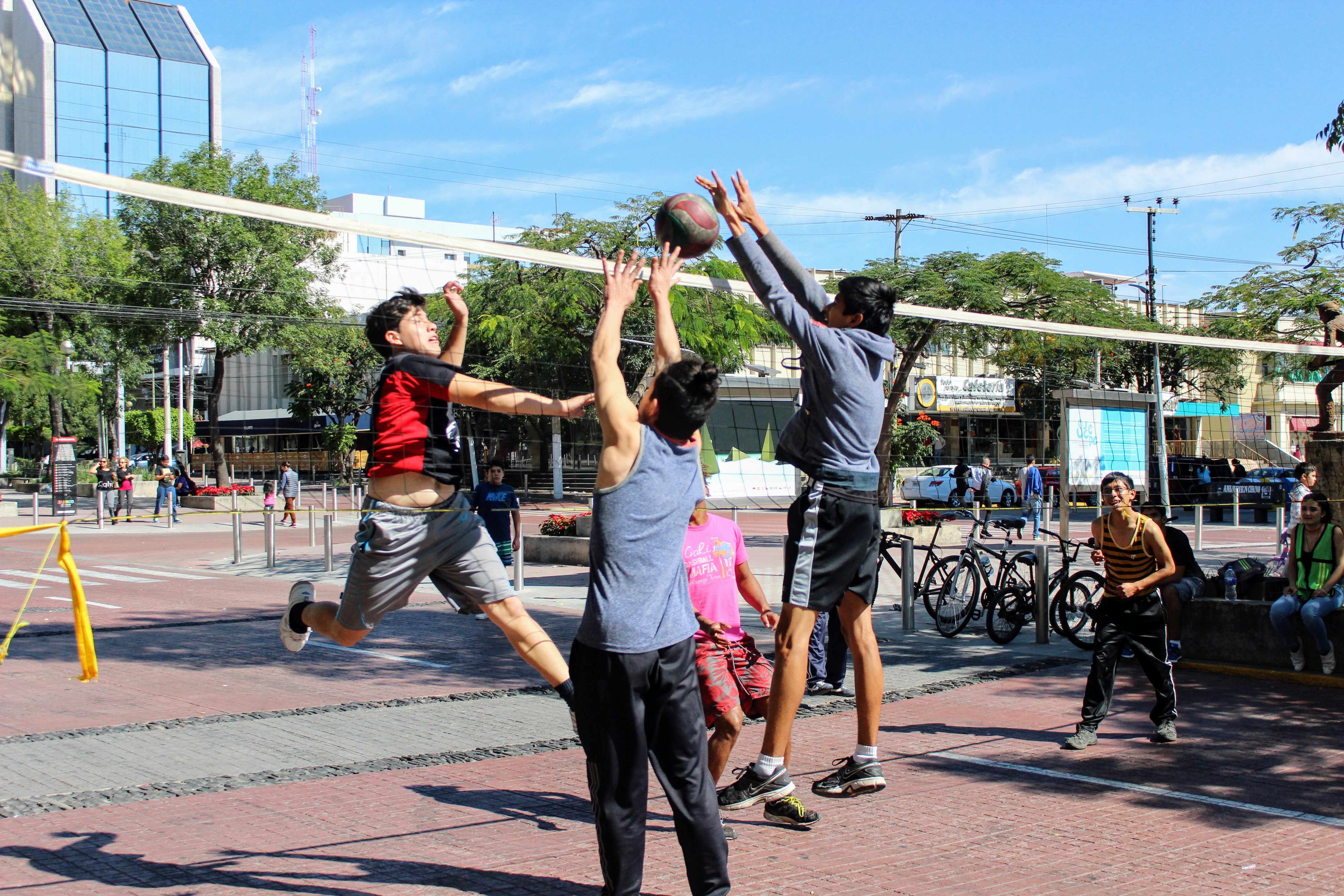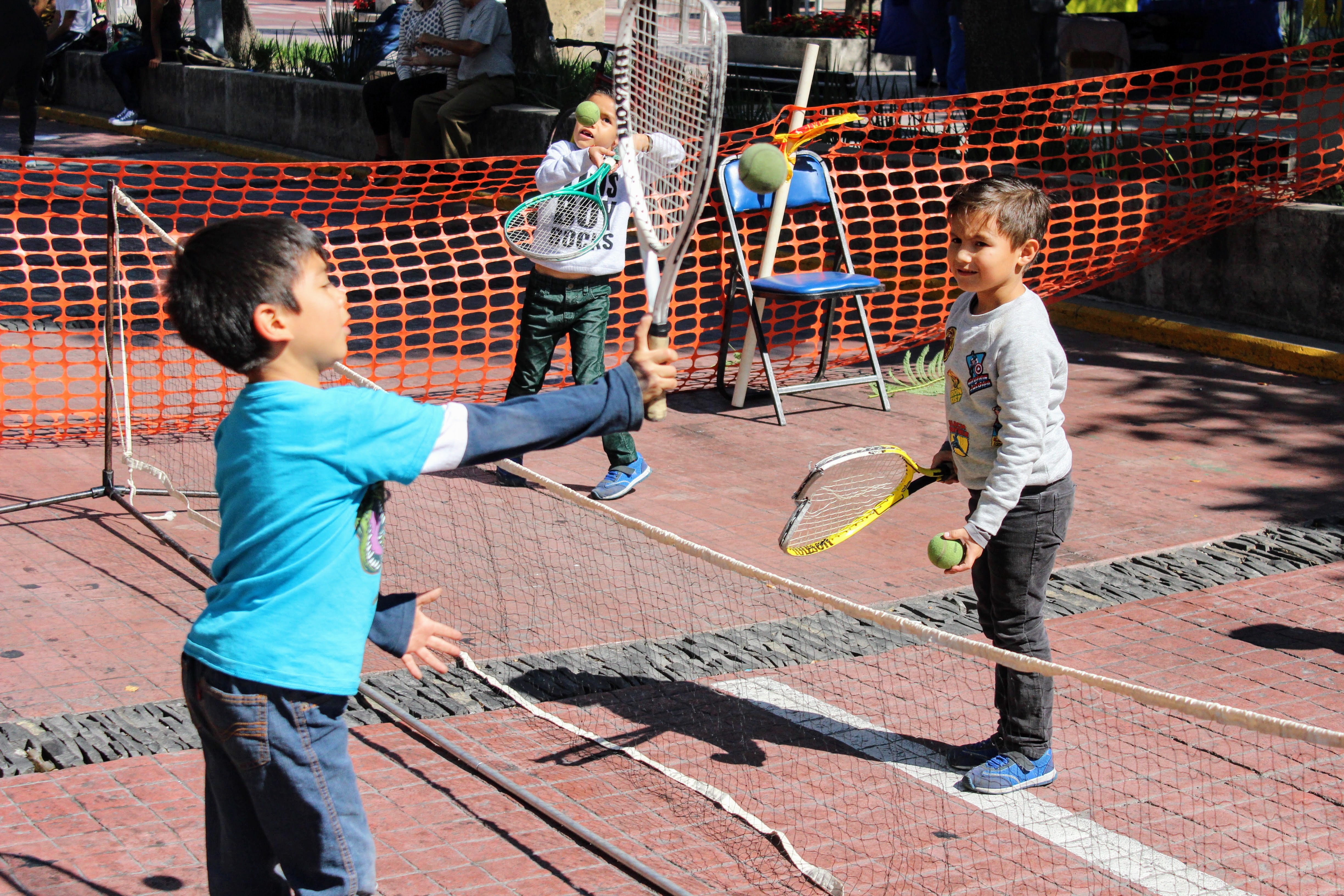 While youngsters dance on Chapultepec during the day, older couples prefer the dignity of the evening park.
Where there are people, there is an opportunity to make a little money.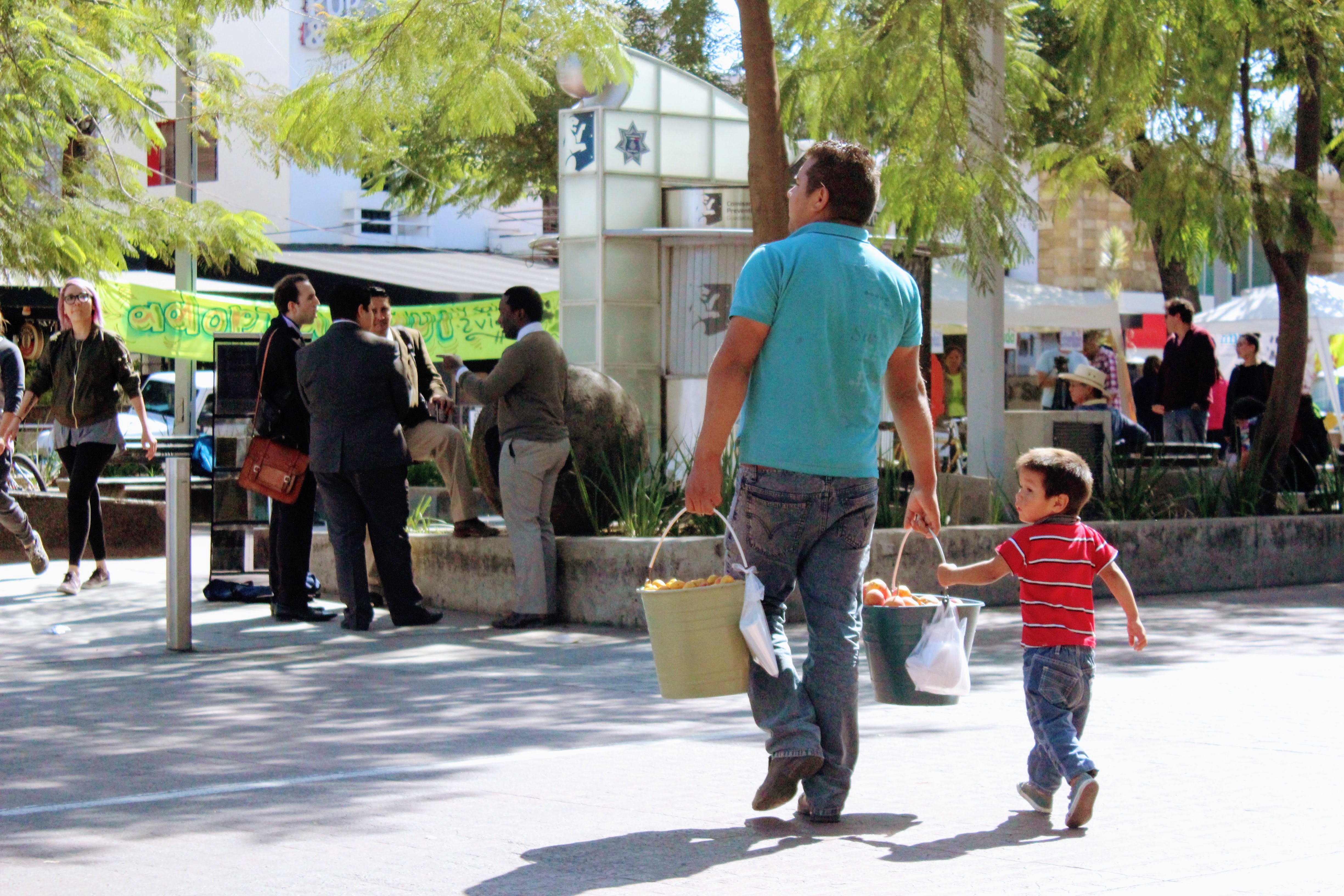 Dog shelter offered passer byers dogs for adoption.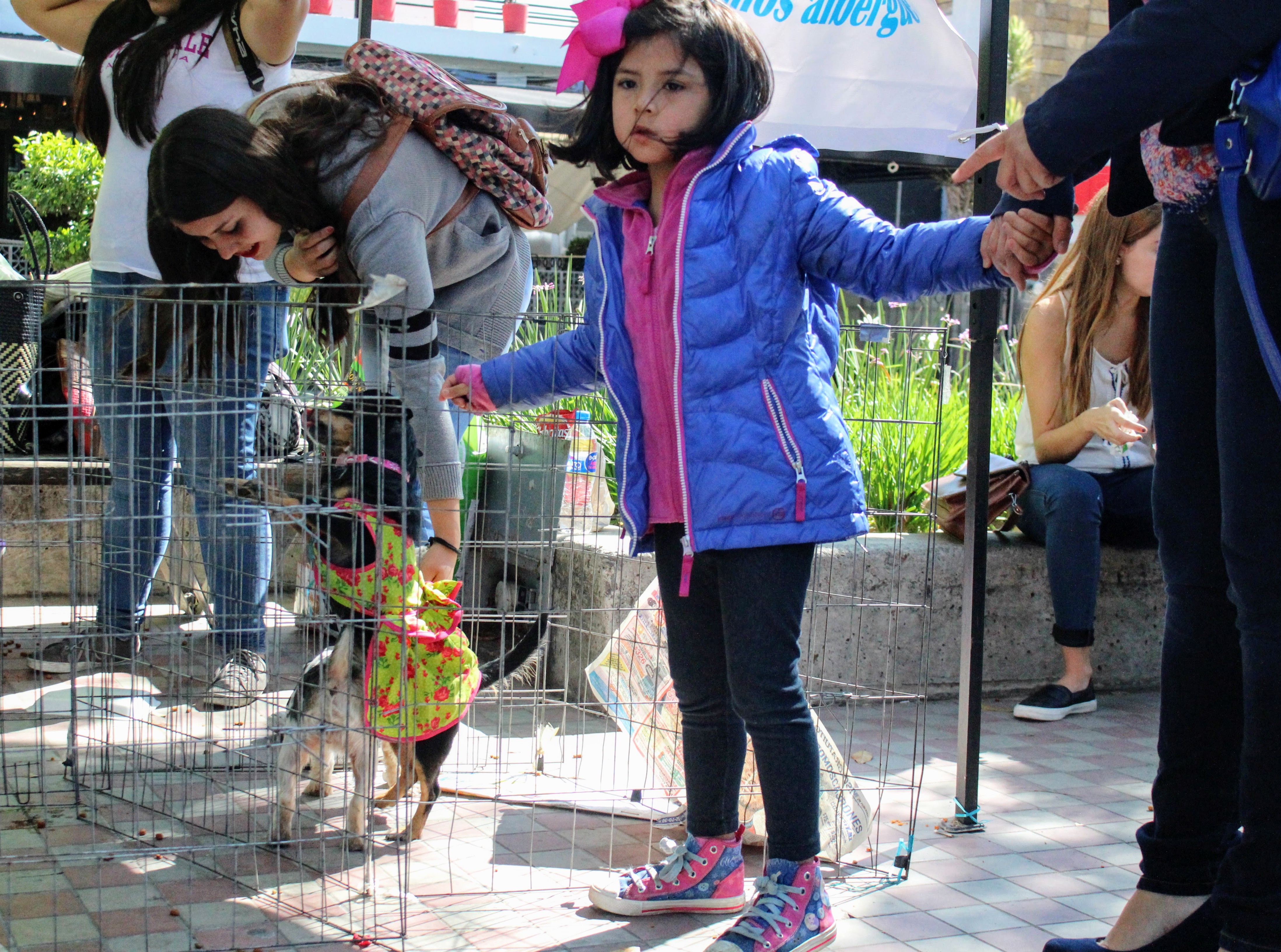 Those that already have dogs, come here to show off their little ones.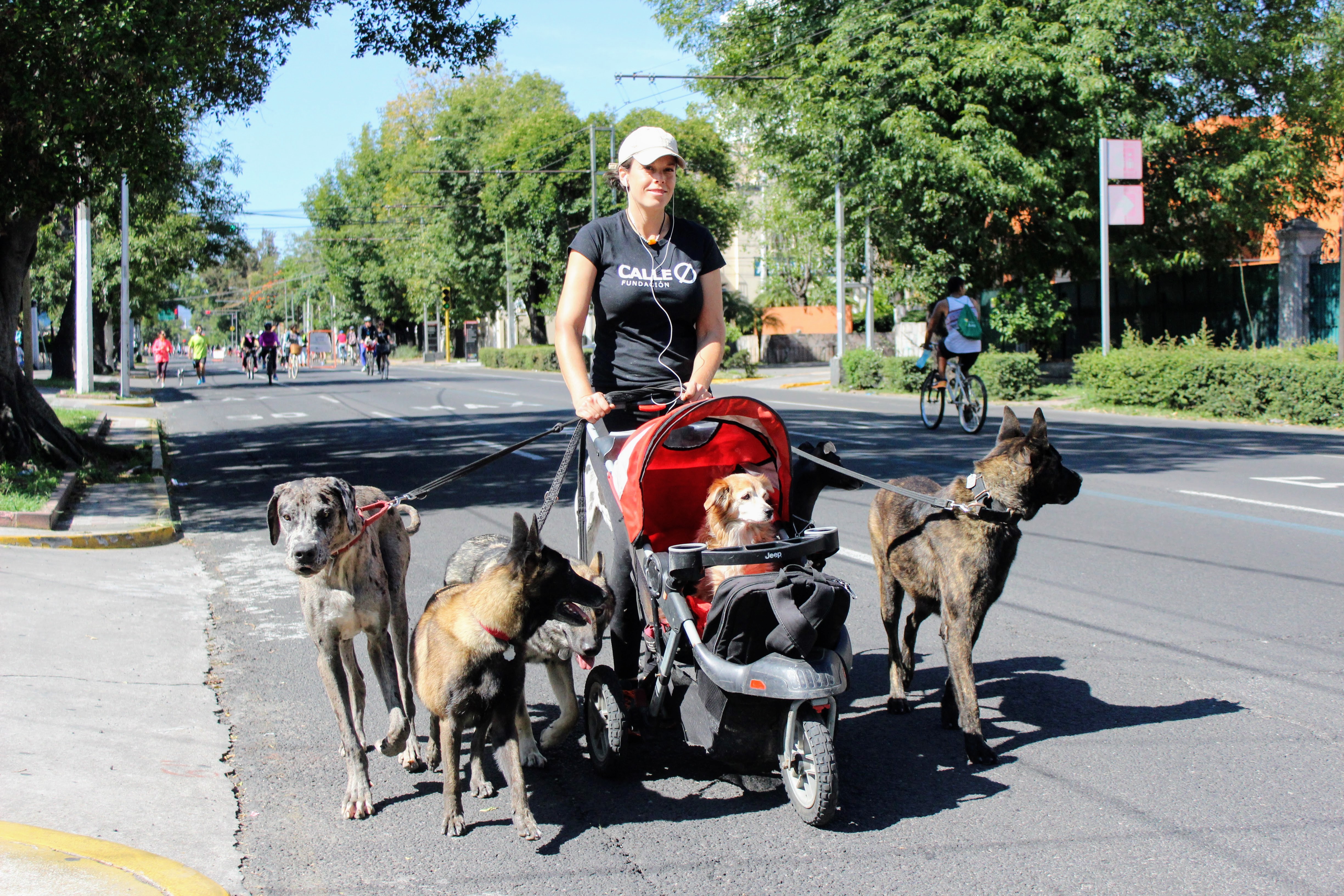 Heroes of the revolution may look grim, but their presence doesn't disturb the crowds.
When the sun sets, the young and the fashionable come here to meet in pubs and restaurants and drink their evenings away. The most popular venue format, for reasons I have yet to figure out, is a "wings bar" with loud music, beers, sports broadcasting and… wings. There are literally dozen of those on Chapultepec.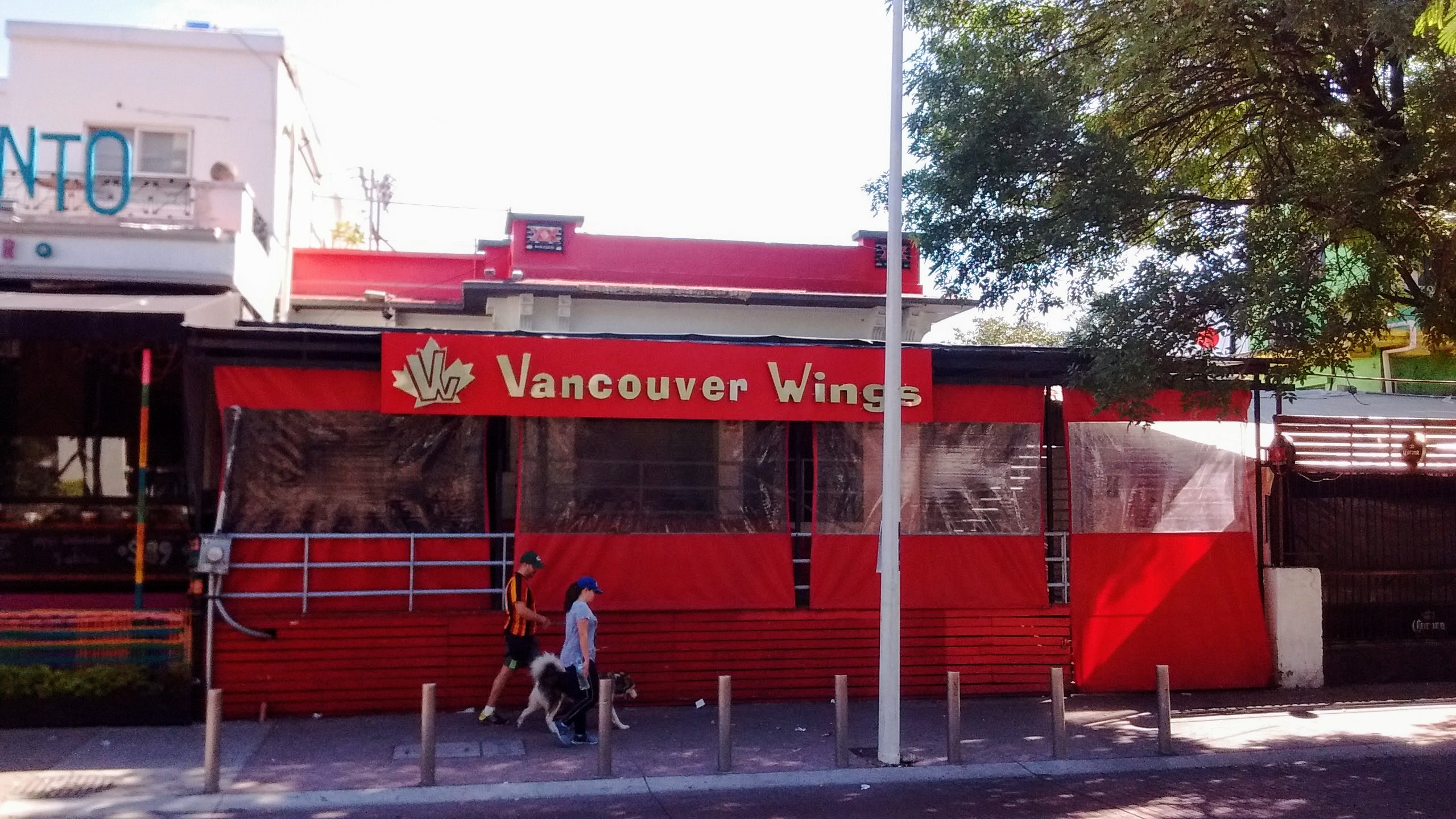 A few days later, Chapultepec hosted the traditional Revolution Day parade.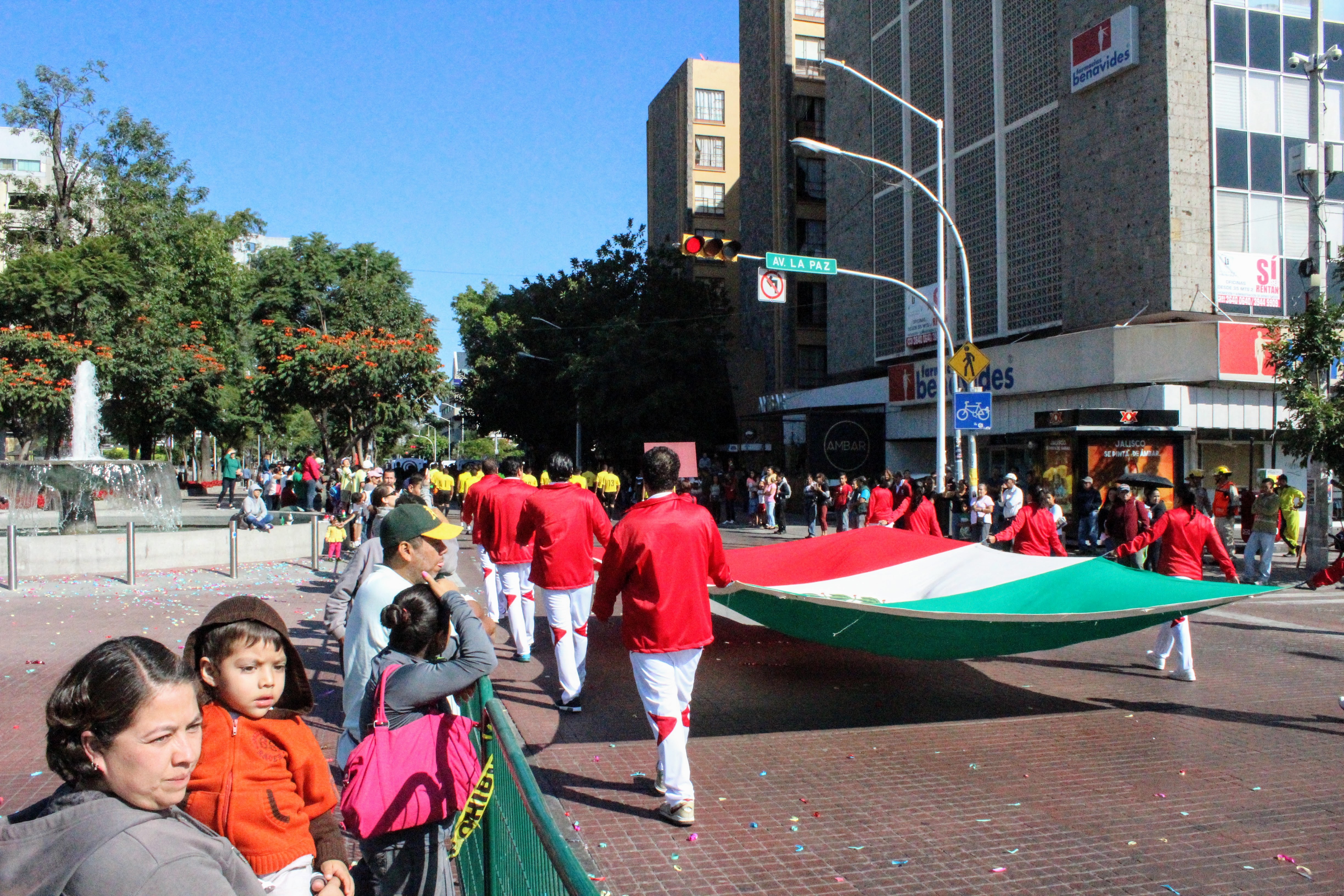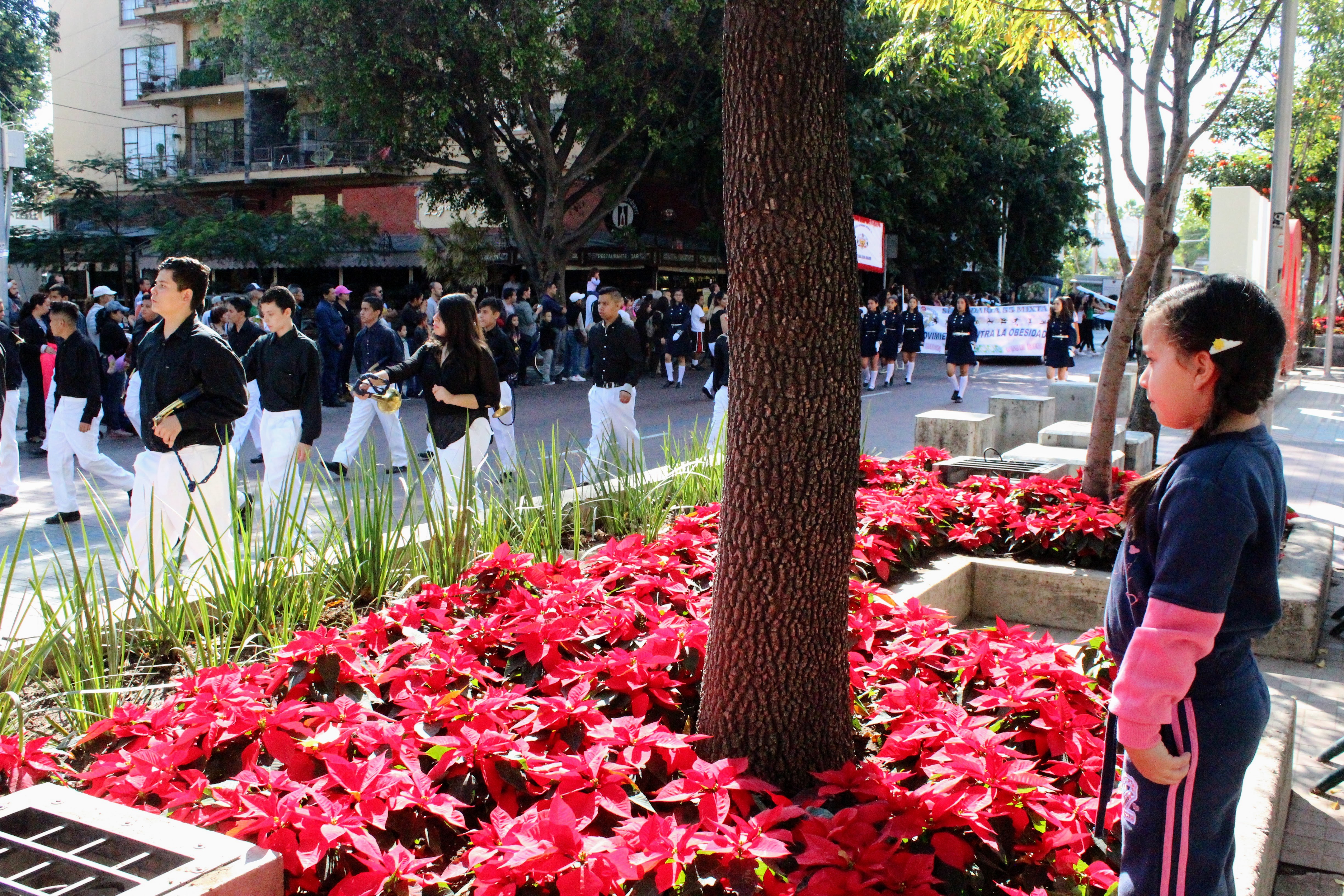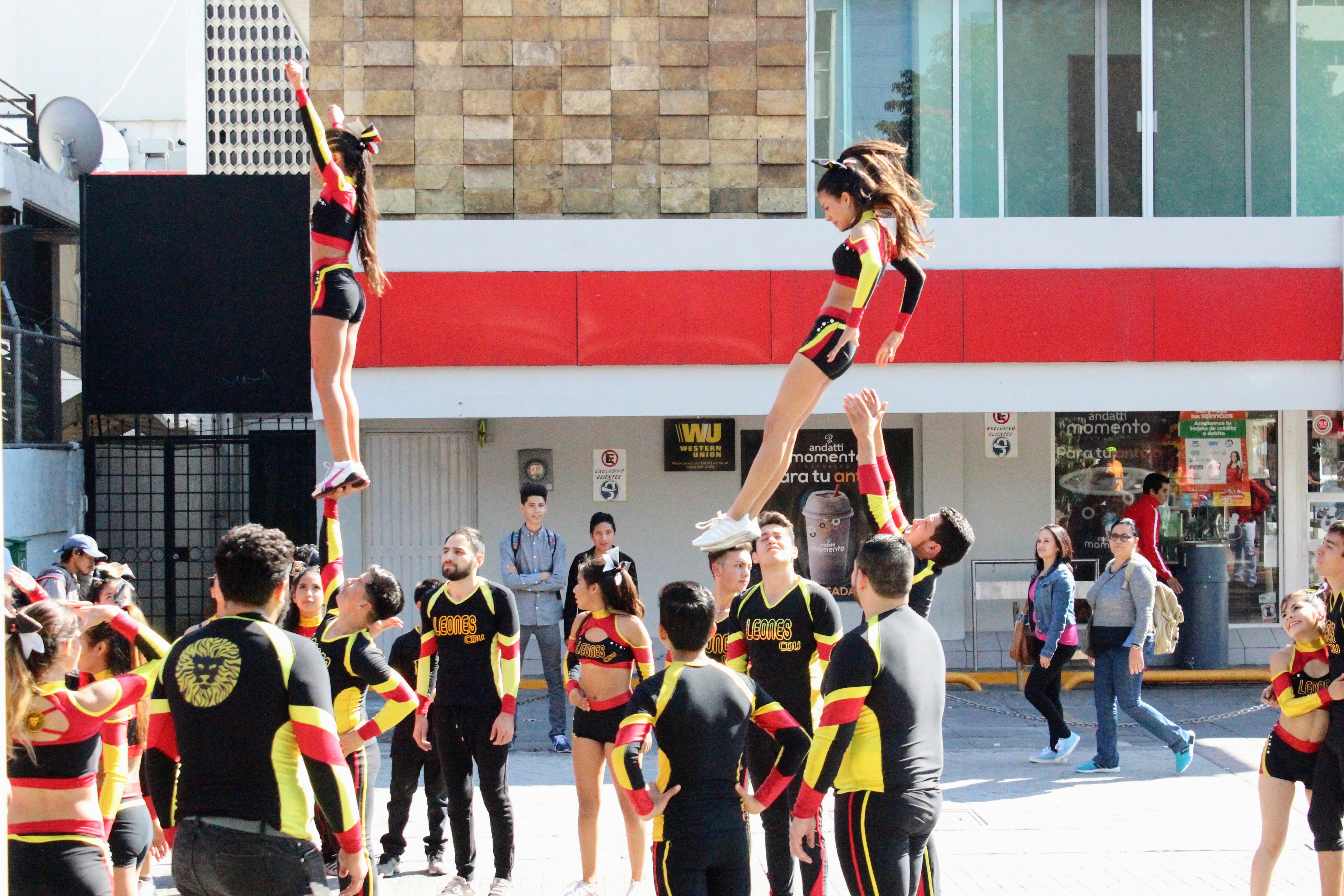 Among the highlights: children climbing ropes in moving cars, accident responders parading with an actual smashed car and sexy, half-naked firemen lifting weights.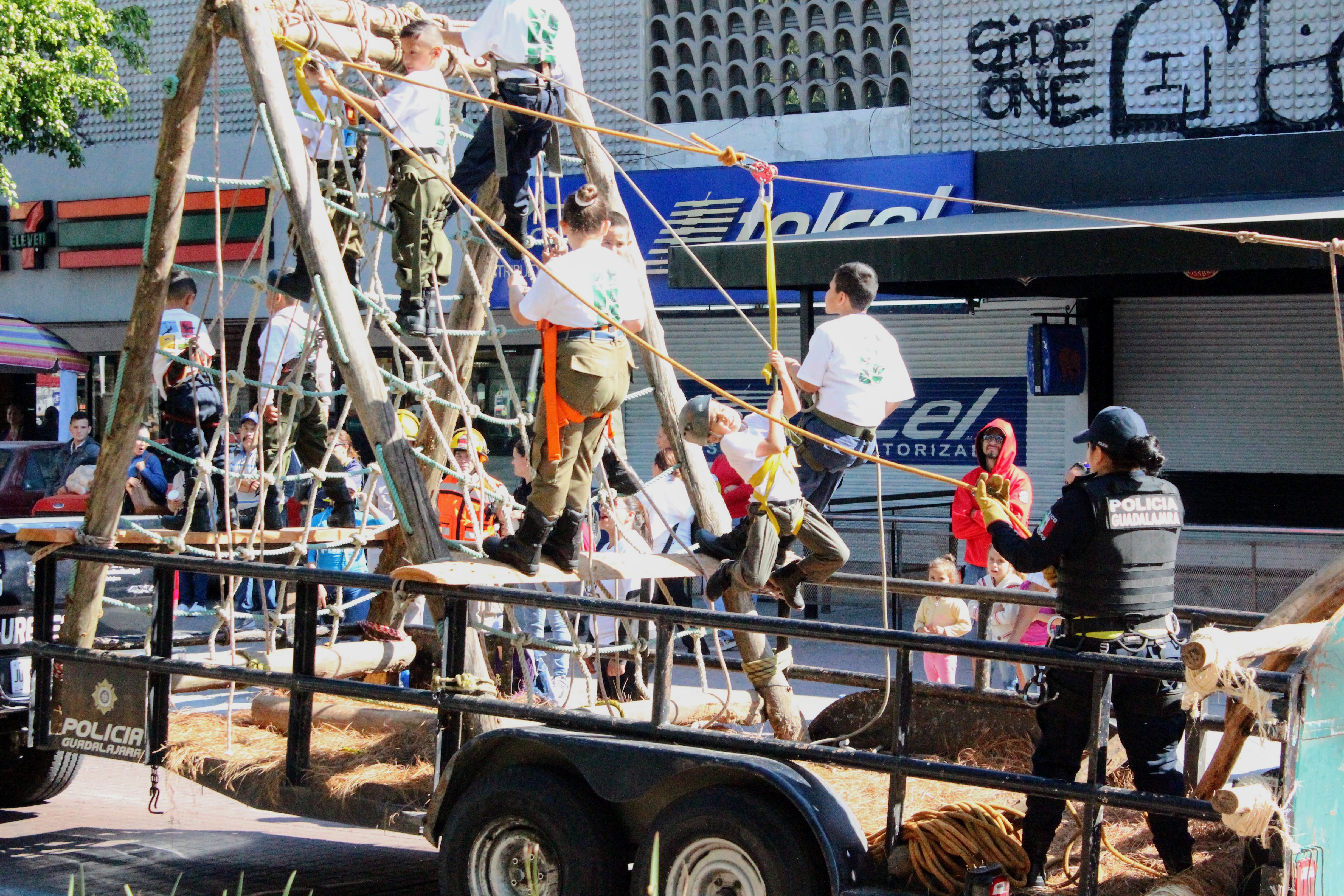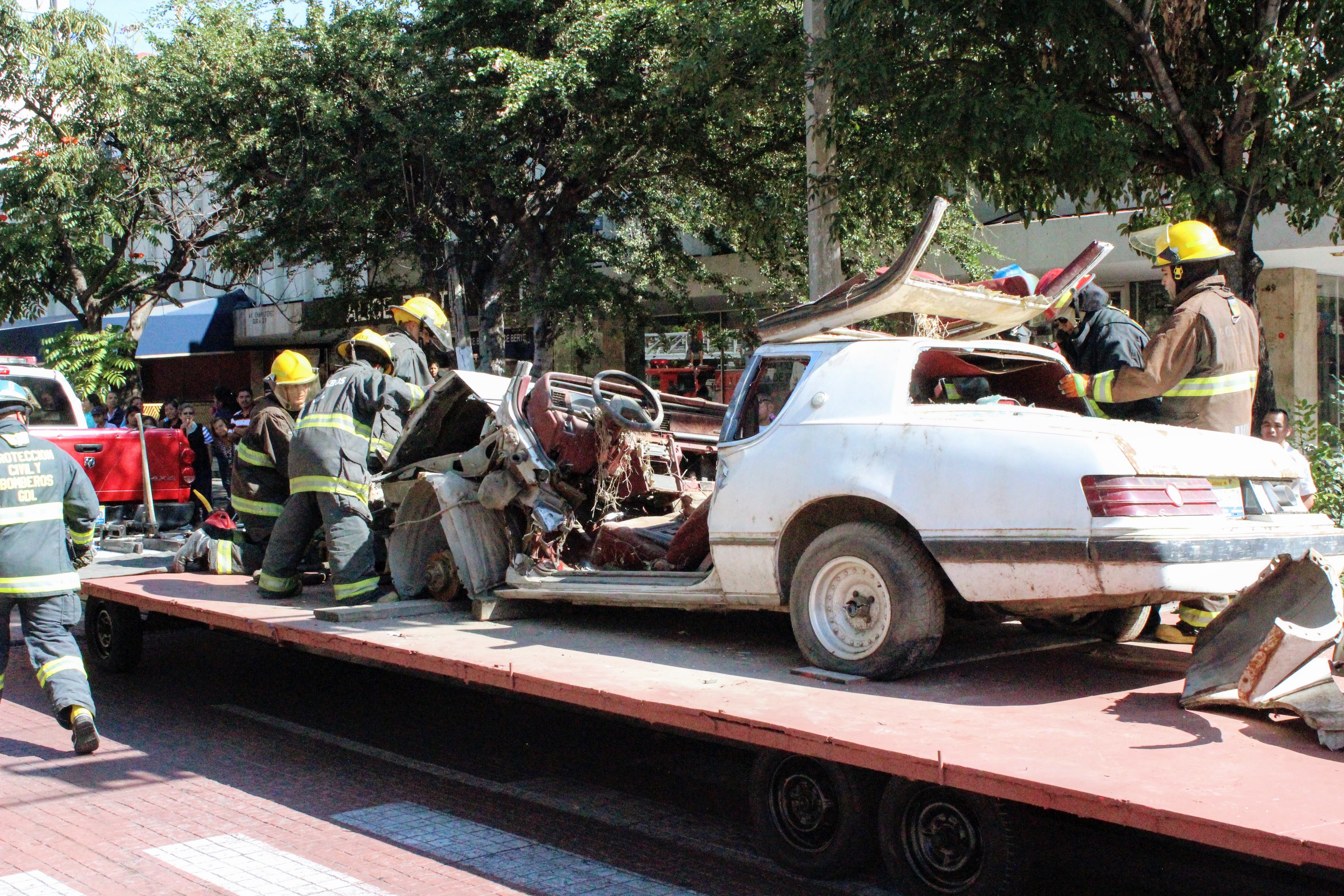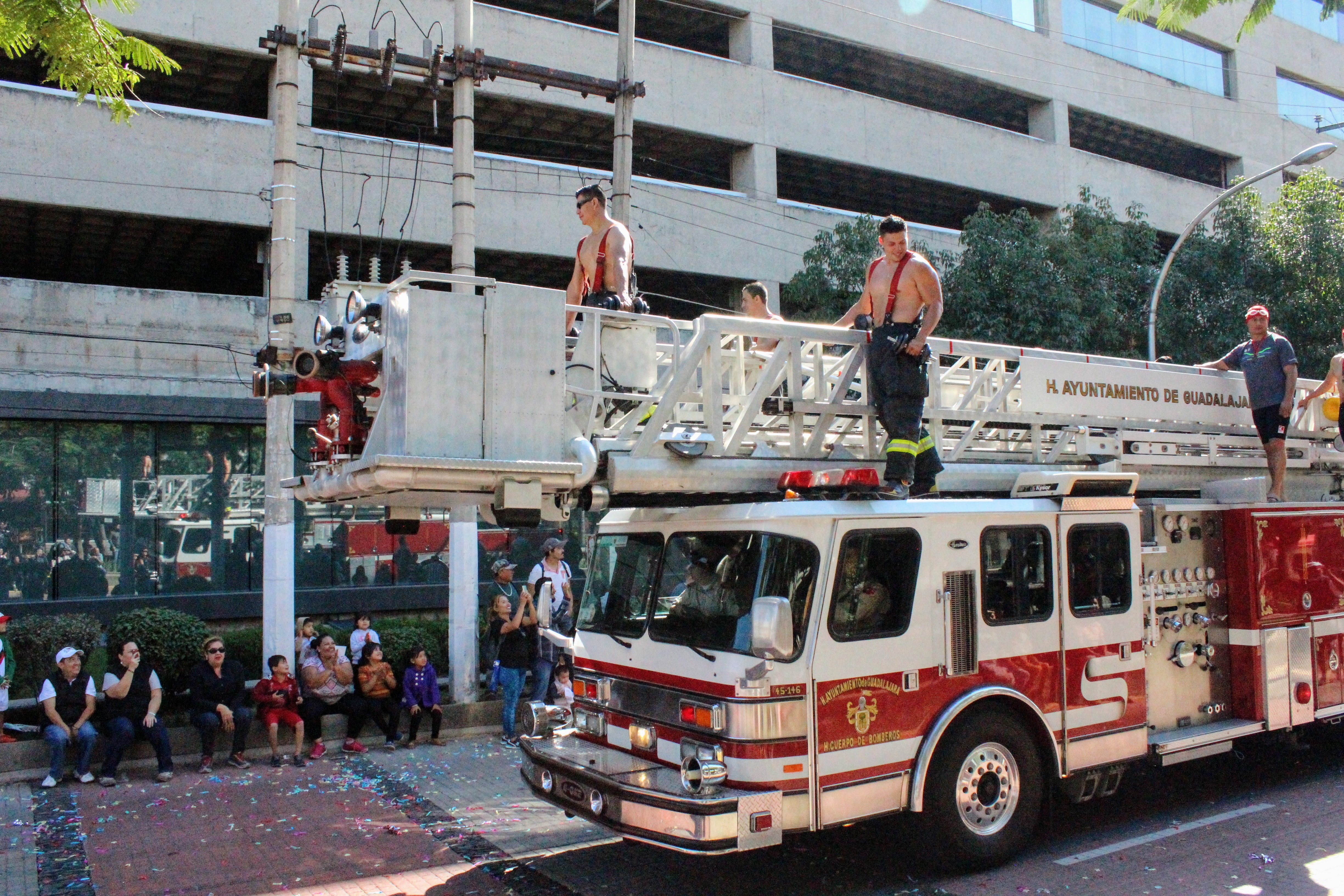 If that didn't convince you should come here, there is something wrong you.
Somber: Orozco murals
The murals of José Clemente Orozco in Hospicio Cabañas and Palacio de Gobierno are the Sistine Chapel of Americas – instantly recognizable and wholly awe-inspiring. But unlike the renaissance classic, they are anything but pastoral and peaceful. They are penetrating, bloody and haunting.
Created in the 30's, the murals echo artist's impressions from the bloody Mexican revolution (1910 – 1920) and trace the suffering and oppression the people of Mexico have endured throughout its history.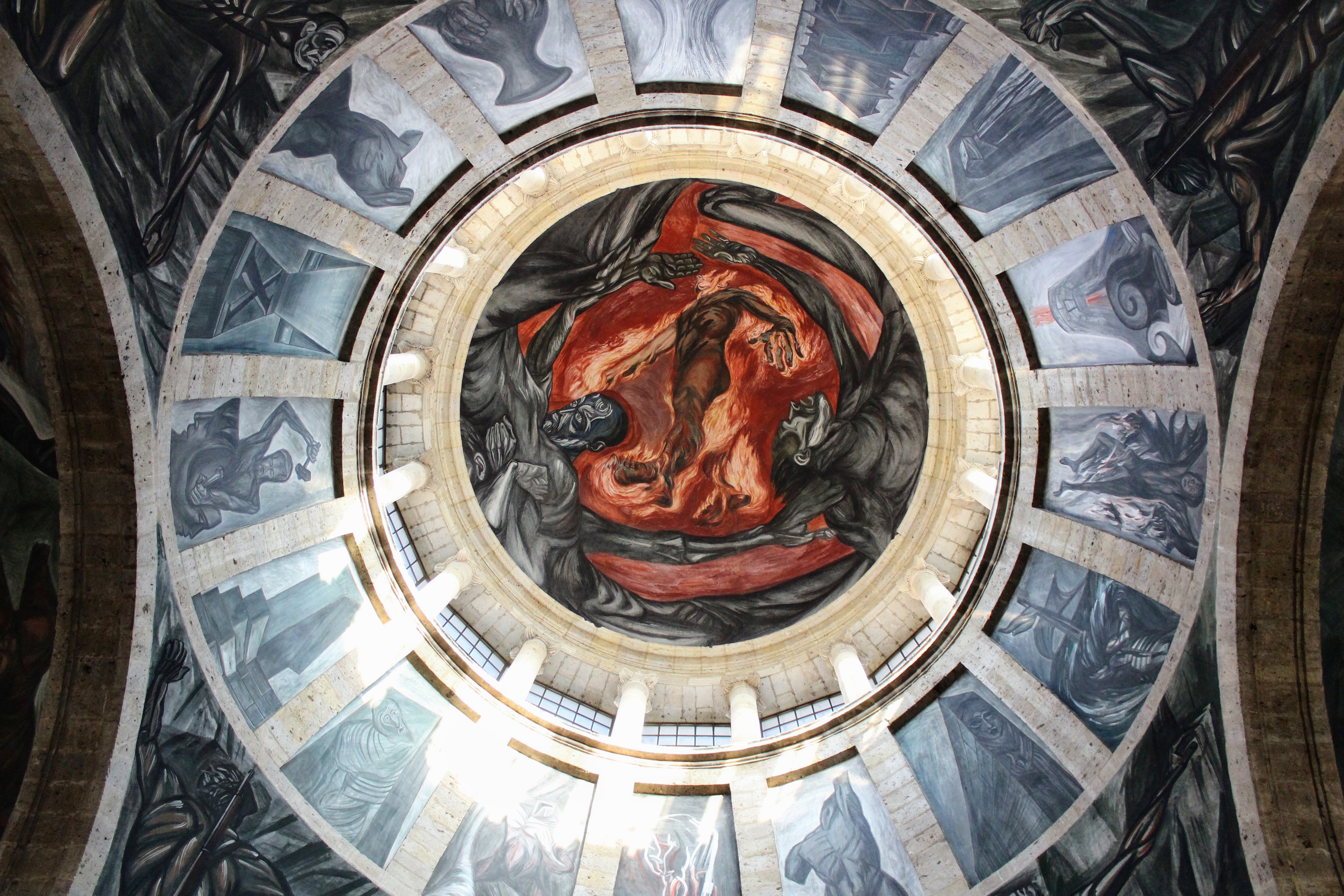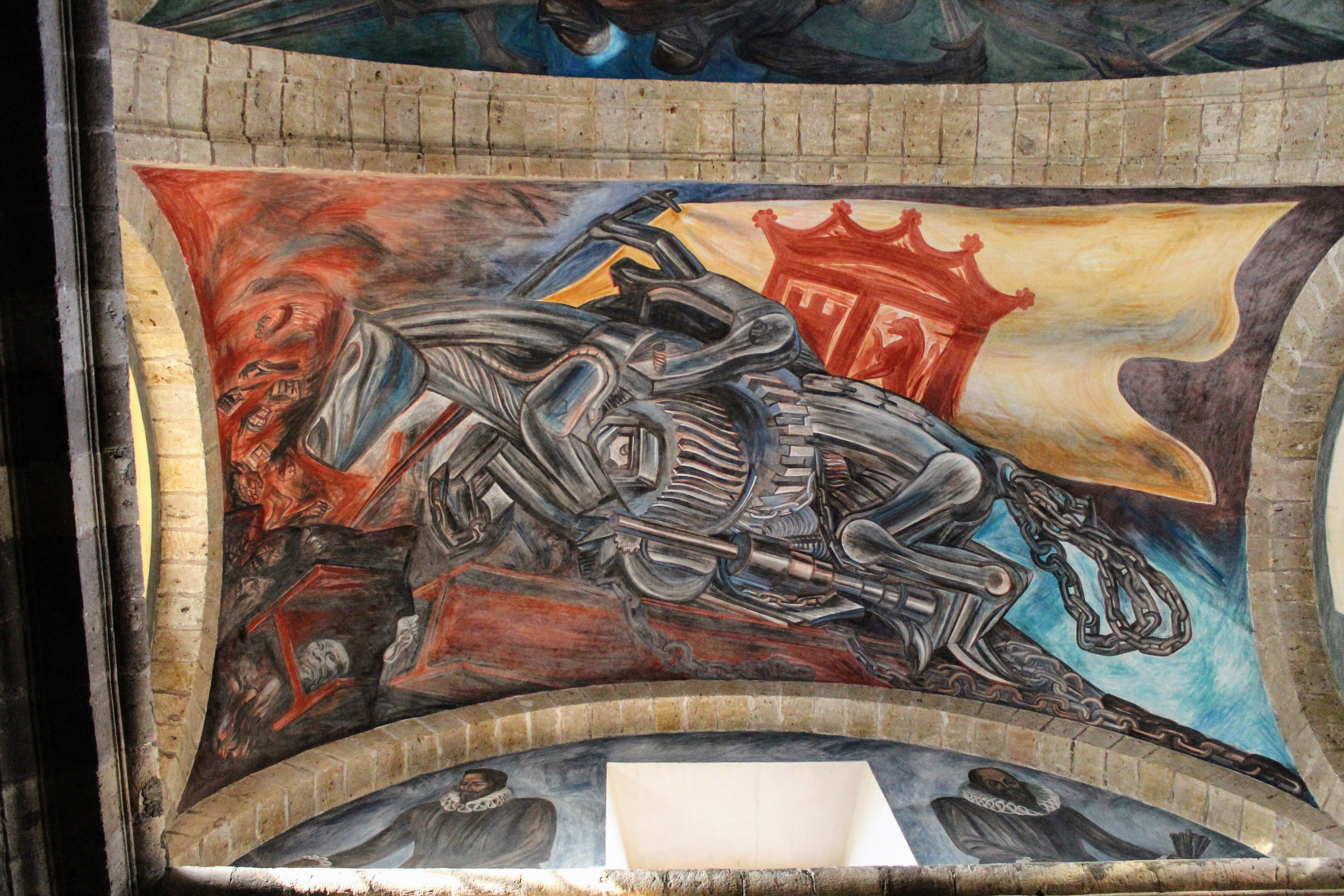 A fair warning: after a visit to Hospicio Cabañas your neck or back are going to hurt. But it will hardly matter.
Hospicio Cabañas that houses Orozco's murals is a masterpiece in itself, recognized as a World Heritage site by Unesco. It used to be an orphanage and a hospital up until the 80's. One has to wonder how conductive was Orozco's art to recovery and growing up of its residents.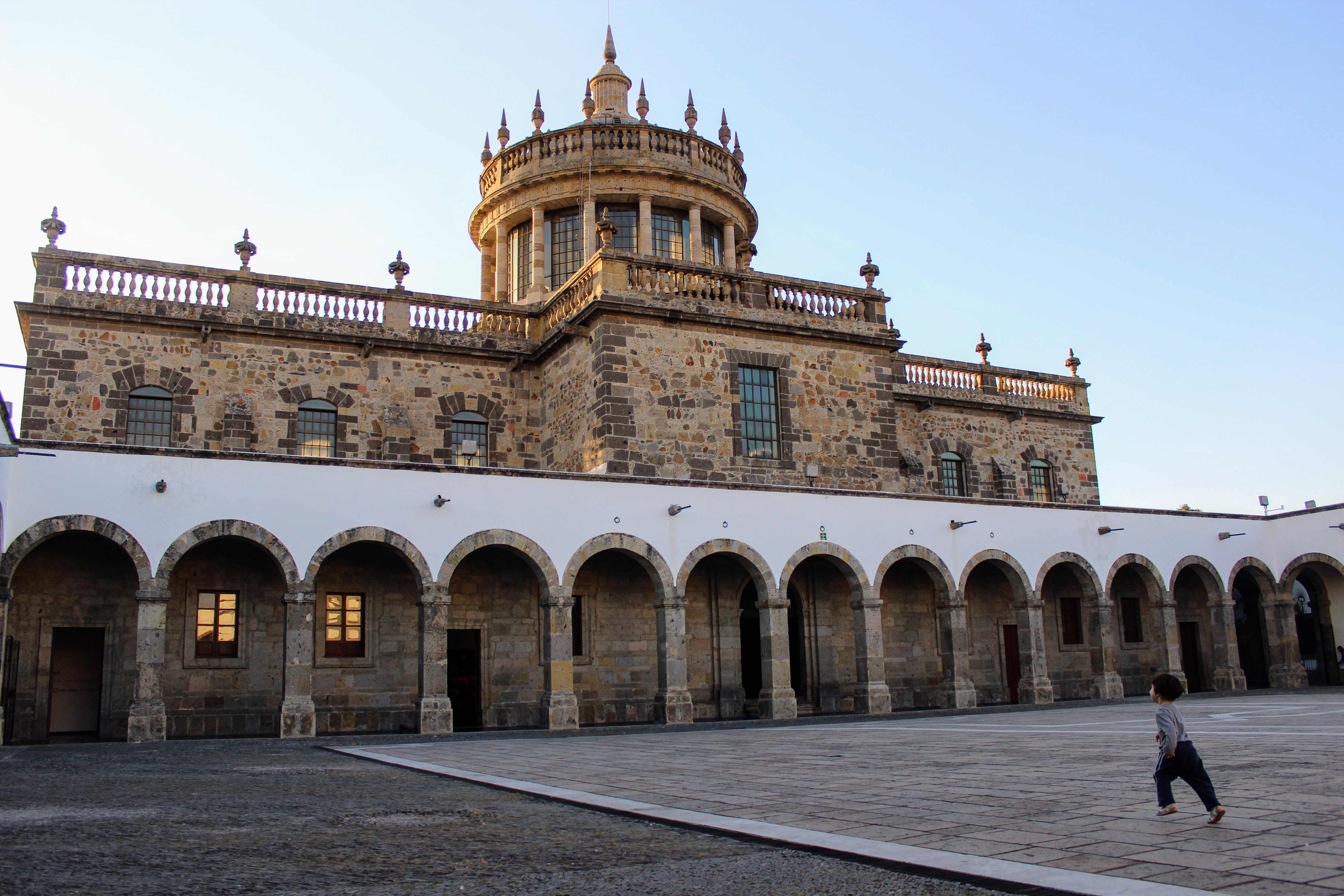 Orozco's murals in Government Palace of Guadalajara are no less impressive. Called Lucha Social ("Social Struggle"), they depict most prominently Miguel Hidalgo (on the left), a catholic priest considered the father of Mexican independence.
Far from a simple heroic narrative, the murals portray the horrors of social upheavals and mirror artist's disillusionment with dogmatic ideologies.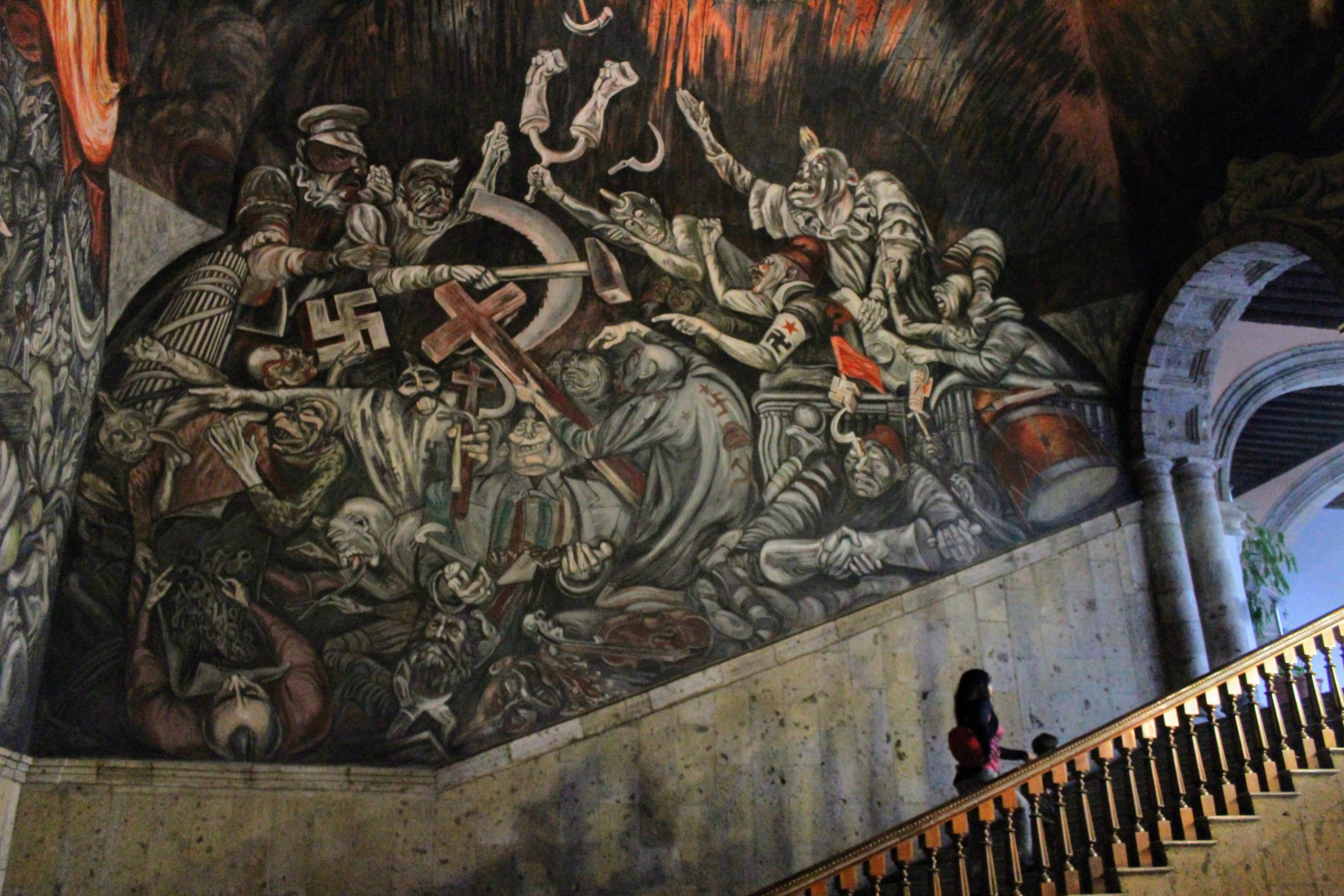 The colors and the lighting of the mural create a striking effect of "burning fire", visible from afar.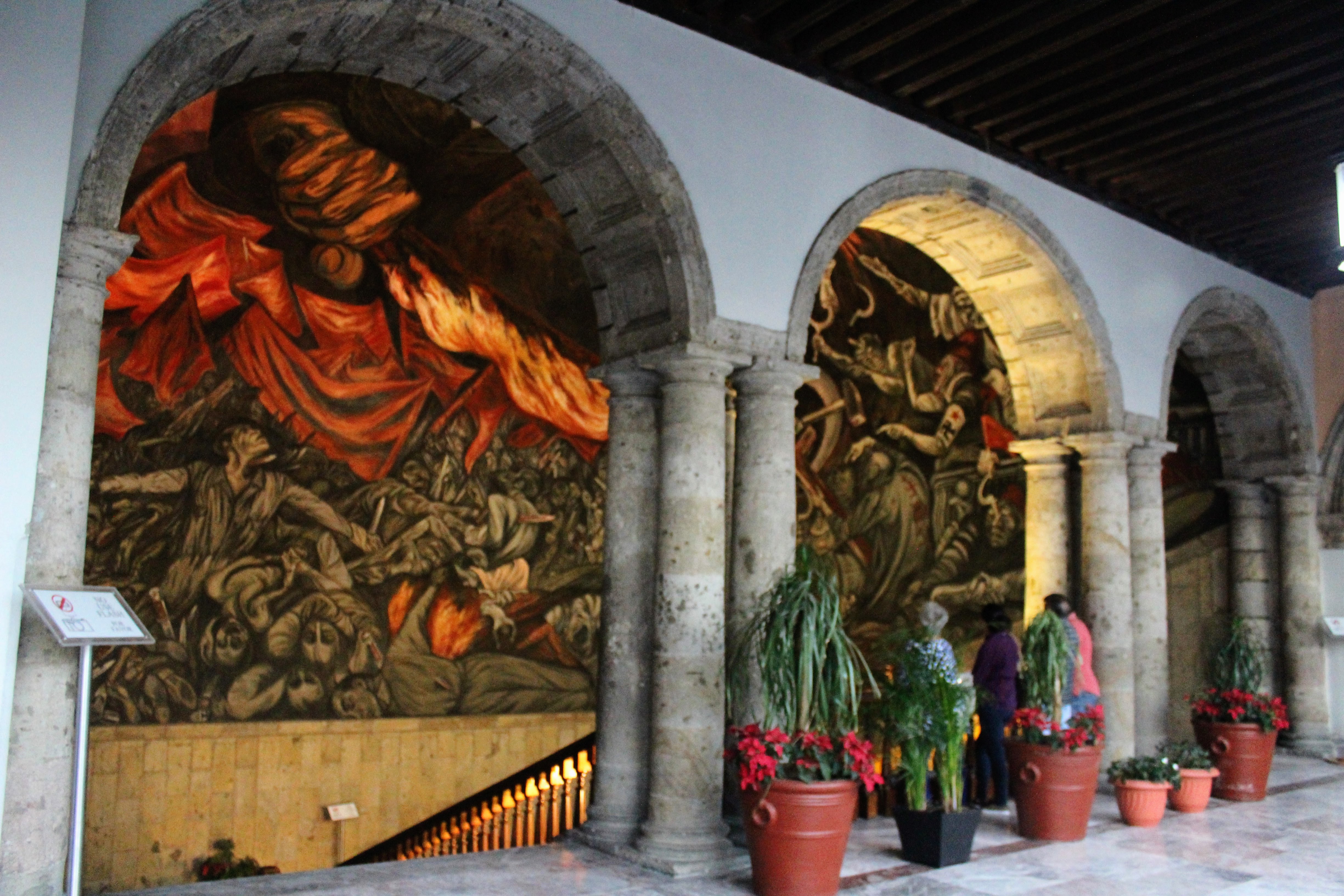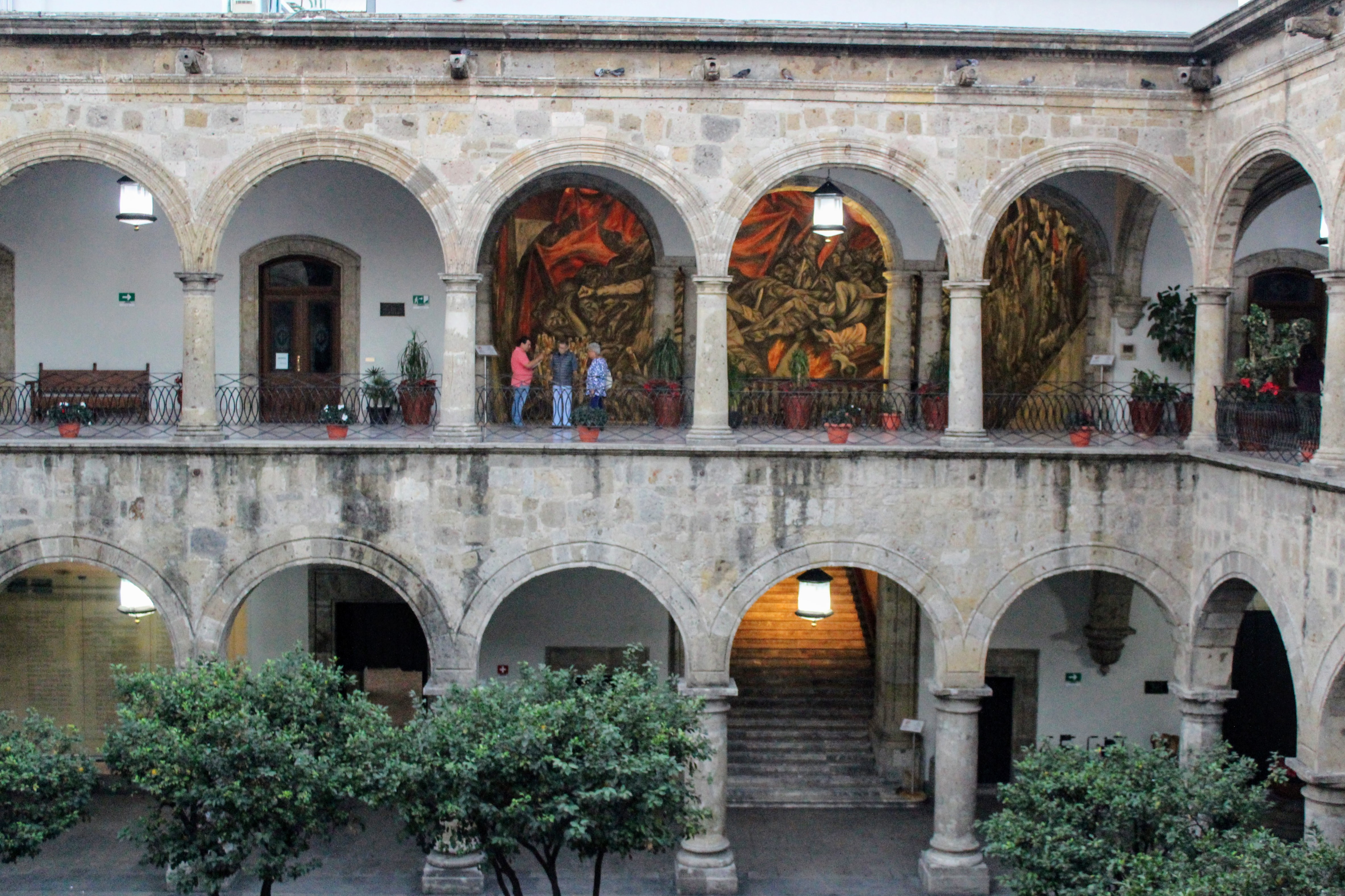 Eclectic: Colonia Americana
All of the two months we spent in Guadalajara we lived in Colonia Americana. After crisscrossing the city back and forth from Zapopan in the west to Tlaquepaque in the east, I have to conclude that Colonia America is the most attractive residential area in Guadalajara. Its charm lies in its eclectic architecture, that mashes up influences from different times and place. In a city that has too many streets built without regard for aesthetics, Colonia Americana is a gem that both delights and surprises.
Modernist structures and classical colonial houses, touches of islamic architecture and oriental pagodas – they are all here, catering to the tastes of its well-off residents.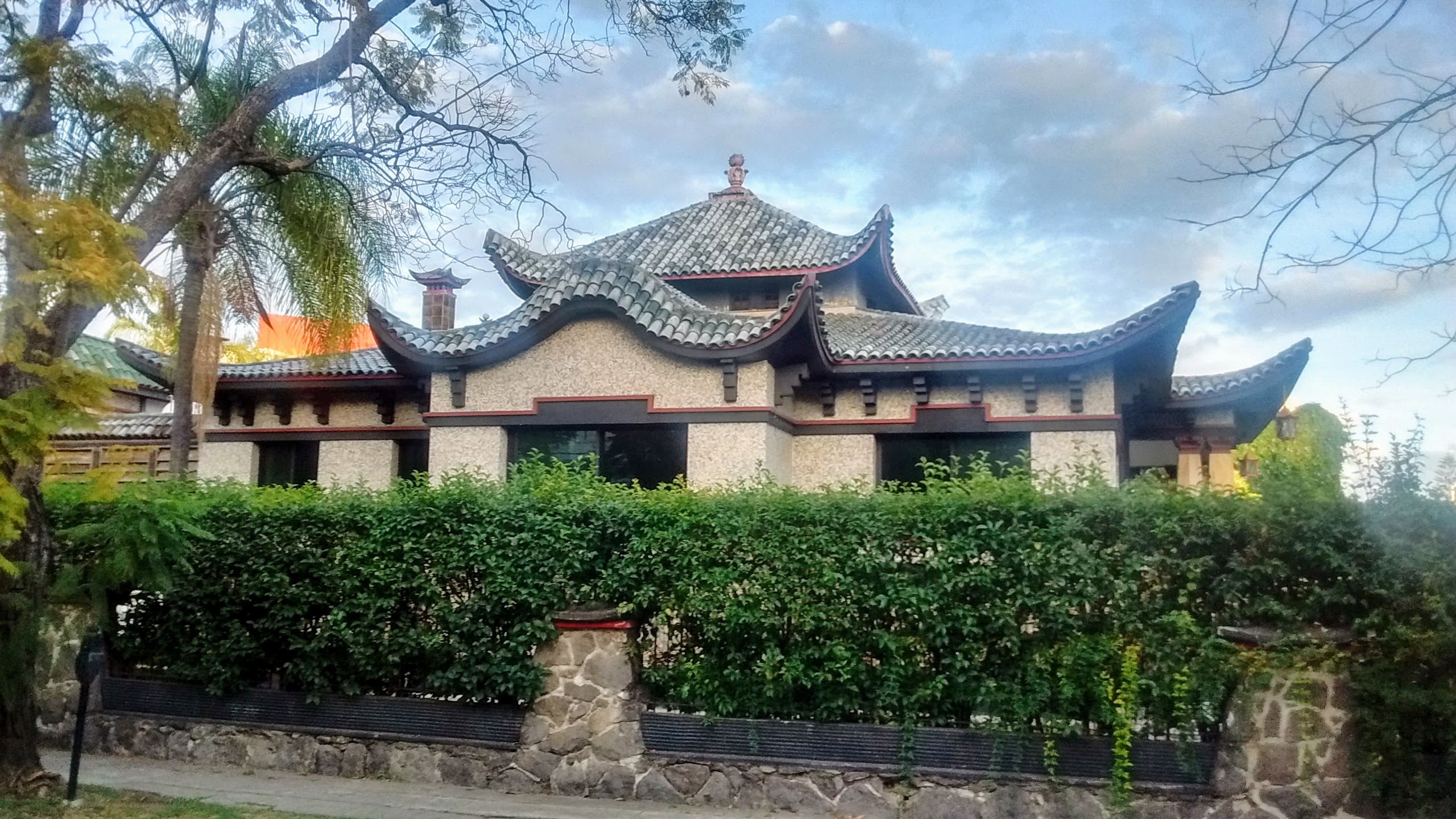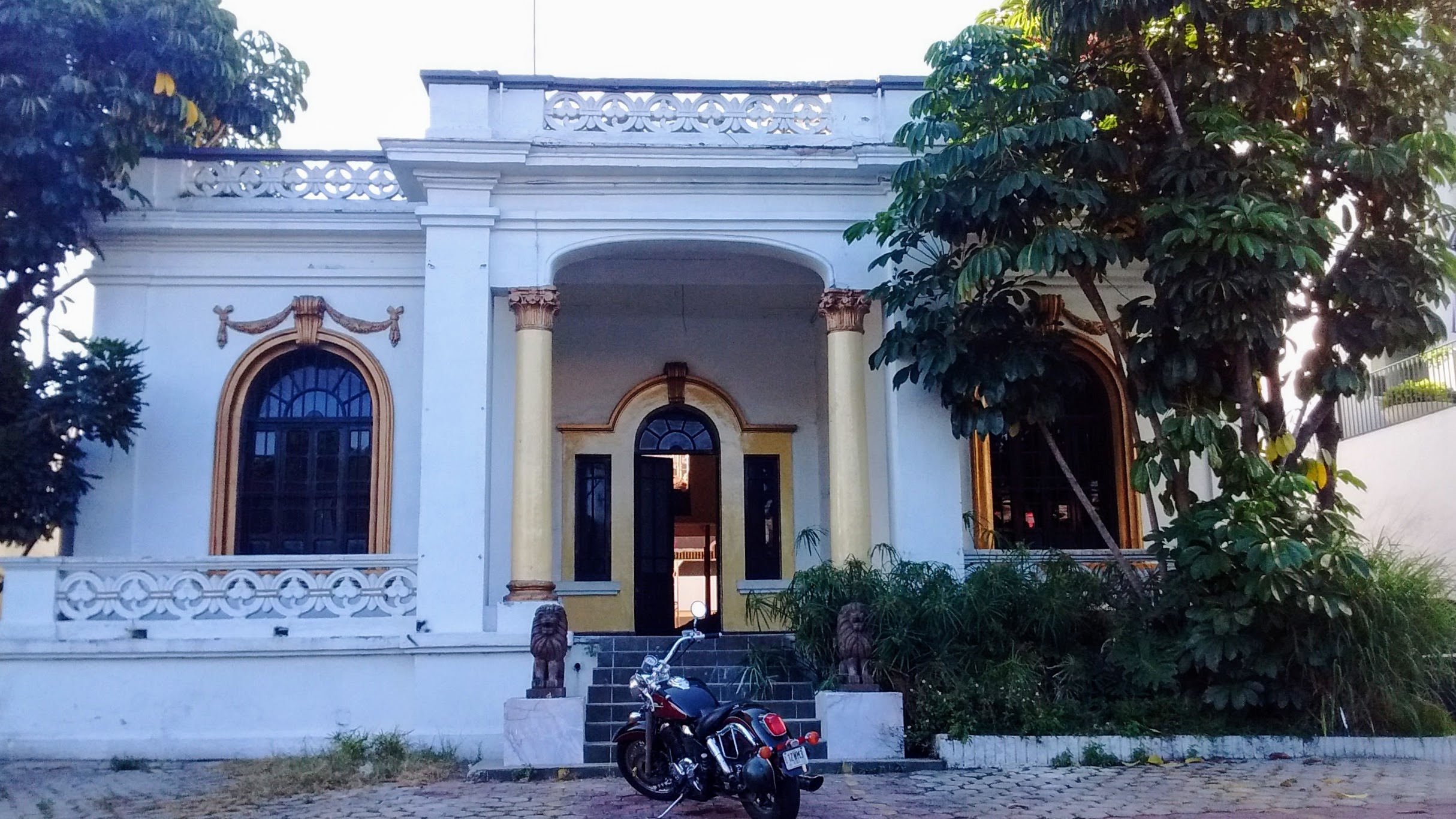 Casa Zuno is an architectural epitome of the neighbourhood. We stumbled on this unique building strolling one day in the colonia minutes from our place.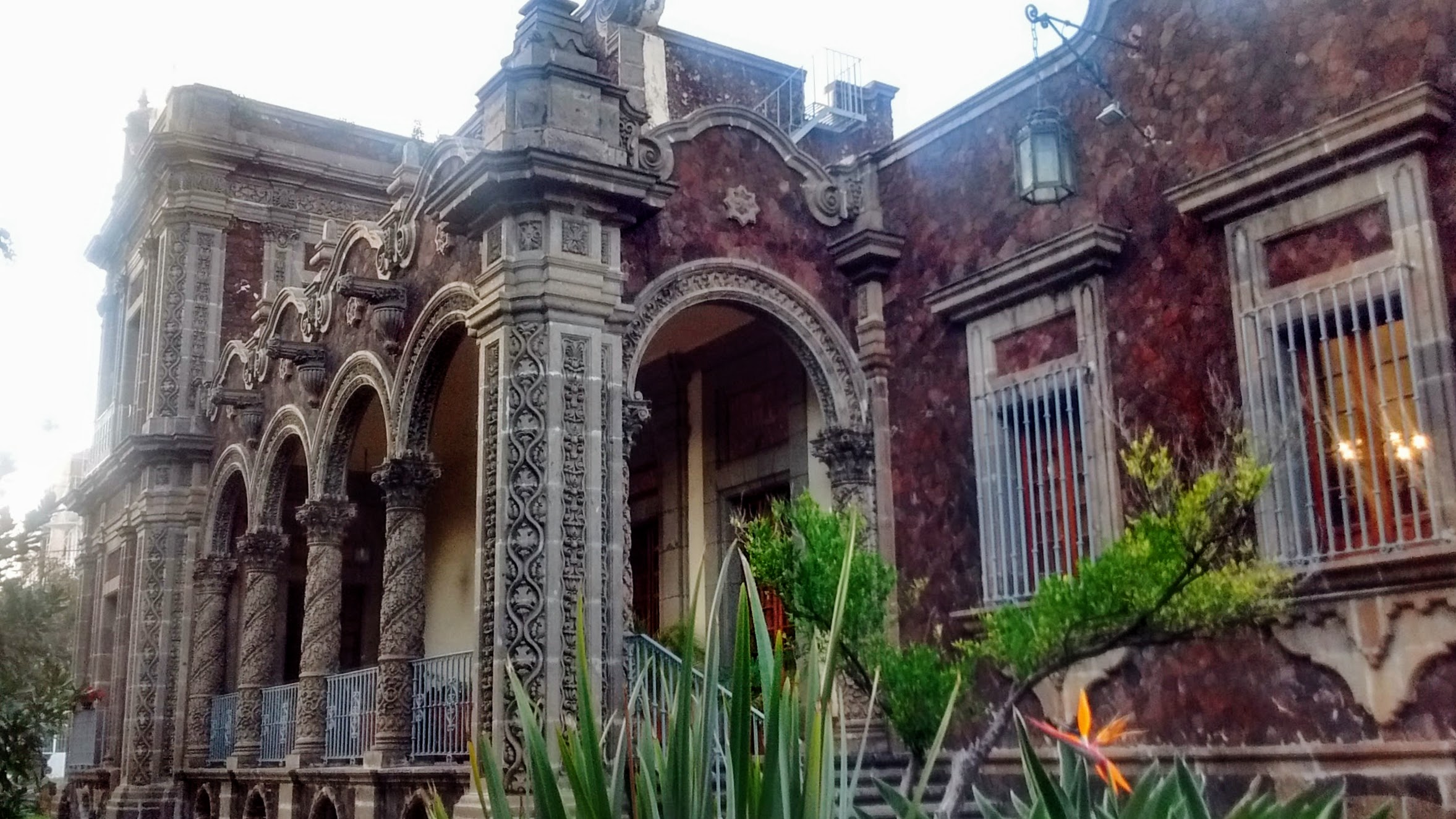 Peeking inside we found a receptionist who informed us that we will be receiving a tour, and just have to sign a form. Minutes later, without really asking for it, we were on a tour of the building, now serving as University of Guadalajara's library. Alfred, an older intellectual working for the university guided us through its rooms and halls.
From what my limited Spanish allowed me to understand, this eclectic building was built and decorated by a collective of artists, to convey the history of masonry and occult organizations. Called after Guadalupe Zuno, a governor of Jalisco, it served first as a governor house.
The array of symbols and styles it employs is head-spinning. From swastika (loaned from India, it was used in Europe first by the Templars, long before the Nazis), to Arabic calligraphy, traditional Mexican/Aztec symbols of sun and corn and communist hammer and sickle. One room even houses a large Menorah.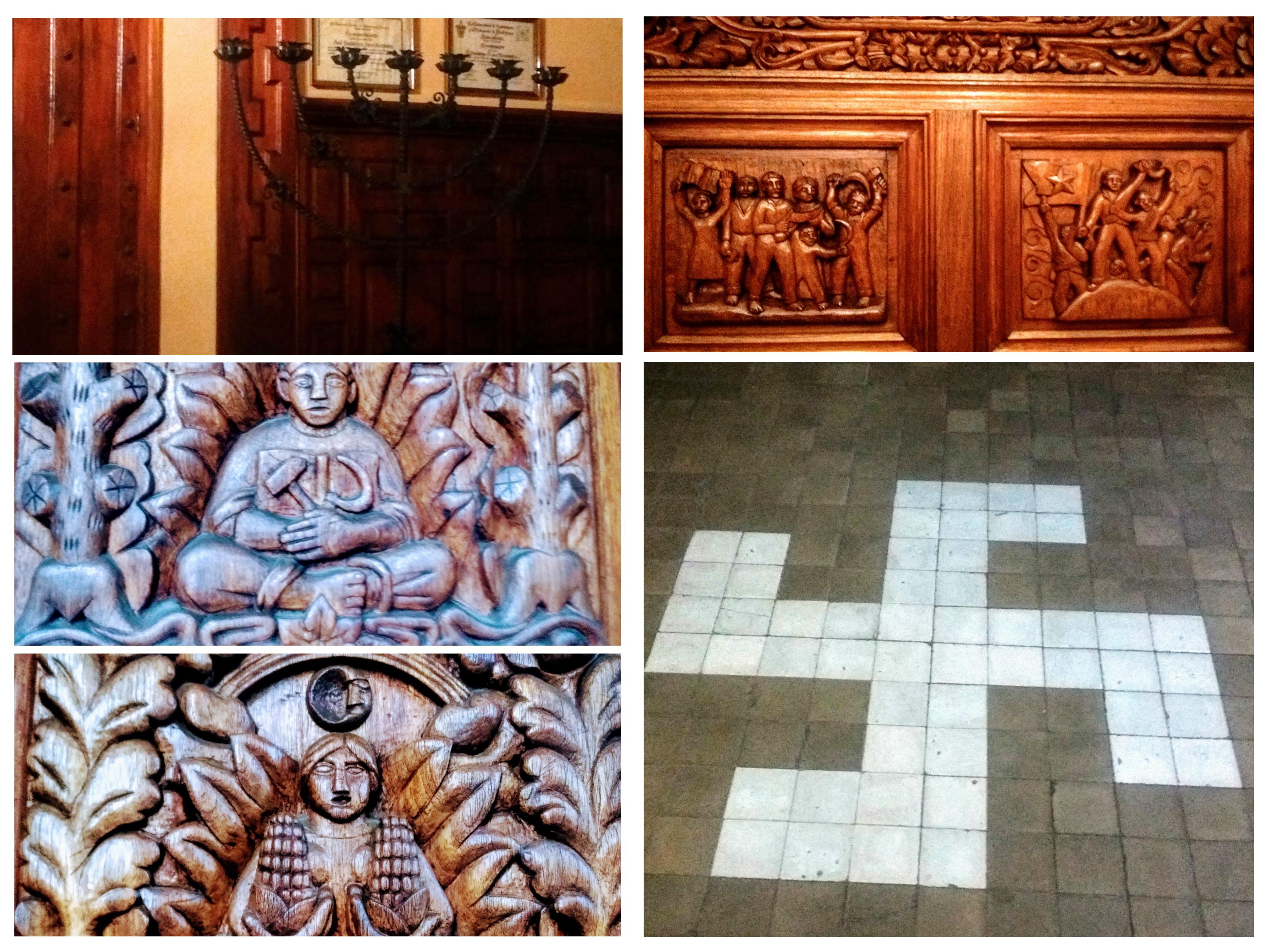 Towards the end of the tour, Alfred brought us to the kitchen, decorated in a traditional mexican style.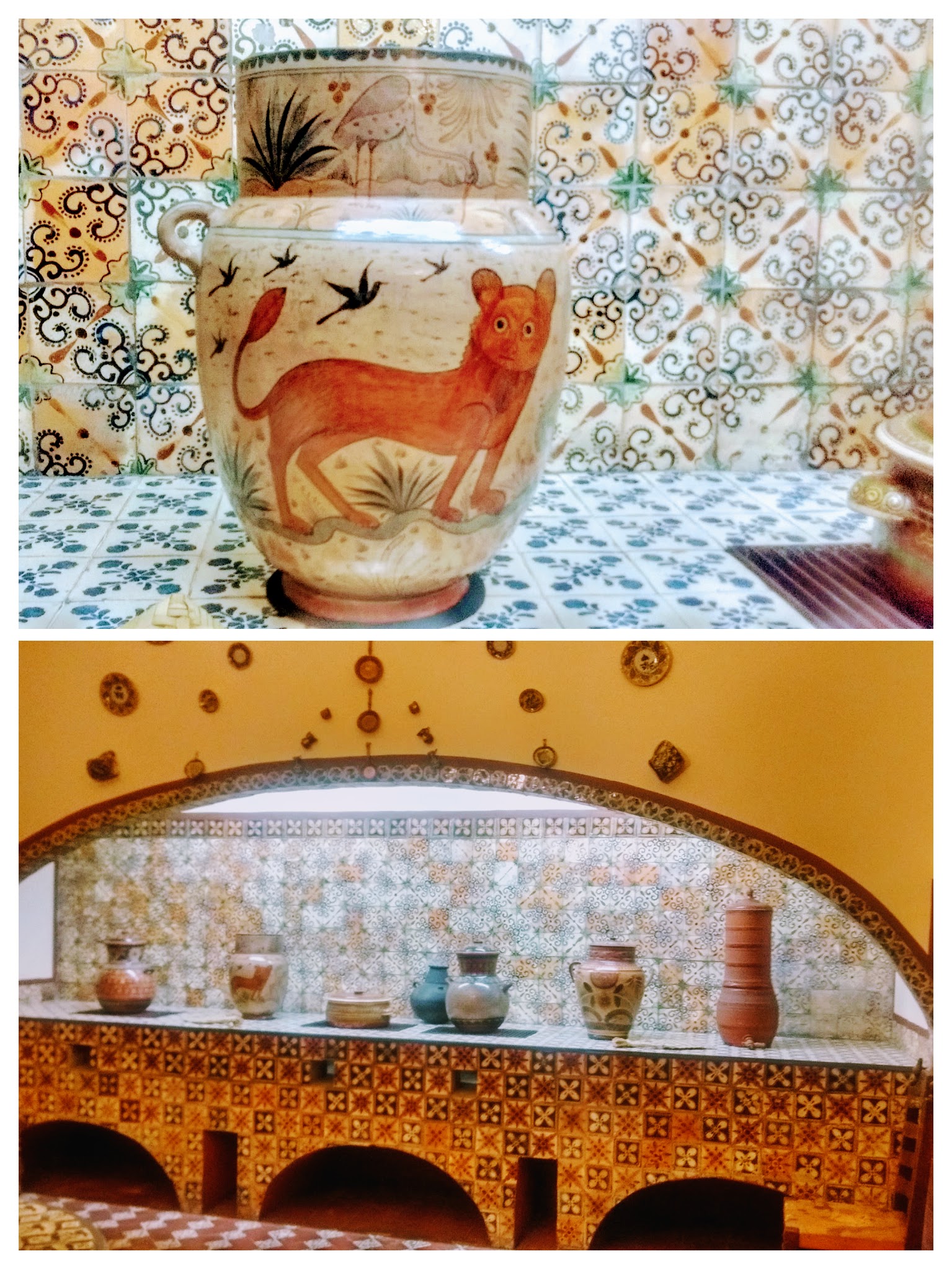 It's unexpected discoveries like these that you remember the most. Make sure to stop here when you are in the city, and say hi to Alfred.
Artisan: Tlaquepaque
In the south-east of Guadalajara metropolitan area lies Tlaquepaque, an artisan town that has become one of the largest centers for decorative arts and crafts in Mexico.
We arrived there one Saturday morning, to find a typical-looking church, park and a small market.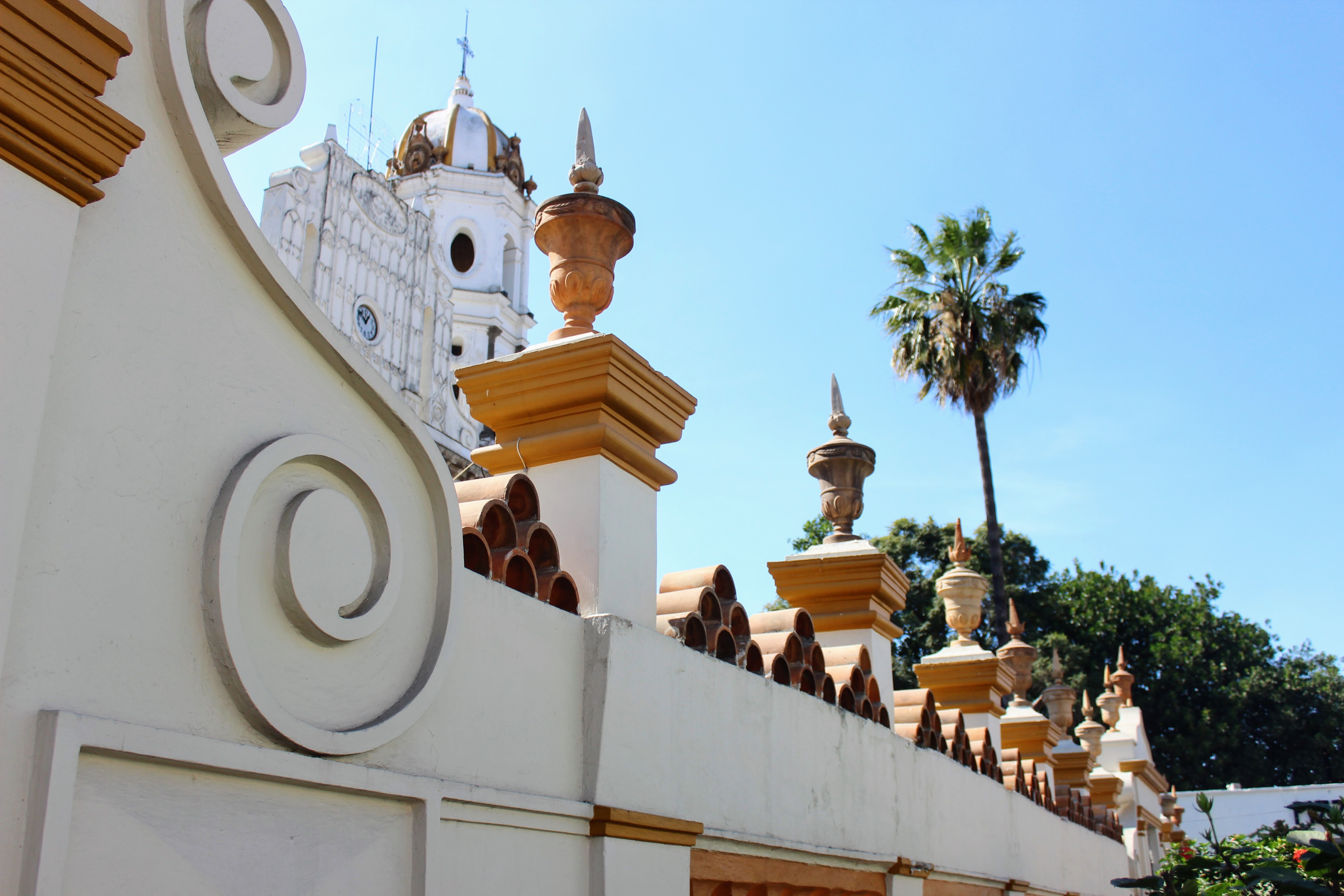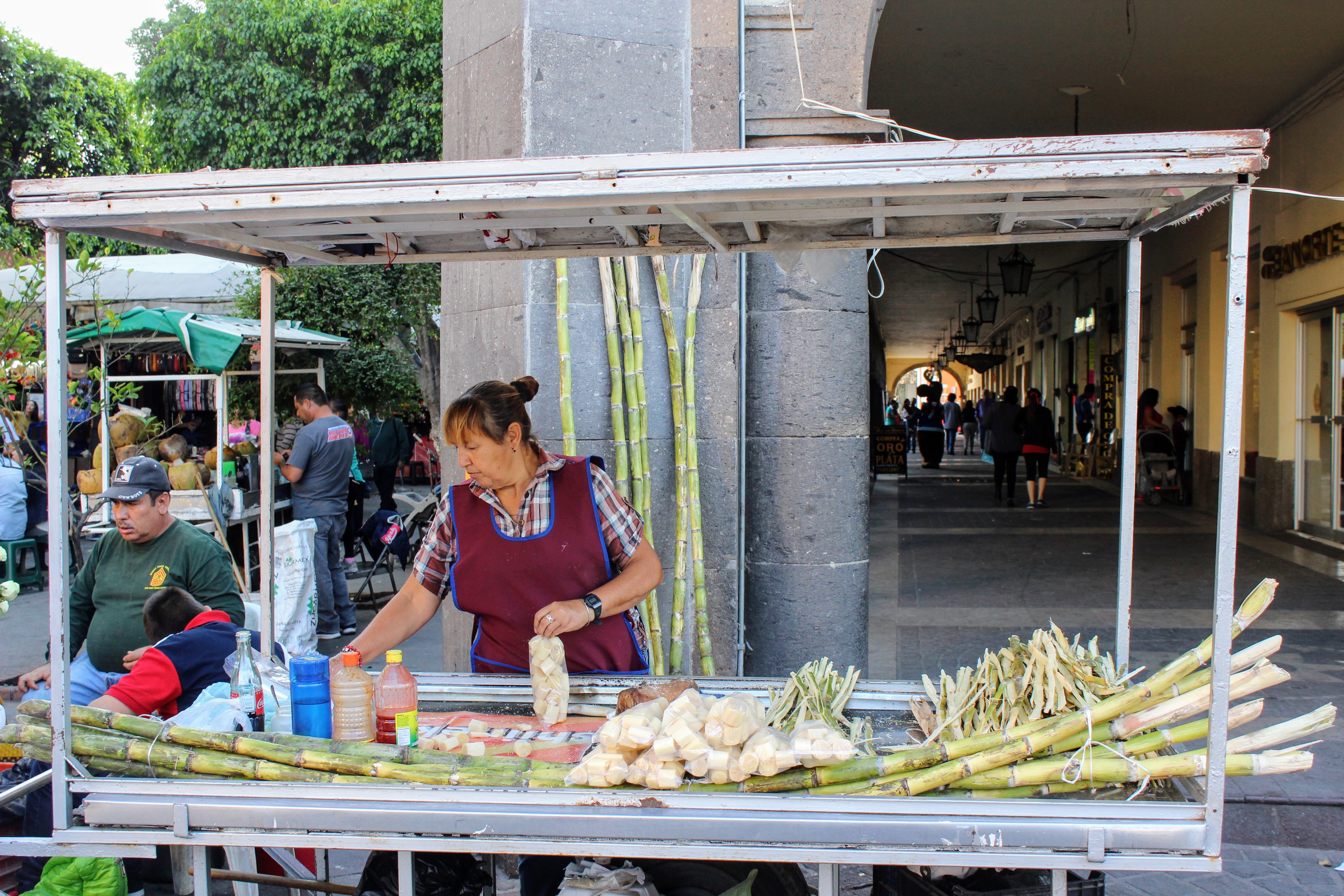 But stroll further towards Calle Independencia, and you start seeing unexpected creations popping here and there.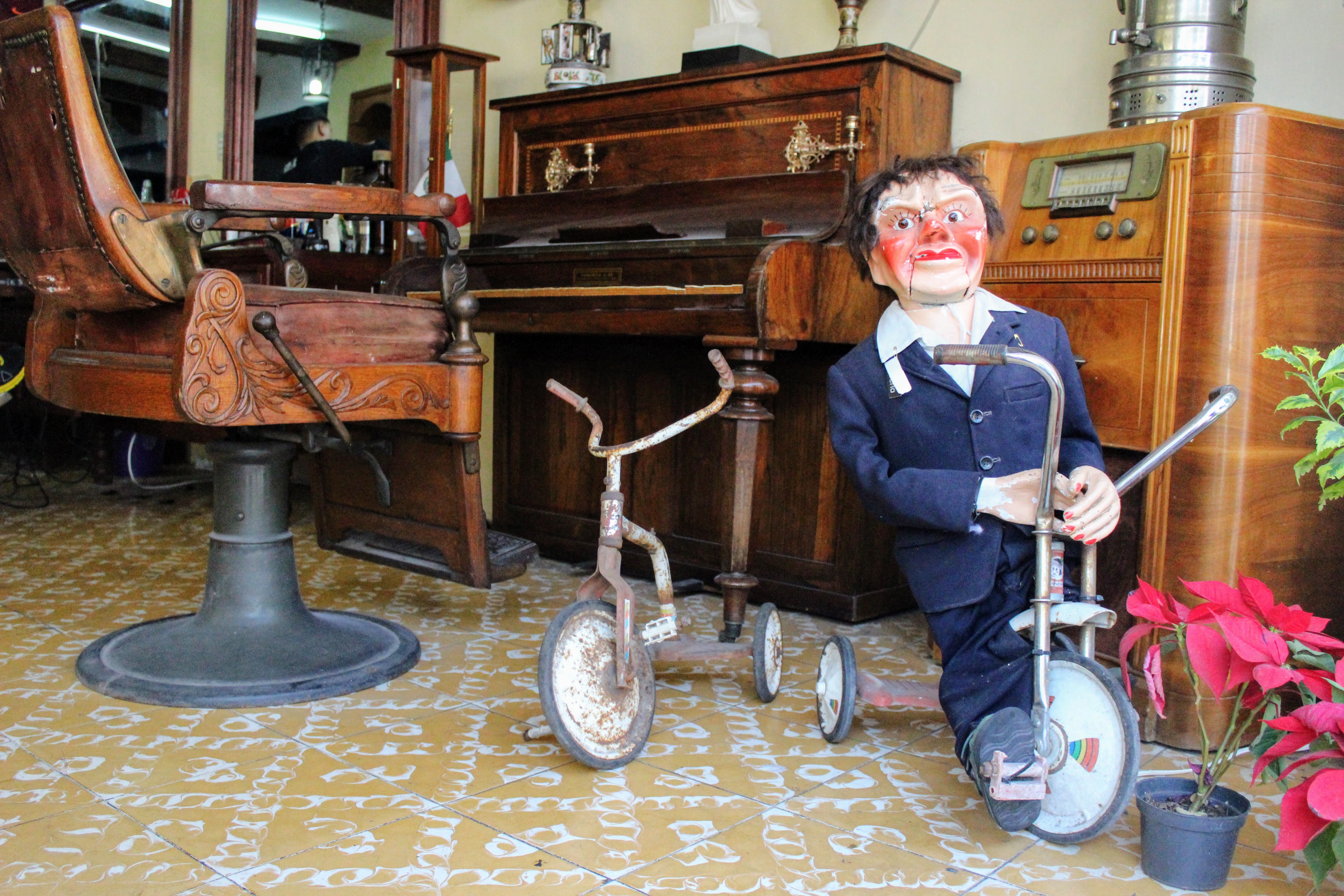 Calle Independencia is where Tlaquepaque's artistic side comes to life. Hanging piñatas, public art installations, galleries, museums and street artists vow for your attention.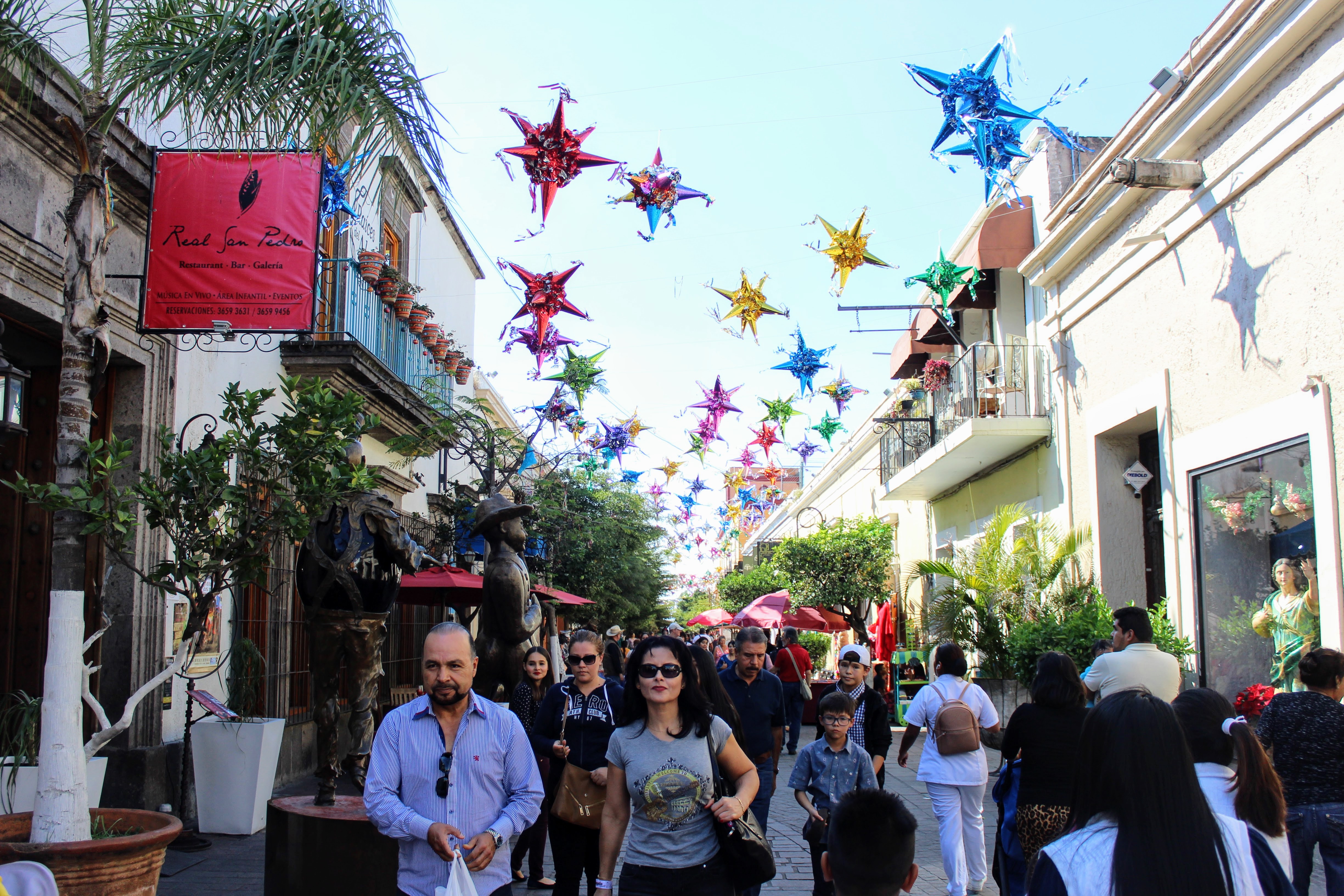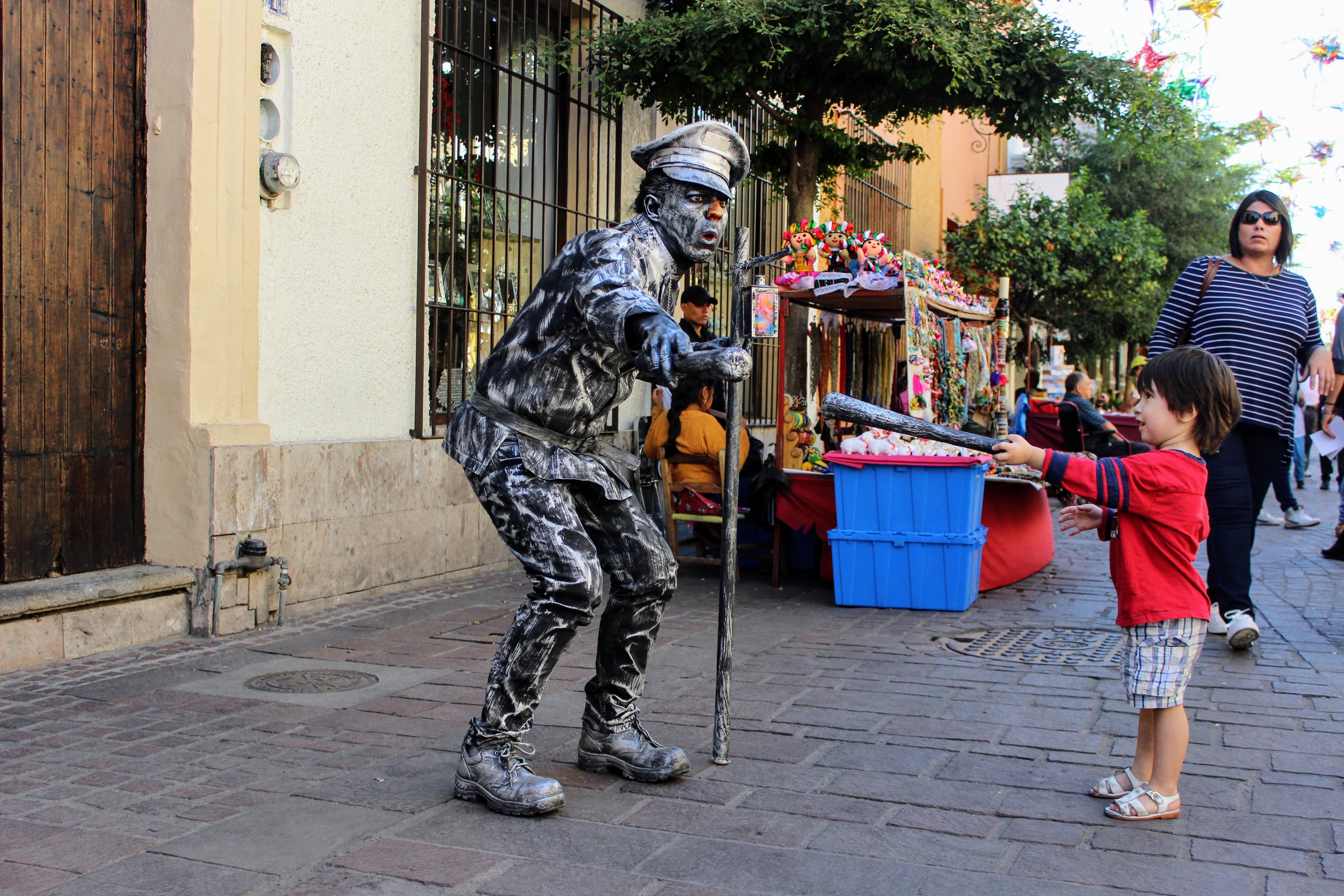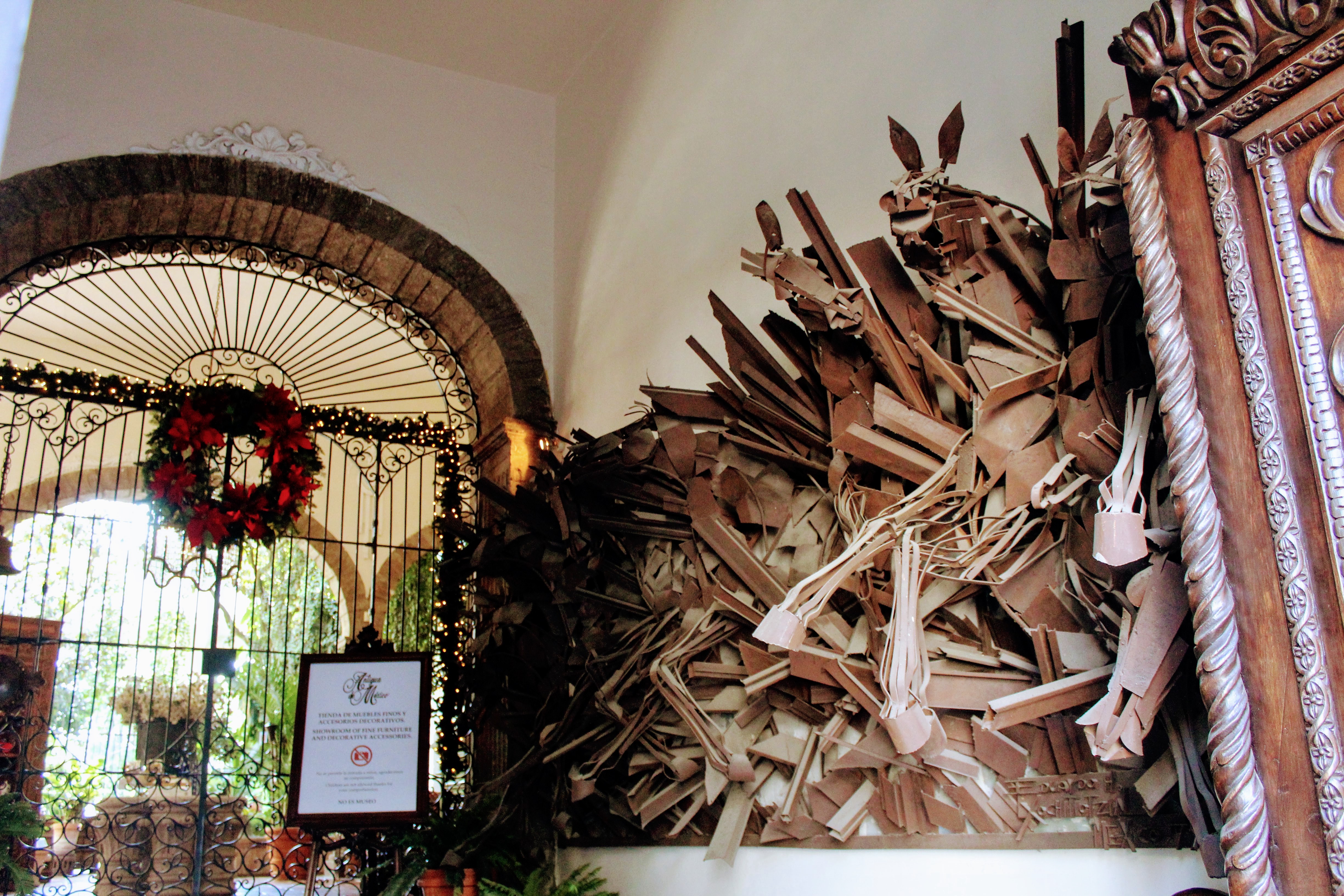 Regional museum of ceramics (Museo Regional de la Cerámica) has a good collection of traditional ceramic art.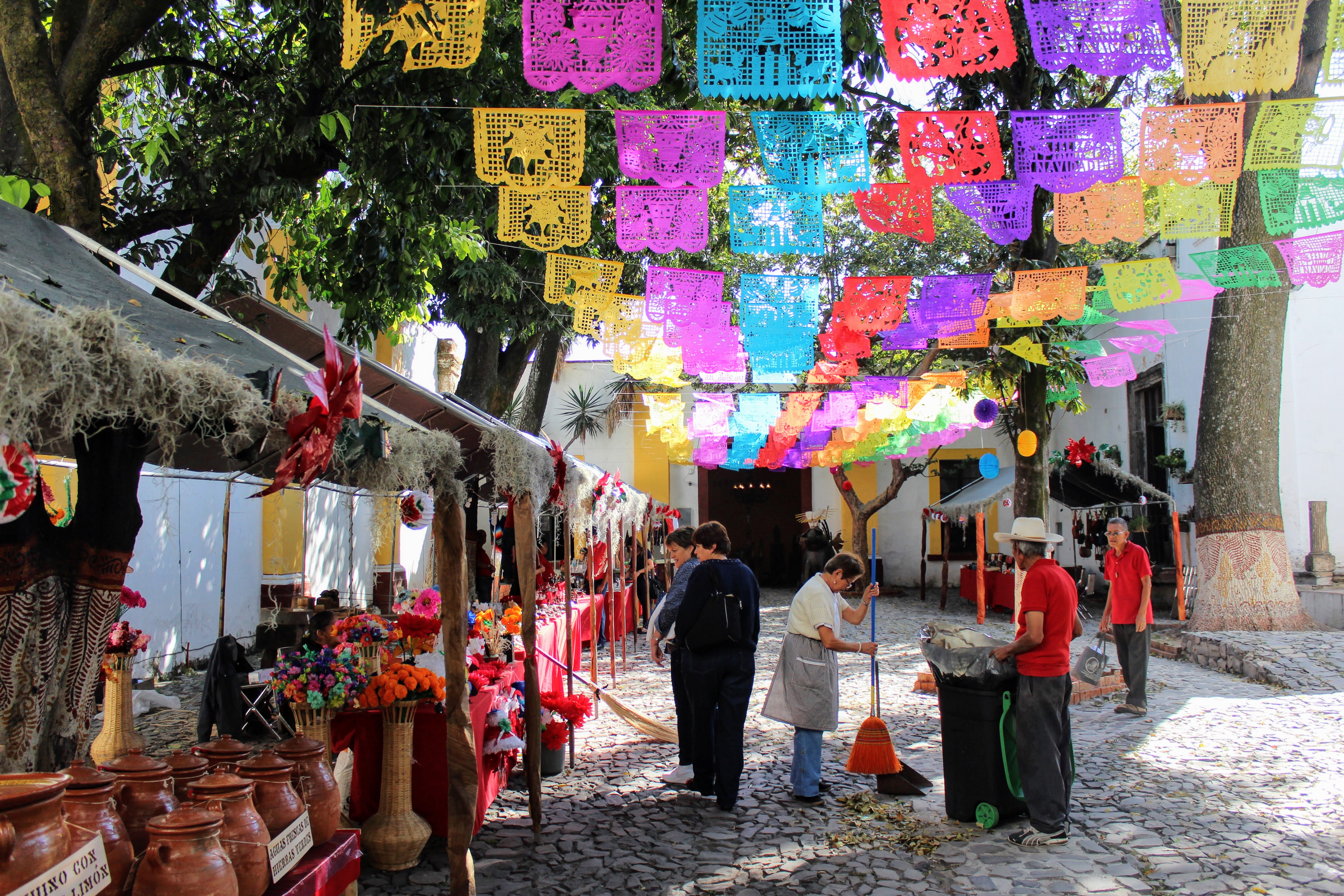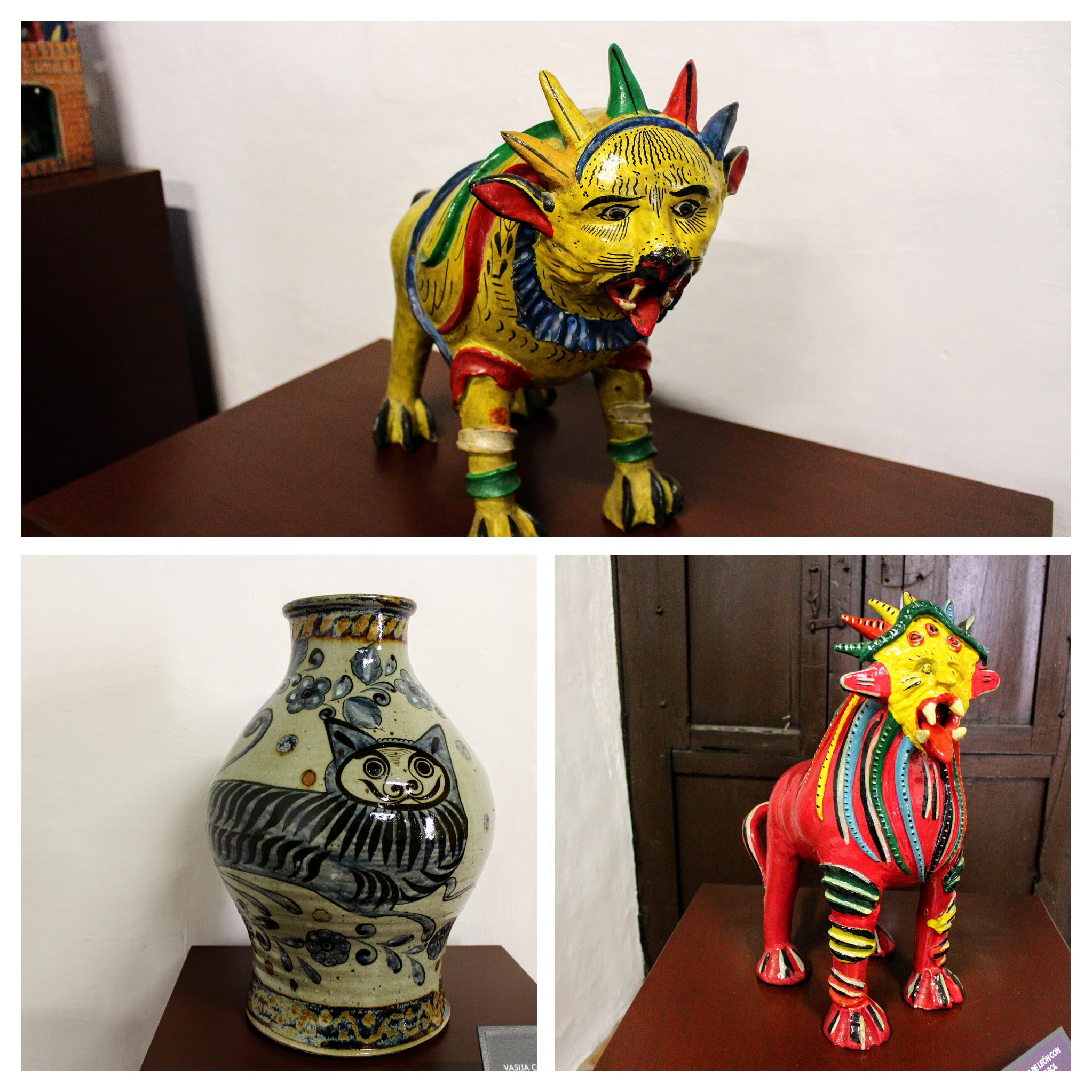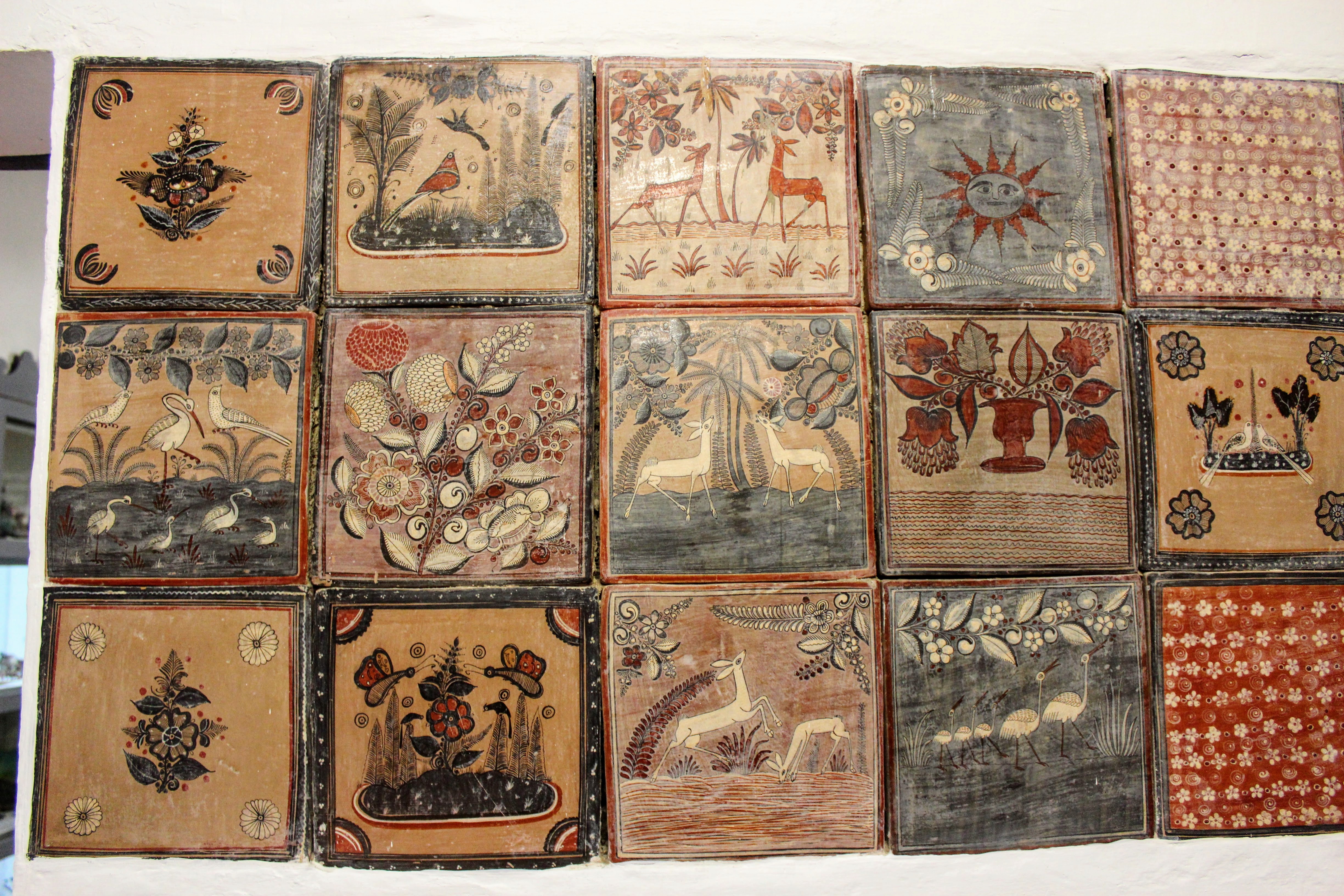 The gallery of Sergio Bustamante, a world-famous Mexican artist and sculptor is one of the highlights of Tlaquepaque for me.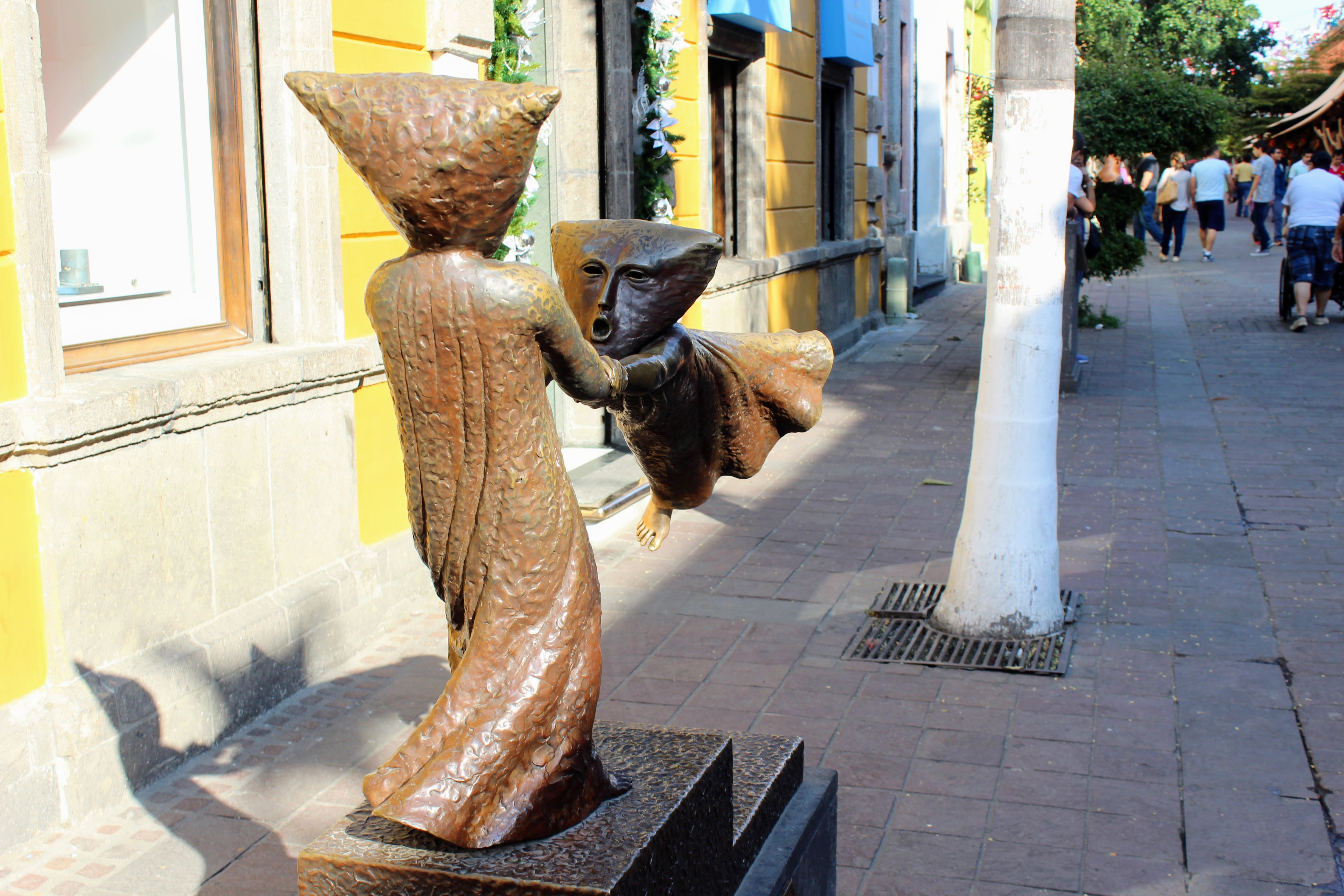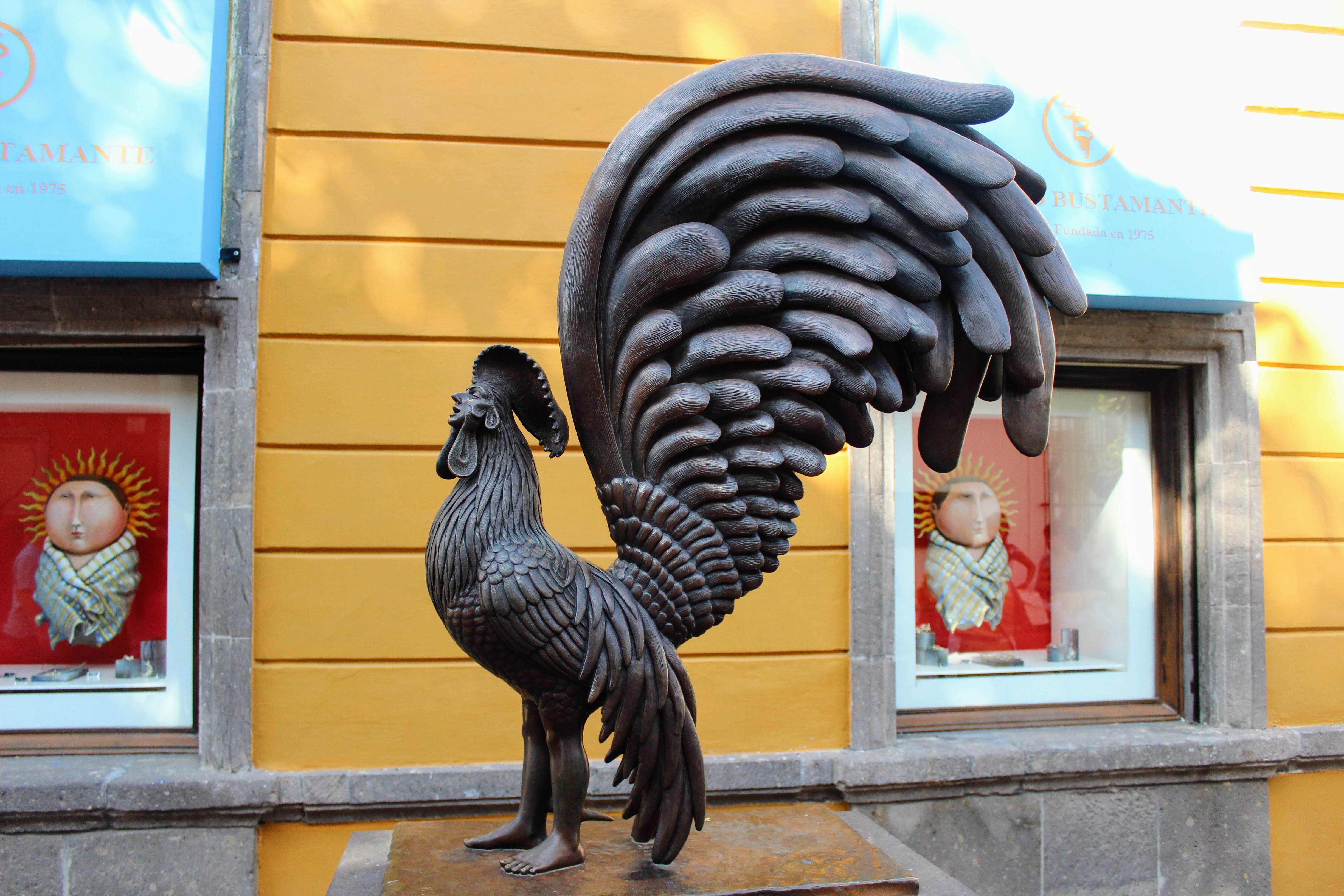 Vivid, magical. His works invite you to authors' imaginarium, a world of triangle-head beings, crocodile priests and human-face roosters.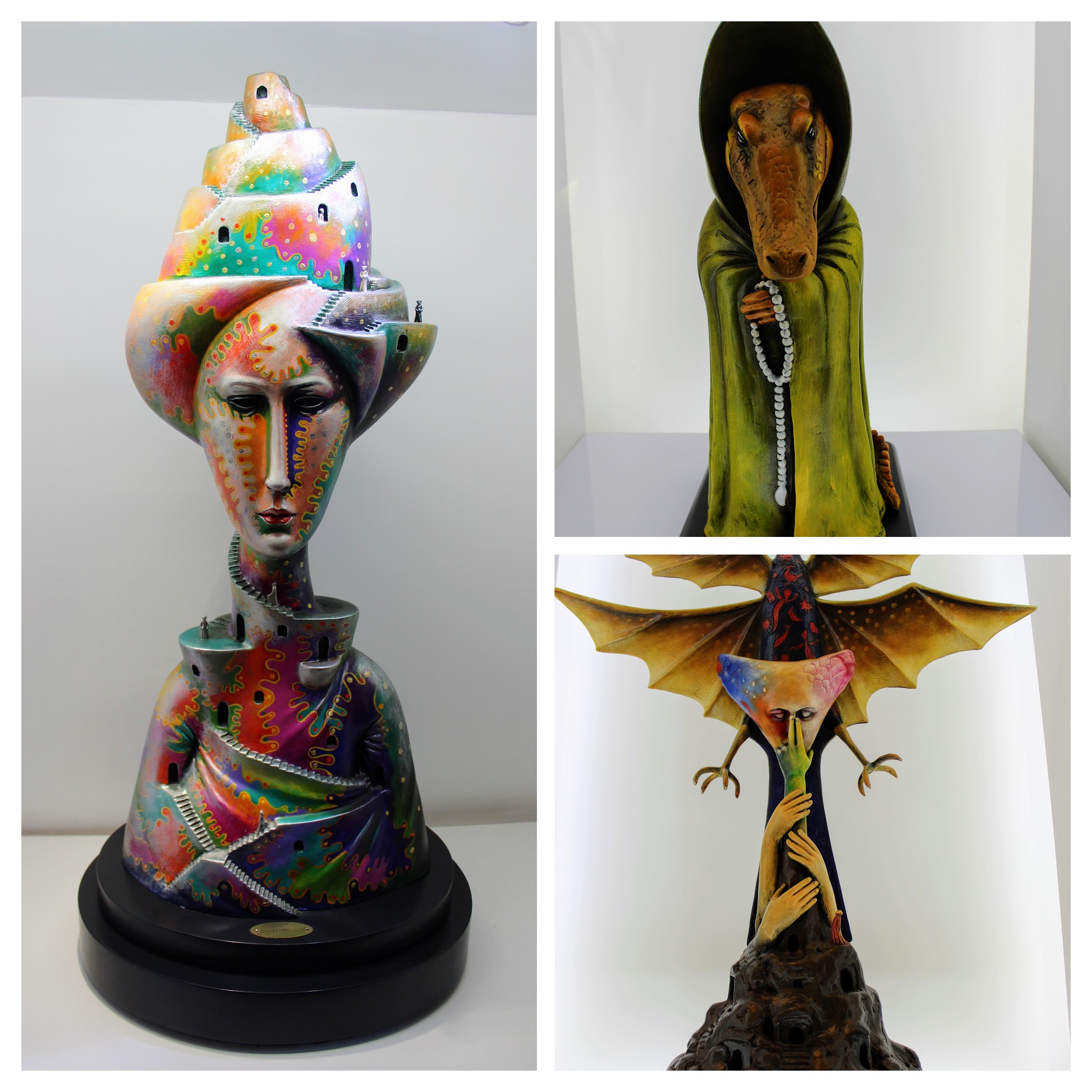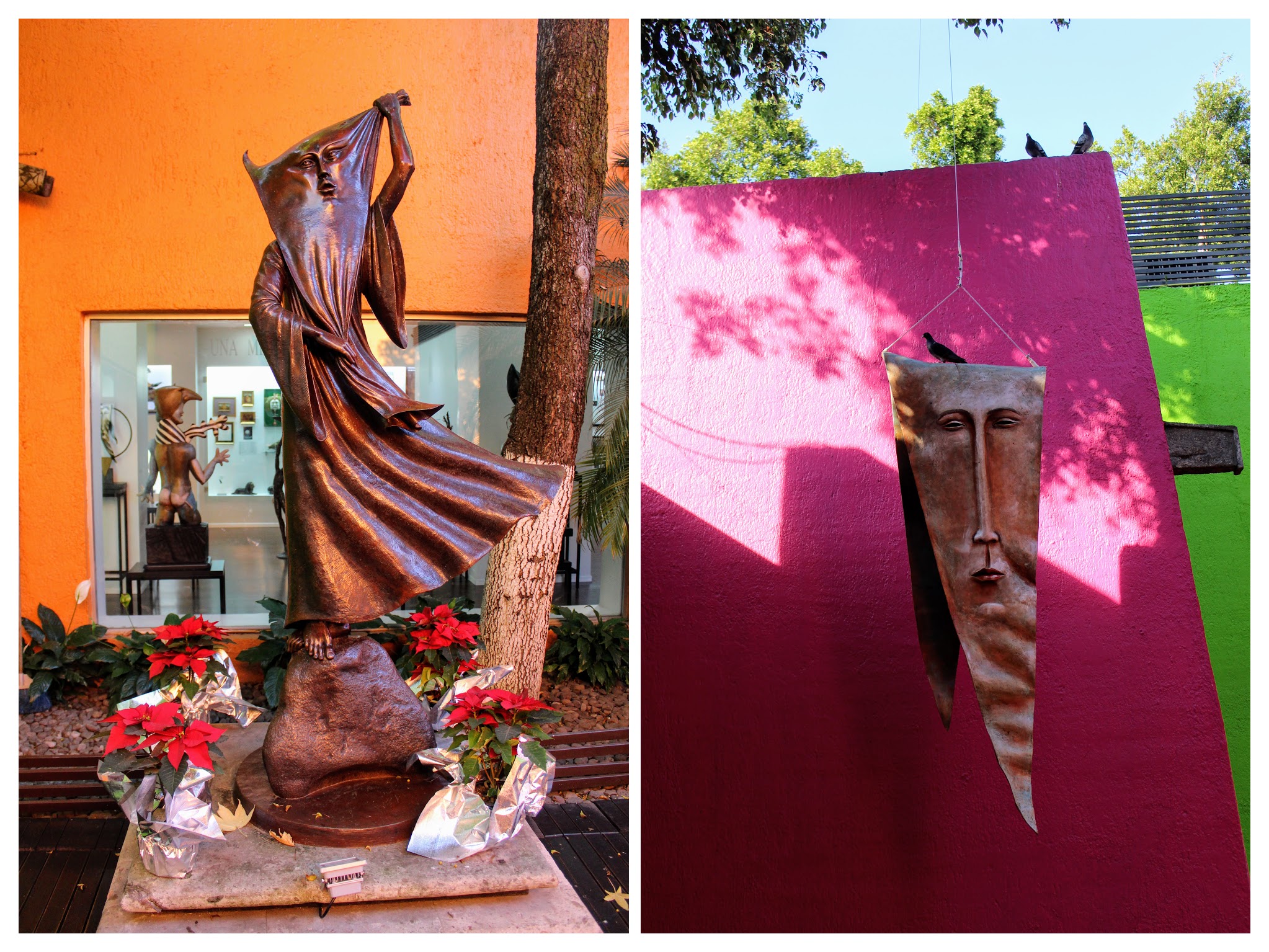 A block away, on the same Calle Independencia is Casa de las Bicicletas, the gallery of a local artist Rodo Padilla. His gorditos (fat dudes) are known all over Jalisco.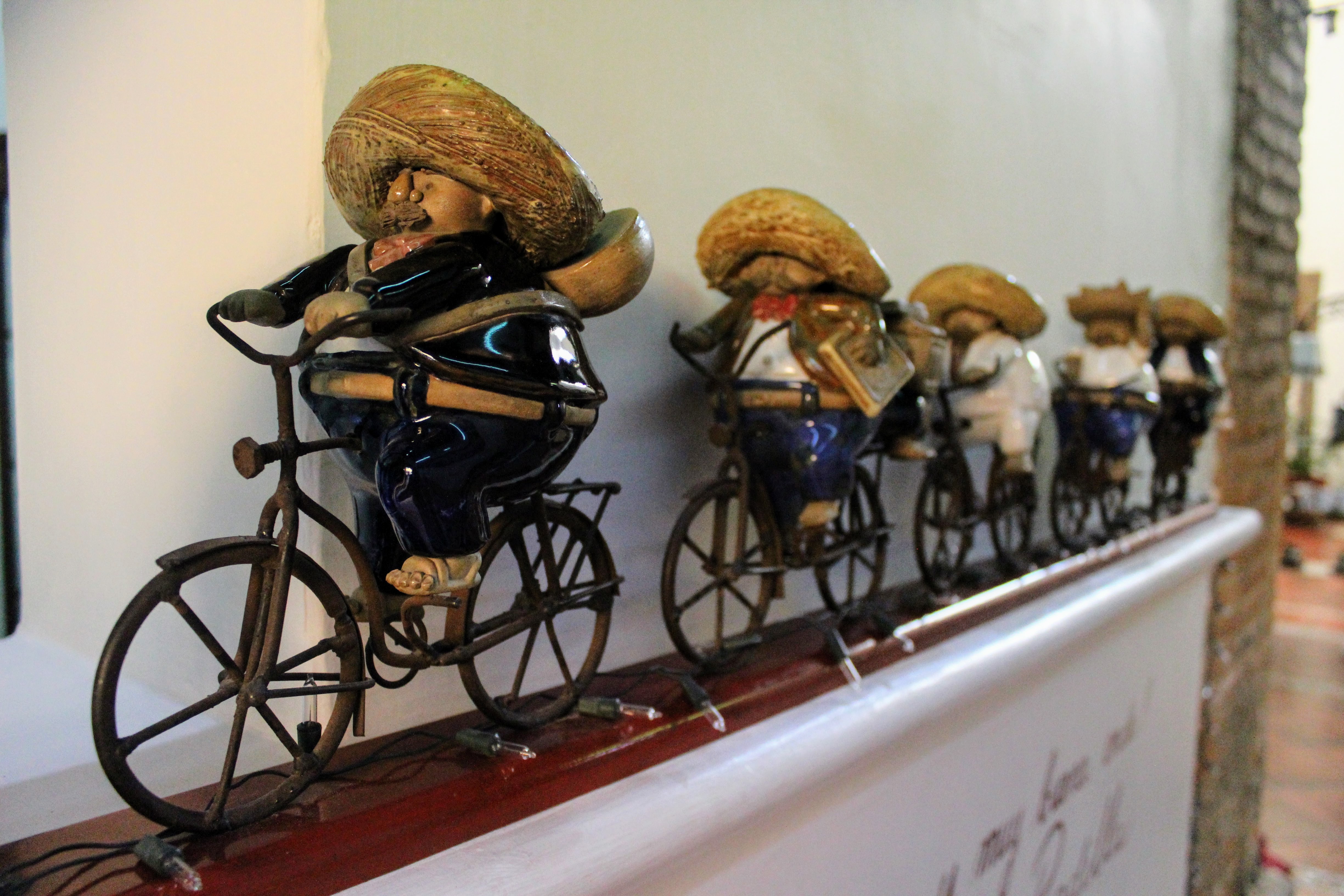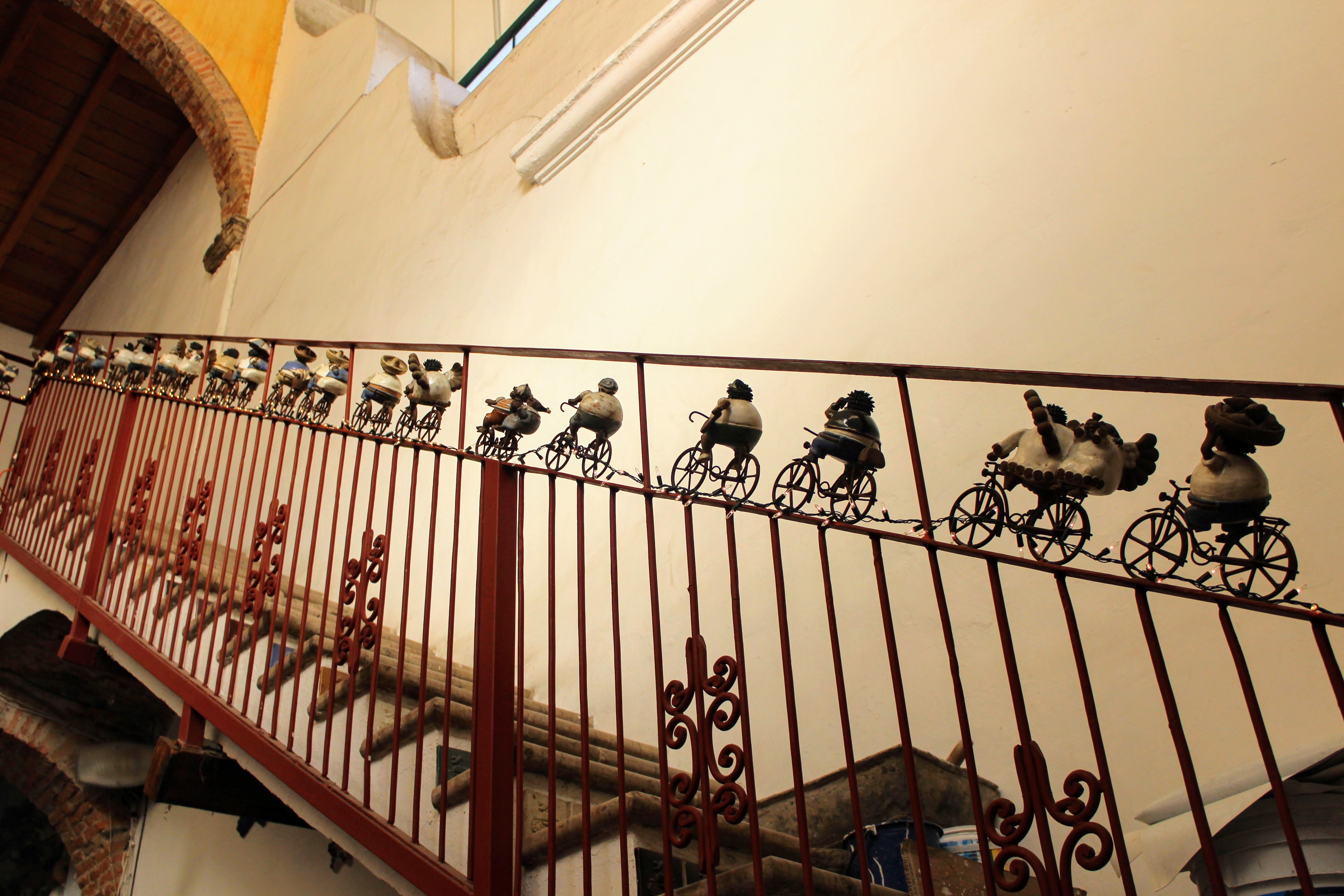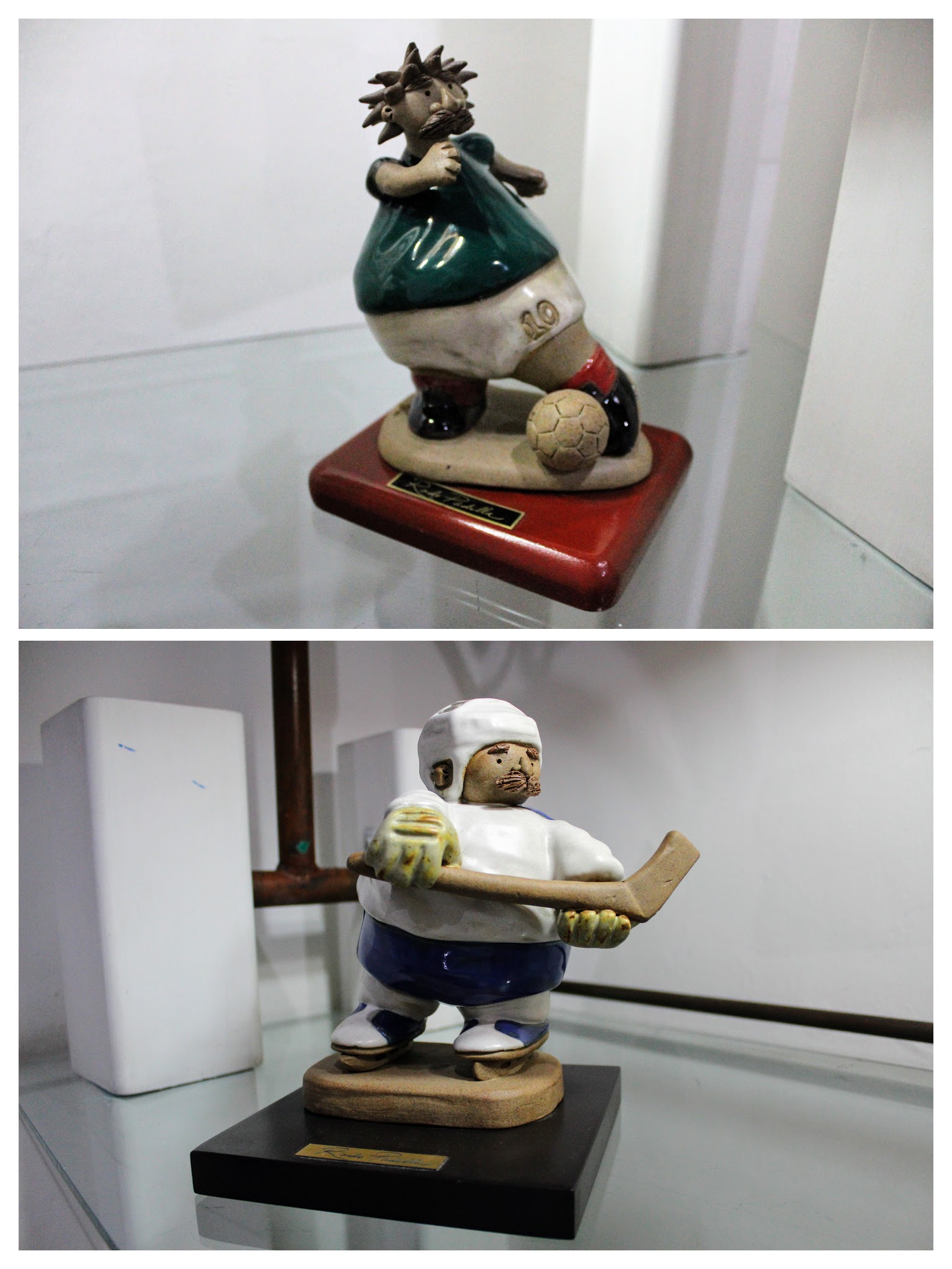 Natural: Barranca de Oblatos
On the northeast edge of the city lies Barranca de Oblatos (Oblatos Canyon), a 300 km long canyon carved by the Rio Santiago. If you are tired of Guadalajara's city jungle, there is no better place to come for a nature hike.
It took our driver more almost an hour to find the entrance to the canyon park, so make sure you search for Barranca de Huentitán, otherwise you may end up in the wrong place.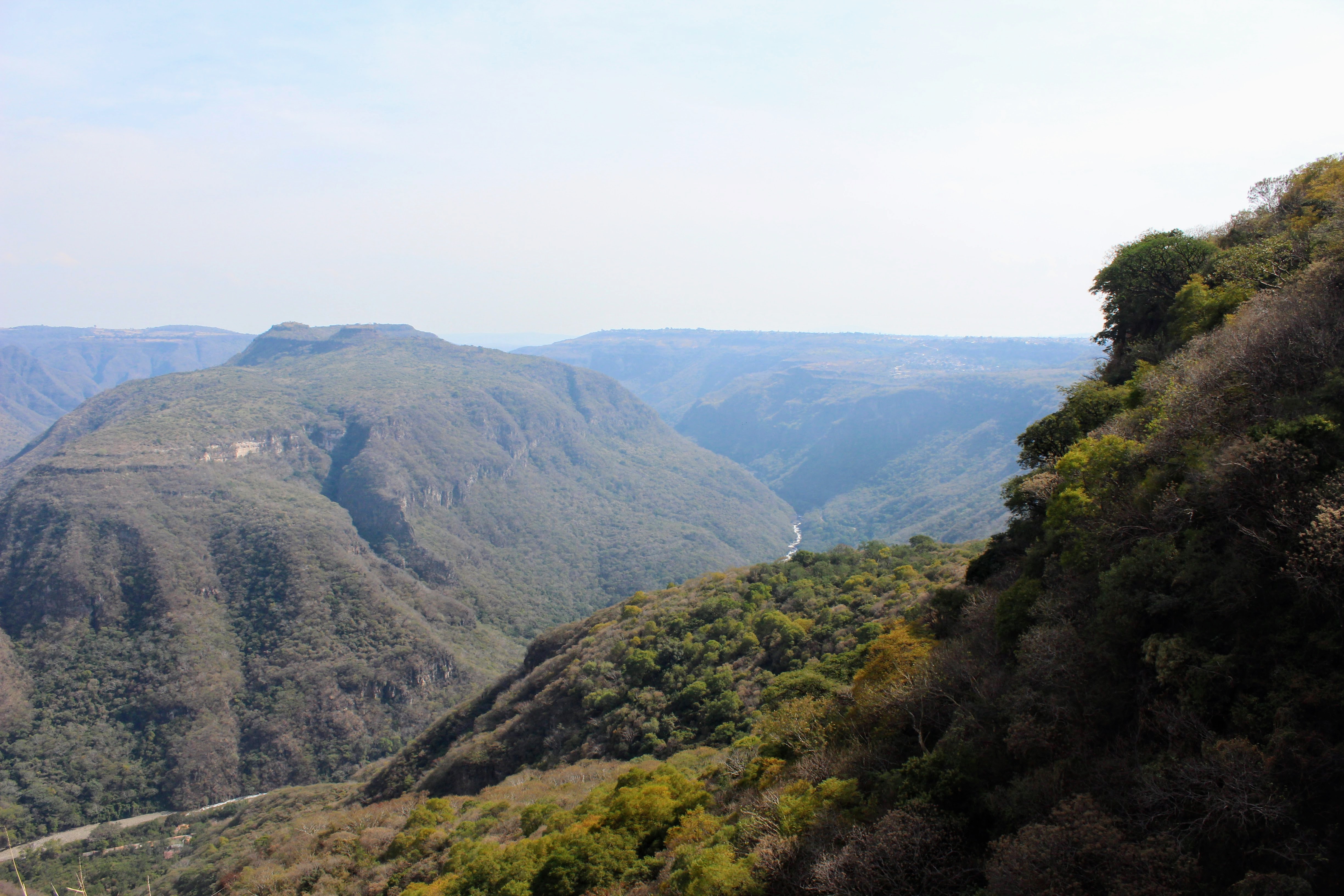 A small church a few dozen meters after the entrance to the canyon looks festive.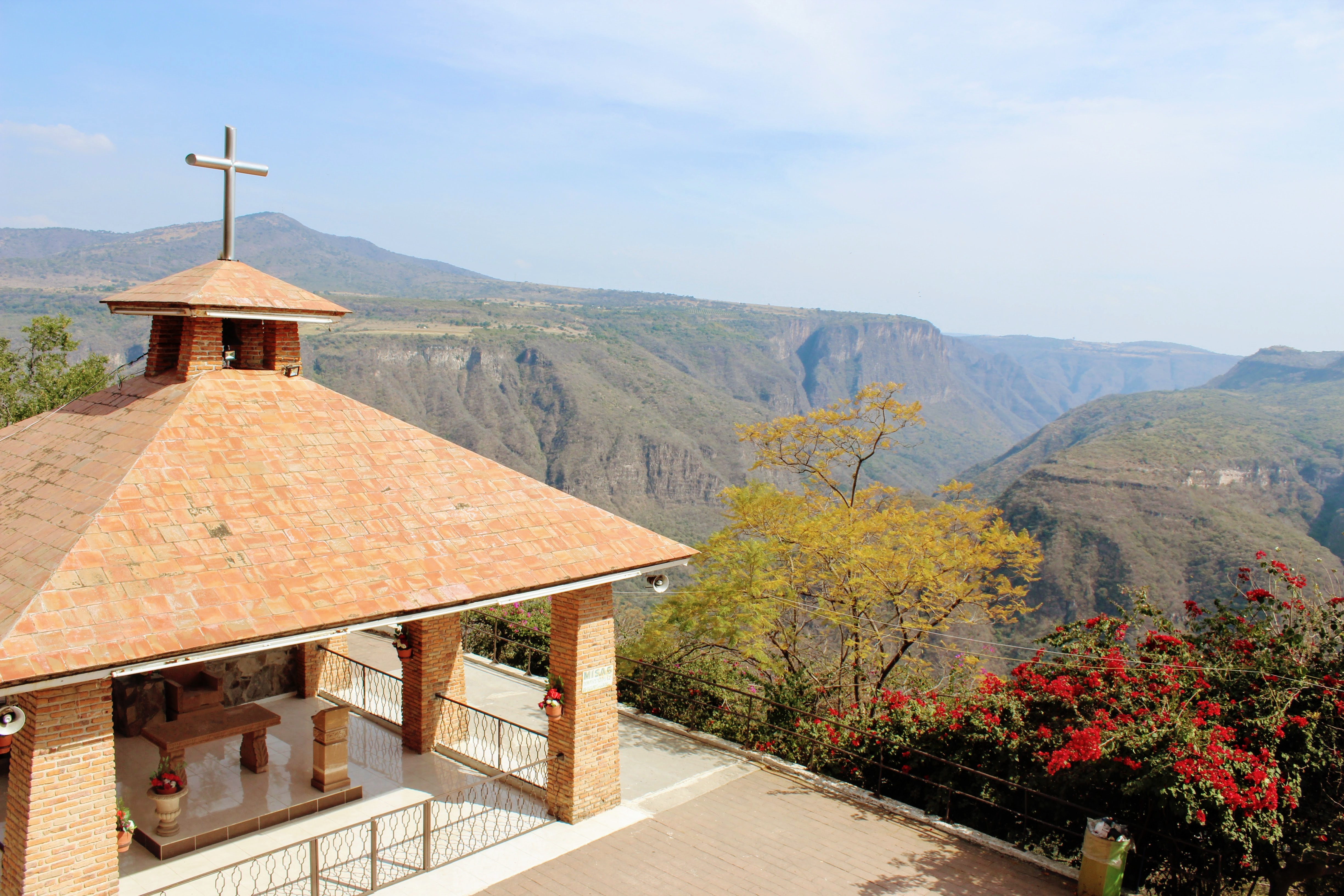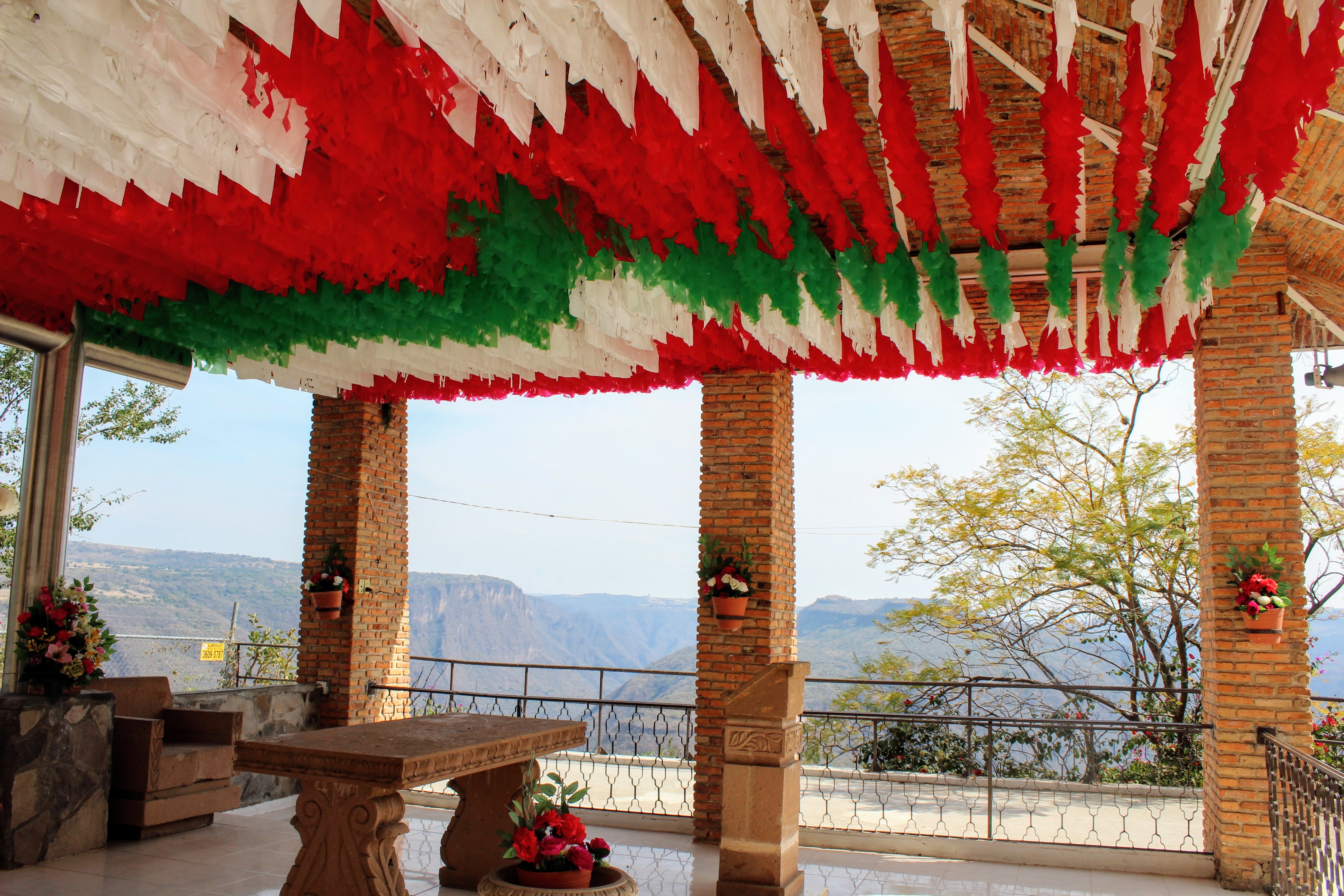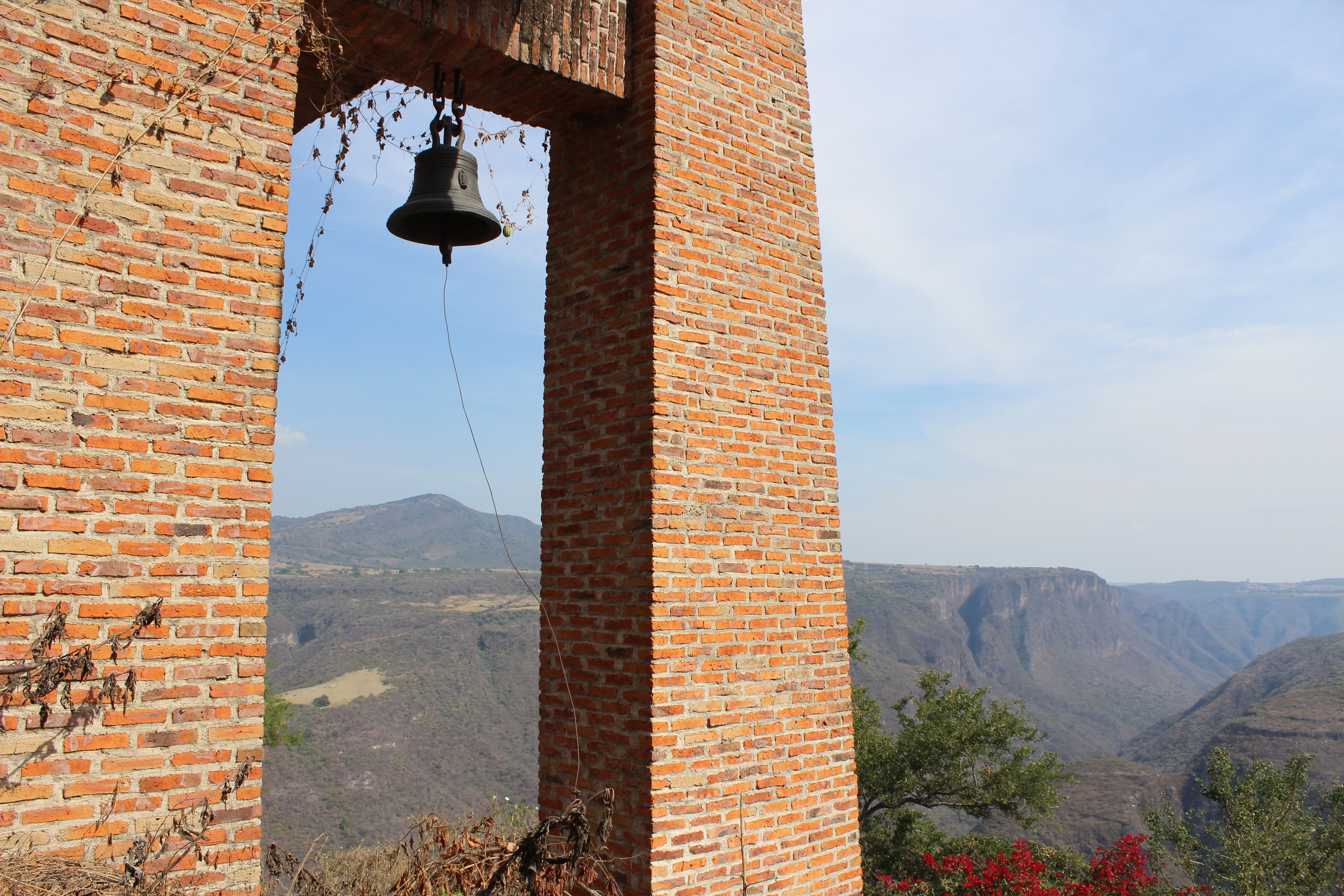 The road down the canyon, twisting and turning on its way down is pretty easy.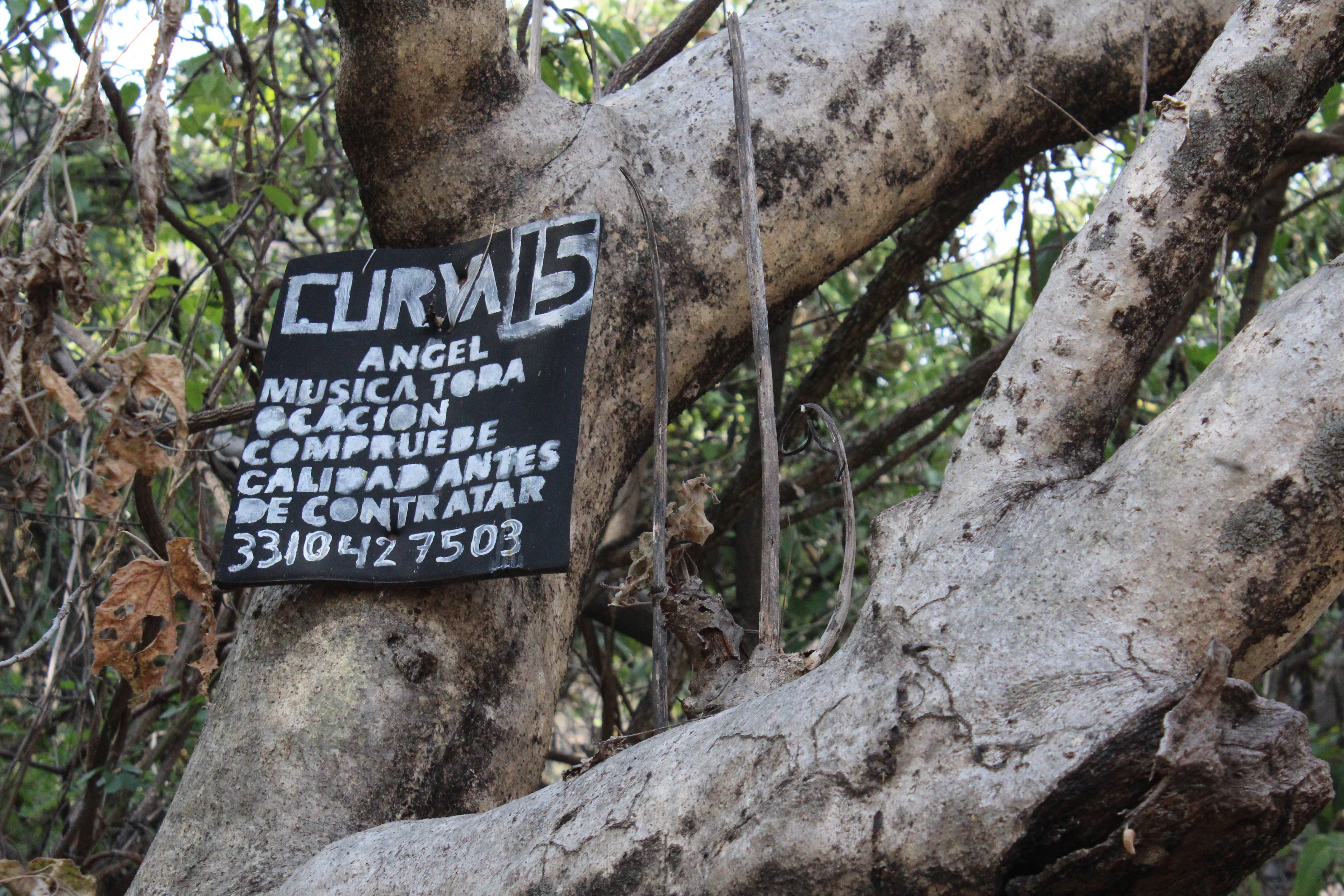 Each turn of the way is numbered. This is turn number 15 out of 36.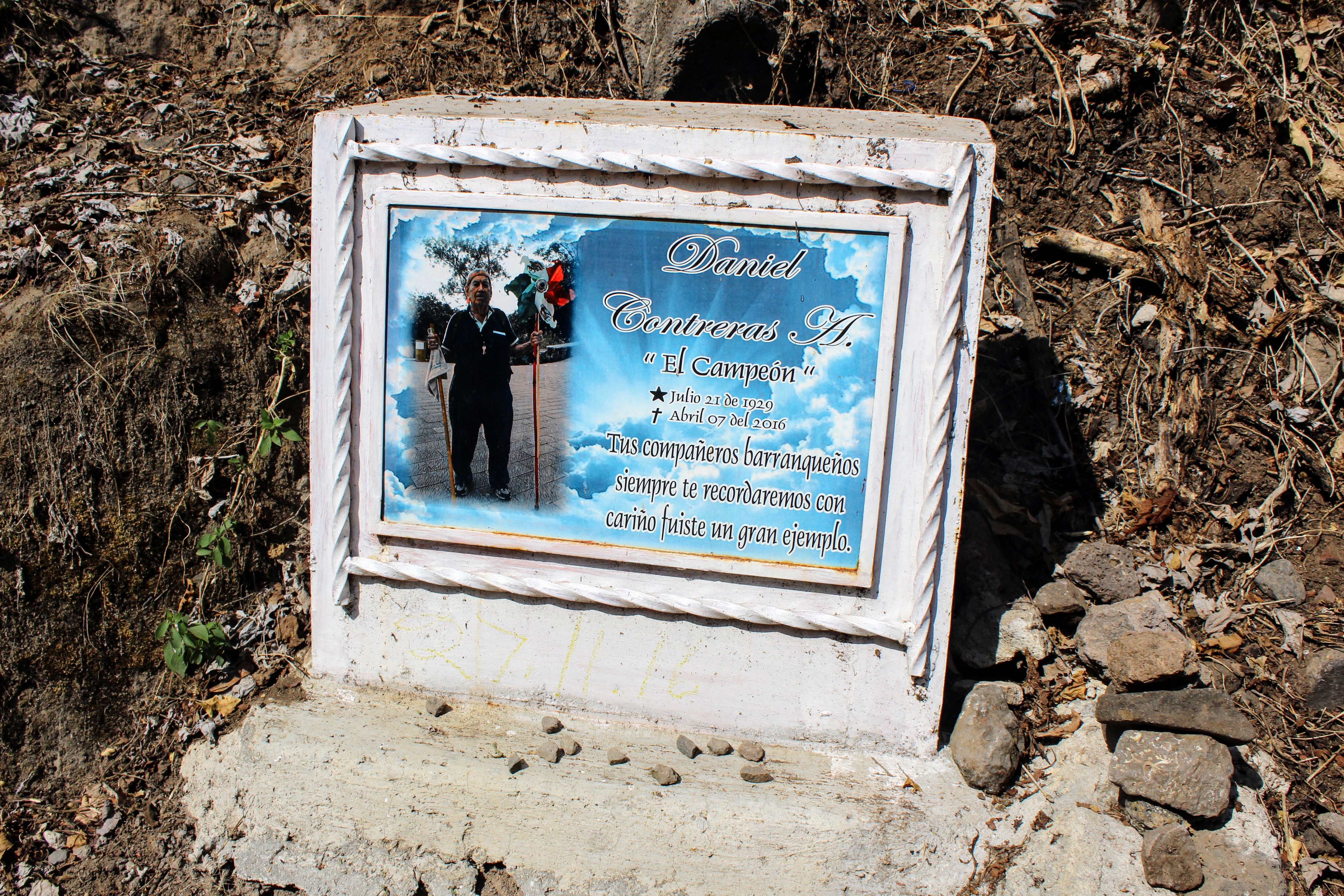 After going down for about 40 minutes, the path suddenly meets with a crazy-steep rail road. Now abandoned, it used to carry coal from the canyon, according to a Mexican friend.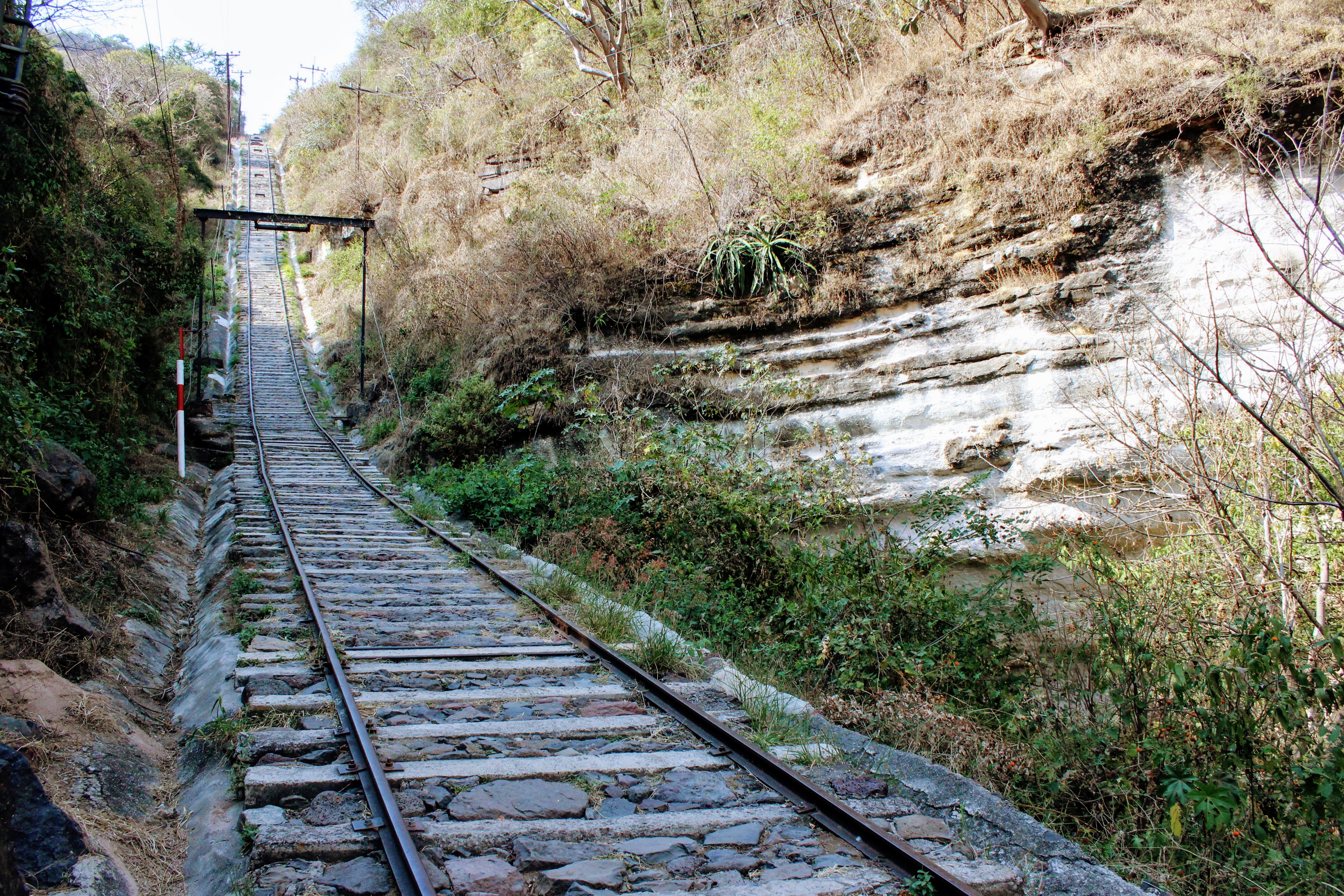 Some hikers prefered to climb their way along the steep rail road. With a 3-year-old on my back, I prefered the longer-but-saner route.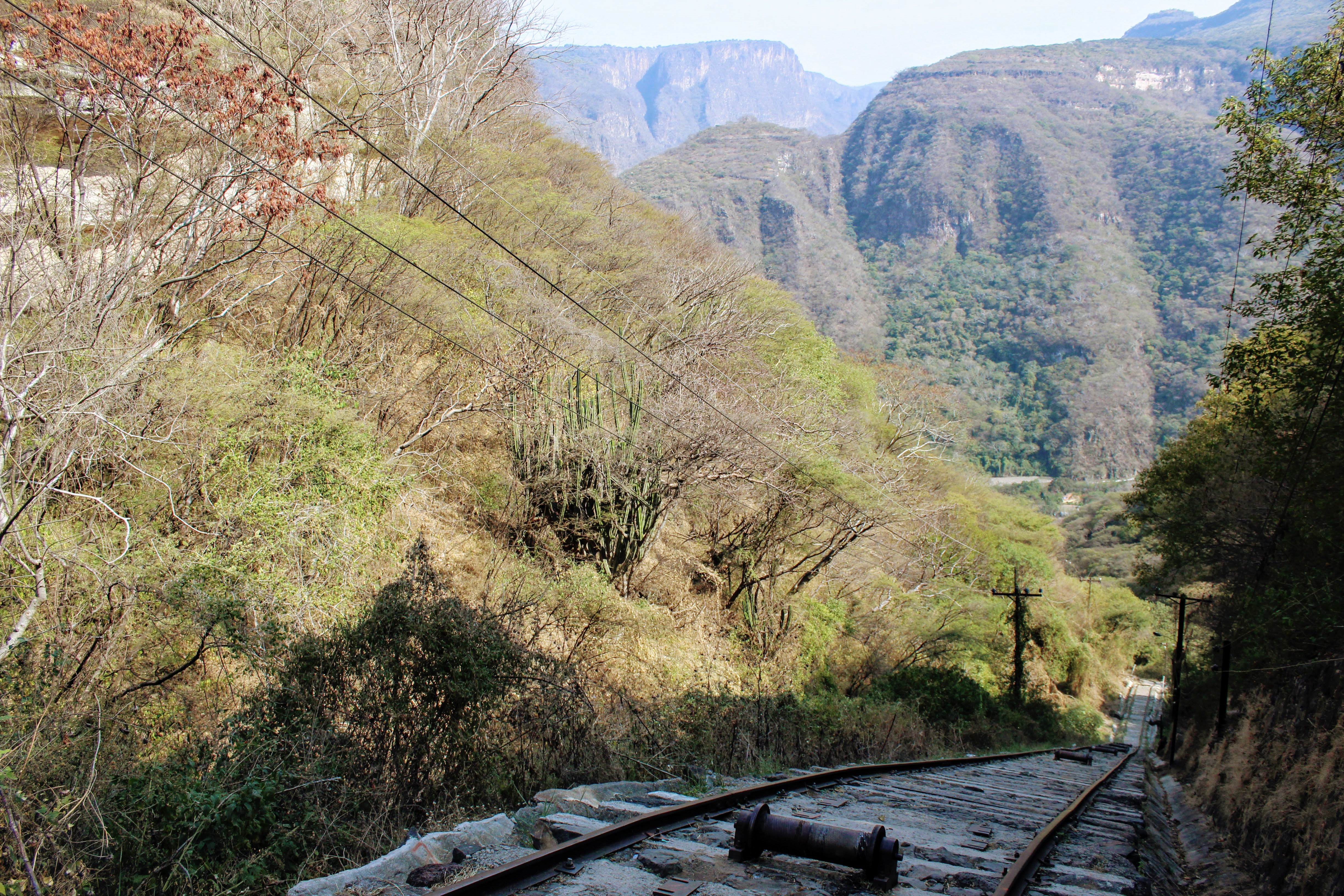 Shortly after crossing the railroad, we got to mirador ("lookout"), marking the halfway point to the bottom of the canyon.

Before heading back to the sprawling urbanity of Guadalajara, we took some time to enjoy canyon's modest life unfolding in a glorious setting.
***
These are some of the faces of Guadalajara revealed to us. Did you enjoy the post? Let me know in the comments, and consider sharing if you did.