Speeding on the toll highway from Guadalajara westward to the coast of the Pacific, amidst fields of agave cactuses and withered corn, I couldn't escape the strangeness of it all. How did we get here? A year ago, our routine life in Israel didn't hint to any of this. Normal office job, a child, parents and friends were our world. Amidst some vague ideas about living and working abroad, nothing hinted that we'll be studying spanish, and planning to live in Mexico for half a year. This conception just didn't exist in our minds.
And now, ahead of our first-ever Thanksgiving weekend, stopping from time to time in little eateris where the smell of corn tortillas is unmistakeable, I was reflecting on how pregnant the world is with possibilities.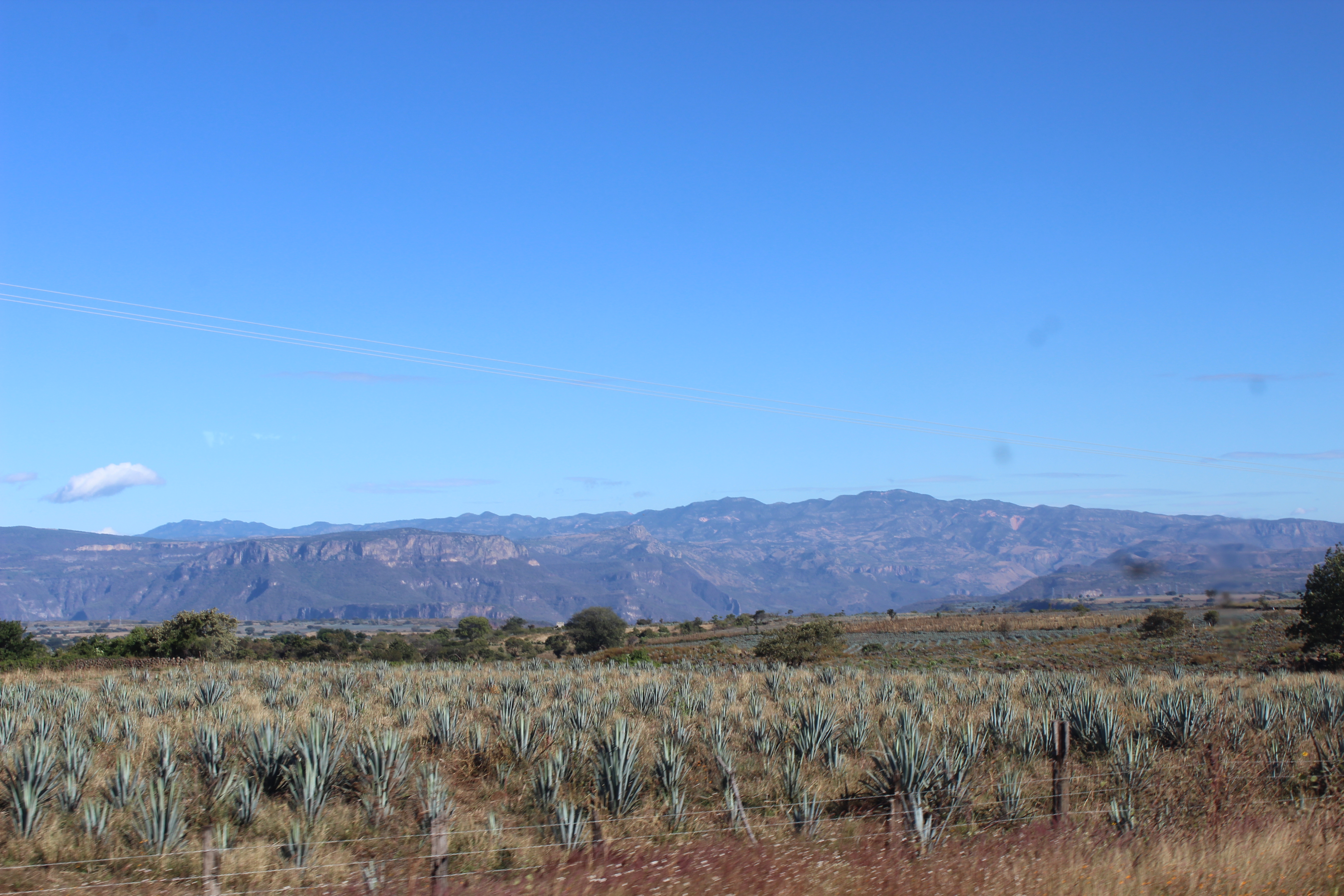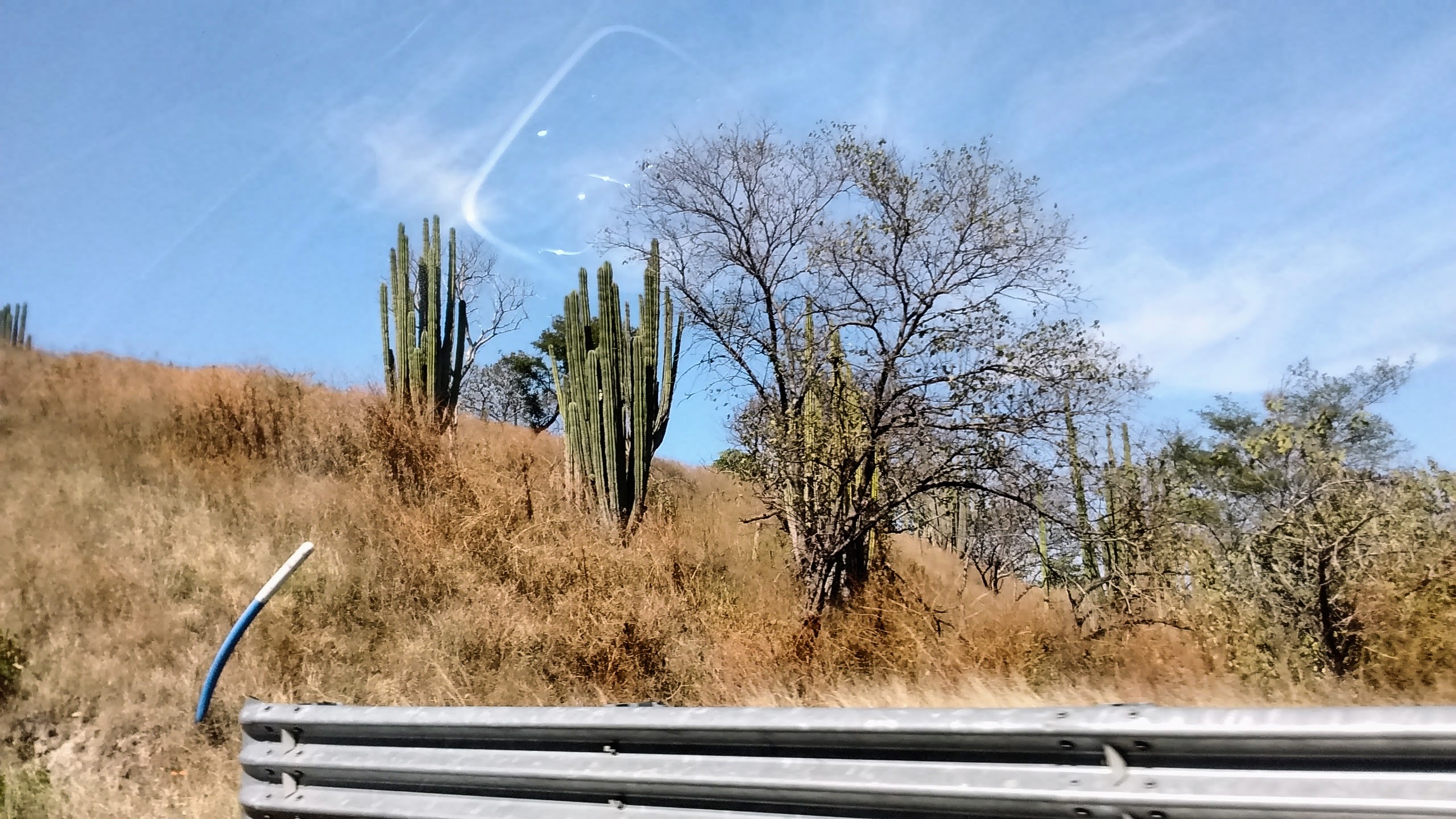 After two hours of arid landscapes, the green was becoming greener and sun-burned corn fields were coming to life.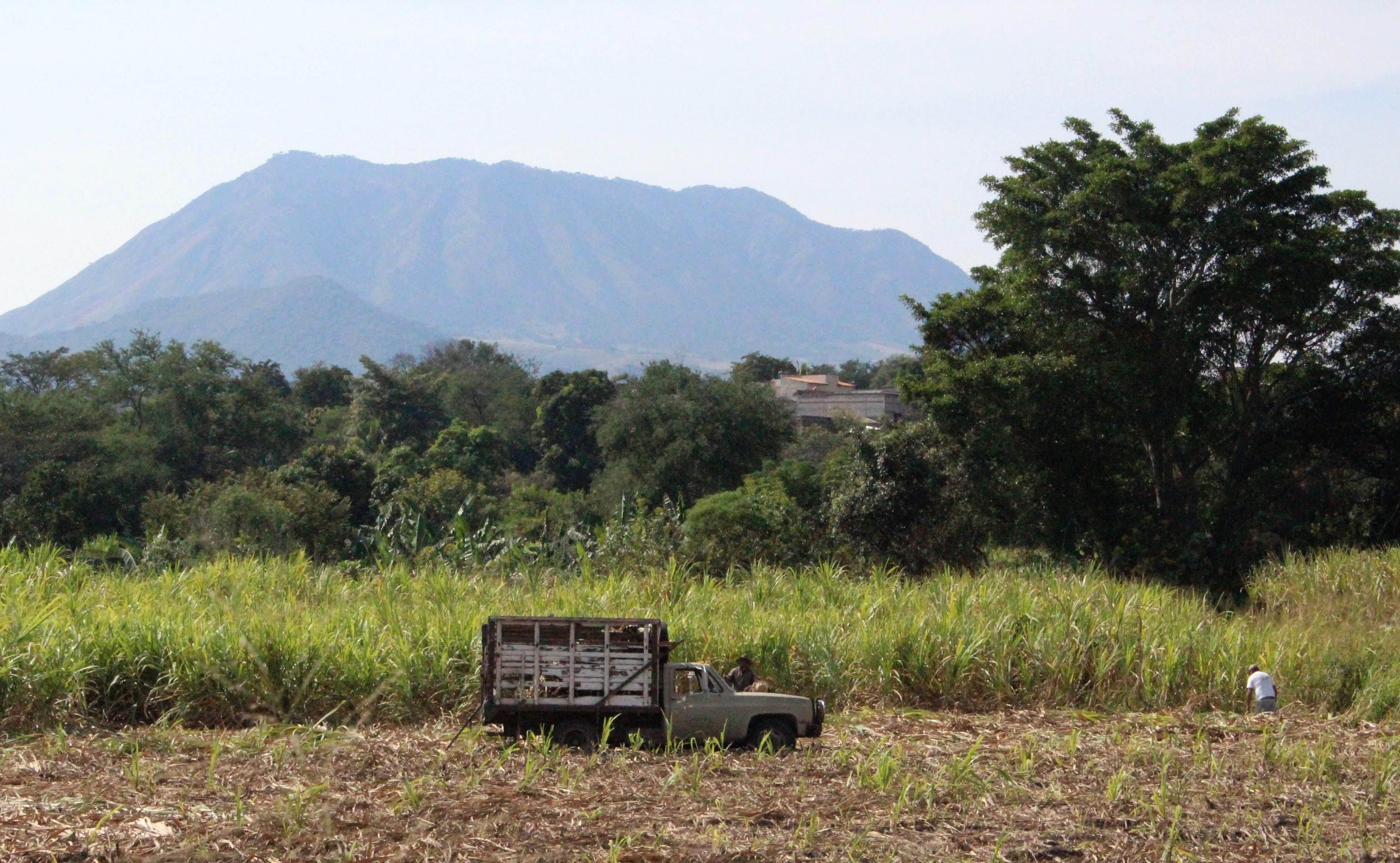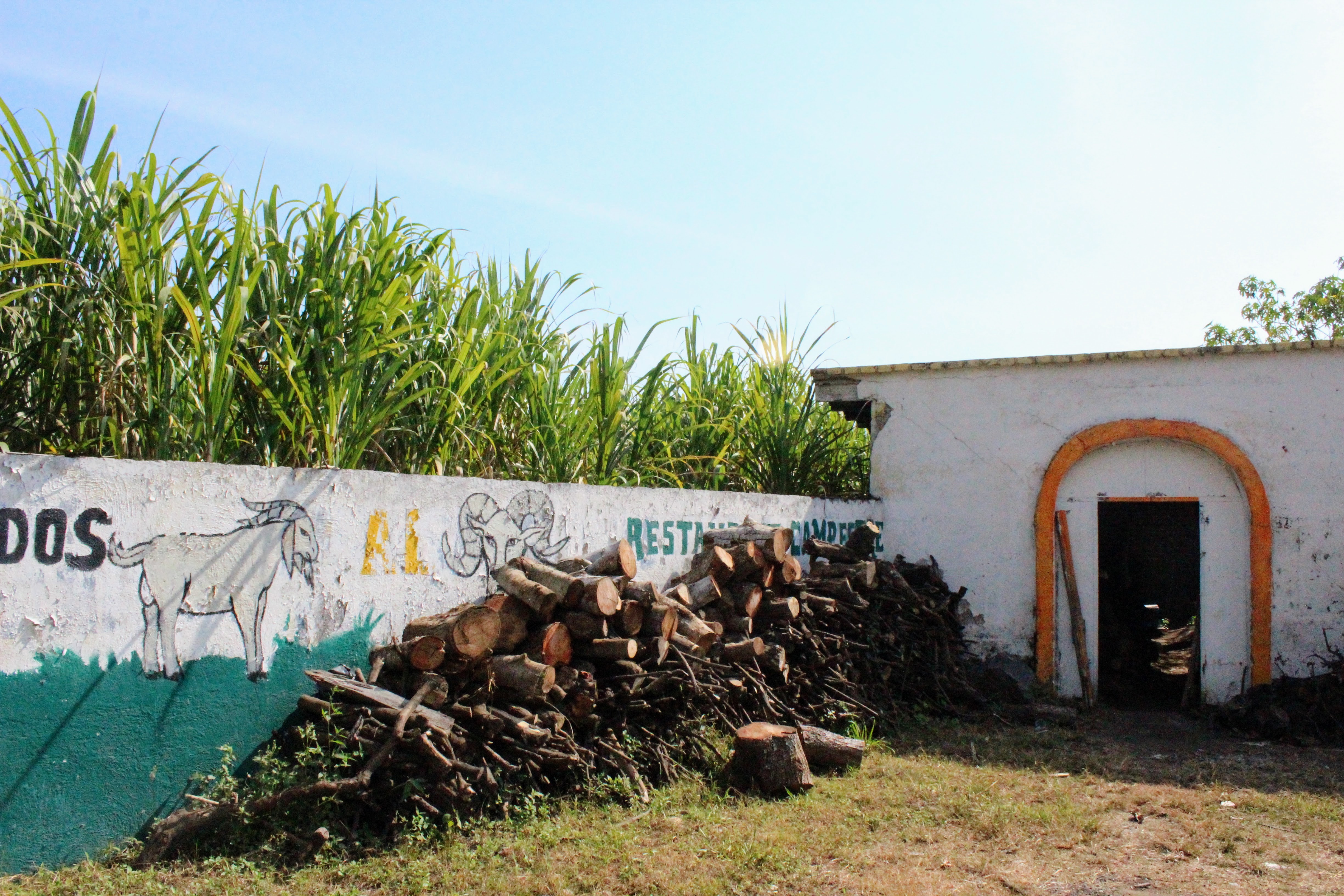 Two more hours on a winding road to Puerto Vallarta, and we were suddenly surrounded with coconut palms and endless lush green. We were in tropics.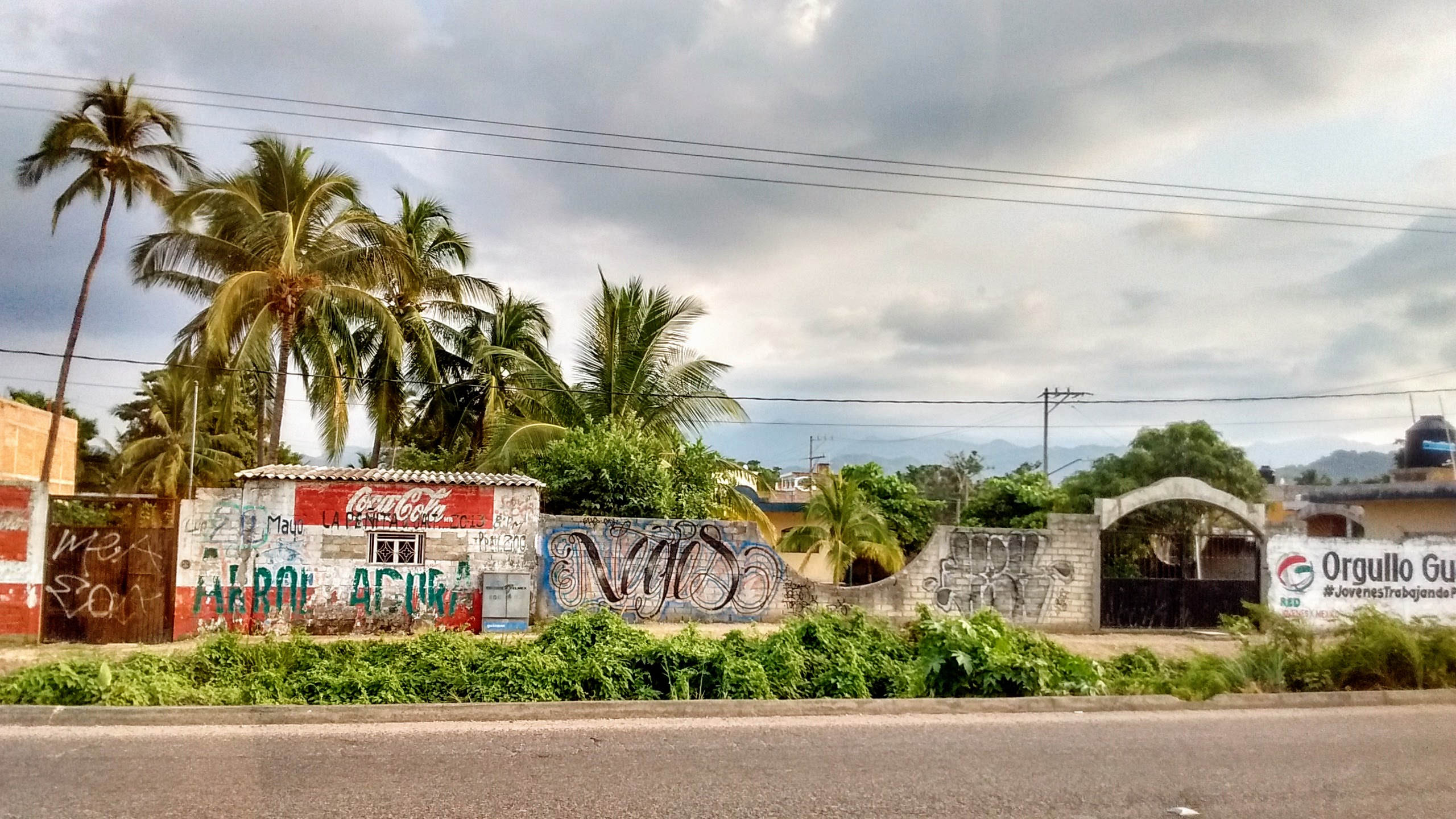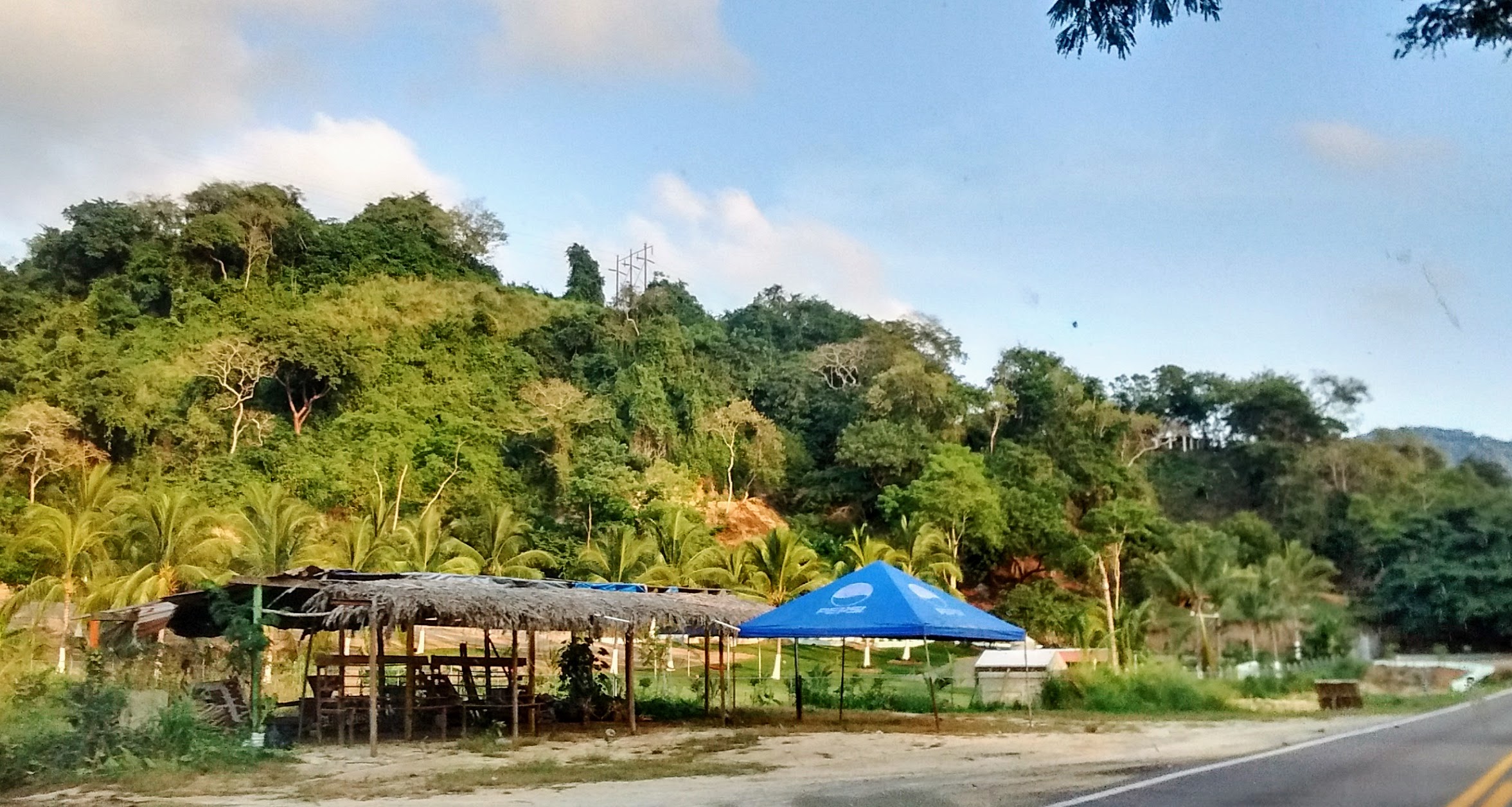 That evening Puerto Vallarta was meeting us with coconut palms and warm, gooey humidity.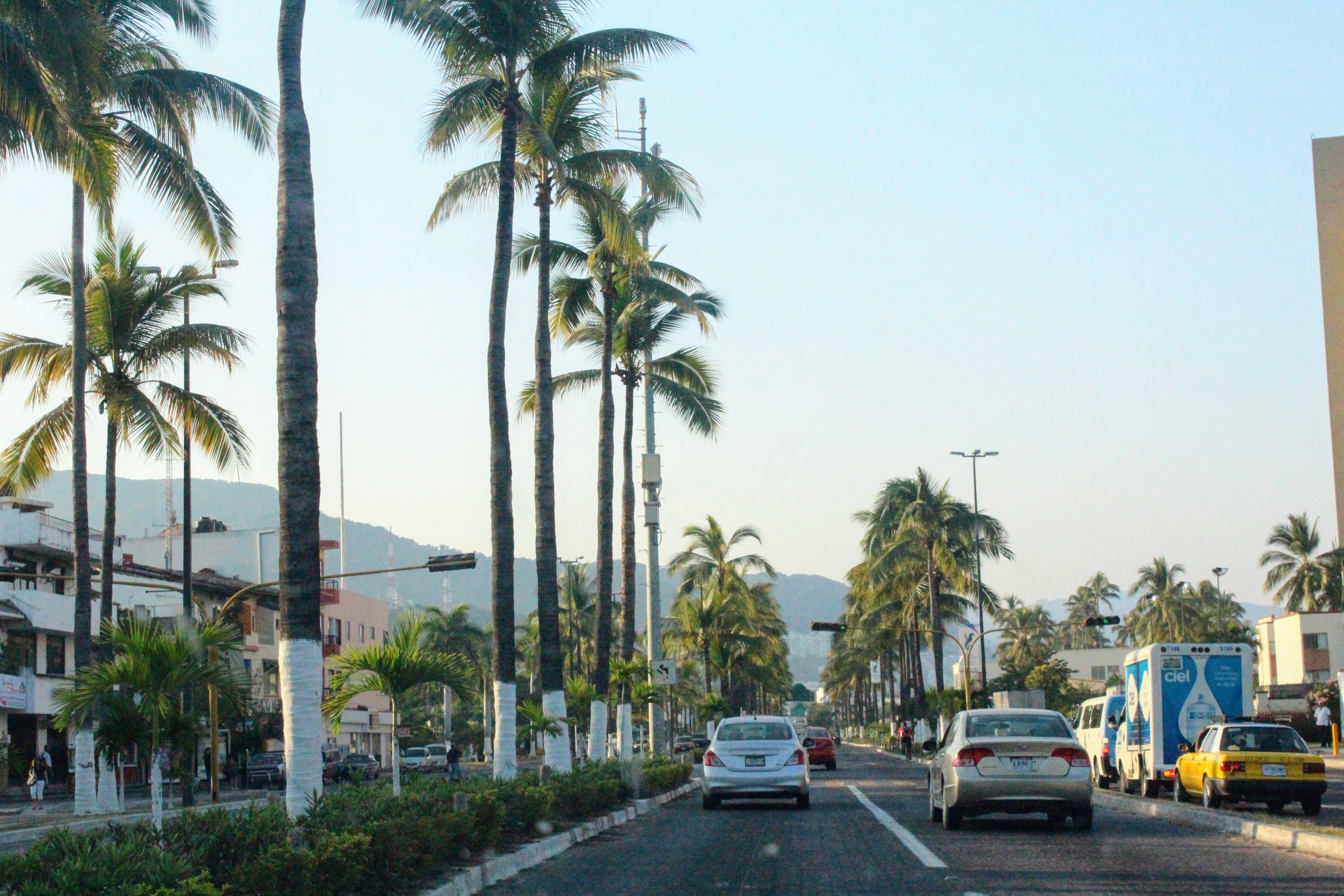 Our lodging for this long thanksgiving weekend was with an older Mexican lady Innes, who was as graceful as her hacienda and garden. ¡Mucho trabajo! she admitted laughingly. Lot's of work.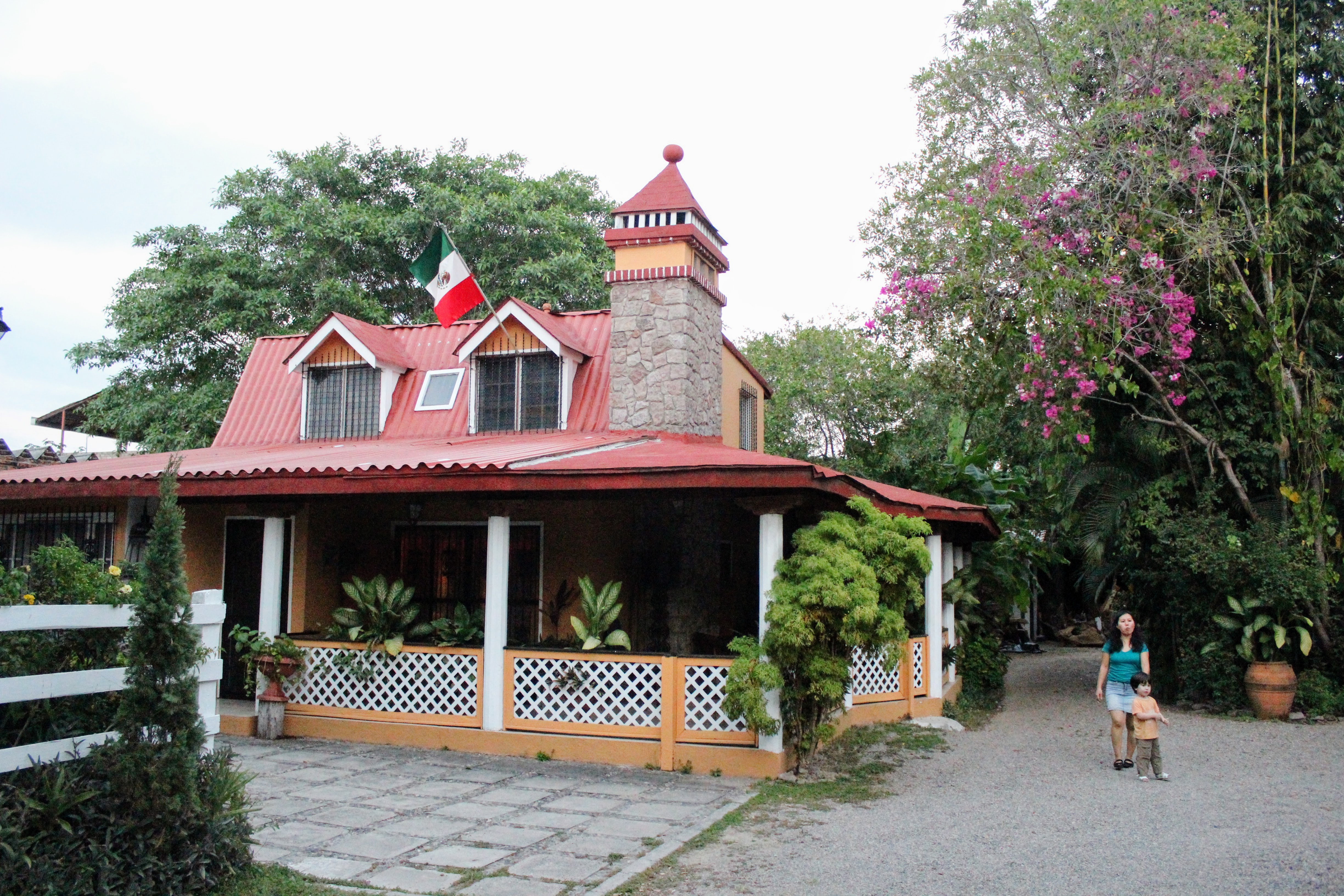 The next morning, on our way to get breakfast, we had a glimpse of the awakening Puerto Vallarta.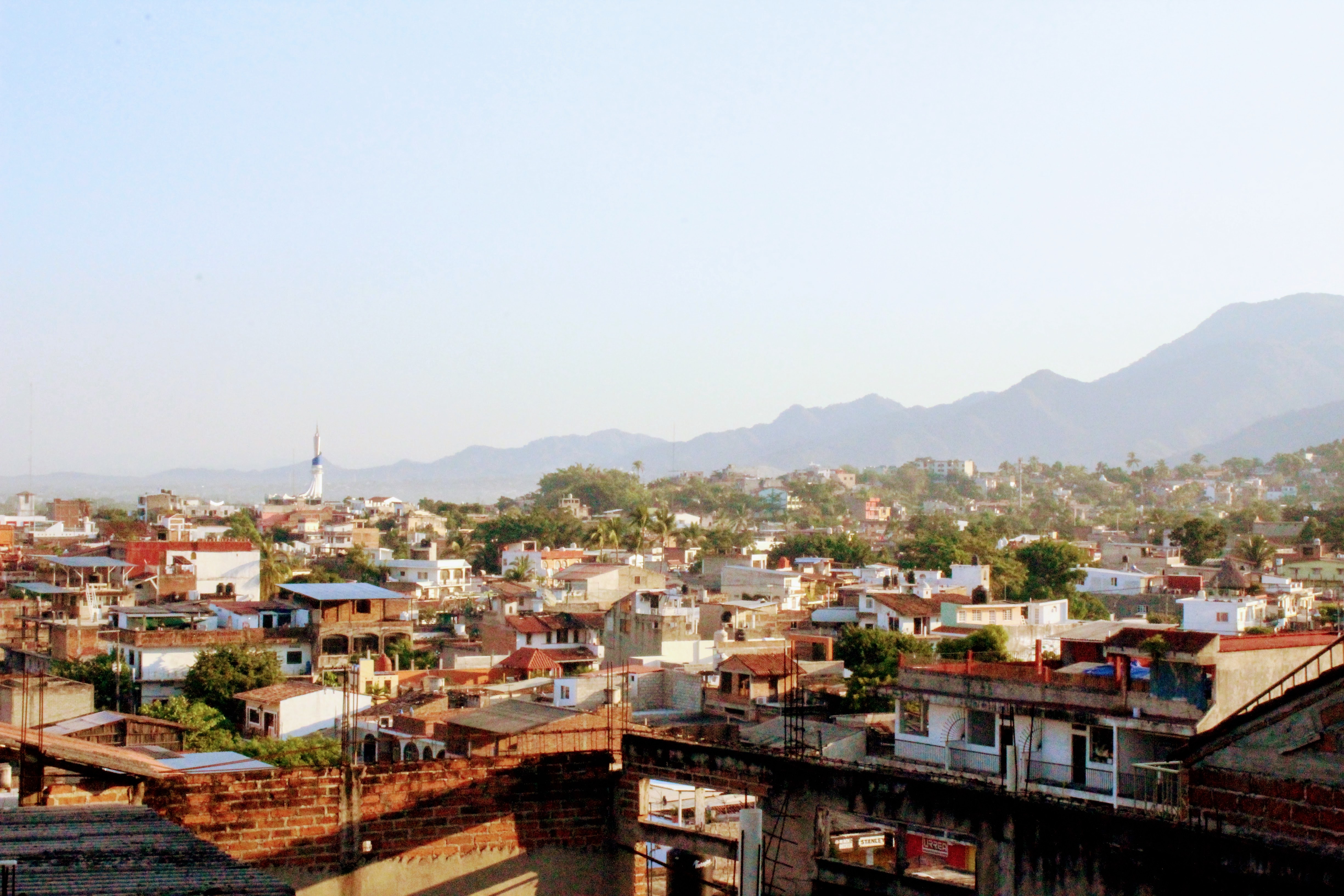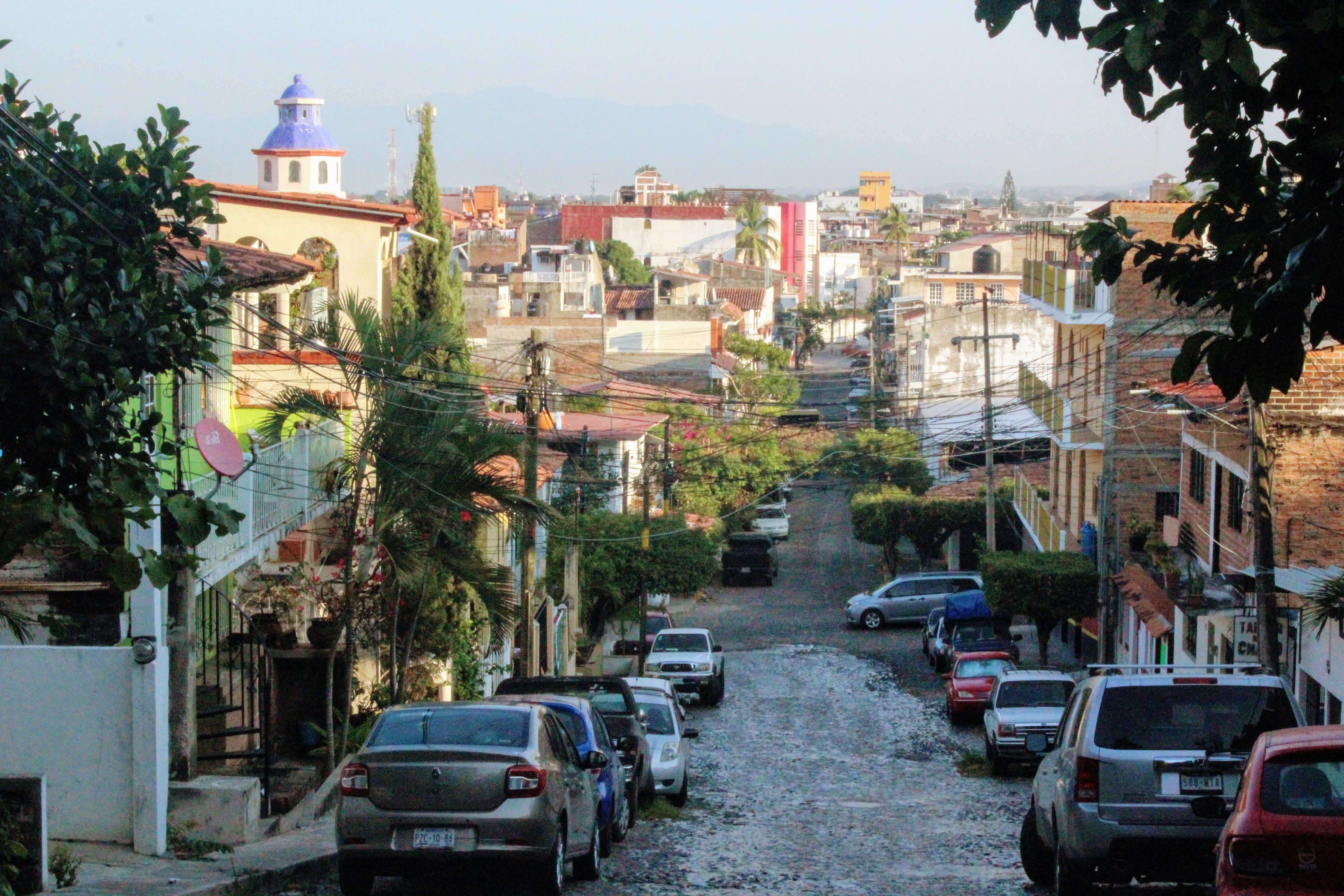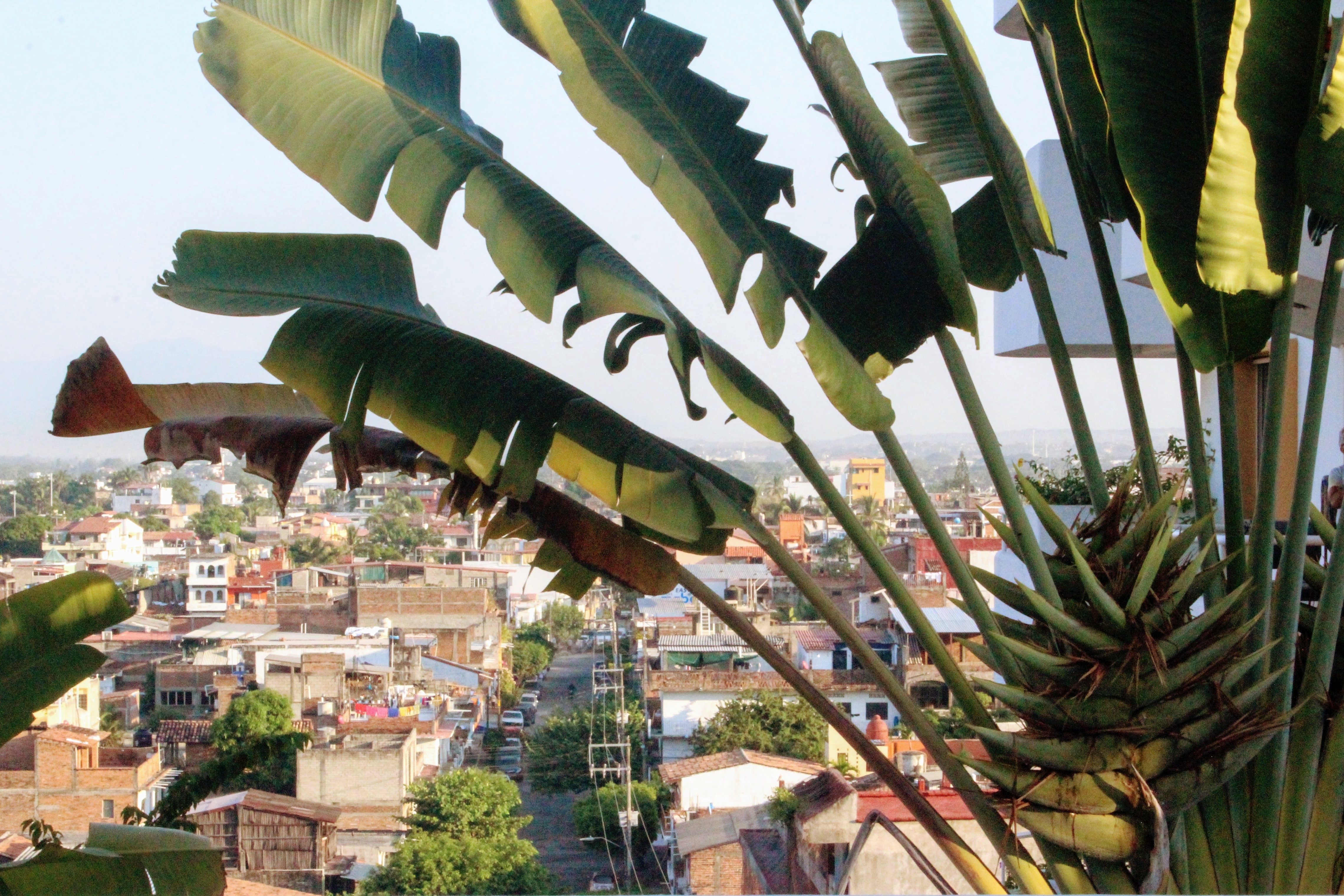 Eggs are often served in Mexico with frijoles refritos, cooked and mashed beans, that could be thought of as a distant cousin of humus.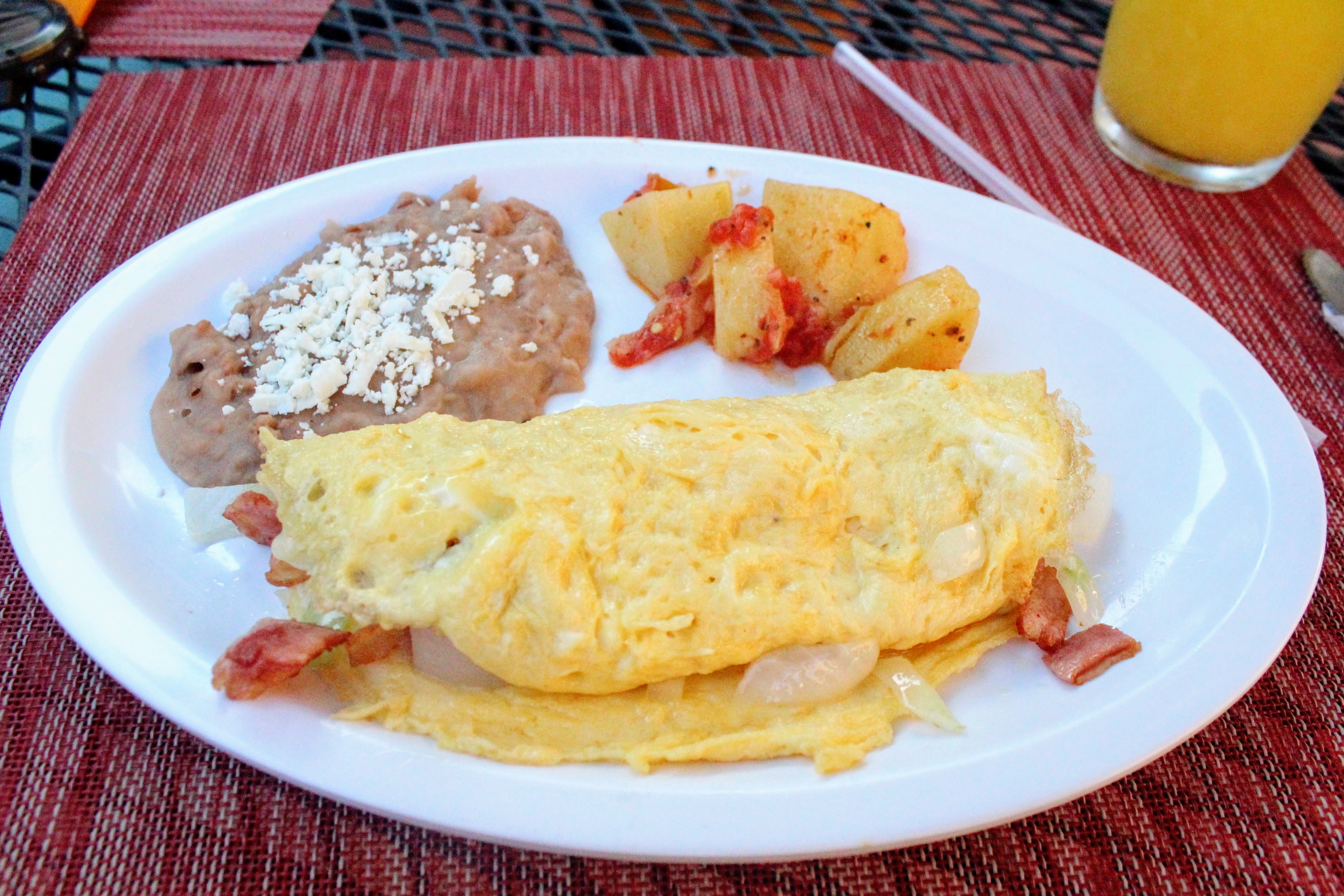 After breakfast we went to explore the beaches. My second encounter with the Pacific was much more pleasant. Even in November the waters of Bahia de Banderas (flags bay) are much more inviting than Juan de Fuca's in Vancouver island in July.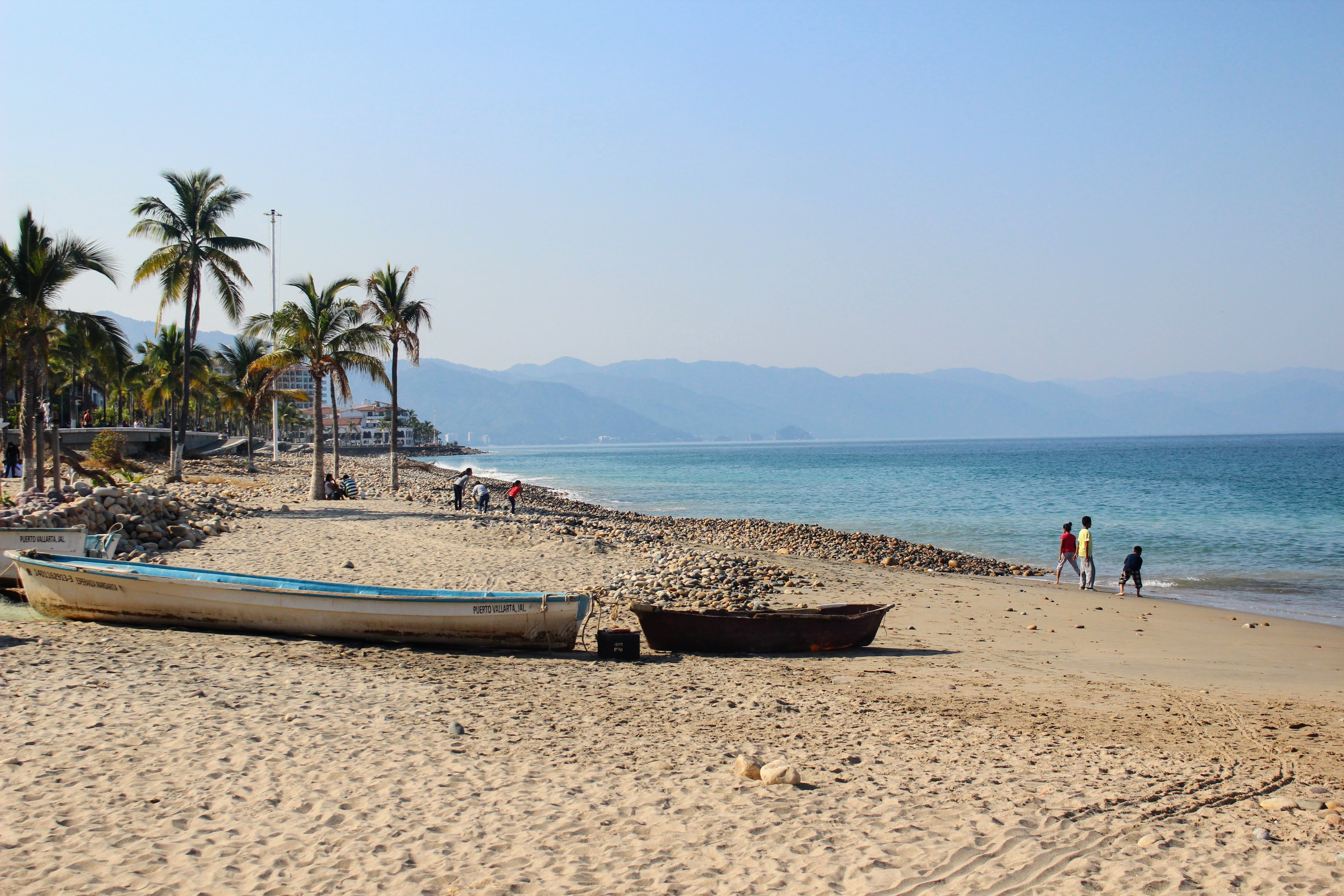 Pelicans don't think much of the humans on the beach. Considering that these birds coexisted with the dinosaurs, since they appeared 100 million years ago, this shouldn't come as a surprise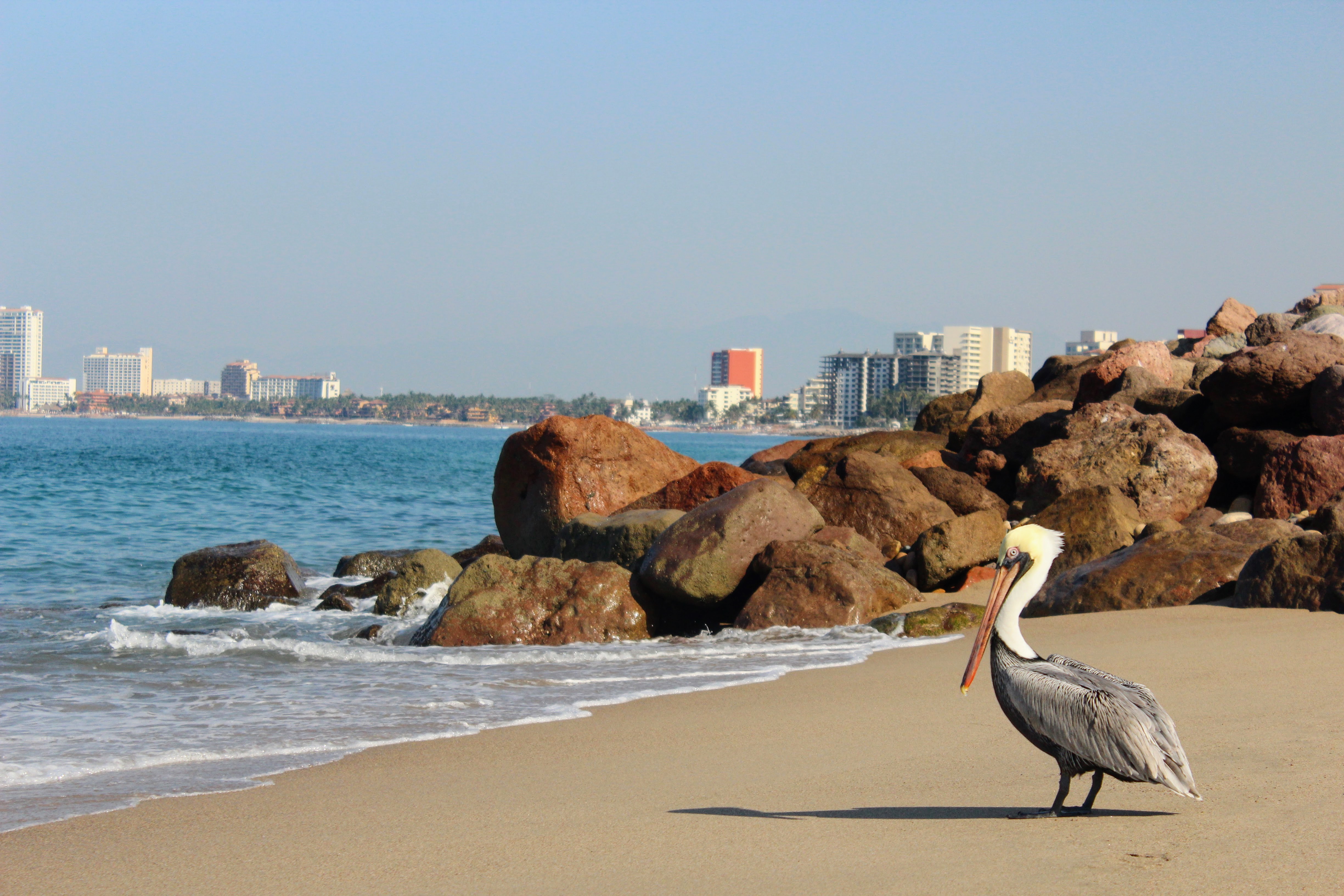 The beaches were pretty desolate that morning, that is unless you count the birds.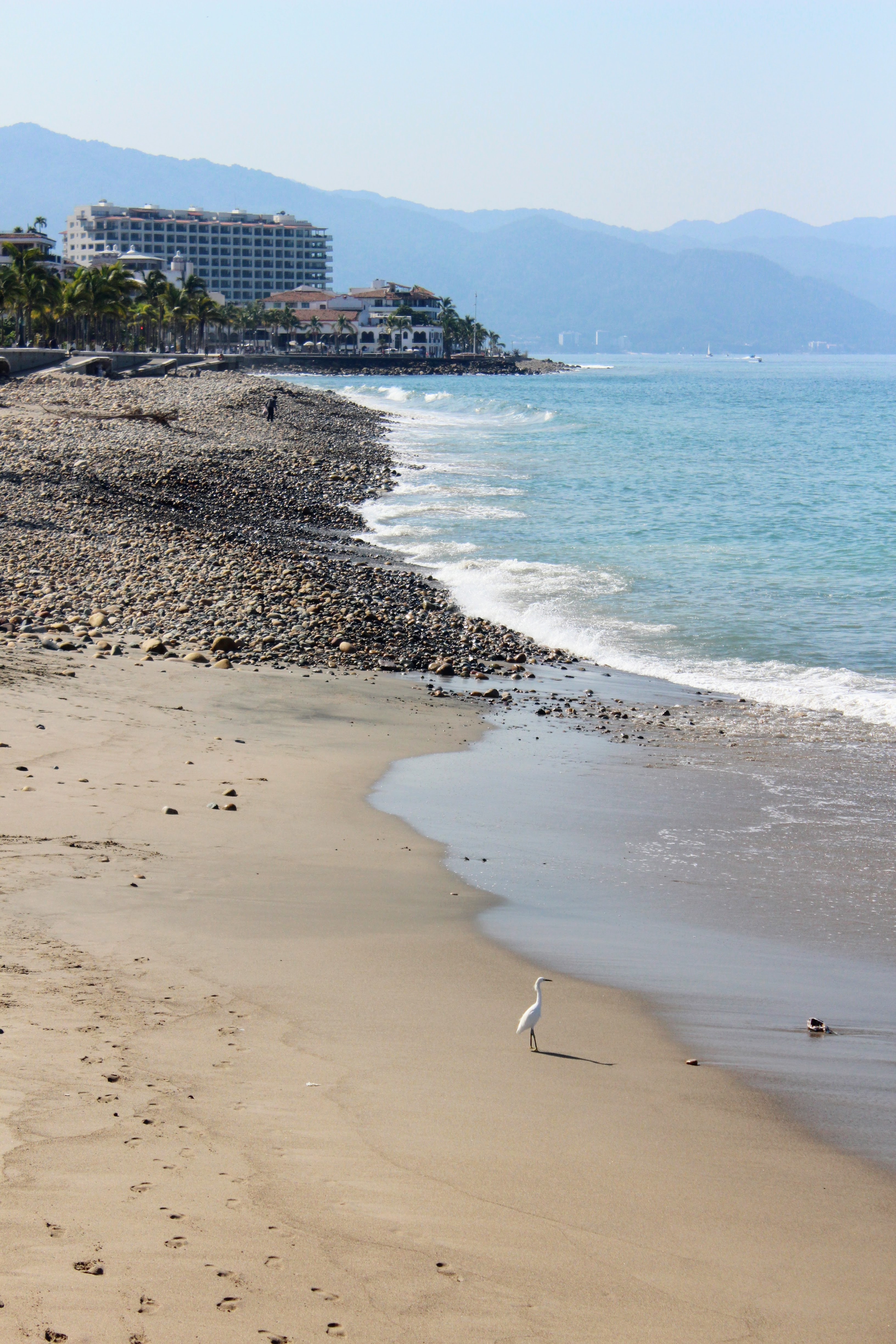 On to explore the churches of the town. The first, Parroquia Nuestra Señora del Refugio is a traditional Mexican church the likes of which we saw later in many towns across Central Mexico.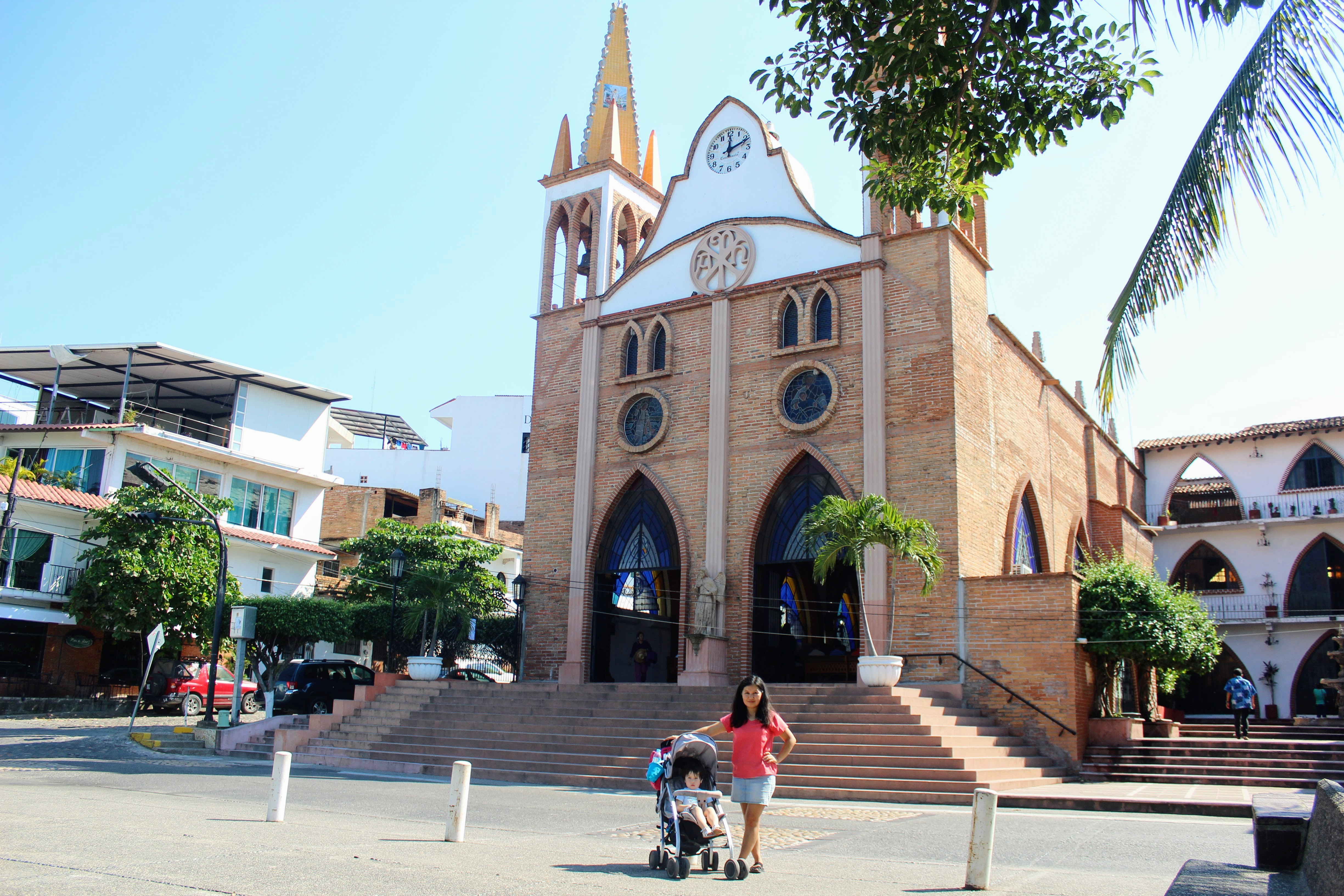 The second, Parroquia de Nuestra Señora de Guadalupe, with its unmistakable crown, is the symbol of the city, and rightfully so.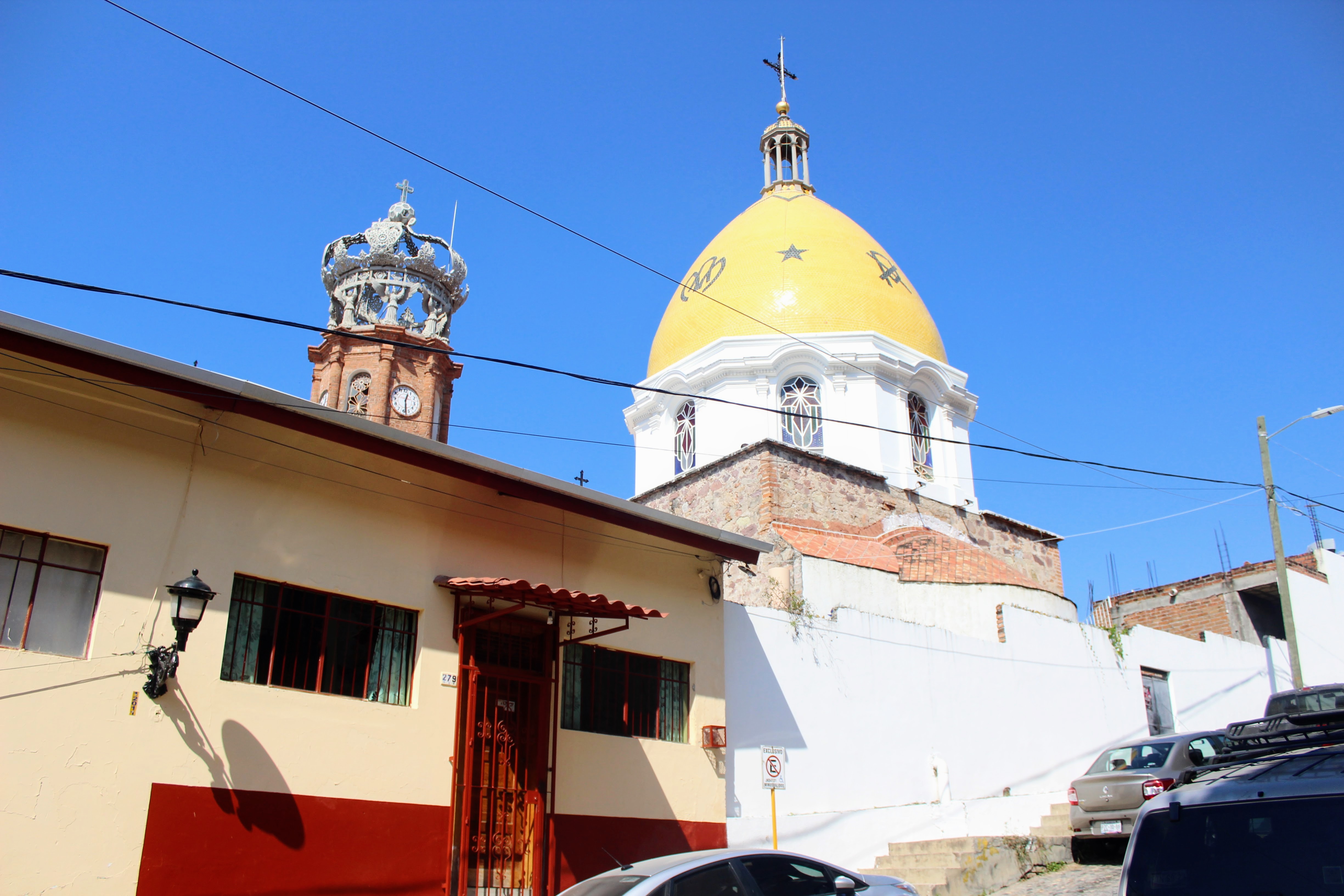 Colourful skulls, left from the day of the dead celebrations in beginning of November, decorate the main square.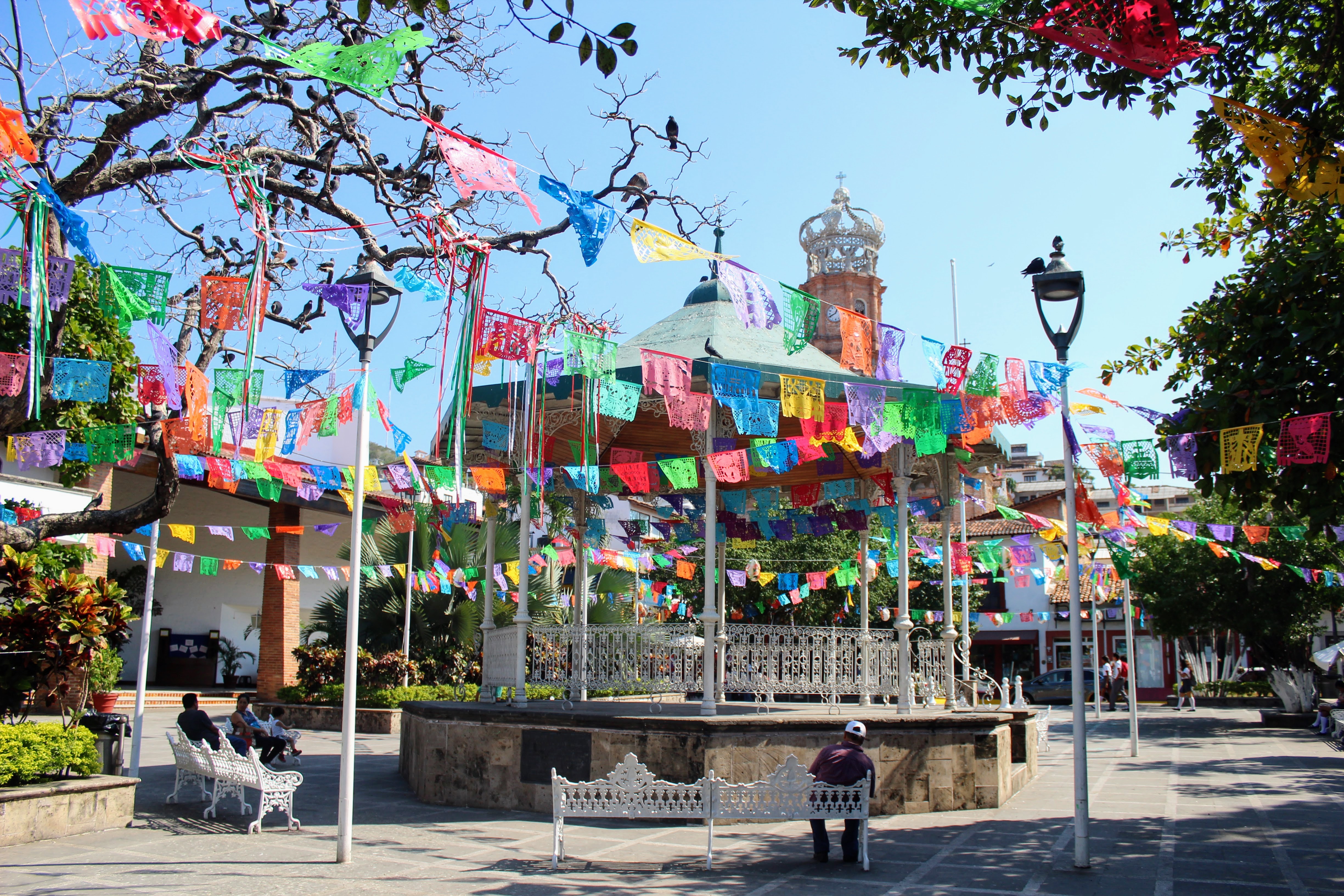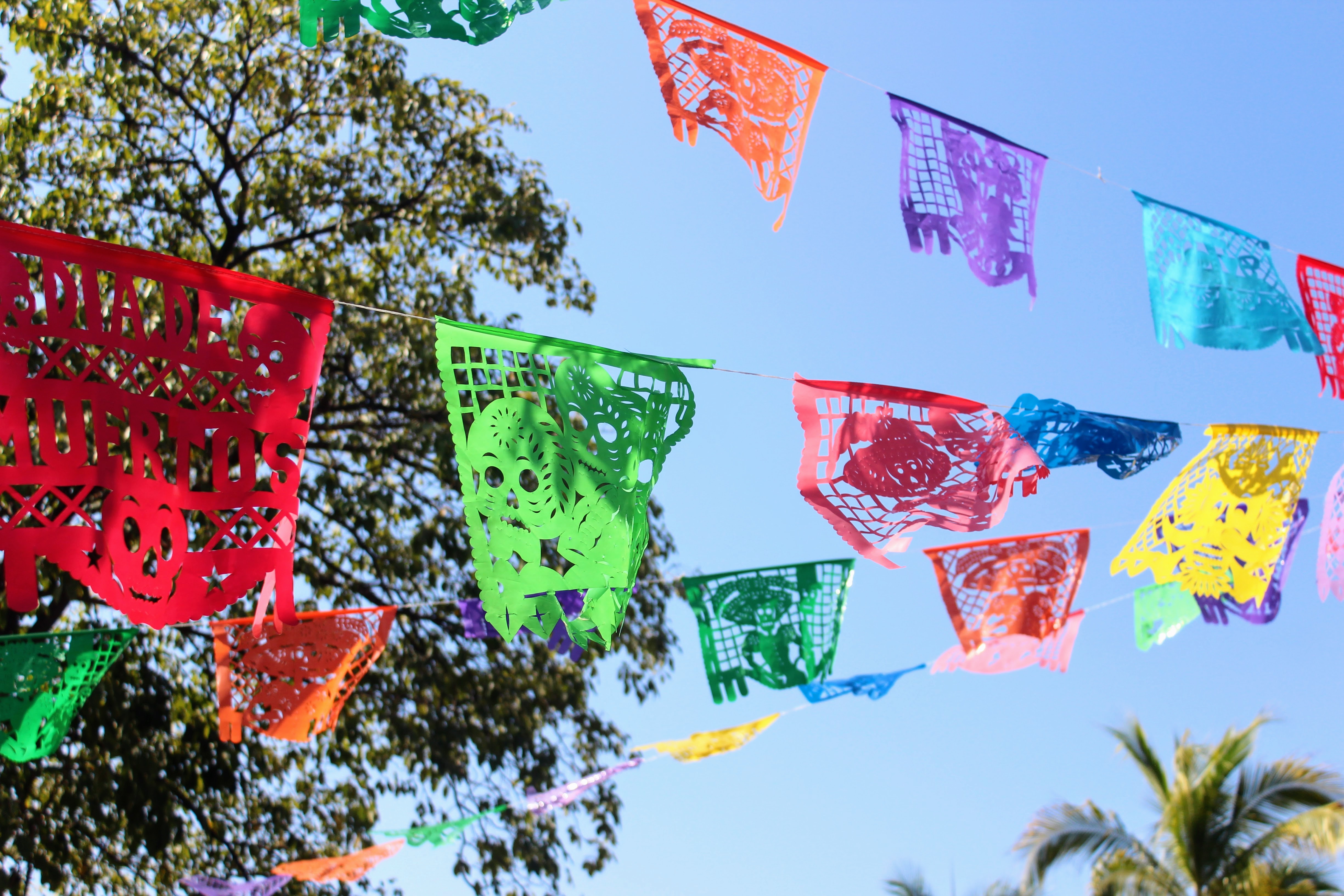 The artisanal market has the usual collection of clothing, souvenirs and skulls for every occasion.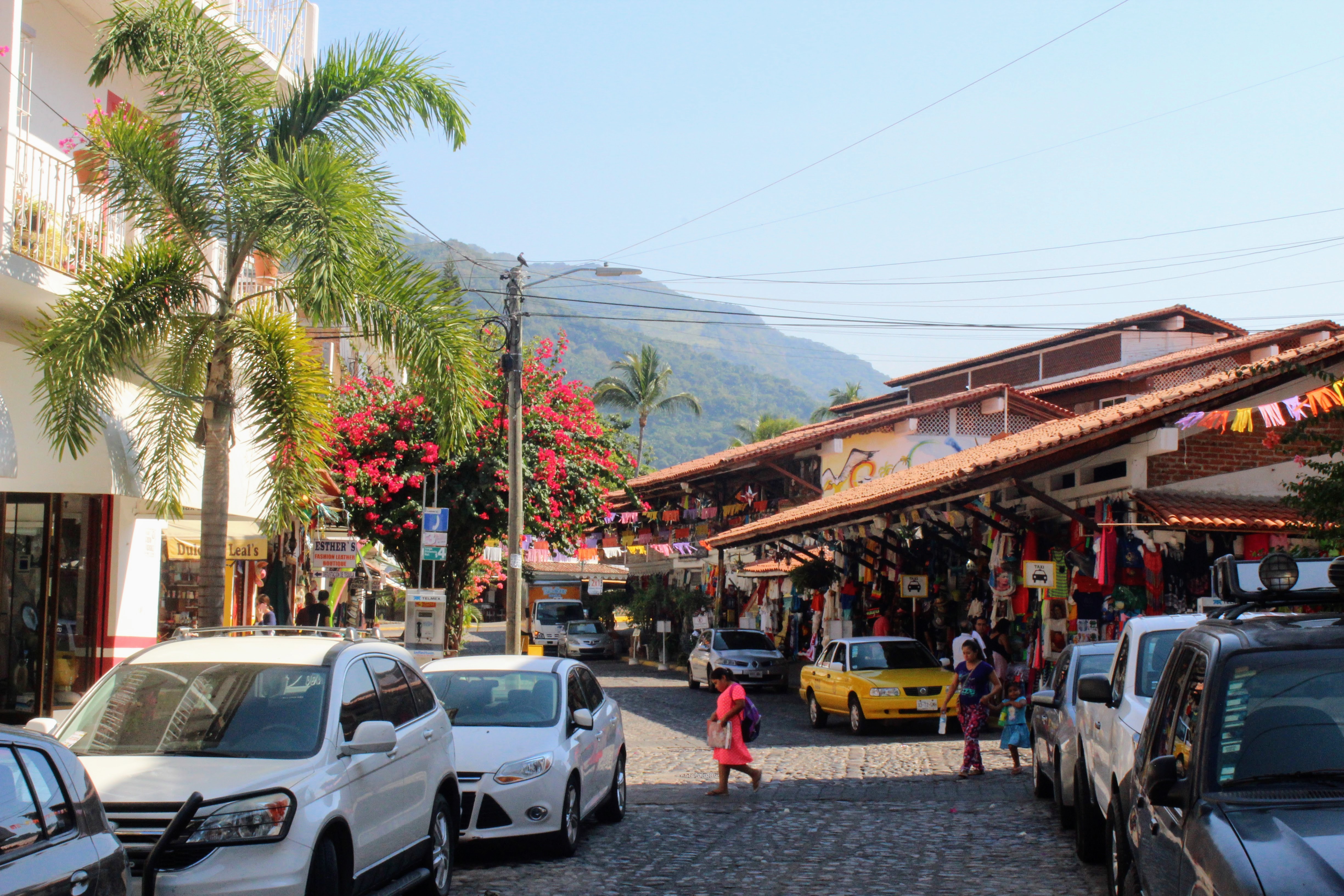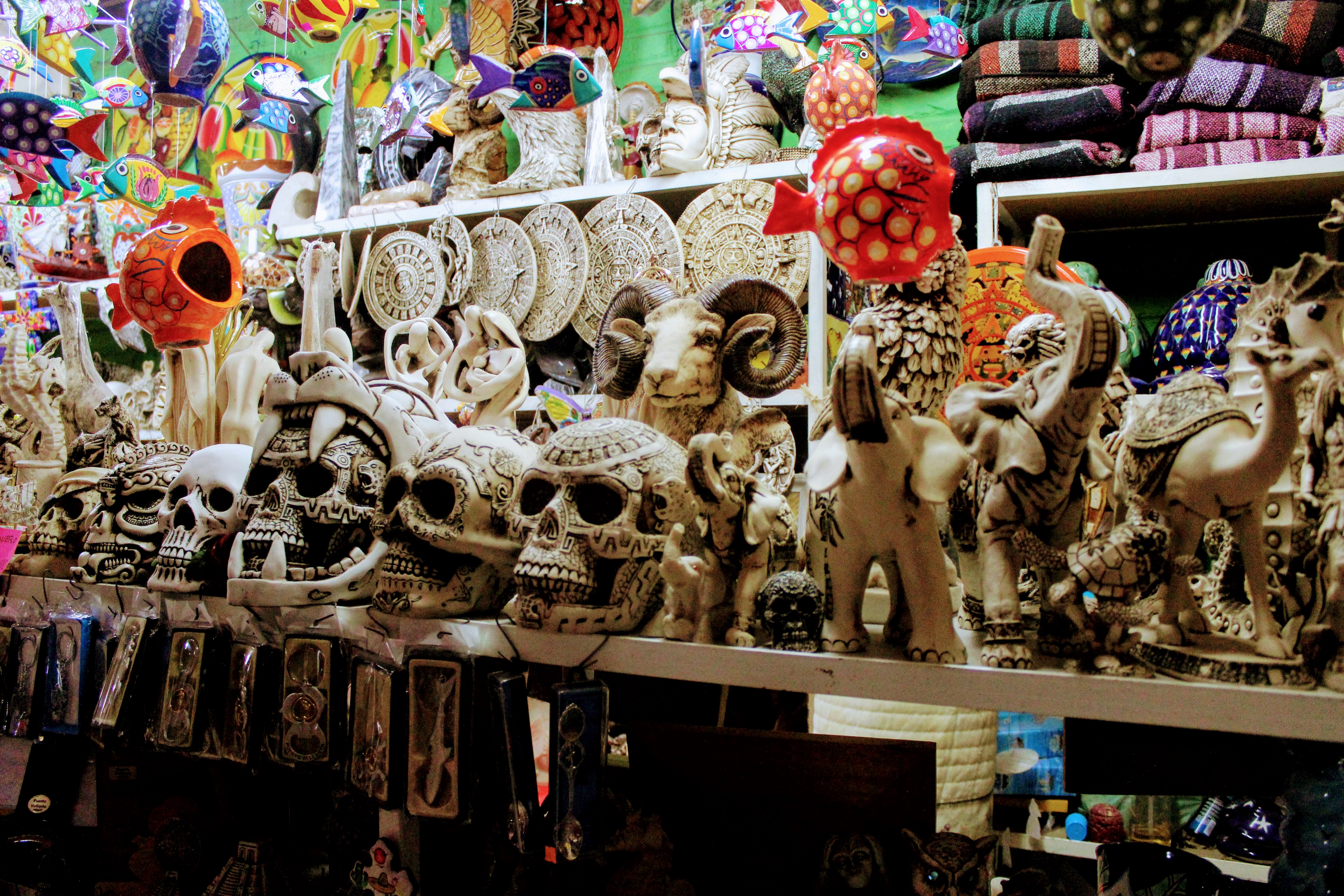 When the midday heat of tropical Mexico started getting to us, it was time to stop for a margarita and michelada. Michelada, a mexican drink that mixes beer, tomato or lemon juice and chilli peppers, is a strangely effective thirst quencher.
That afternoon we spent in Bucerias, a small town north of Puerto Vallarta.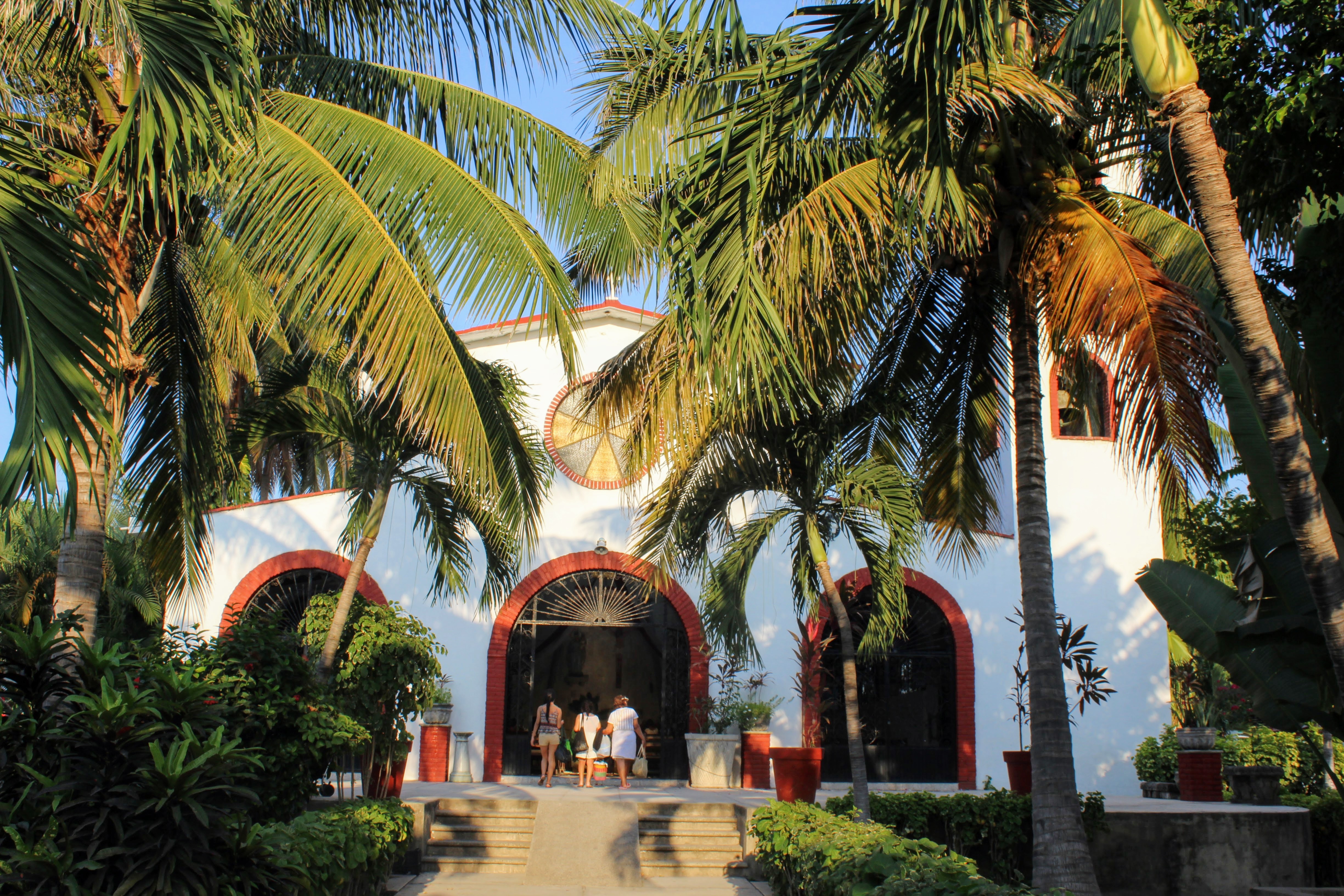 For some reason, horse riding on a beach is a legitimate touristic attraction here.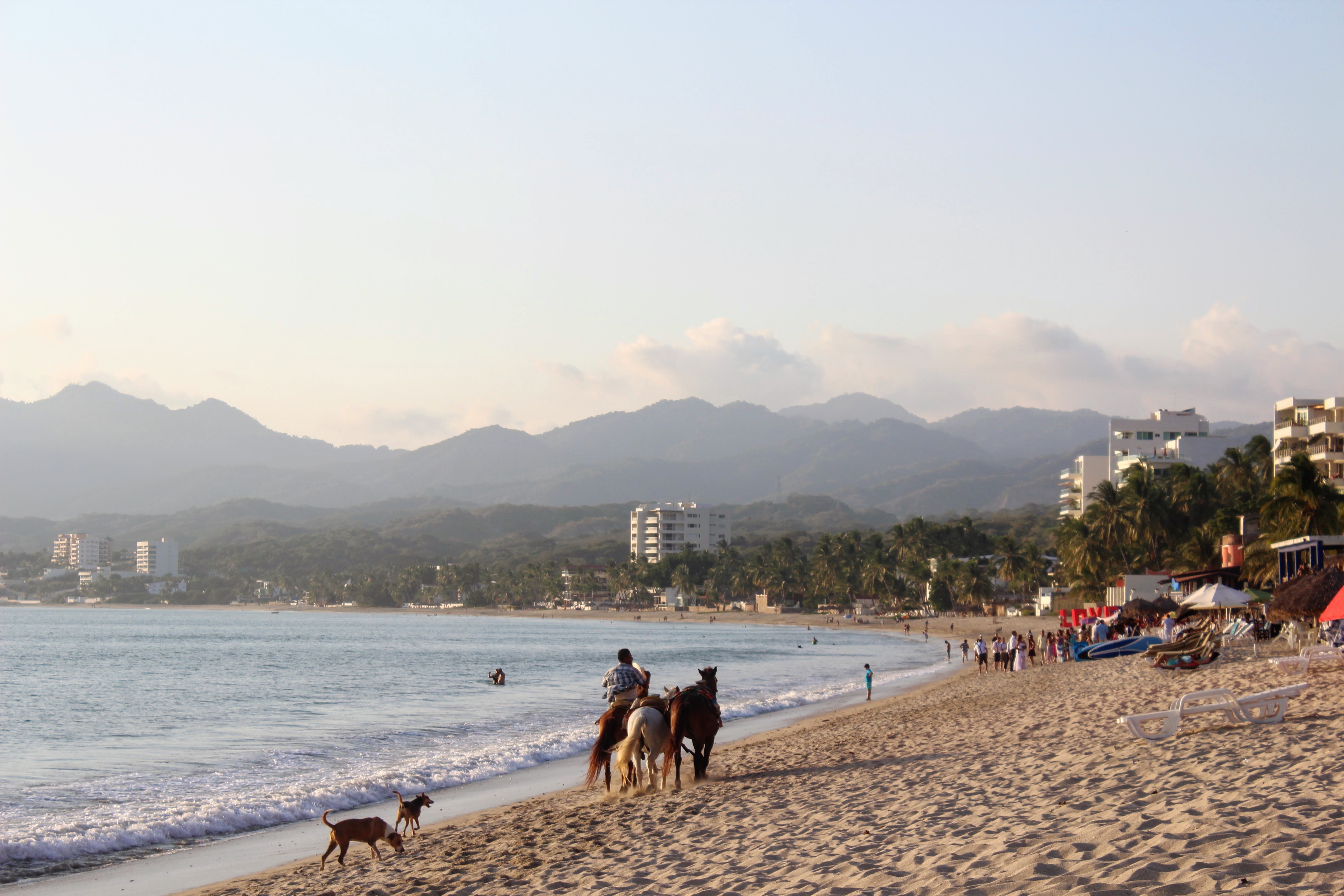 Indigenous women were scouting the beaches for potential buyers. A teenage girl with sad eyes offered me a beautiful handmade doll, without much hope in her voice. Ayan likes dolls, I thought.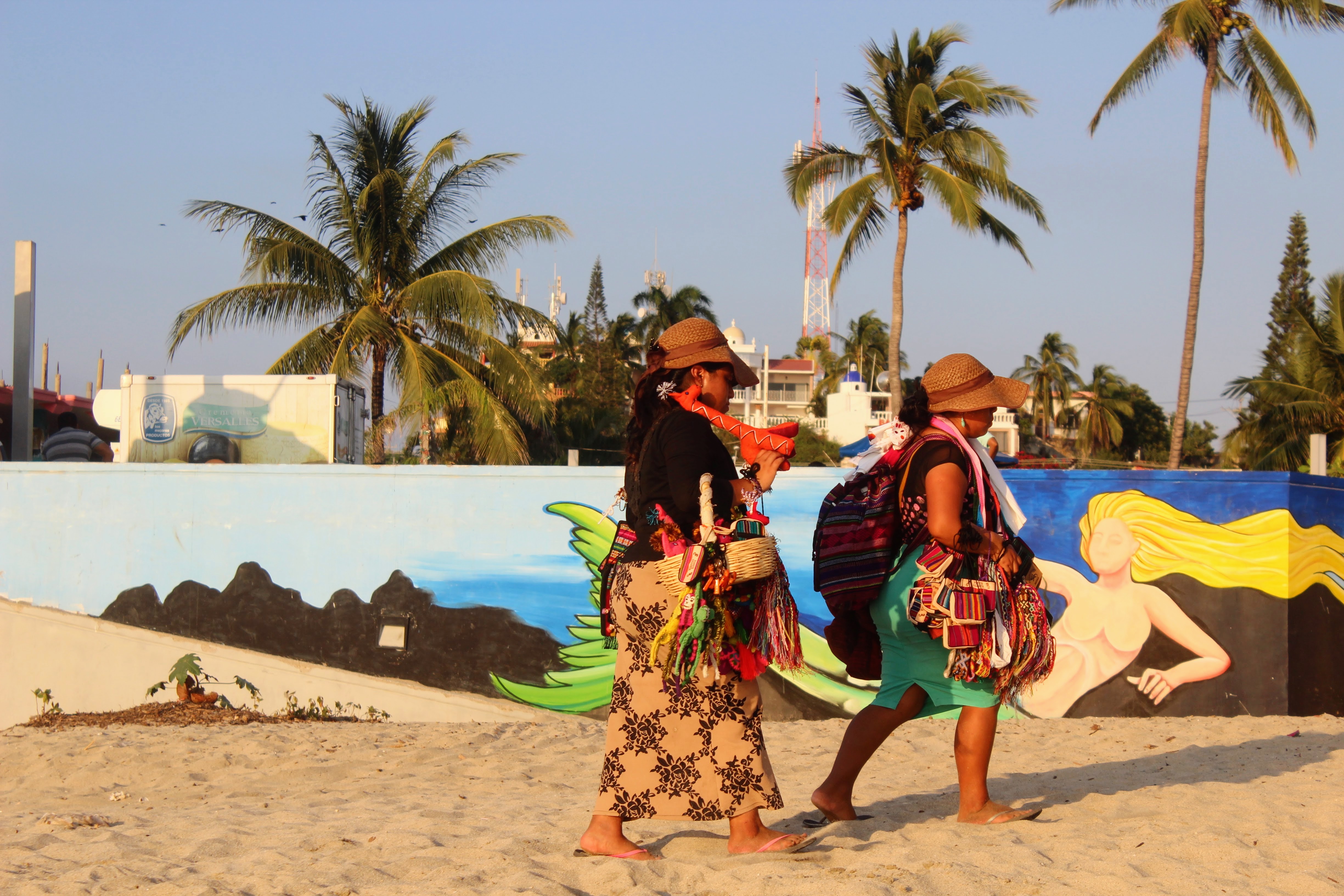 As the day was winding down on the Pacific, we were searching for a missing shoe which Oxanna dropped somewhere on the beach. After getting a new pair in the nearby market, we were back in the car – only to discover the missing shoe right there. Gasping at its inexplicable reappearance, the drive back to our hacienda was markedly quiet. Maybe a world pregnant with possibilities is bound to give birth to synchronicities from time to time.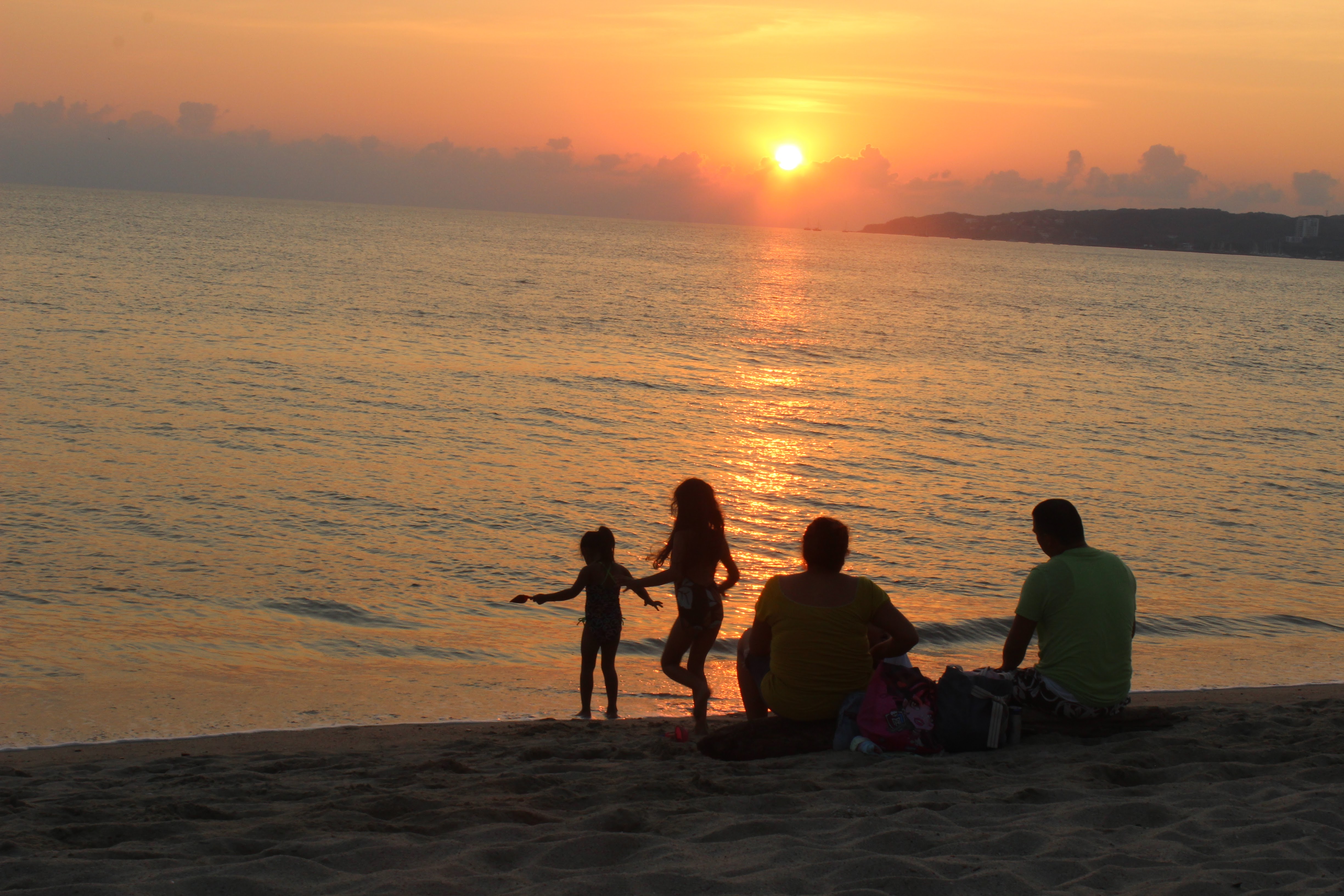 Next: Yelapa, Where There Are No ATMs, No Police and No Worry