Day 8
The night in the tent was long and cold. Without a mat to put under the sleeping bag (I intended to rent one at the hostel in Tsetserleg, but they ran out of mates), lying on the cold ground, with rain streams making their way through tent's zipper cracks, I couldn't fall asleep, waiting for the sunrise to come and rescue me.
At six o'clock the sun was up, but the air was still cold. Tired of turning round, listening to BBC podcast on my player, I went out to soak morning's atmosphere. An old football lying near my tent was a great morning partner, but clubs of smoke coming from the kitchen promised a better way to warm up.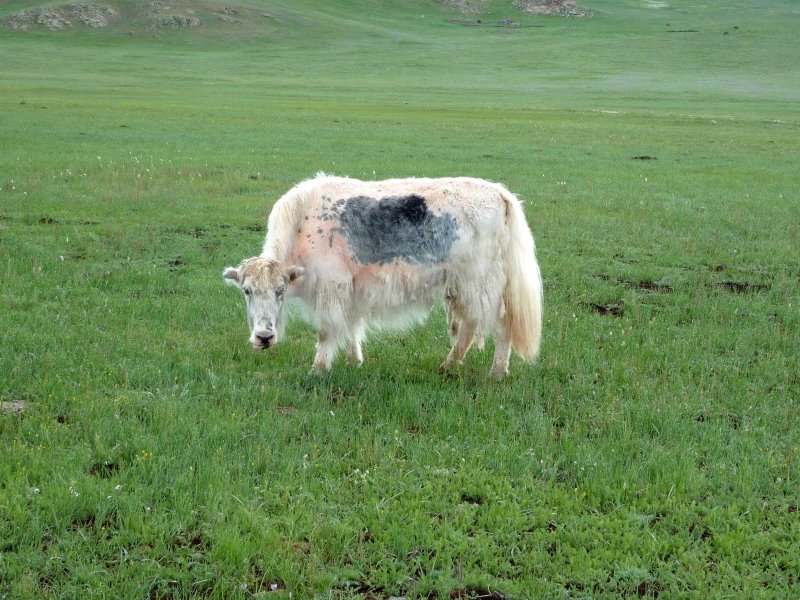 Inside, our hostess was already hard at work – bringing over an armful of logs, boiling water in large bowls and frying pancakes for the breakfast. Even though we were in a tourist camp, the hard work, the long hours and the simplicity of the tools used were very typical of the Mongolian women, managing a household. Seeing this woman working all day, seemingly without rest, but also without effort, my yesterday's cynicism was gone.
After breakfast we went for a horse ride along the lake shore, on a route to Khorgo volcano. Mongolian horses are relatively small, and ours were timid, only refusing to go steeply downhill . After two hours of horse ride, we arrived at the base of the Khorgo volcano. Climbing by foot uphill, revealed a large crater on the top of the volcano. It's eruption, a long time ago, covered a large area around it with stones and solidified lava, giving it a hostile, morbid look.
On our way back the weather got nasty – strong wind transformed the light rain into freezing, micro-particles shower. Mongolian summer weather could be deceitful – a sunny morning could quickly become a chilling day. Over the next days, we learned to take with us rain-coats and warm hats, but also sunglasses and sun cream, whenever going out.
After a sleepless night, I wasn't going to pass another night in my tent. Oxanna, that also froze during the night, shared my resolve to sleep this night in a ger. $5 for a night was a small price to pay to have the warmth of walls layered with thick wool, and comfort of real beds and blankets. We had to wake up for dinner, and when we were back, we decided to fire up the stove. It turned out to be a non-trivial task, since the humid planks refused to burn. Leaving them to dry-up, we passed the time talking about movies, books and what-not.
Taking enjoyment in feeling safe and protected from the weather outside, we wanted the evening to go on.