Day 7
At 09:00 we were picked up by our driver, and headed north-east to the White Lake. A 185km drive turned out to be a seven hours affair. Our Russian minivan broke up twice, which didn't upset the driver – stopping for half an hour in every passing village for a quick fix seemed to be a part of the routine.
Driving through central Mongolia in an old Russian minivan is an unforgettable experience. These cars are built for durability and ease of maintenance, but certainly not for comfort – every bump on the road (and there are more bumps than roads) shatters the vehicle and throws the passengers out of the seats.
Eventually we arrived at a ger camp, on the shore of the White Lake. After setting up our tents, our hosting Mongolian family served us a lunch in the kitchen cabin – noodles with meat. My Buryat friends had to explain (not for the first time) that despite their looks, they are not Mongolian and don't speak the language, and actually come from republic of Buryatia in Russia. While Buryat people are ethnically close to Mongolians, and Buryat language is a close relative of Mongolian, most Buryats speak Russian as their first language. 350 years of Russian influence have their consequences.
The hospitality of our hosts couldn't hide the fact that our ger camp was more of a tourist base than a traditional Mongolian living space. Looking forward to experience the nomadic way of life, I was disappointed to find out that we were served meals together with other tourists in the camp, and that there is a convenient grocery shop nearby.
After lunch we went for a swim in the lake. Terkhiin Tsagaan Nuur is a 16km in length fresh-water lake, situated at an altitude of 2,060 meters in the Khangai Mountains. After a failed attempt to enjoy swimming, we climbed a nearby rock to warm up and get a better view of the lake.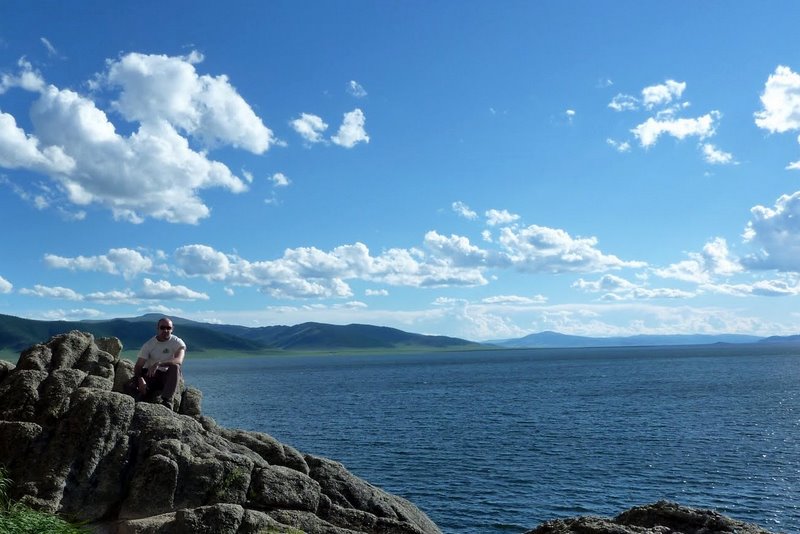 Back on the beach, we were invited by a group of young, partying Mongolians to join them for a glass of Genghis Khan vodka. As the sun was setting down, the air became chiller, and we headed back to our camp, in time for dinner. The three of us squeezed in my tent, we signed off the evening with tea and laughs.