When we woke up the next day the sky was clear and sun was shining fiercely. On the last day of May the summer was coming to Caucasus mountains.
Teaming up with the same Polish couple from yesterday's hike and two english guys and a gal, we set out to explore Dariali gorge taking the road north towards the Russian border.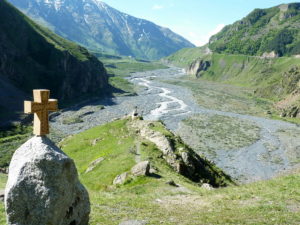 The road ran on the western side of the gorge, when suddenly our car came into a full stop facing a huge herd of sheep blocking our way. Slowly making our way through this sea of sheep, our driver Henri in his typically lively manner was telling us about the 7000-strong herd and his owner, who if to believe Henri almost lost the herd to president Saakashvili's arbitrary cruelness – "because no man should be that rich". True or not, it was becoming obvious the pro-western president wasn't a popular figure with the countryside folk.
Shortly after, we reached the beginning of the trail to the Gveleti waterfalls.
An easy 40 minutes ascent brought us to the first waterfall.
Surprisingly, the descent took more time.
Continuing north by car, construction sites started dominate the view, ranging from building of 7(!) hydro power stations to new roads and bridges. The road that was once the main transportation hub to Russia is sealed since the 2008 war with Russia. But it seems that Georgians have now other plans for the development of the region.
On our way back we we did a little detour by foot using an old road near the edge of the cliff  instead of going through a tunnel by car. The views were well worth it.
Back in Kazbegi, with our bags packed, contented we sat on the porch looking for the last time at the gorgeous Caucasus mountains.