Vancouver is probably one the most bike-friendly cities in the world, with hundred of kilometers of trails, greenways and designated streets, all optimized for cyclists. Add to this the fact that buses and the SkyTrain allow you to carry on your bike, and what you get is a cycling paradise. So hop on, we are going on a ride.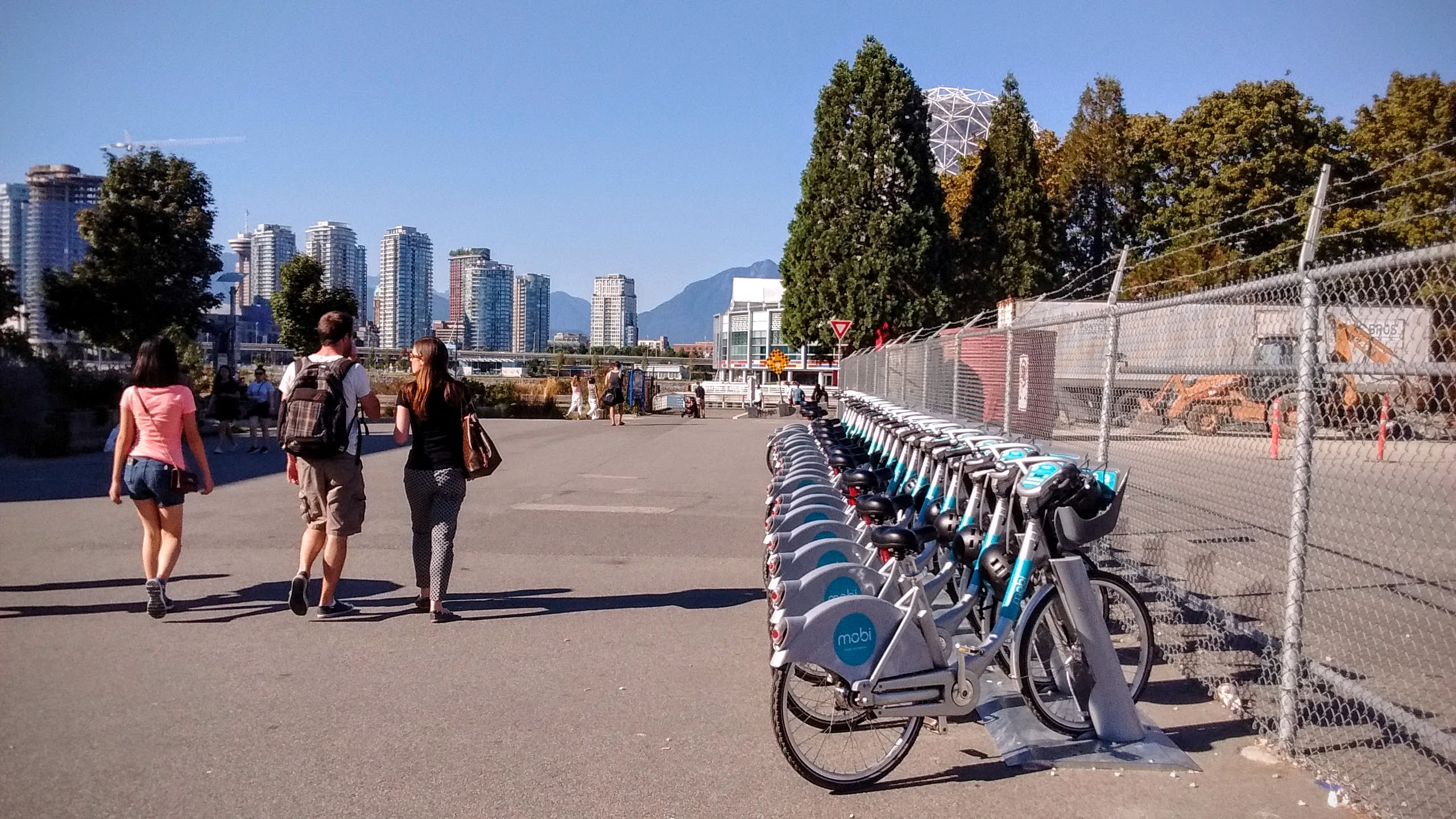 Vancouver's new public bike share system is called Mobi. Throughout the city 1500 bicycles and 150 stations are now available.
Getting a Bike
After spending the first month in Vancouver without a bike, and envying those that could get places faster on bike than on a bus, I was ready to get one. So where do you get a bike in Vancouver? For starters you can use Mobi, but that's not a long-term solution. Craigslist is a good option if you want to save money. A bike shop that sells used bikes may be a better alternative because of the choice available. Even a better one? A non-profit bike cooperative. Yes, that's a thing in Vancouver.
Our Community Bikes is a non-profit community bike shop, ran by volunteers. People come here to get refurbished, safety-tested bikes, or to fix their own one. You can get help from the volunteers, or you can help yourself, using one of the Do-It-Yourself stands that have all the necessary tools.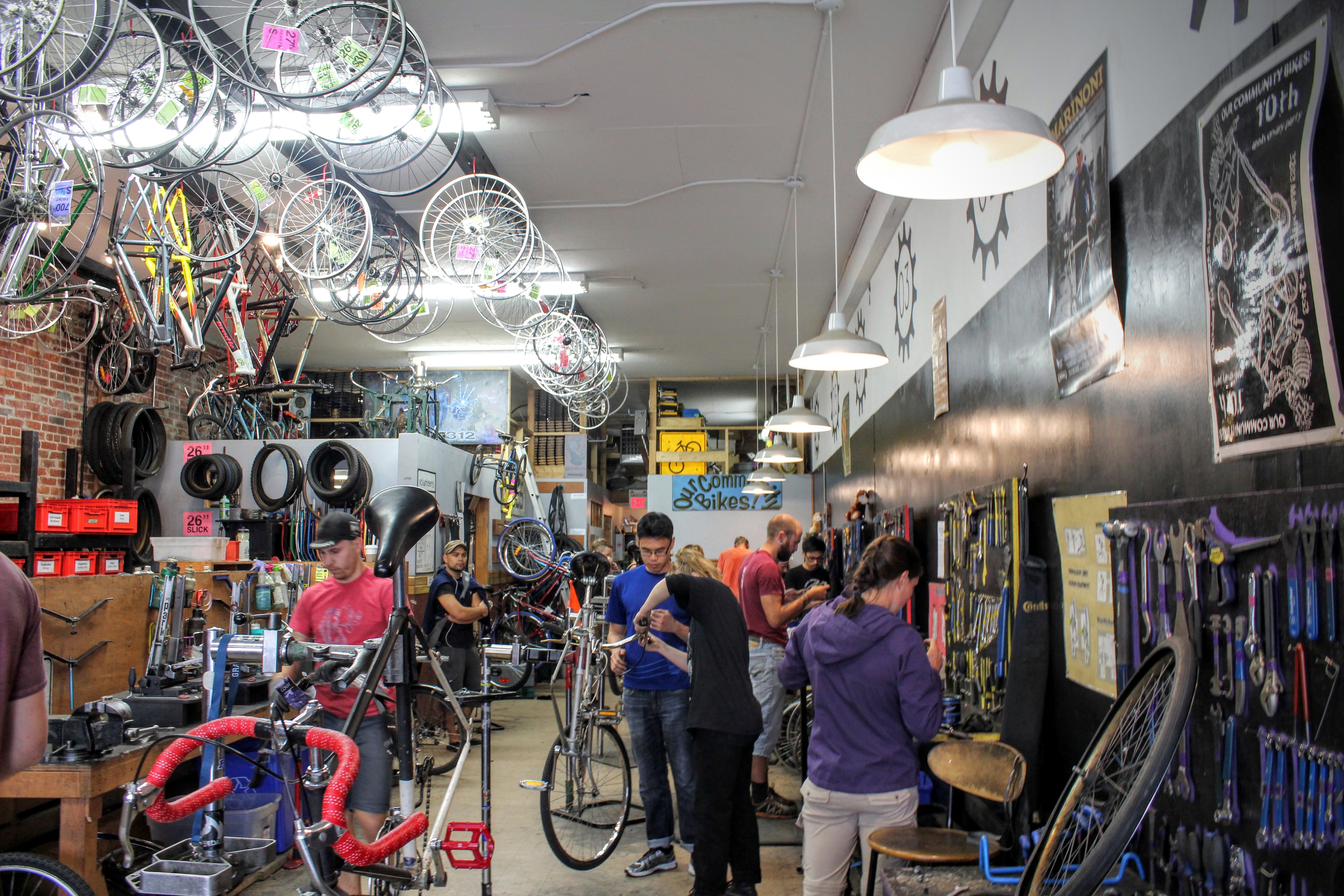 More than just a bike shop, Our Community Bikes is a social project, that aims to be a home for learning about bicycle mechanics. It also makes a point to remind everyone on which lands the shop stands.
After I found a bike that fits me, I had to mount a child seat, which we brought all the way from Israel. One of the connecting brackets was lost on the way, but luckily I found a close-enough alternative in Home Depot. For $6 I got the stand for myself with all the tools I needed, and soon we were ready to hit the trails.
To Kitsilano Pool on a Hot Day
Distance: 8km  Time: 1 hour
Just 5 minutes from our place in Mount Pleasant, the Seaside greenway on the shore of the False Creek bay is probably one of the most picturesque bike trails in Vancouver.
Throughout most of its length, it's divided between biking and pedestrian lanes, with clear signs marking the lane you should use.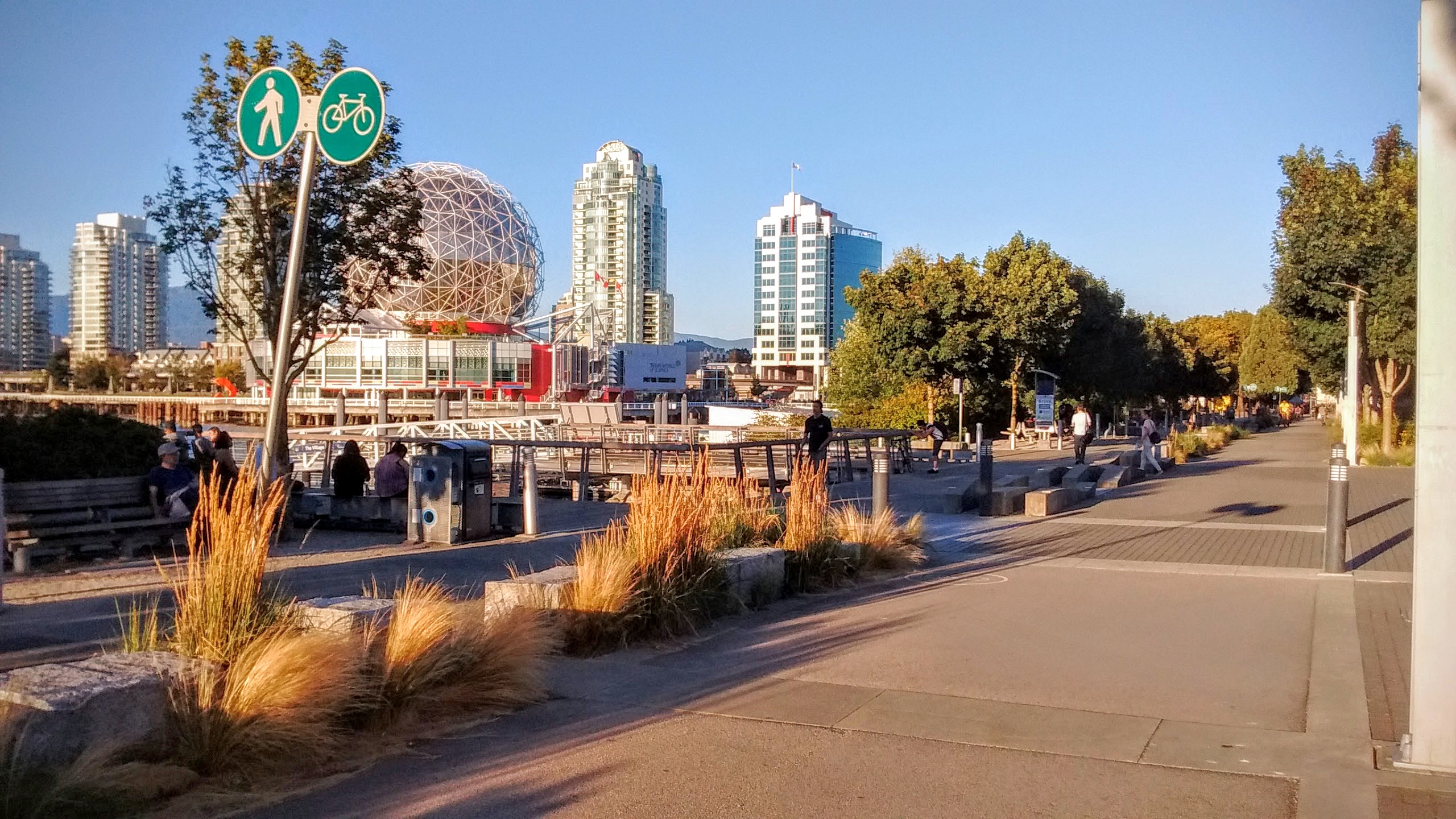 Downtown's high-rise buildings, as well as the yachts in the bay make for an eye-catching company.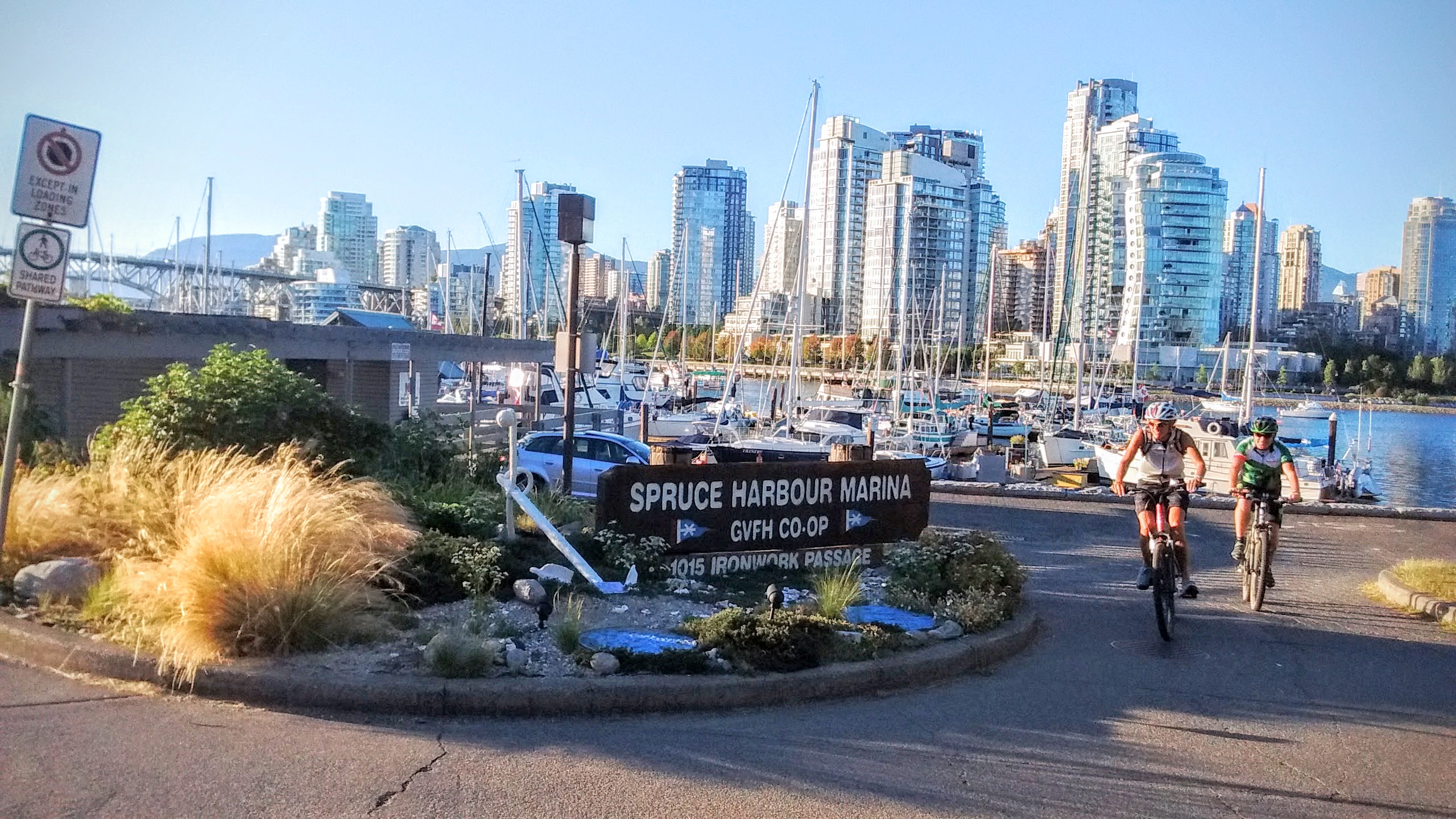 In some sections, the trail is laid with cobblestones rather than asphalt.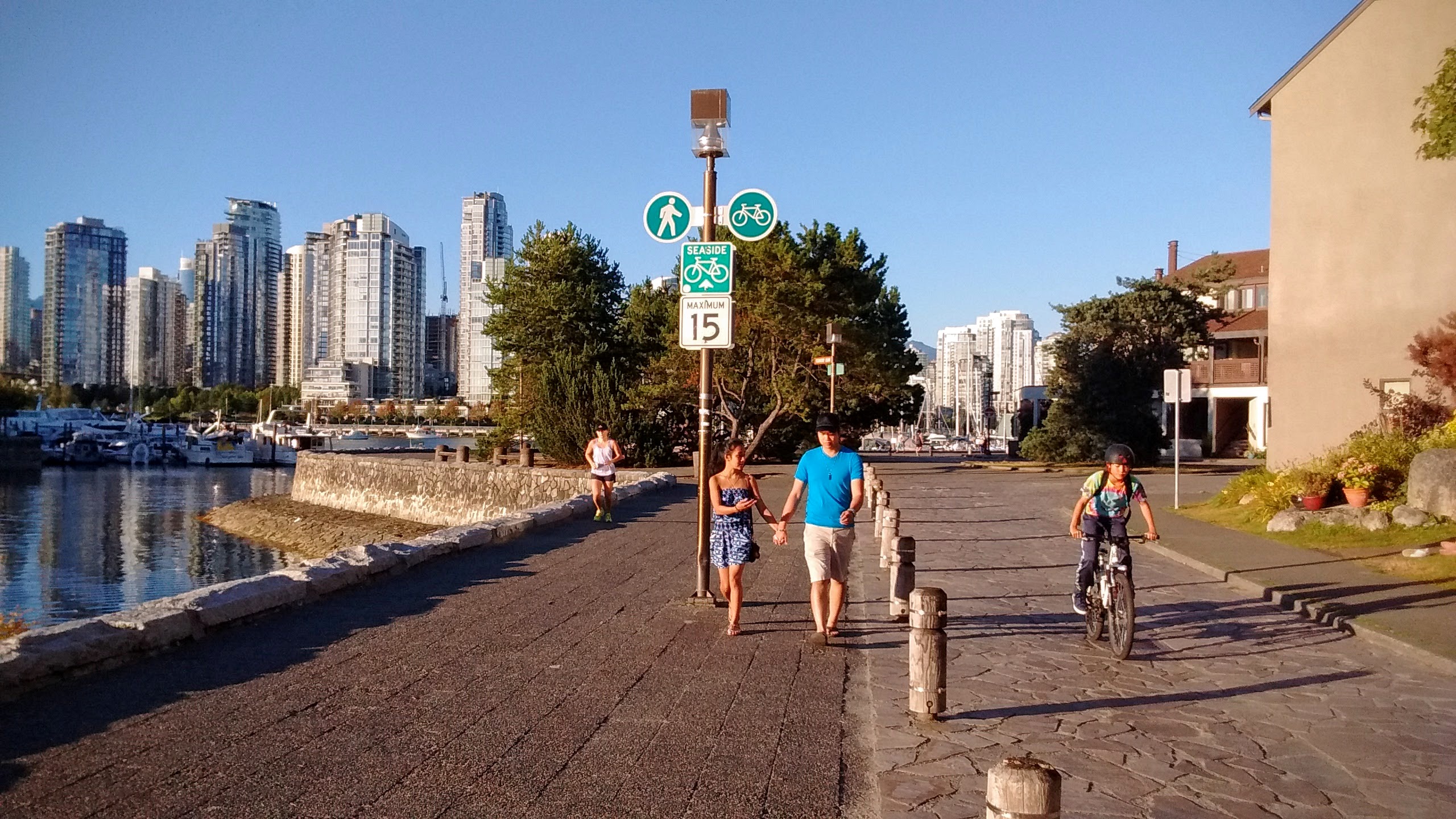 Creekside Drive is one of the only sections of the route in which cyclists share the way with cars.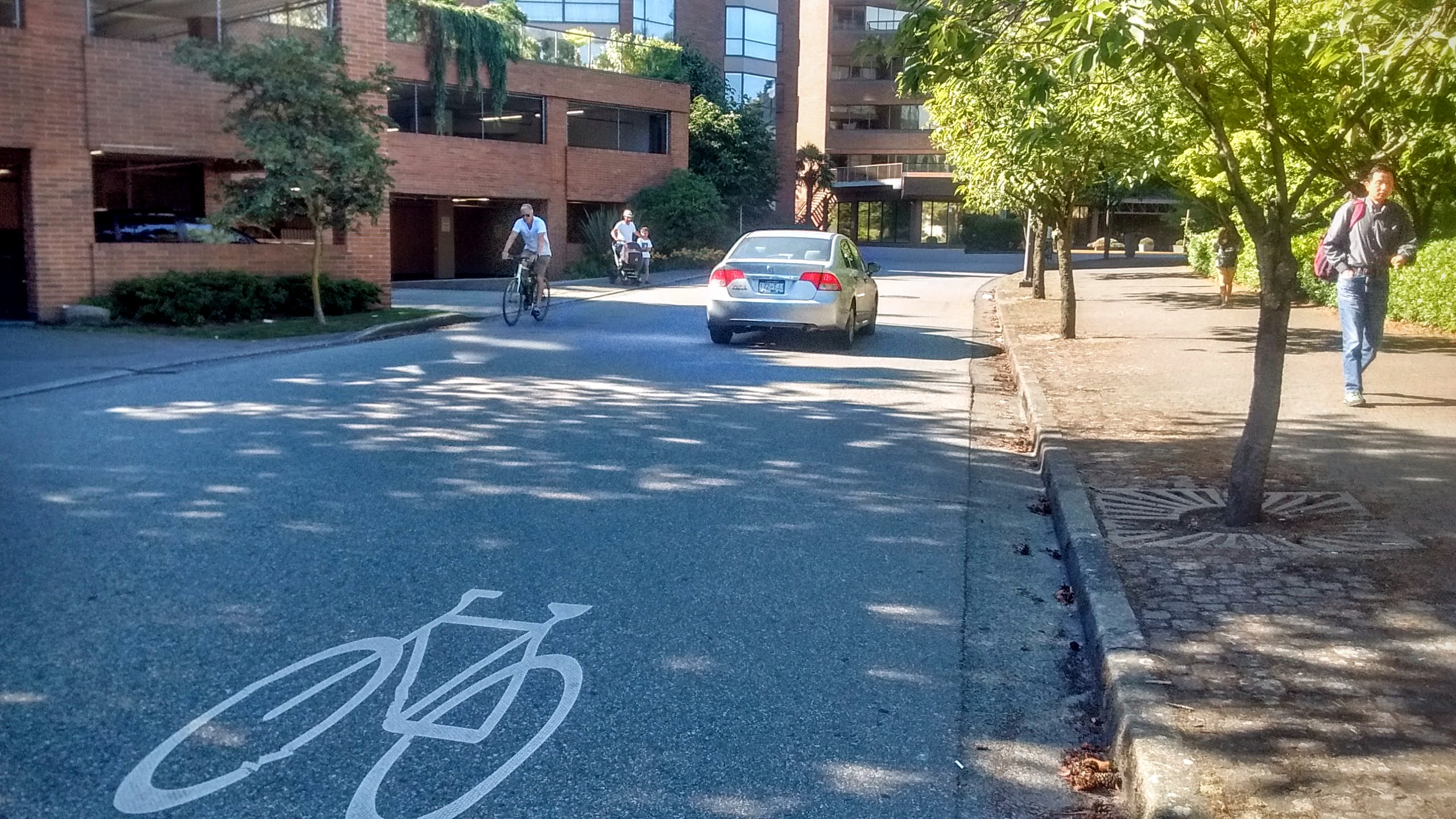 Continuing west, the route goes through Vanier park, where the pedestrian and cycling lanes merge into a single, wide pathway.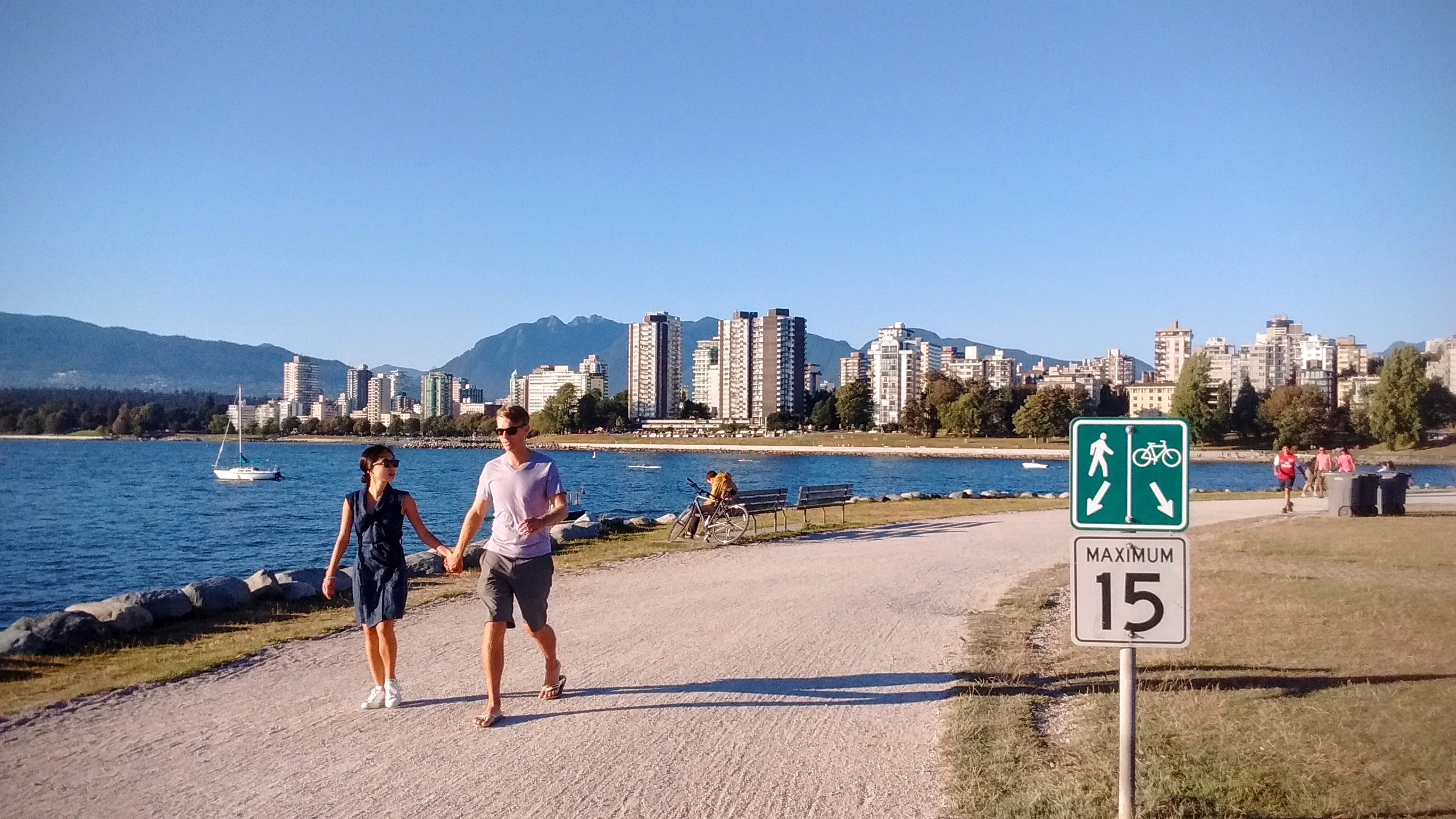 30 minutes after leaving home we are in Kitsilano pool, the longest open pool in Canada.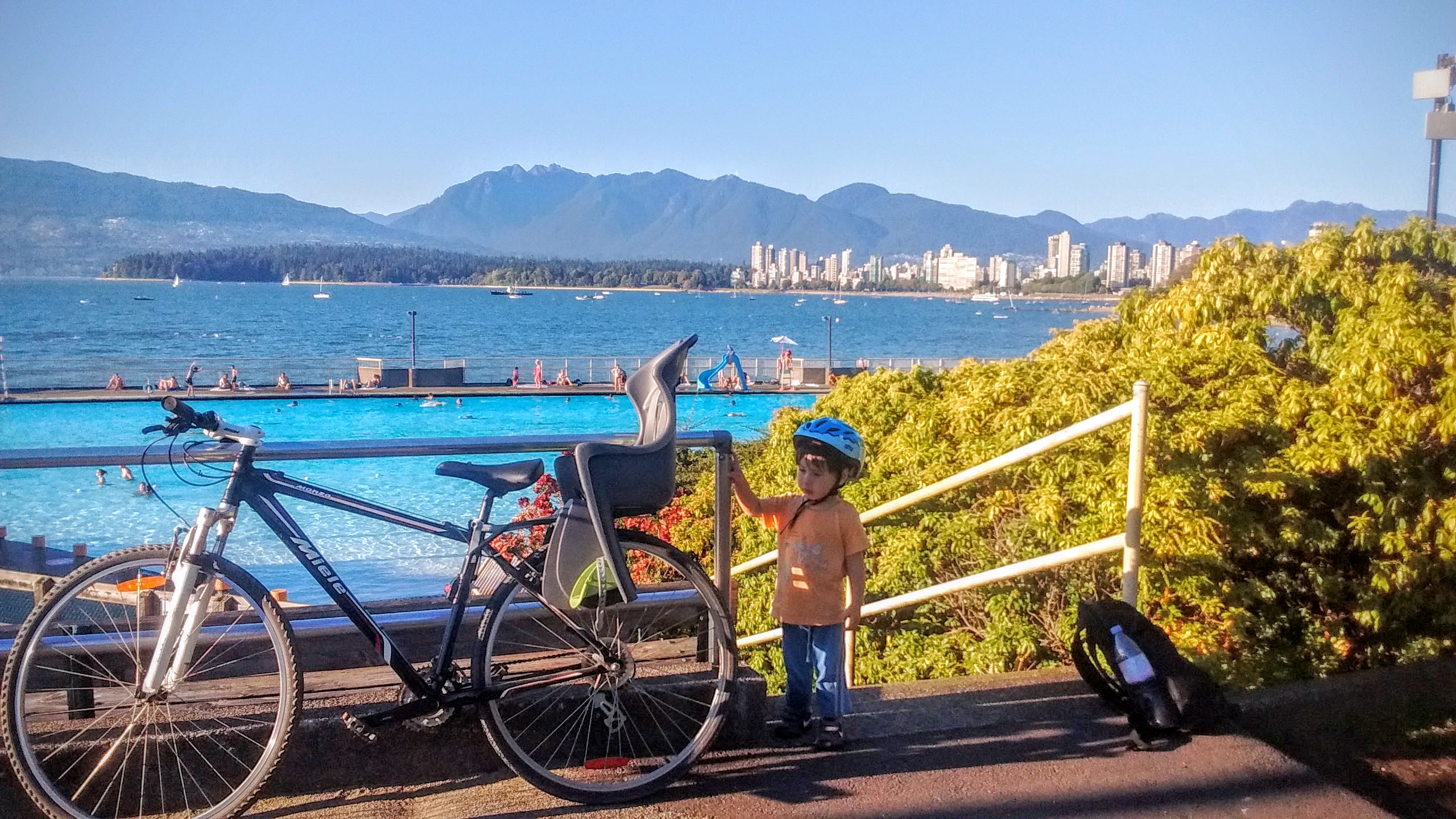 The entrance fee is just $6 for the whole family. Which must be some communist plot to subvert the forces of global capitalism.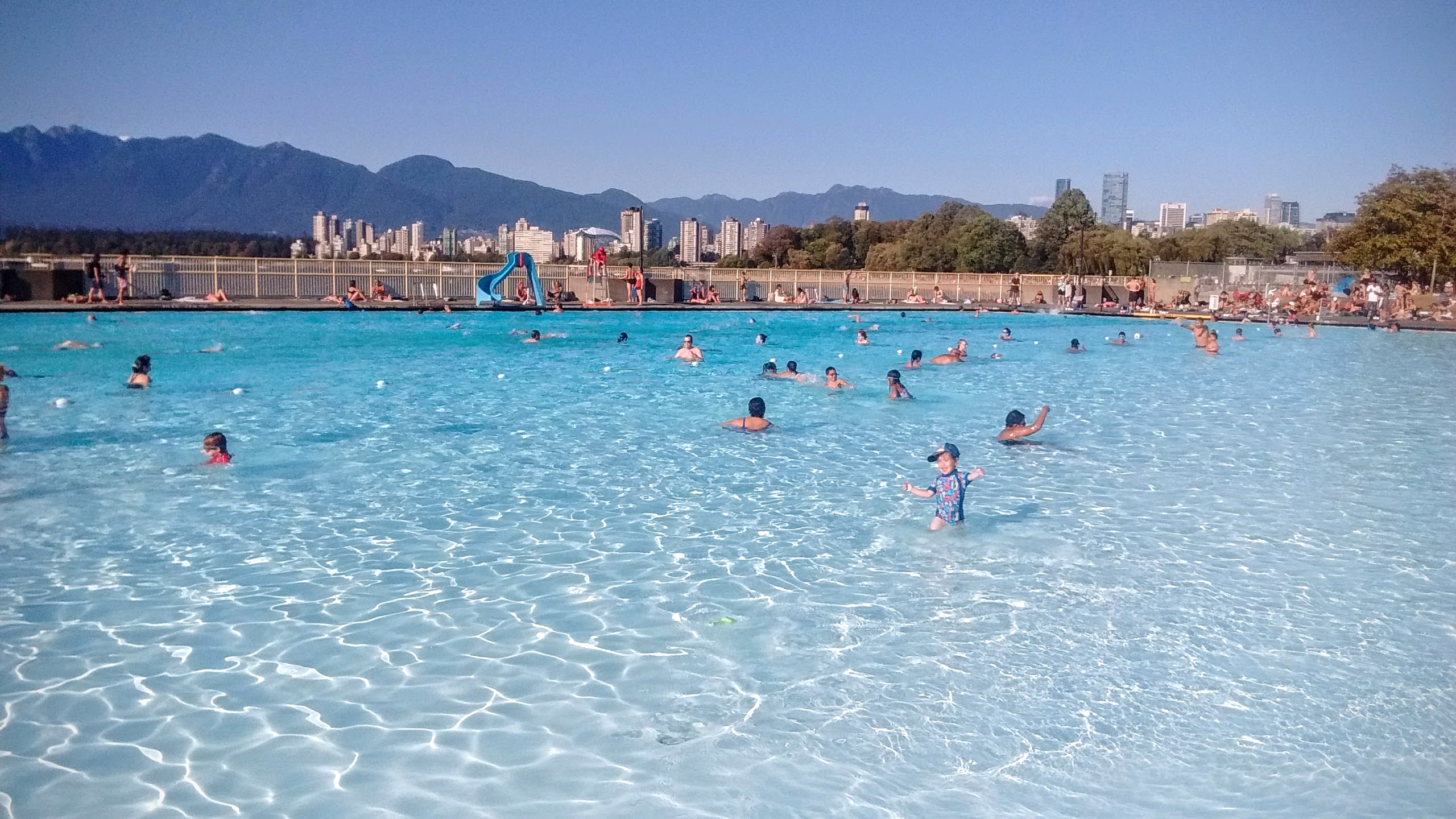 On our way back, we pass a Centennial Pole, a totem pole erected in 1958, to celebrate province's 100 years at the time.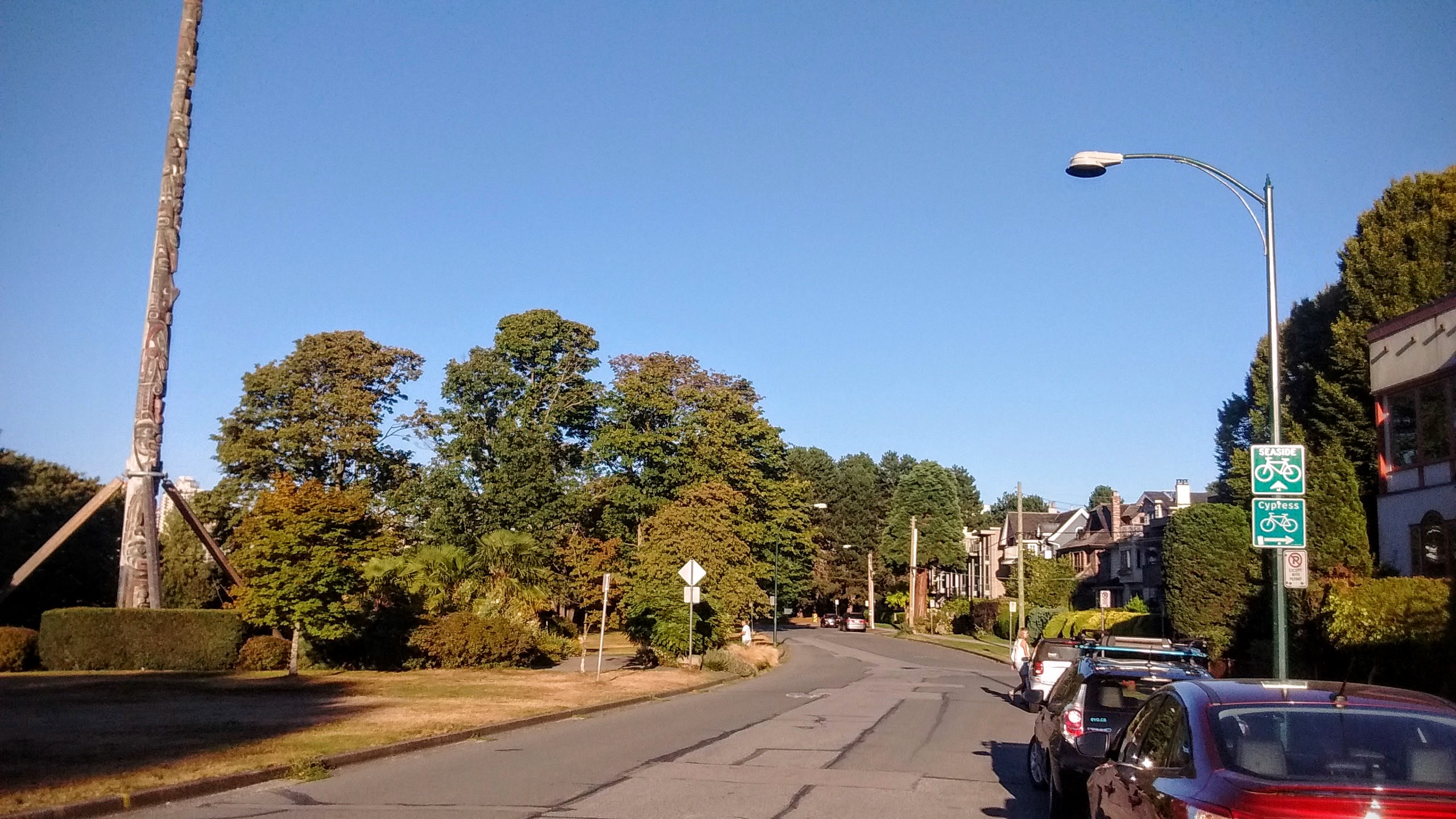 The evening sets gracefully on Granville marina.
False Creek Circle
Distance: 9.5km  Time: 1 hour
There's something magical about circles, and from the first days in Vancouver I wondered how easy would it be to complete a cycling circle around the False Creek bay. On our next ride, I decided to find that out.
Starting the same way on the south shore of False Creek, this time we stop at Sutcliffe park, where Canadian geese are the landlords.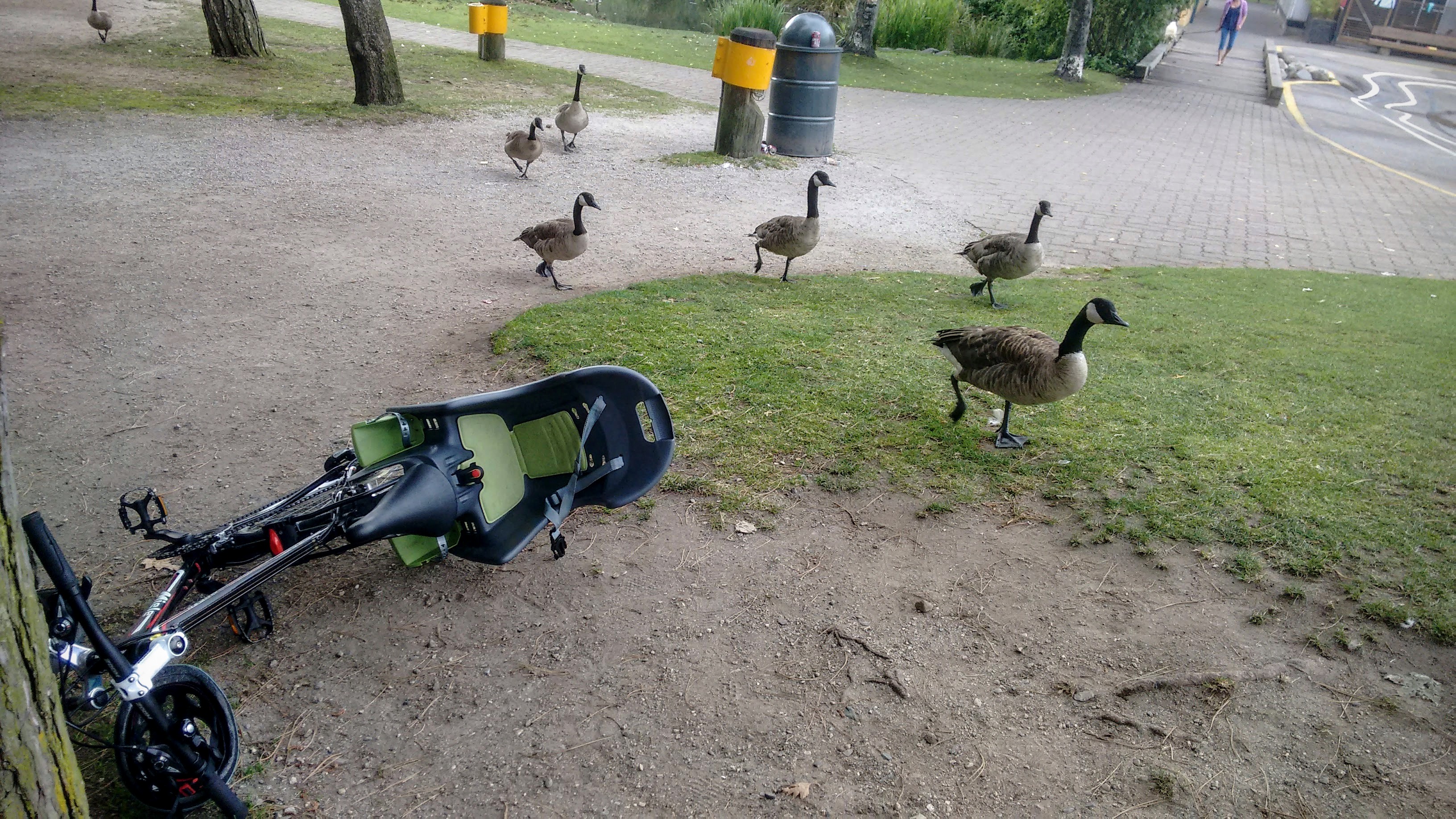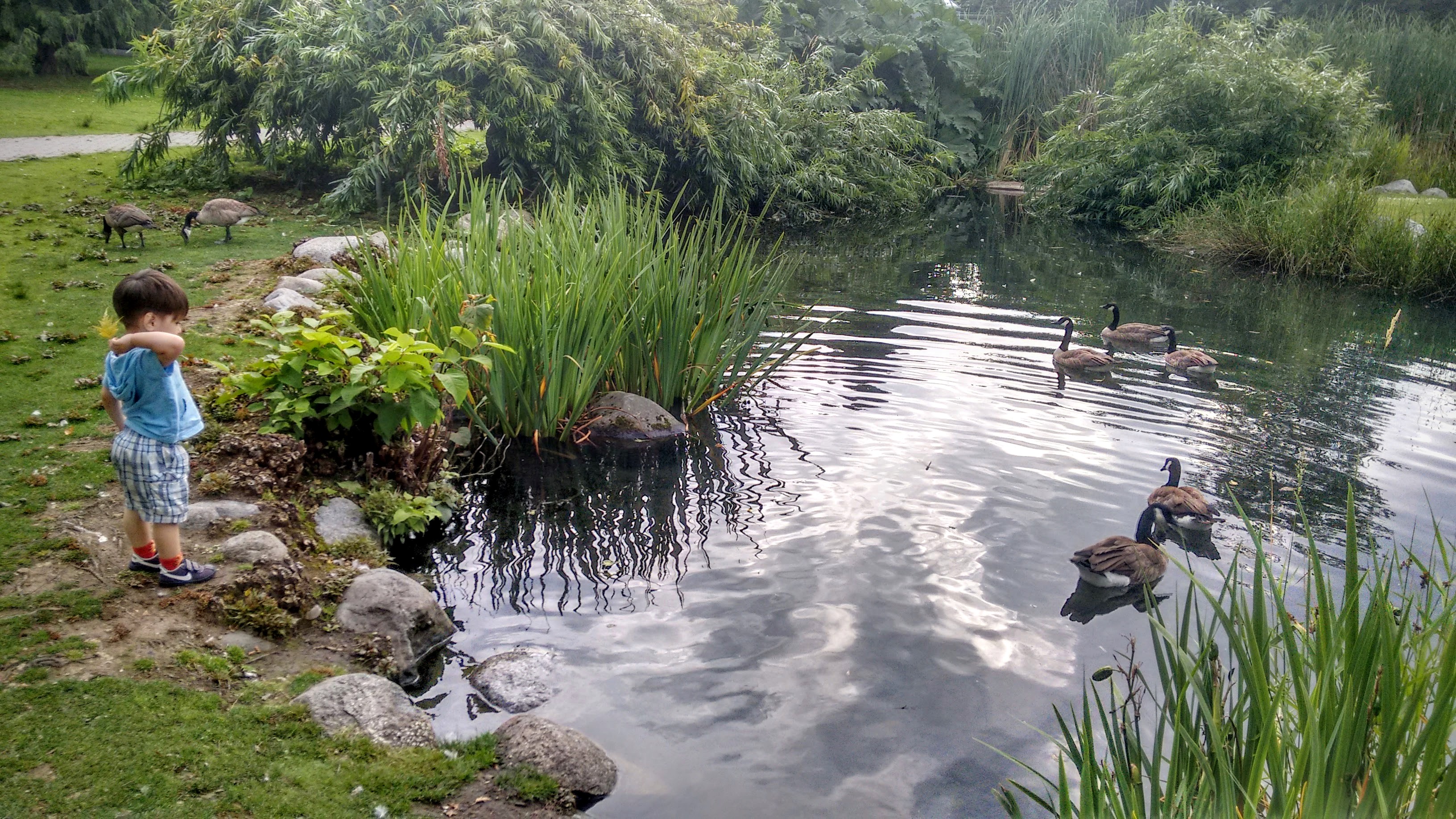 Passing the Seaforth Armoury, a place where Canadian reserve units train, meet and parade.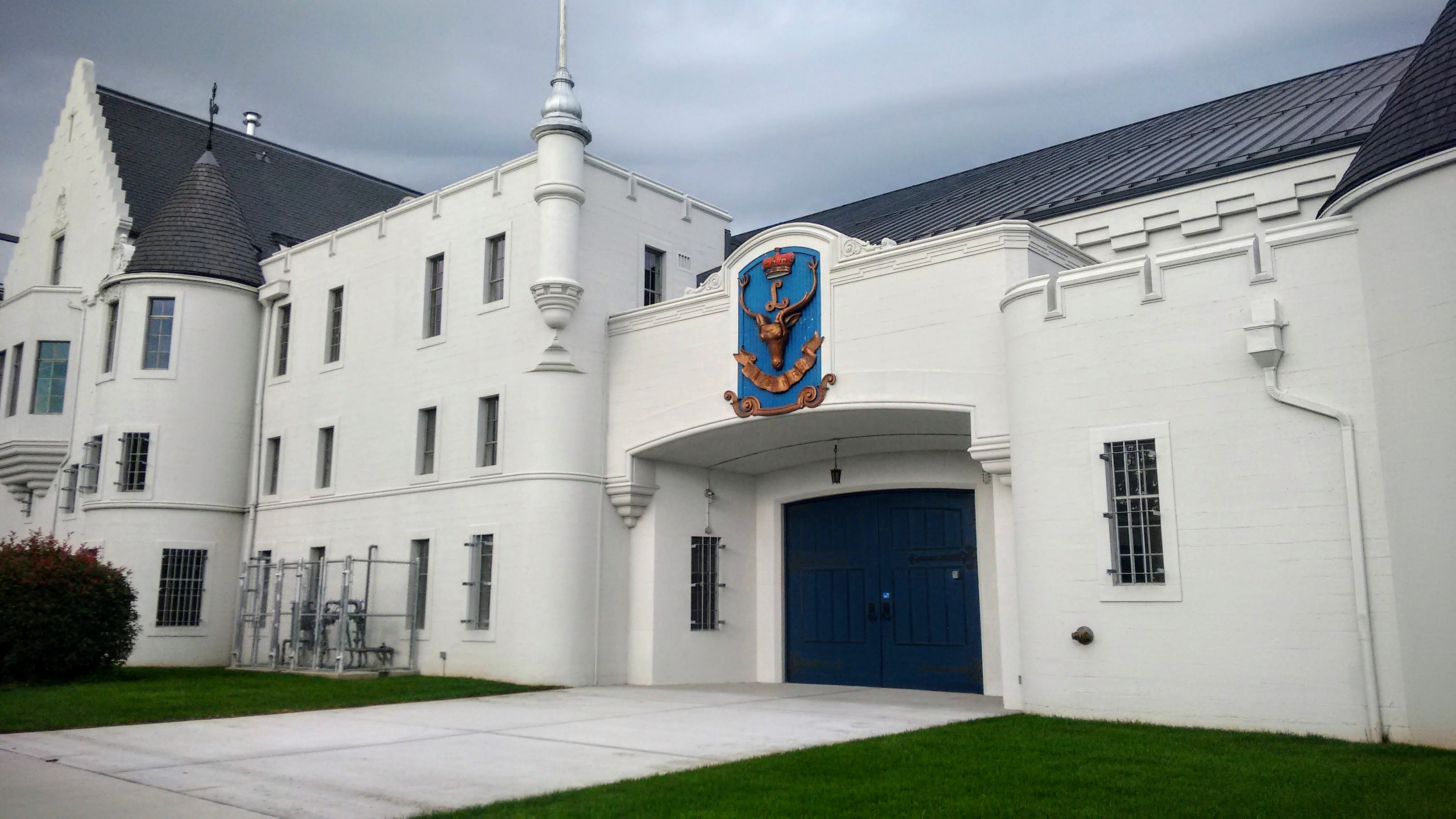 Continuing on the Burrard bridge, which connects downtown peninsula with Kitsilano neighborhood. Burrard bridge (just as other bridges over False Creek) is equipped with pedestrian and bike lanes. Works are currently underway to improve the bridge safety for cyclists and pedestrians.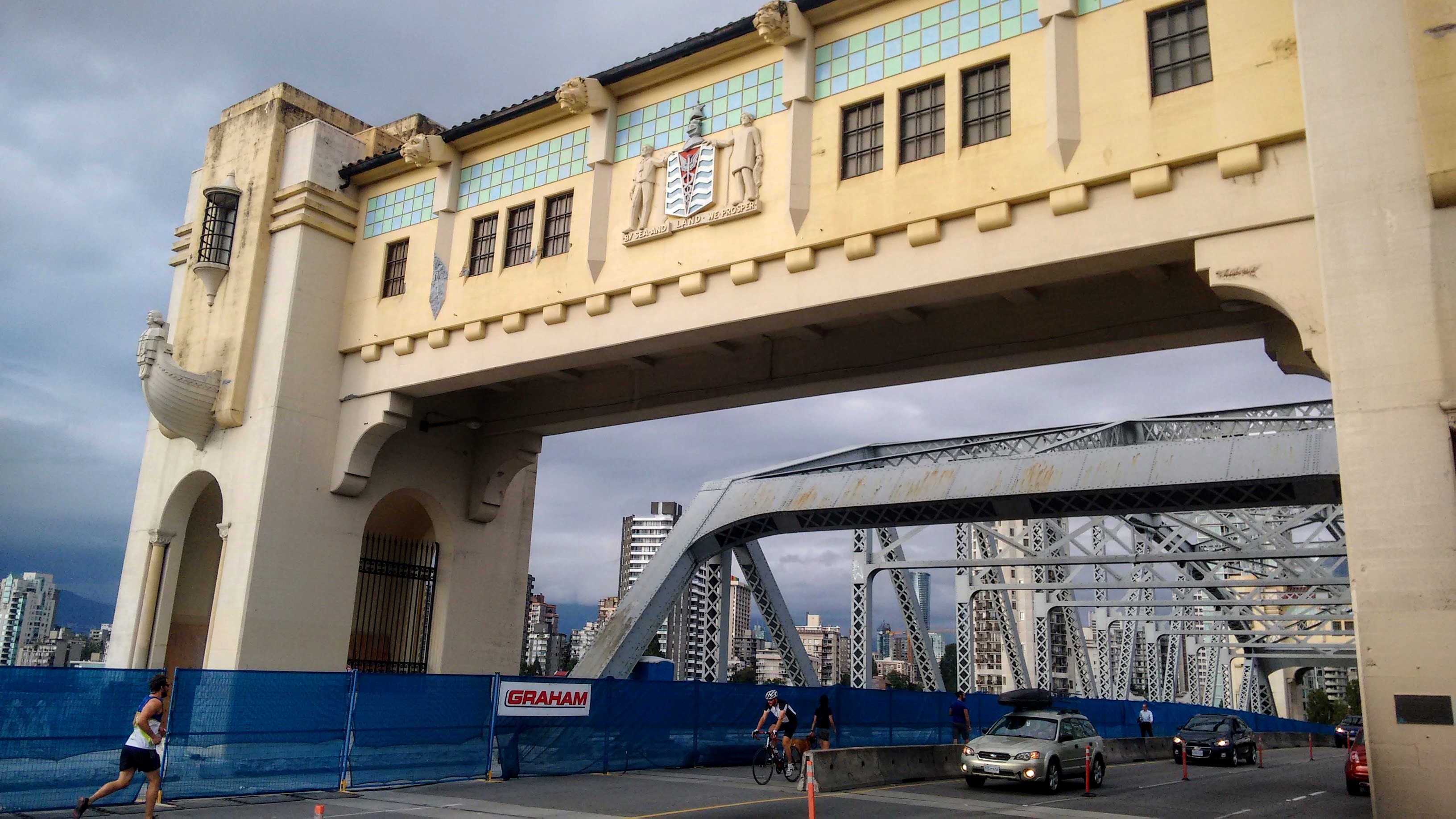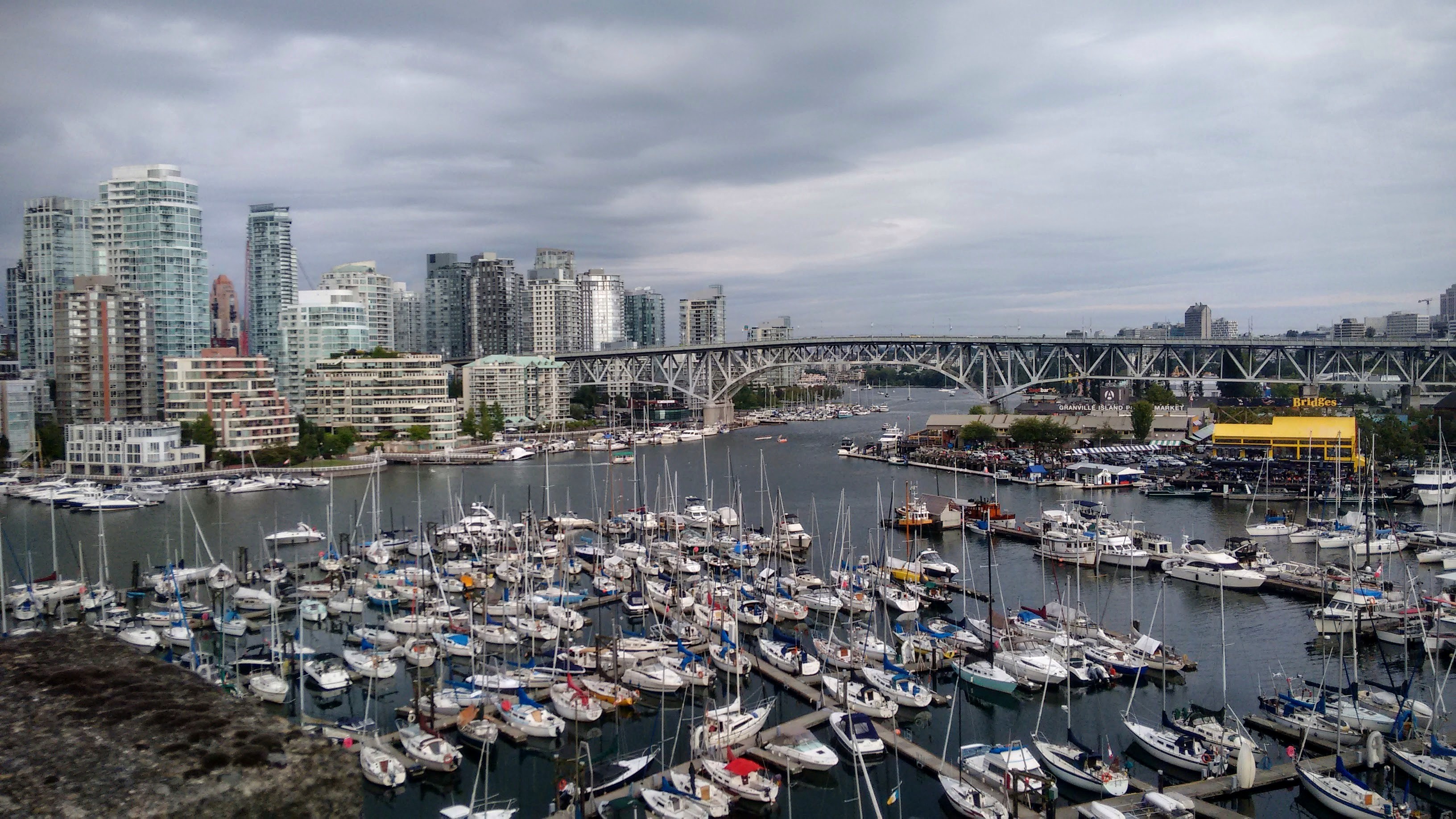 Turning east on the north side of False Creek, we pass plenty of people using the pedestrian lane for jogging.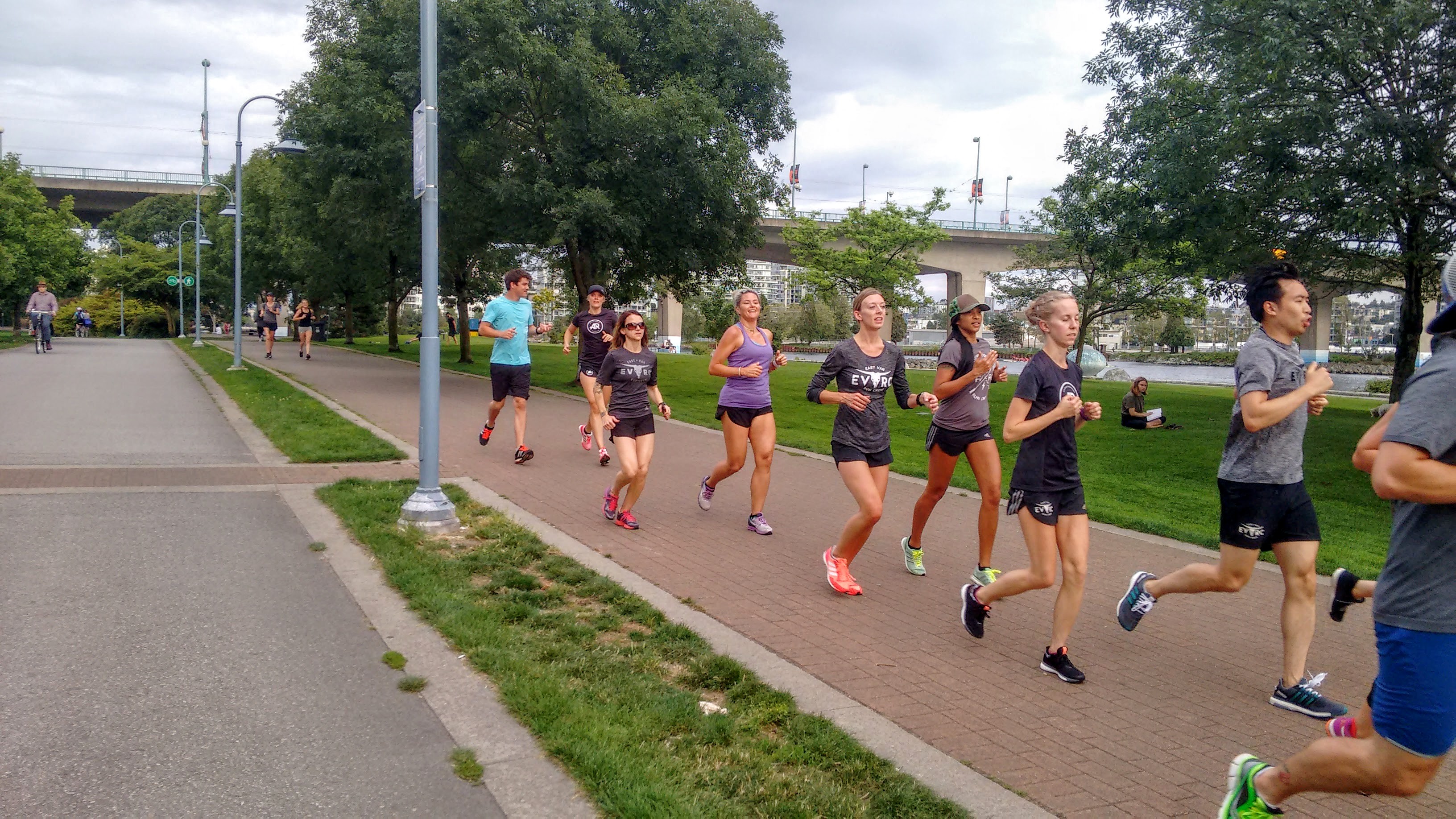 Natural separators such as trees and benches are used gracefully to separate the lanes.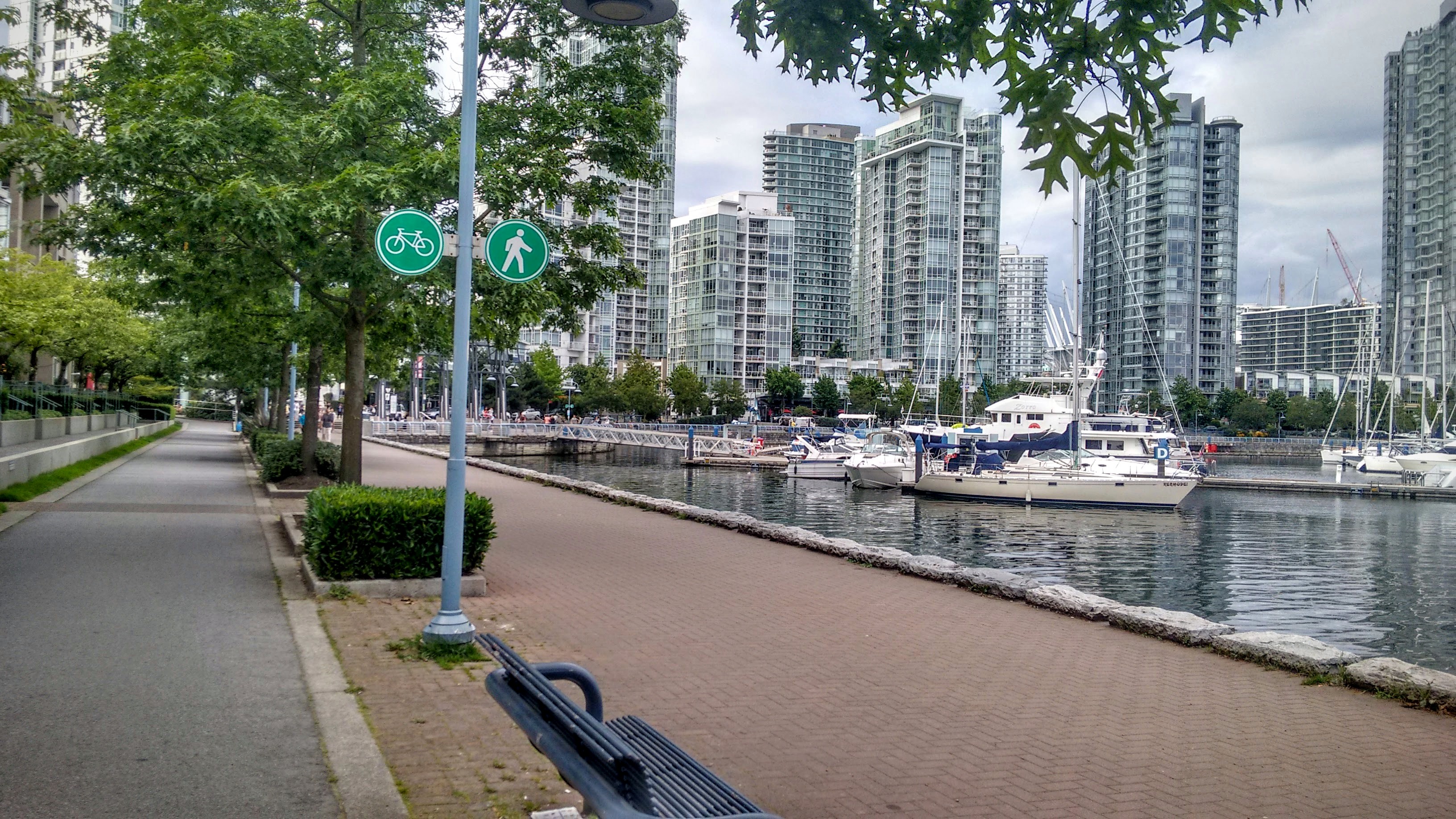 Coming back to the Science museum, we are now making a full circle around the bay.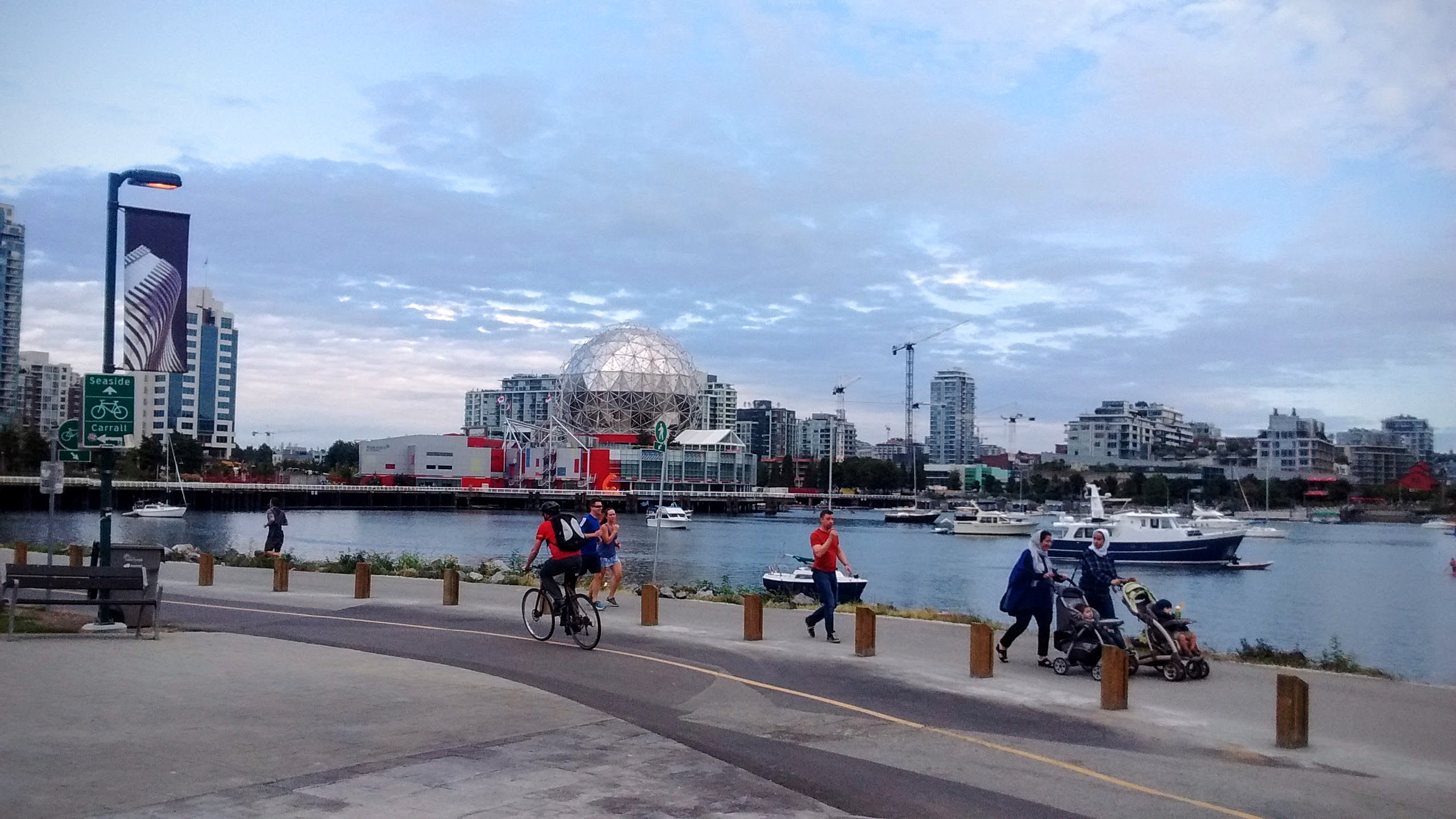 Errands in Downtown? You Got a Bike For That
Distance: 6.3km  Time: 40 min
Biking in Vancouver isn't just for an after-work fun. It's also a great way to commute to places around the city. Many who work in downtown, cycle to their offices and back home. I got my opportunity to cycle on an errand, when a package for me arrived to the Central Post Office in downtown.
Starting the ride on the East 5th avenue, one of the many roads in Vancouver designated for cycling. On roads such as this, cars can go only up to 30 km/h.
Turning north and continuing on Cambie bridge, whose shared pedestrian and biking lane is comfortably wide.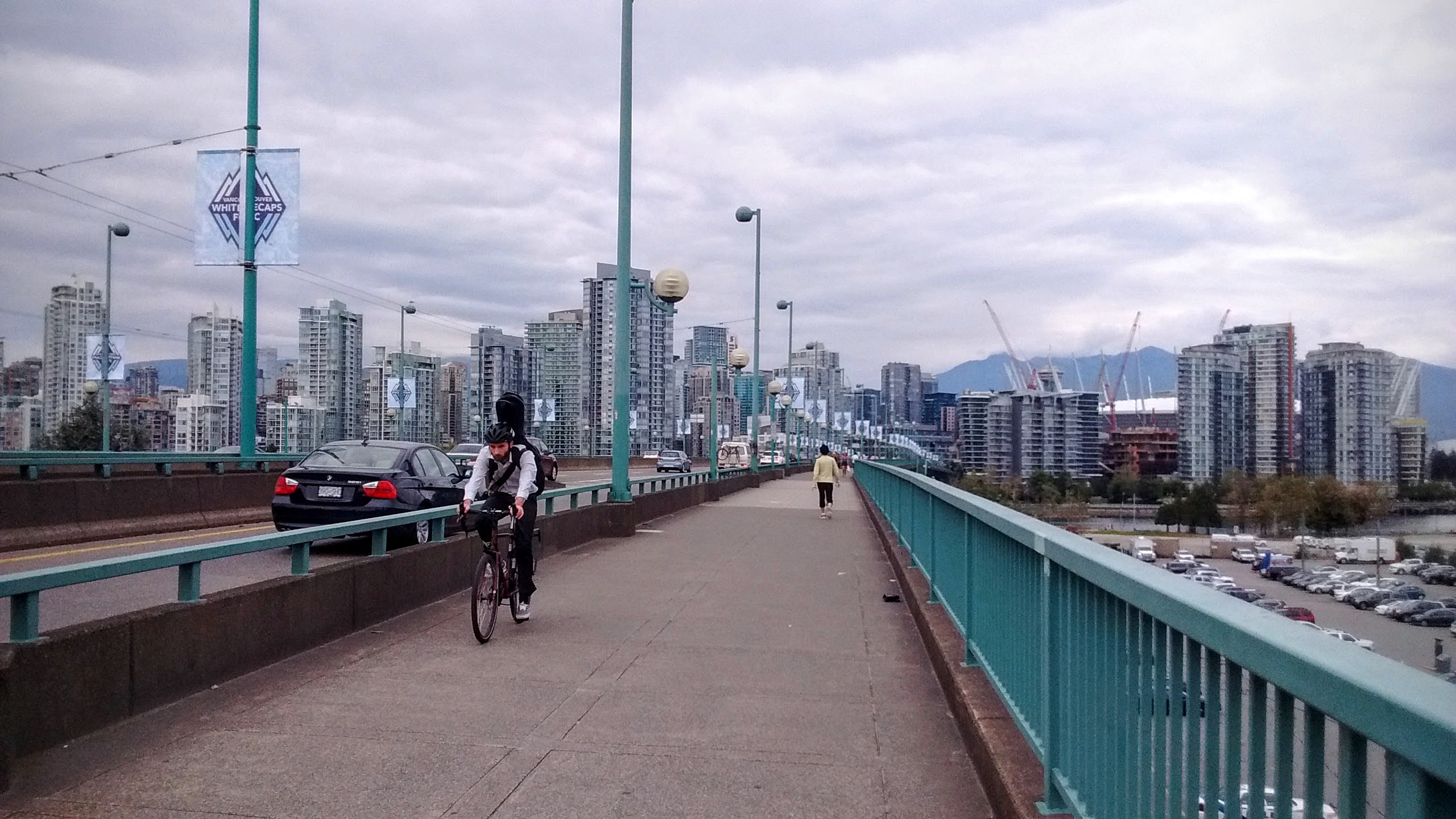 Green marking on intersections identify where cyclists are expected to cross the road. On the right, we pass a social campaign to battle misconceptions about homelessness.
15 minutes after leaving home, we are in the center of downtown, near the central Post Office. Taking a bus instead would take us at least 20 minutes.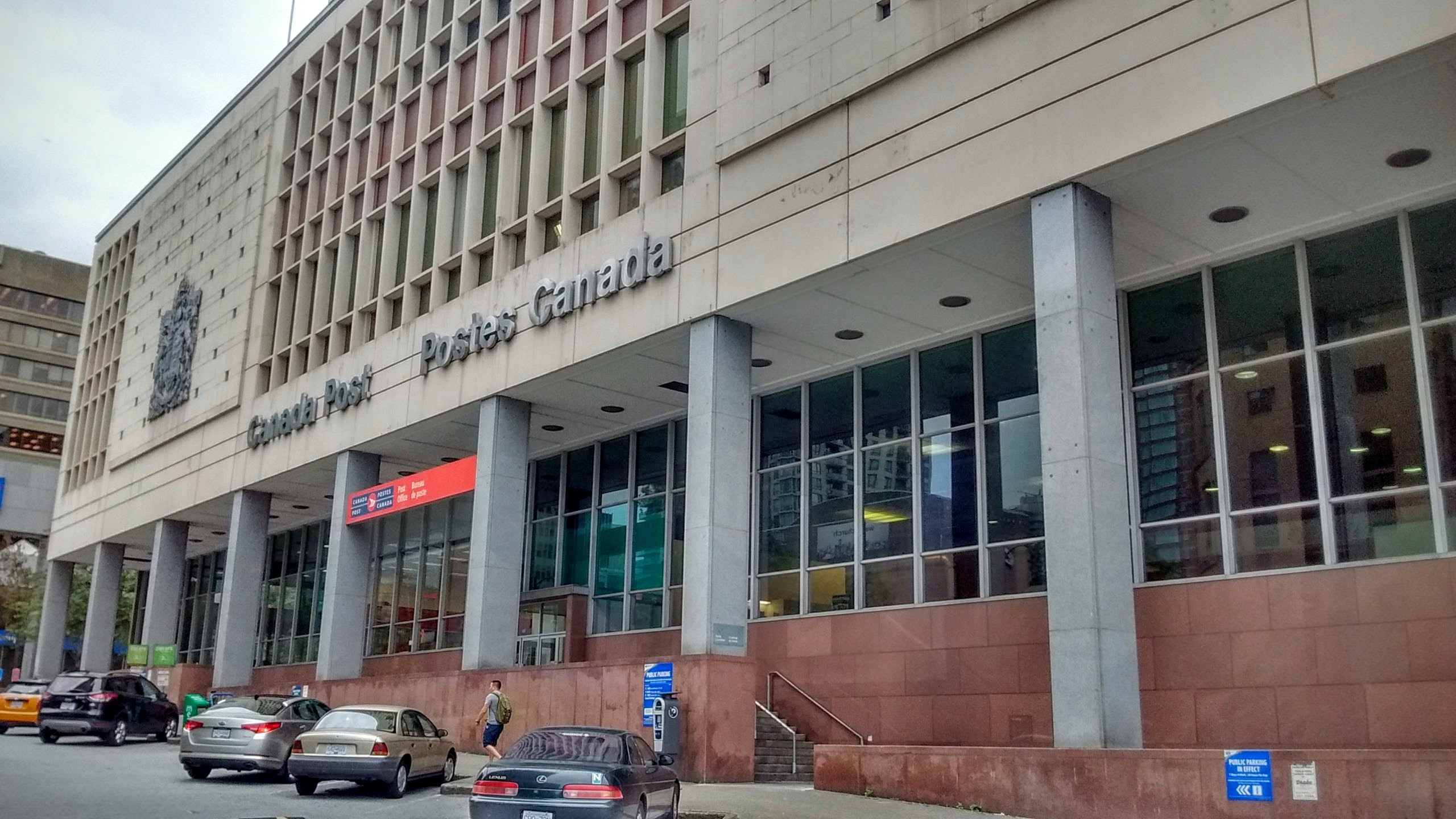 I promised Ayan a playground after finishing with the errand, so now we are biking through Chinatown, looking for a playground.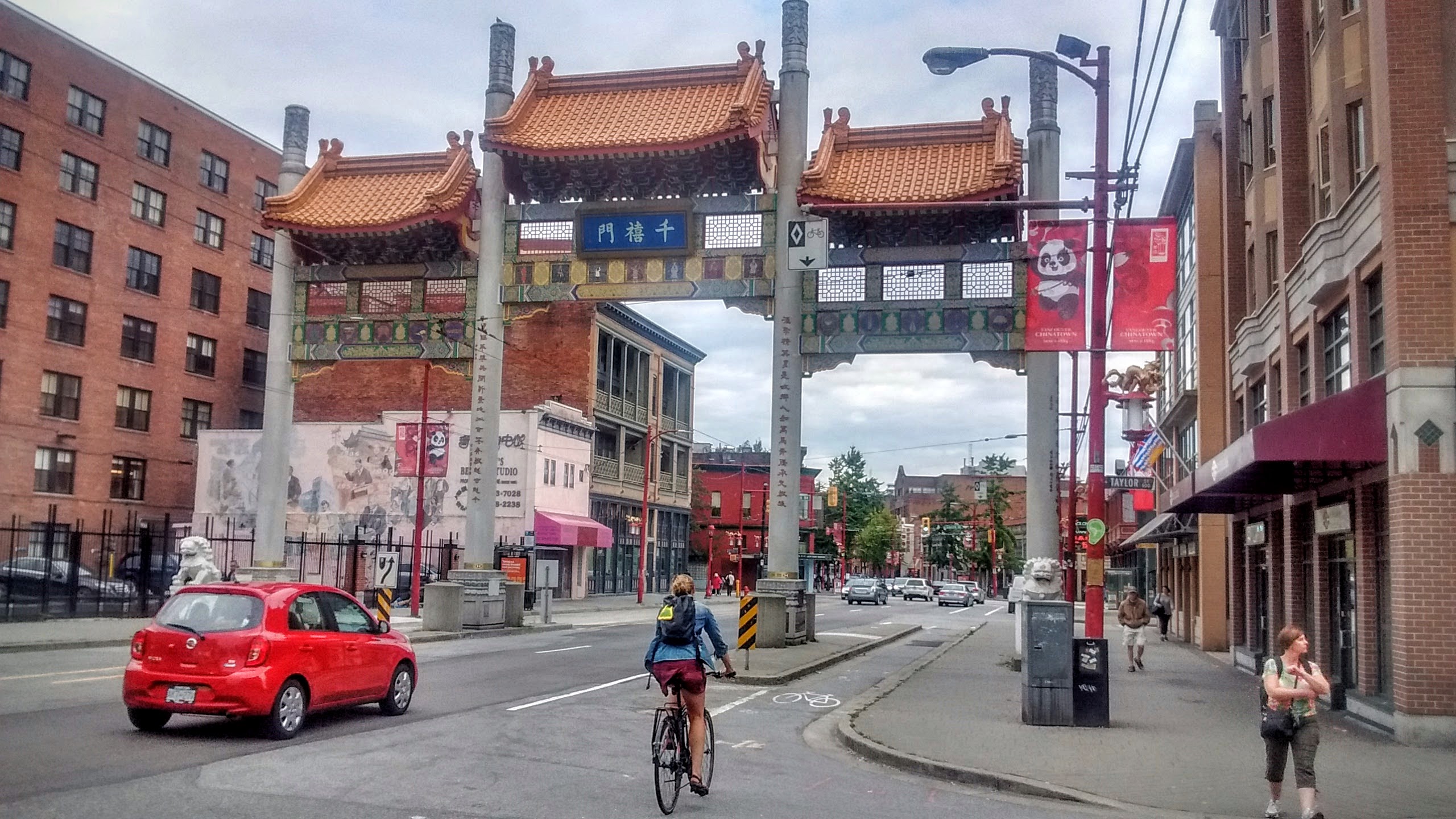 Andy Livingstone park, despite currently going through a renovation, satisfied Ayan's thirst for discovering "new playgrounds".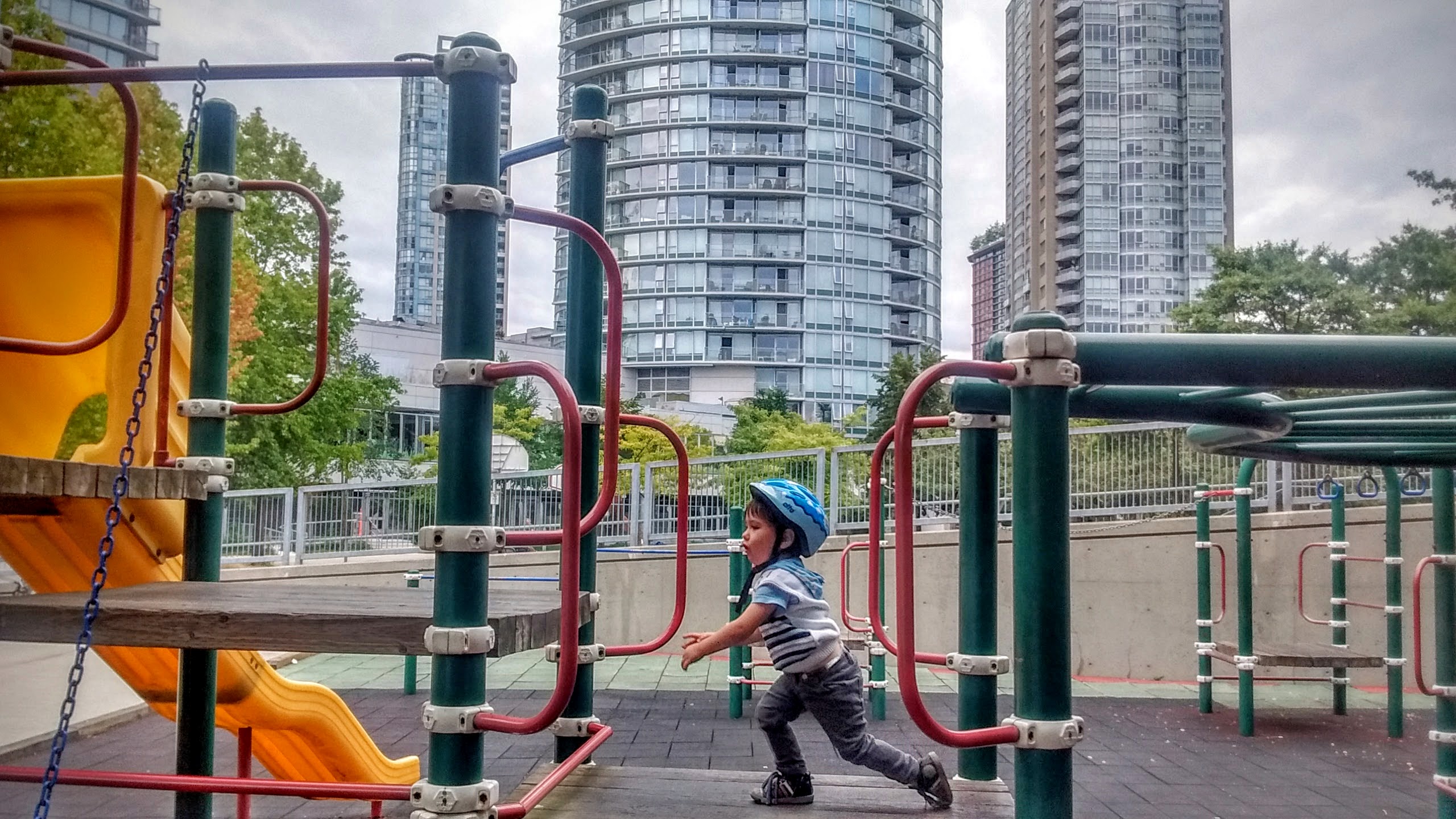 Visiting the Suburbs
Distance: 16.5km  Time: 2.5 hours
Central Valley Greenway is a biking path that cuts through East Vancouver, continues through its neighboring suburb towns of Burnaby and New Westminster and finishes on the bank of the Fraser river, totaling in 24 km in length. Since the route is literally a few steps from our street, one Saturday morning I decided it was time to ride east instead of west.
Starting from the Science World museum, the route runs along the Great Northern Way, until it settles into a separate lane.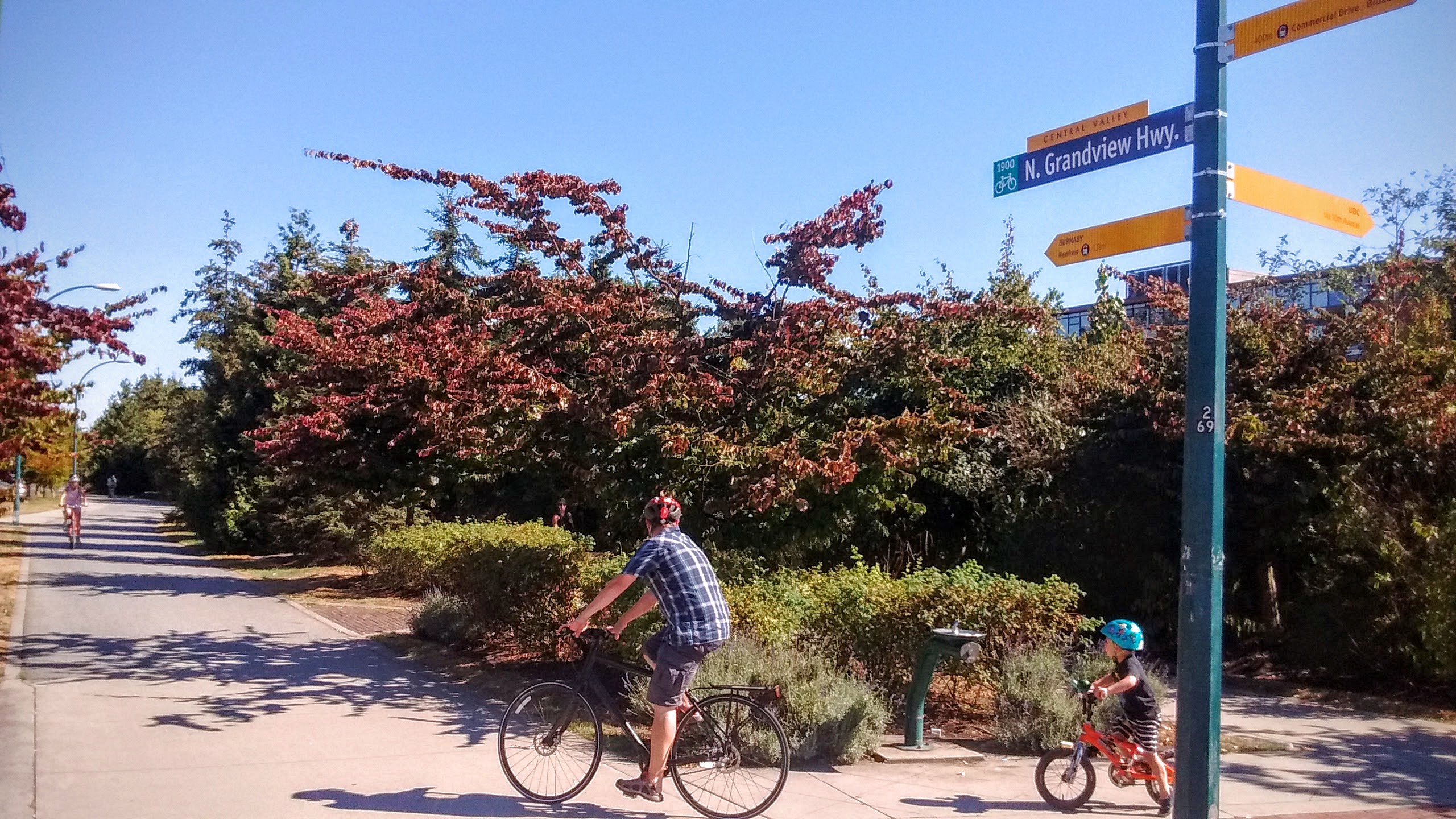 It then continues along side SkyTrain's Millenium line, which means that you can bike only one way, and return on SkyTrain (which allows carrying a bike). And that's pretty brilliant.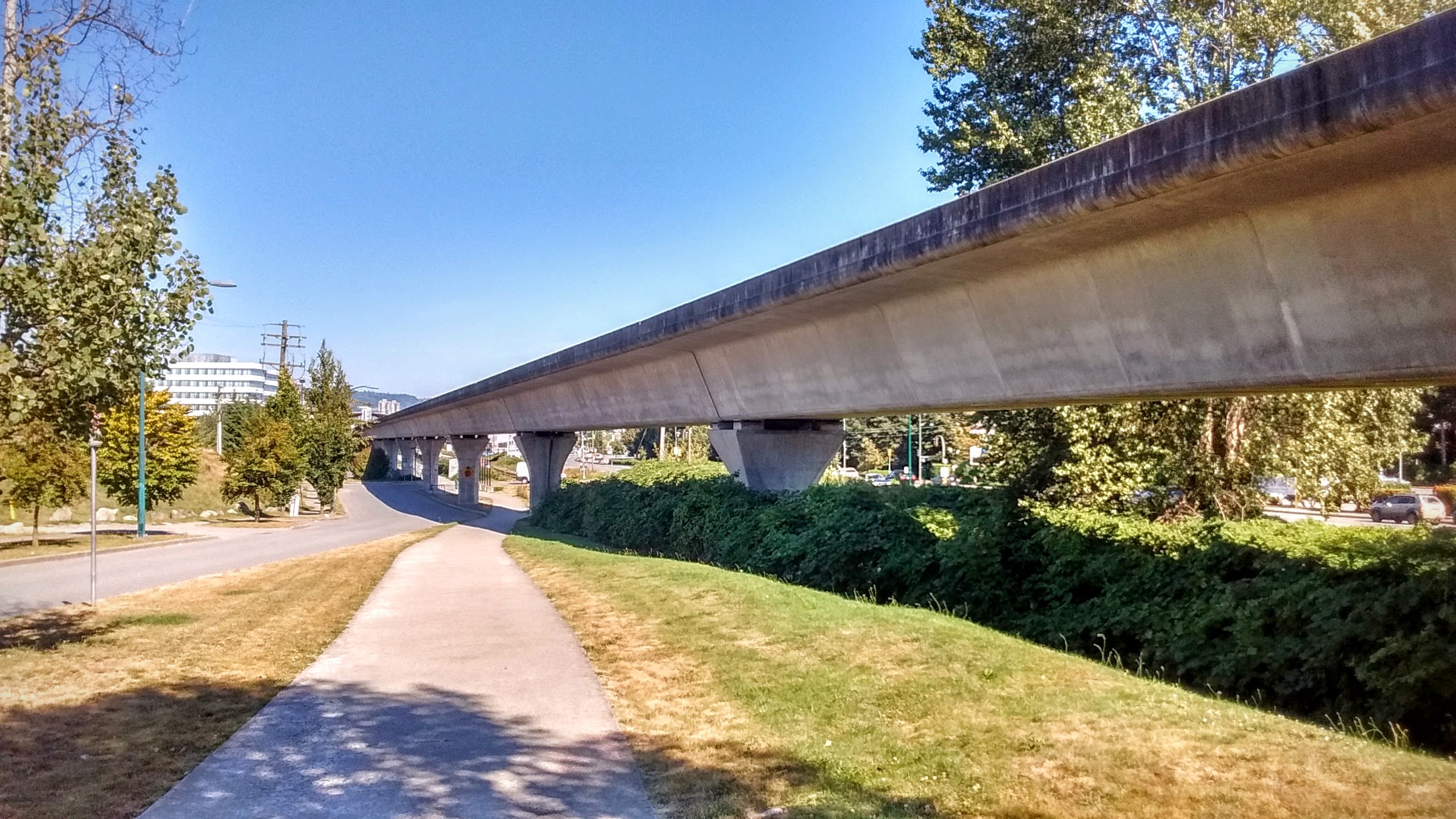 The concrete columns supporting SkyTrain's elevated track serve here as lanes separators.
The concrete columns suddenly rise up, as the SkyTrain lane passes over a bridge. Not that it has anything to do with our biking route, which continues comfortably along some boring industrial areas.
Pretty uneventfully we left Vancouver and now continue our ride in Burnaby, Vancouver's bedroom community suburb with a significant industrial and commercial activity of its own.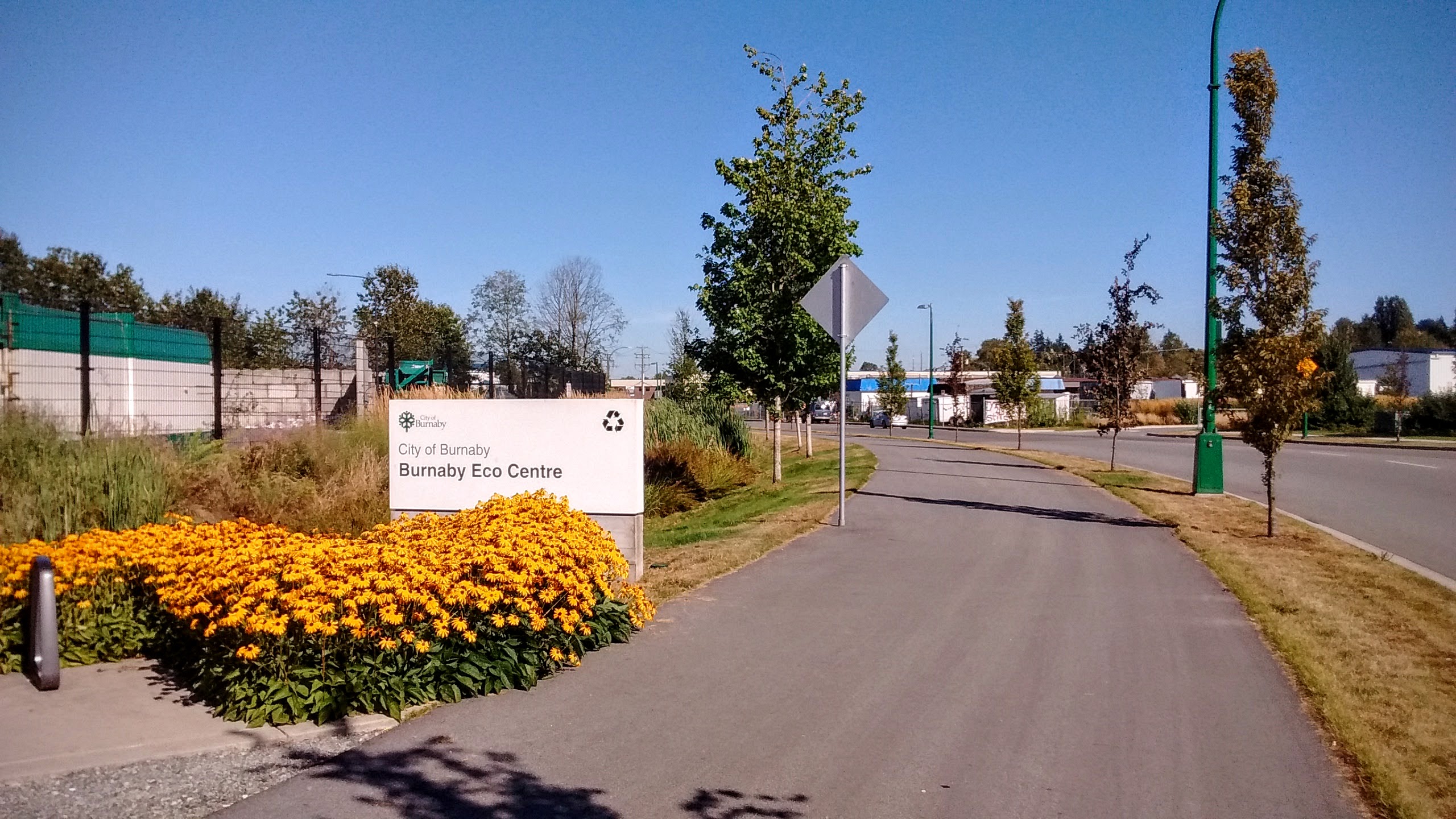 This little creek that eventually feeds into Burnaby Lake is the first sign that nature still has a considerable foothold in Burnaby.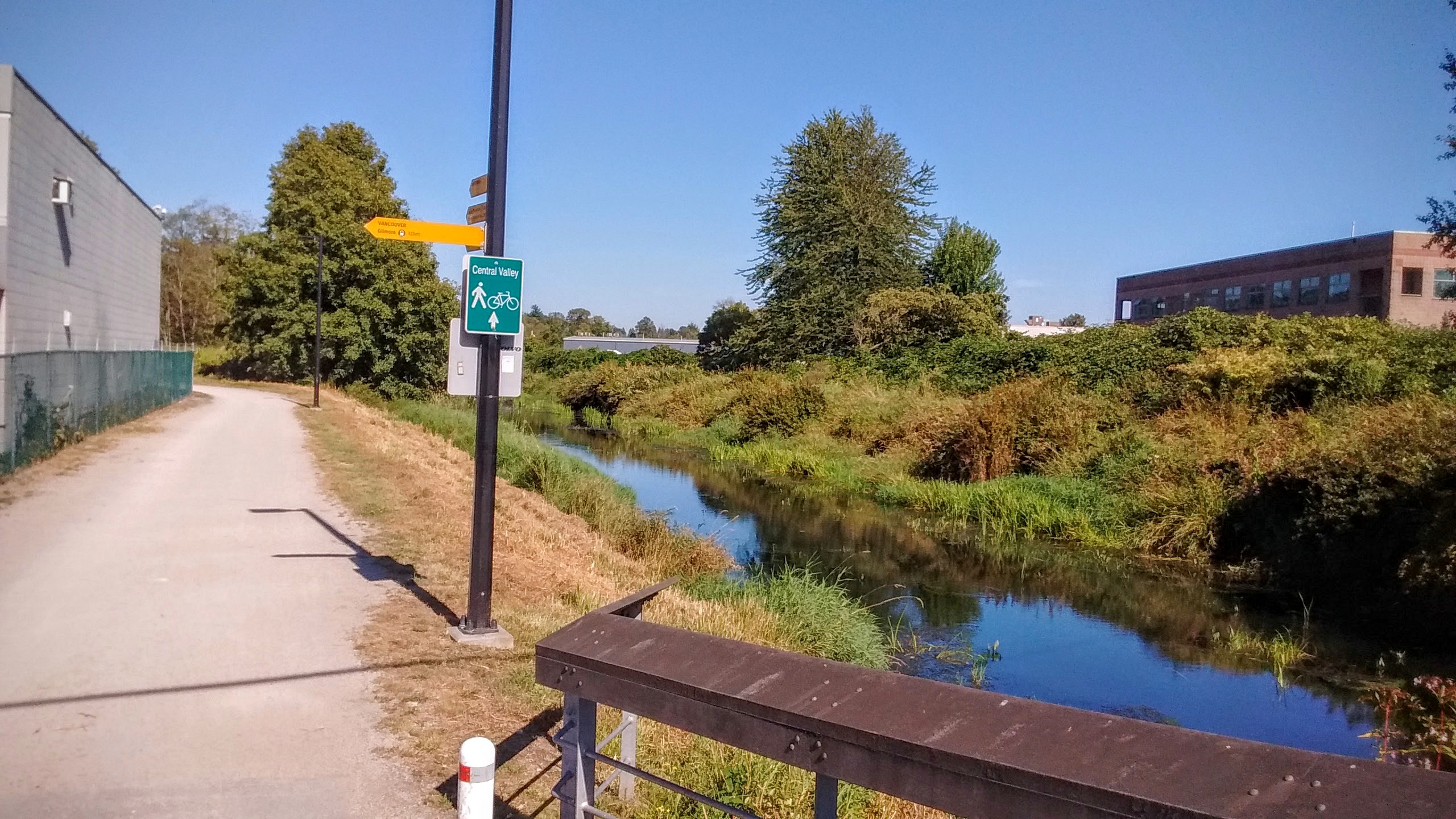 An overpass constructed specifically for the greenway, allows cyclists to continue to the eastern part of Burnaby Lake park.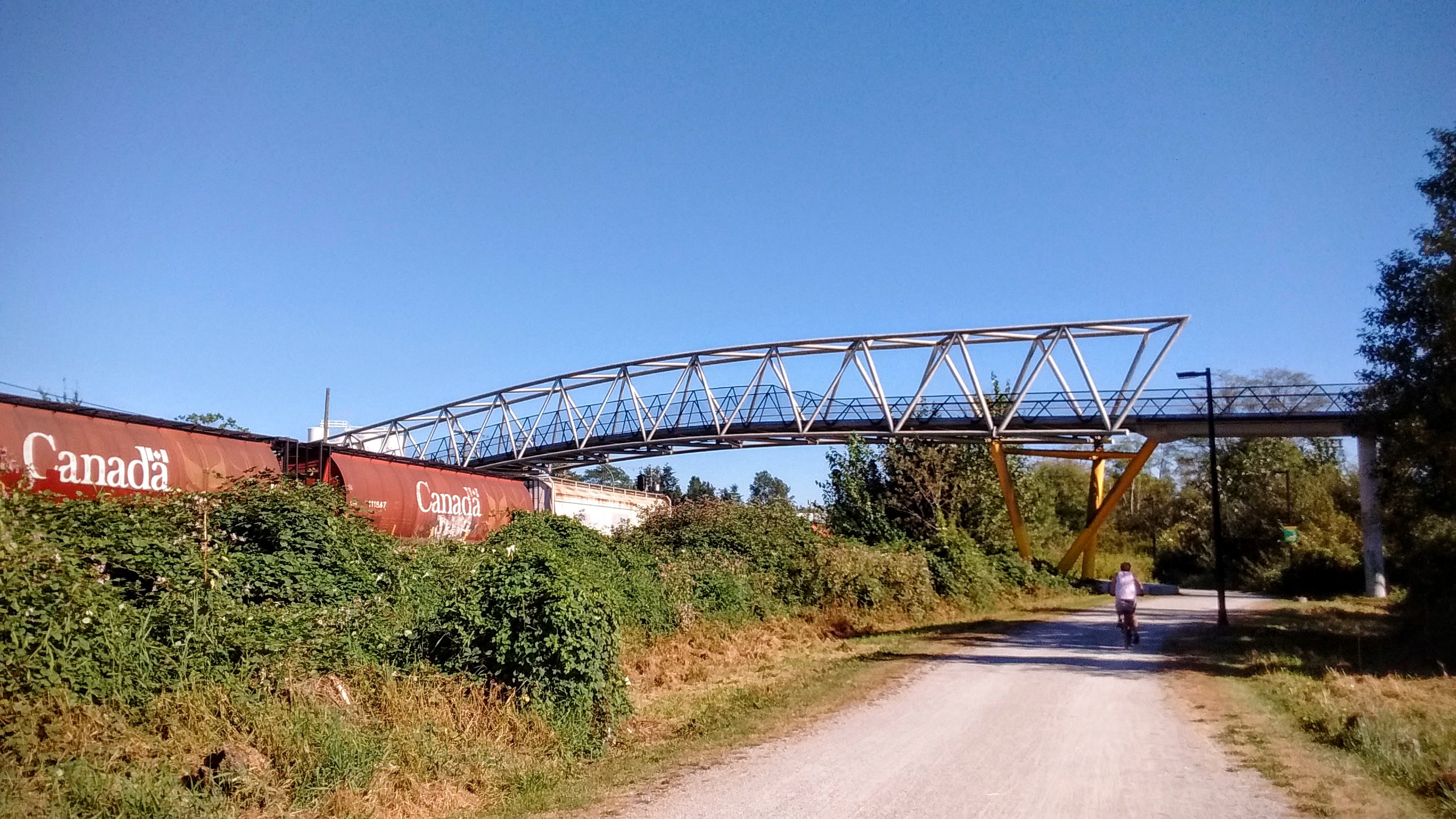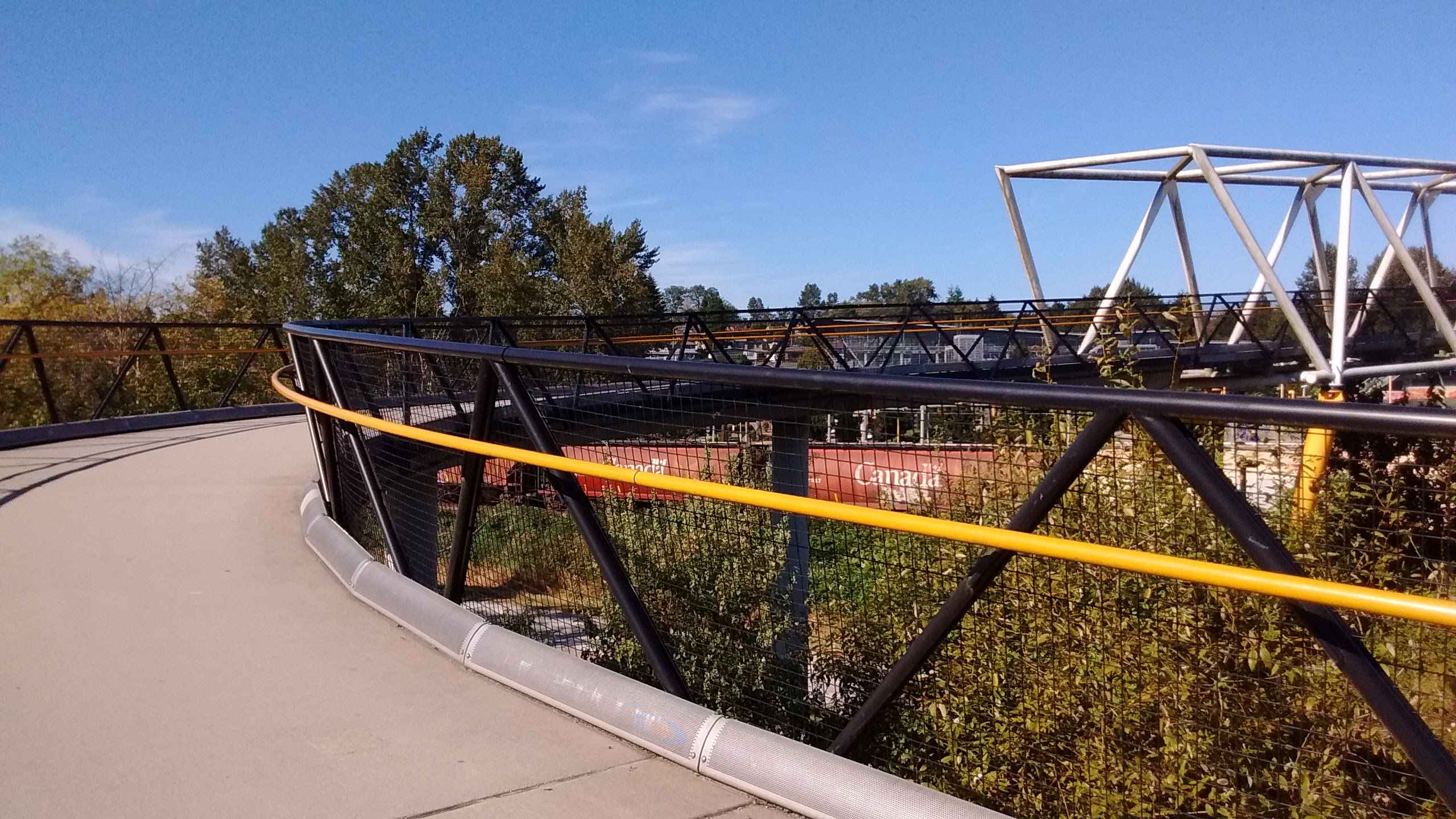 A highway crossing is marked clearly.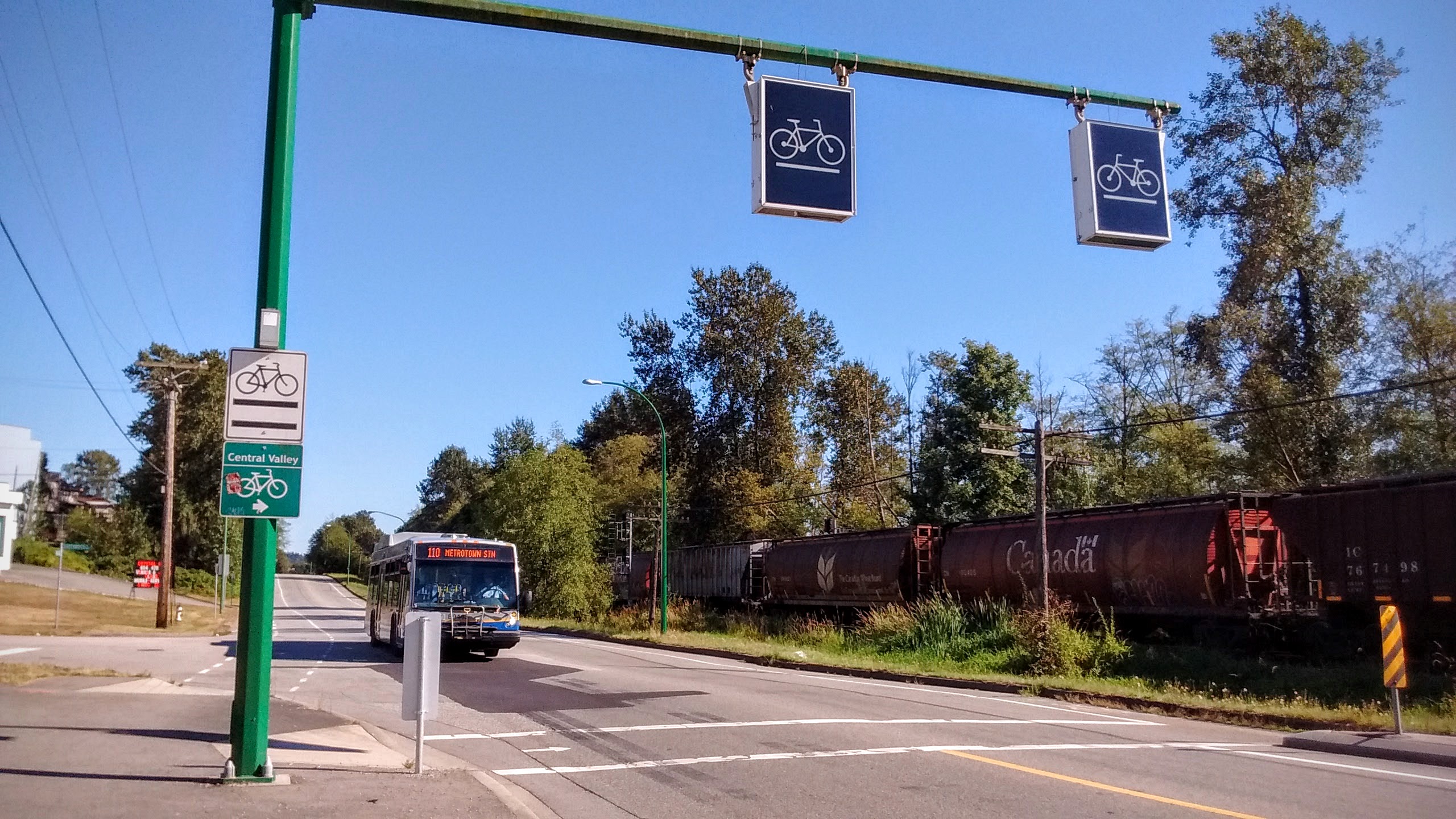 After a 15 km ride, we stop in Burnaby Lake Park to rest and feed some ducks.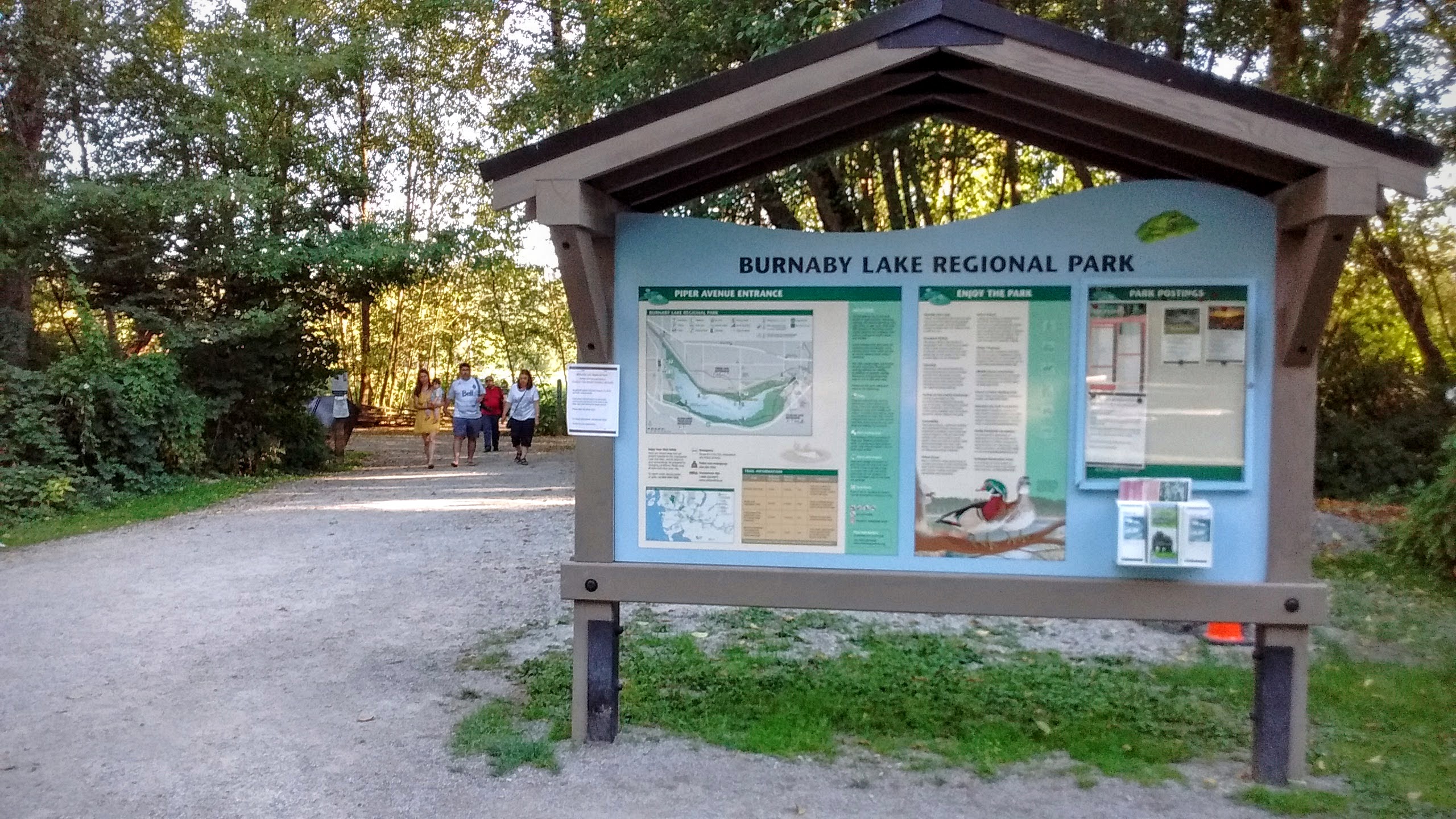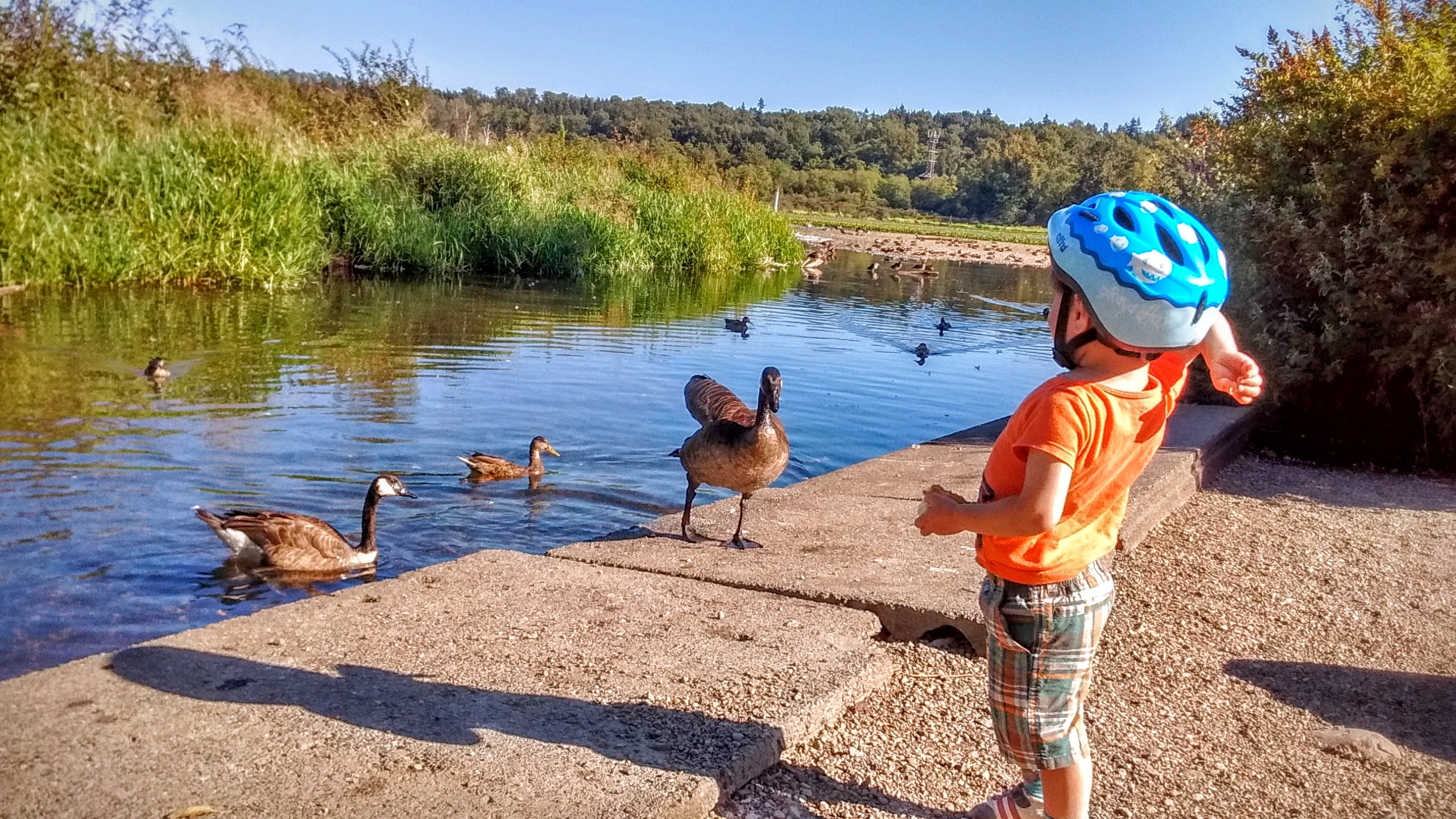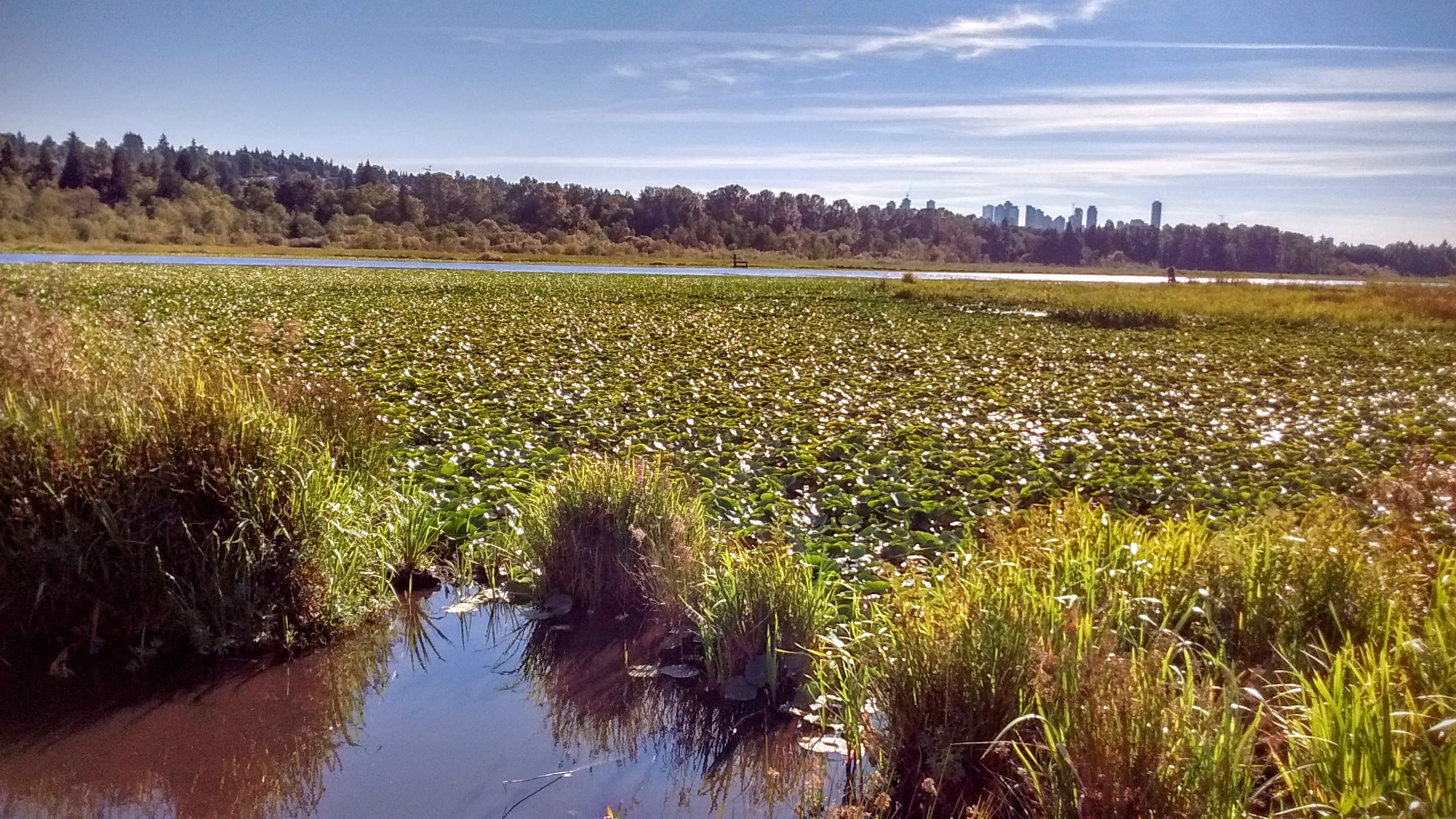 The evening was setting in, and so instead of continuing to New Westminster, I decided to cut it short. Fortunately, the closest SkyTrain station is 5 just minutes ride from the lake.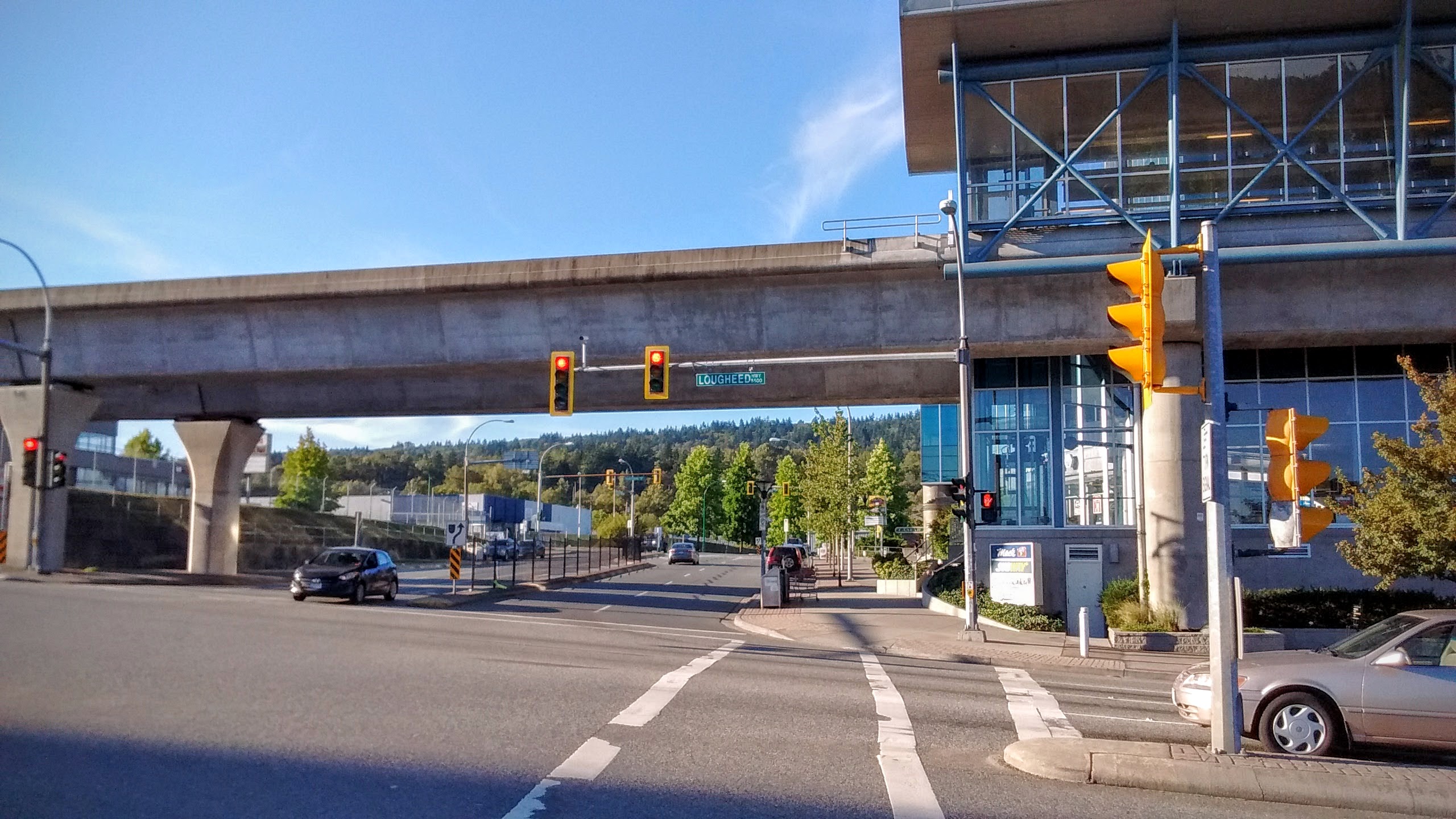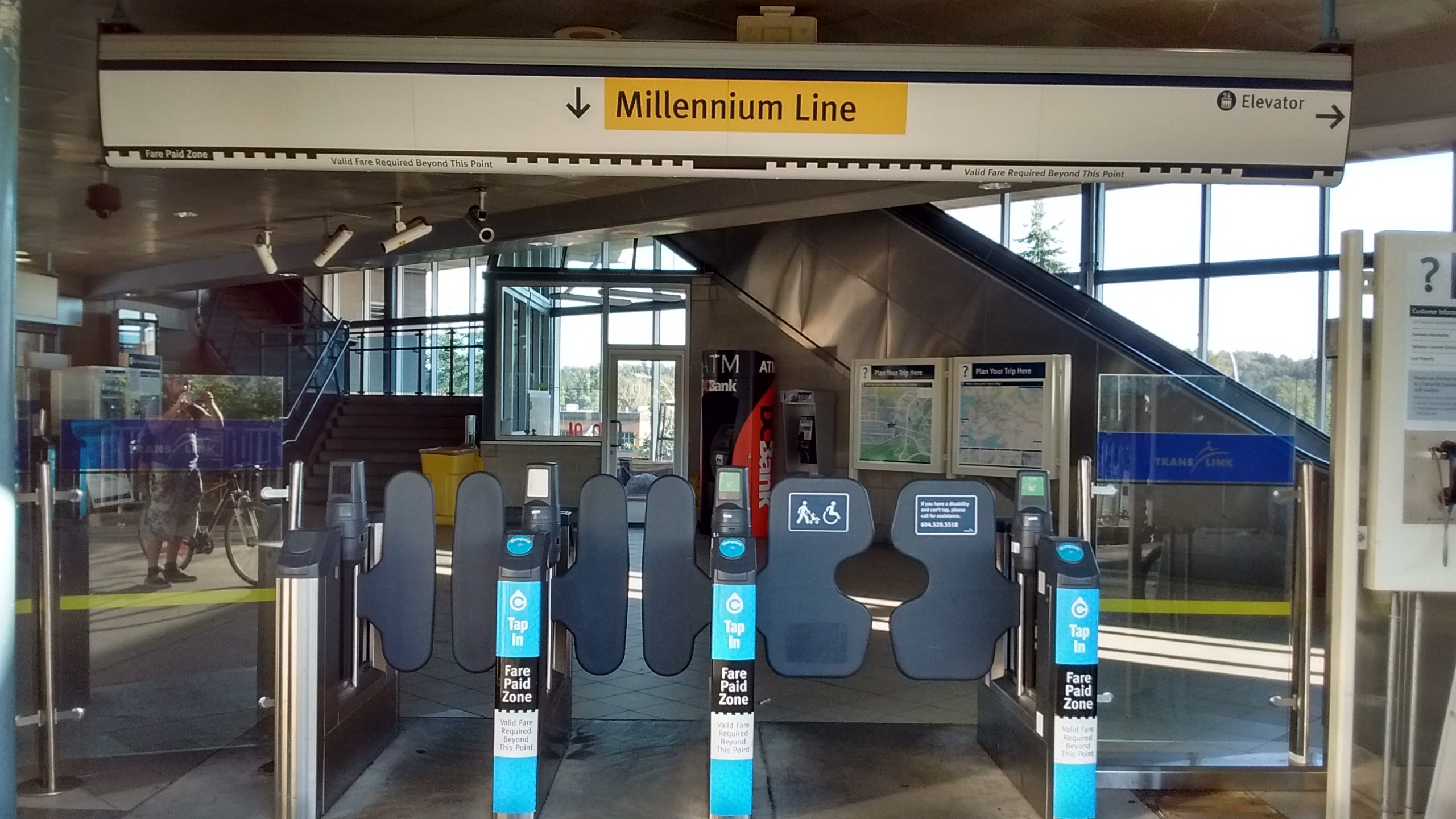 Downtown Circle
Distance: 14km  Time: 2 hours
Vancouver's downtown is very compact and is encircled by the Seaside biking trail, so it's a perfect route for a half-day fun. And besides, nothing says you've been in Vancouver like biking around its downtown.
Starting near the Science Museum we pass a couple on a motorized scooter. These aren't allowed on the cycling trails, but these guys don't seem to mind.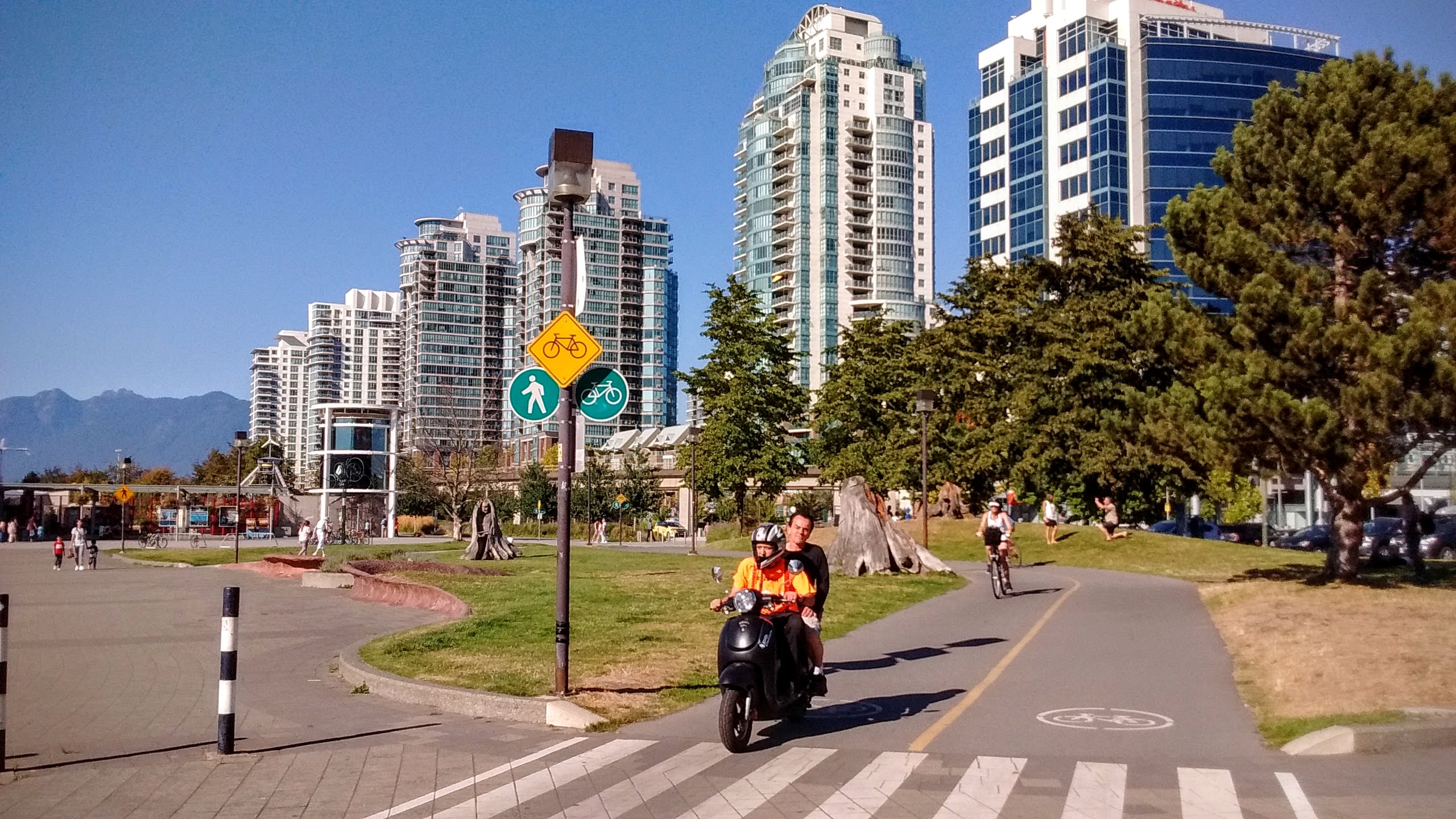 Passing an ice-cream vendor looking for customers.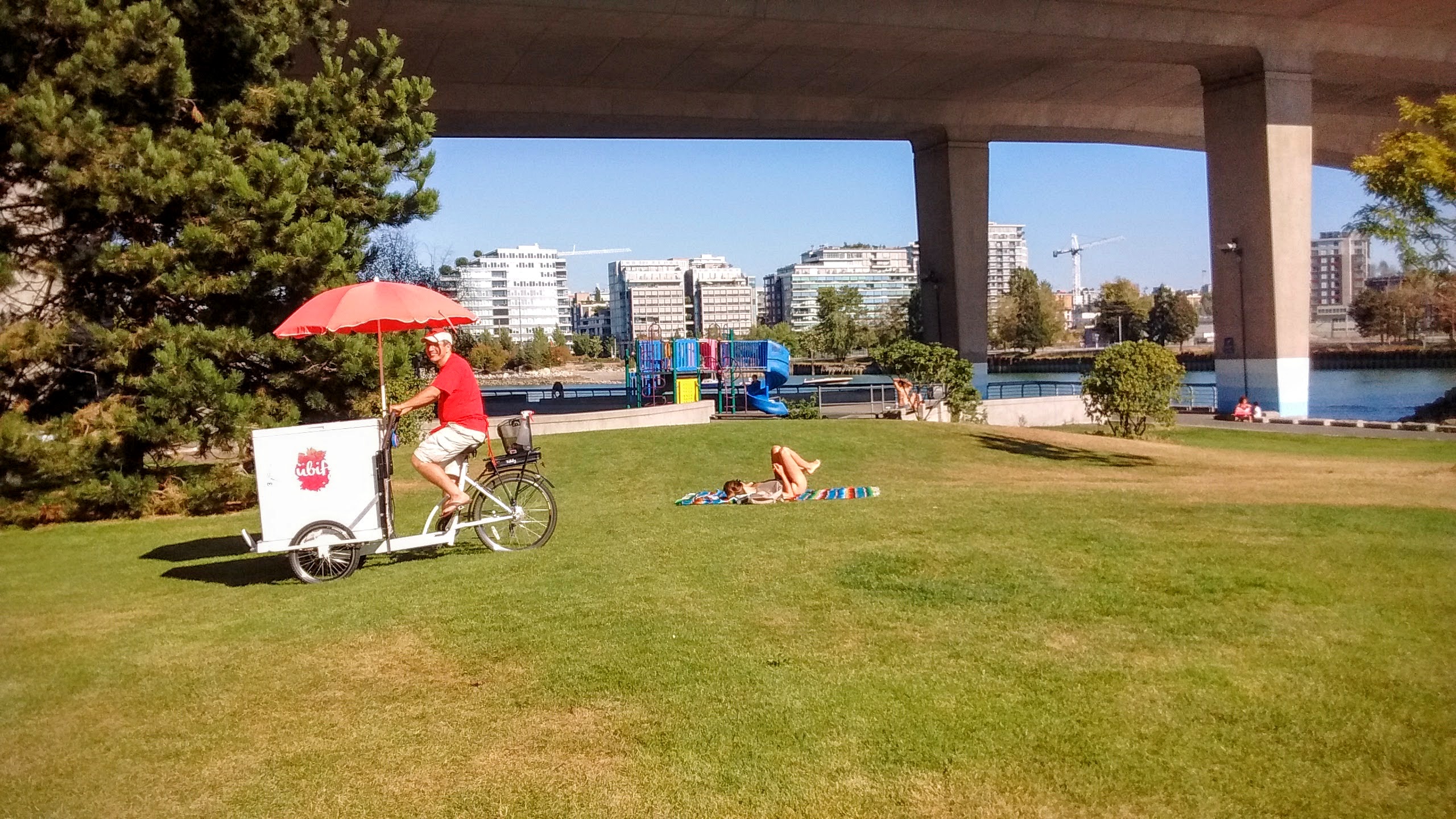 Leaving behind the Burrard bridge and Sunset beach.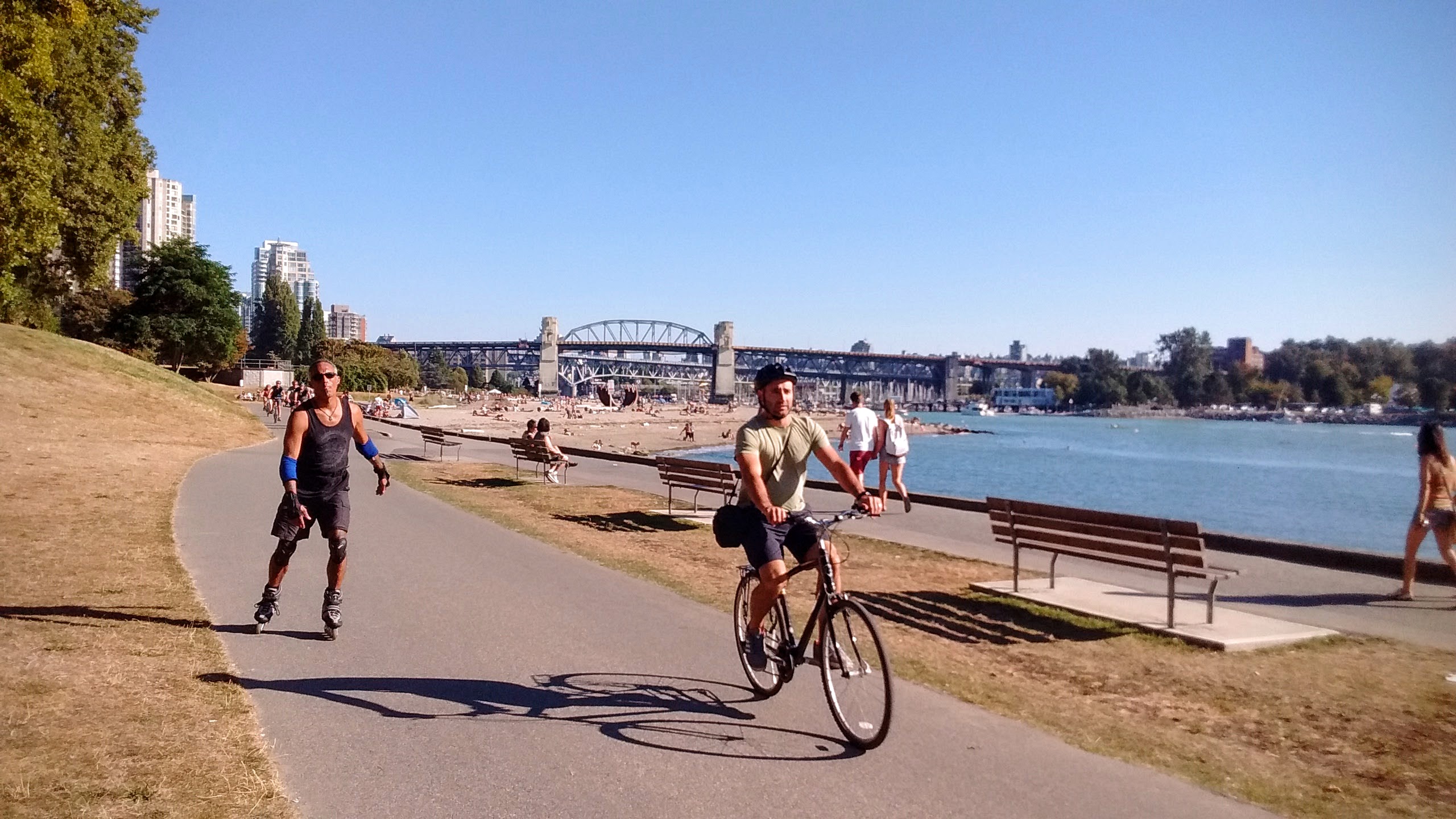 Passing by the famous Inukshuk sculpture on the coast of English bay.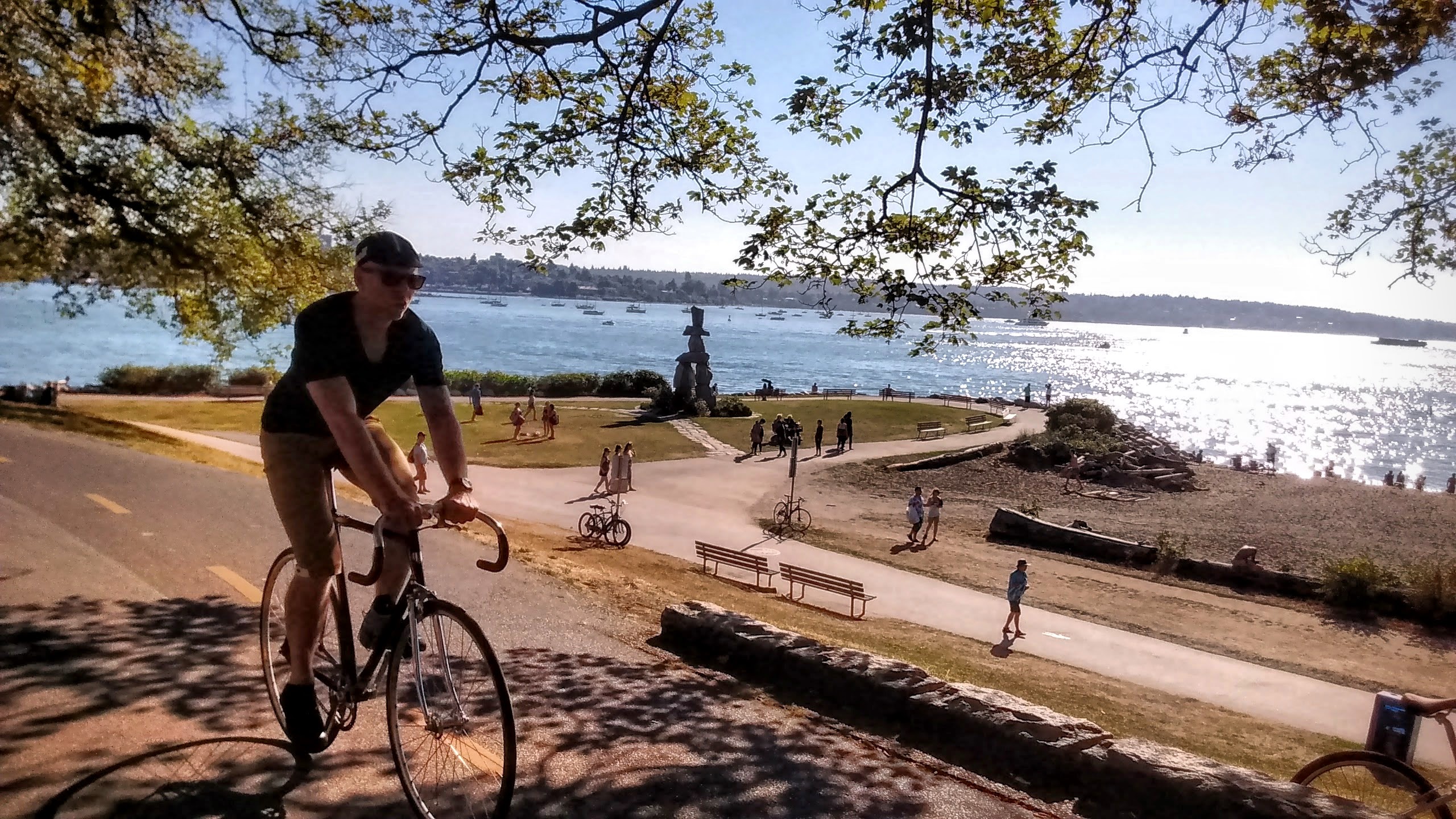 The line of trees on the Beach avenue marks a humble beginning of the magnificent Stanley park.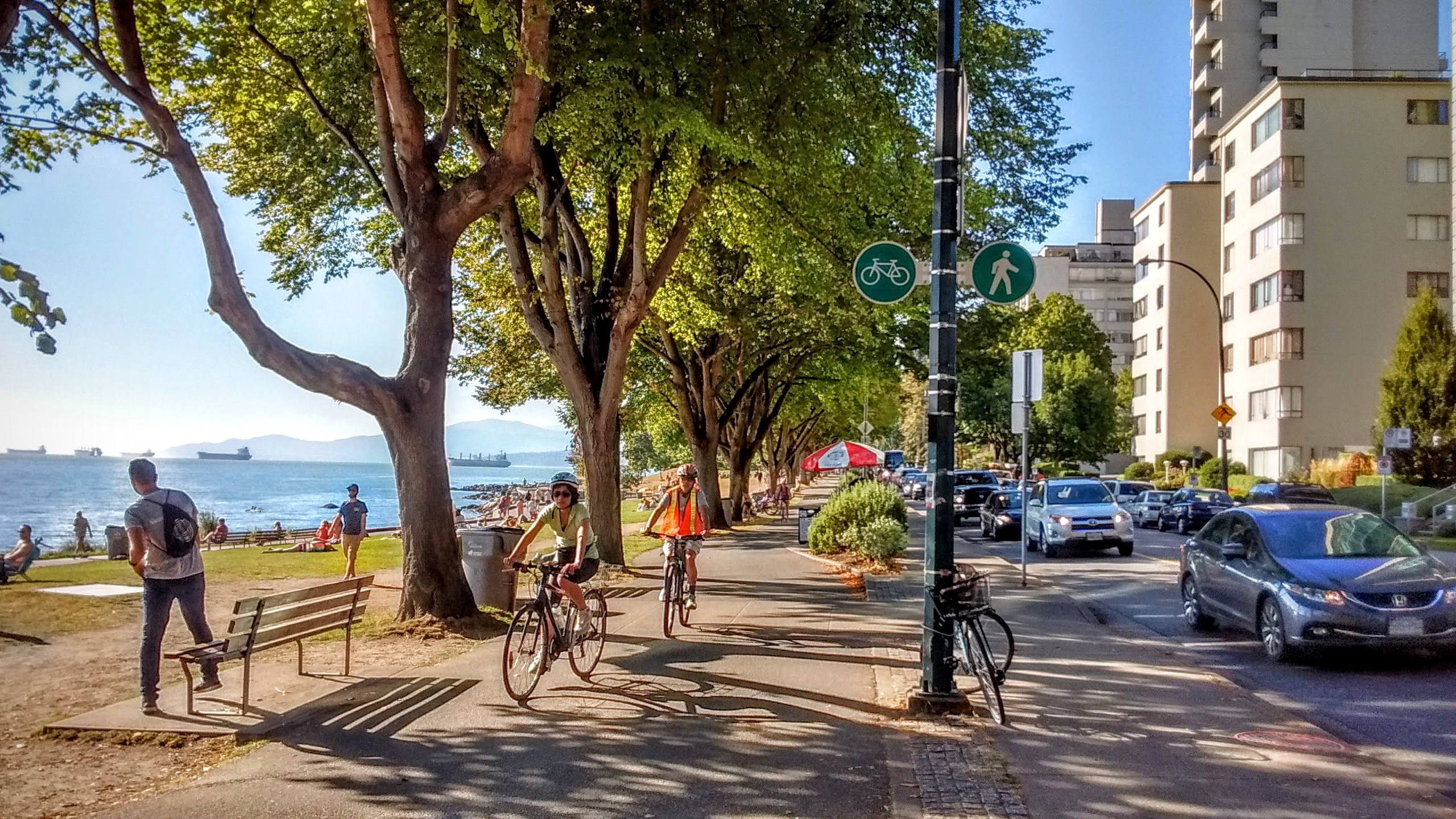 A member of our cycling team asked we stop in the Ceperley playground.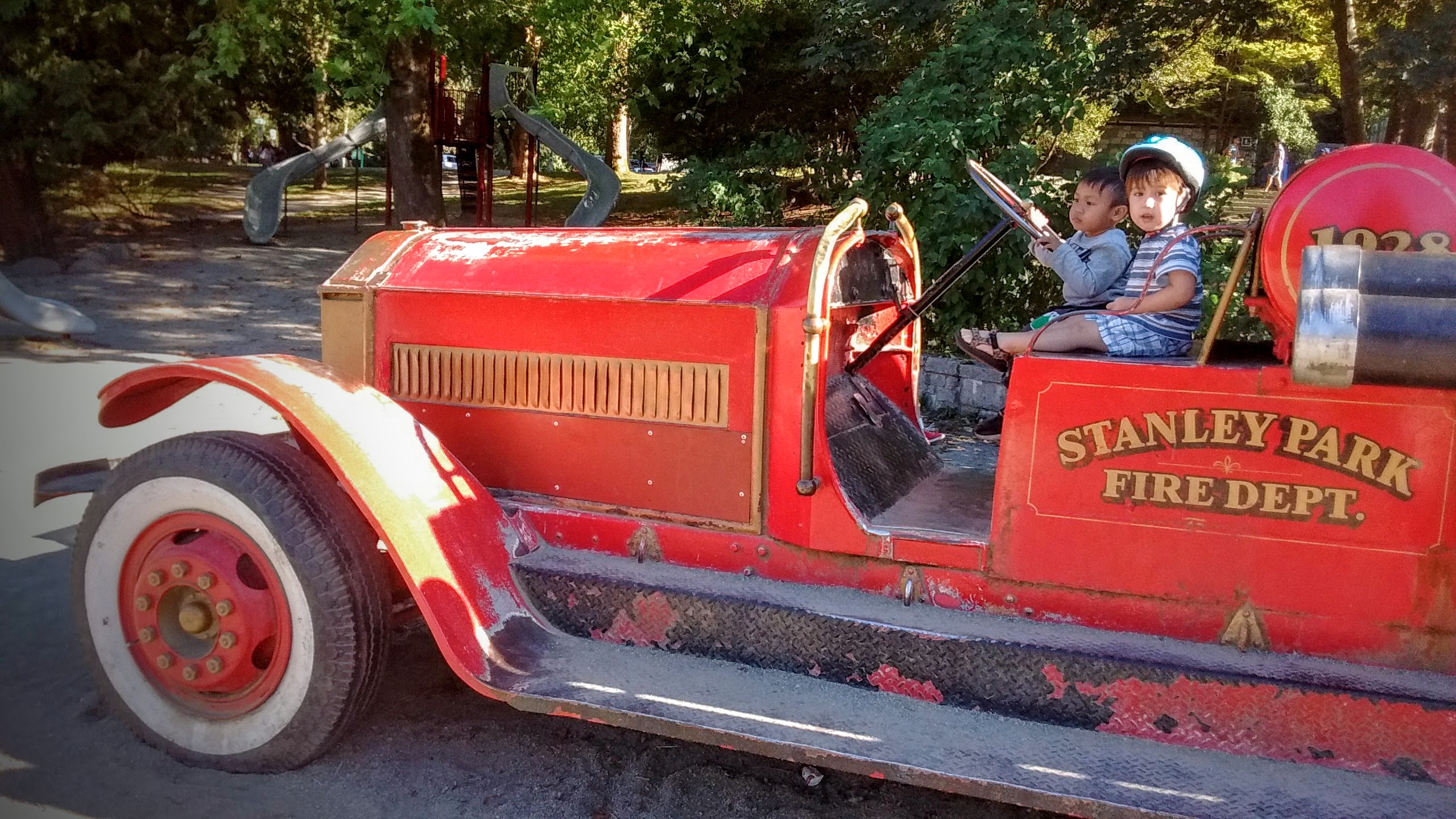 That Friday the Second beach was hosting an Indian festival.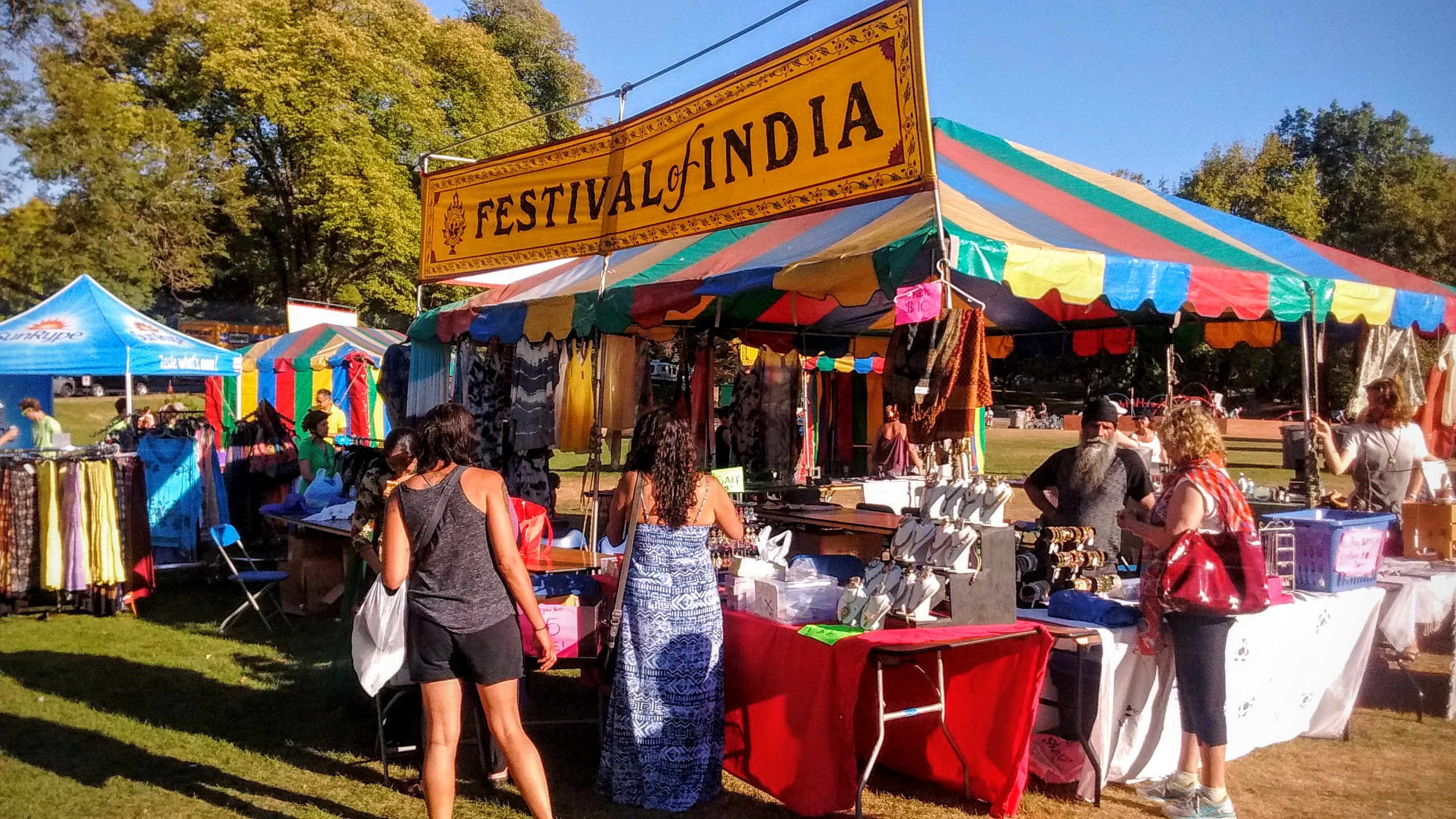 A stand of juice samples is just what a cyclist needs.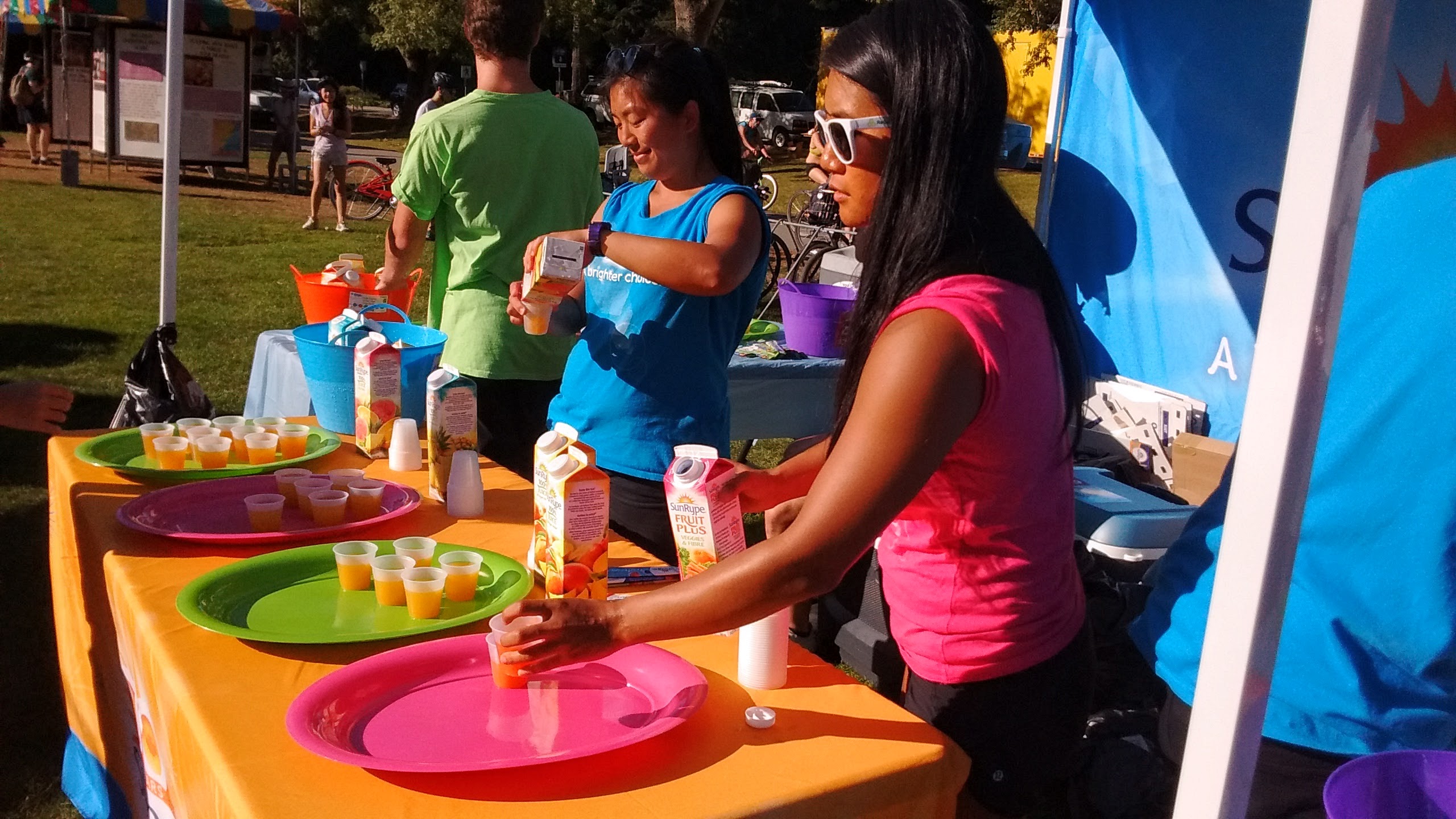 The seawall trail continues north around Stanley park, but we instead cut through the park to the Lost Lagoon Lake, a home to a variety of ducks and geese.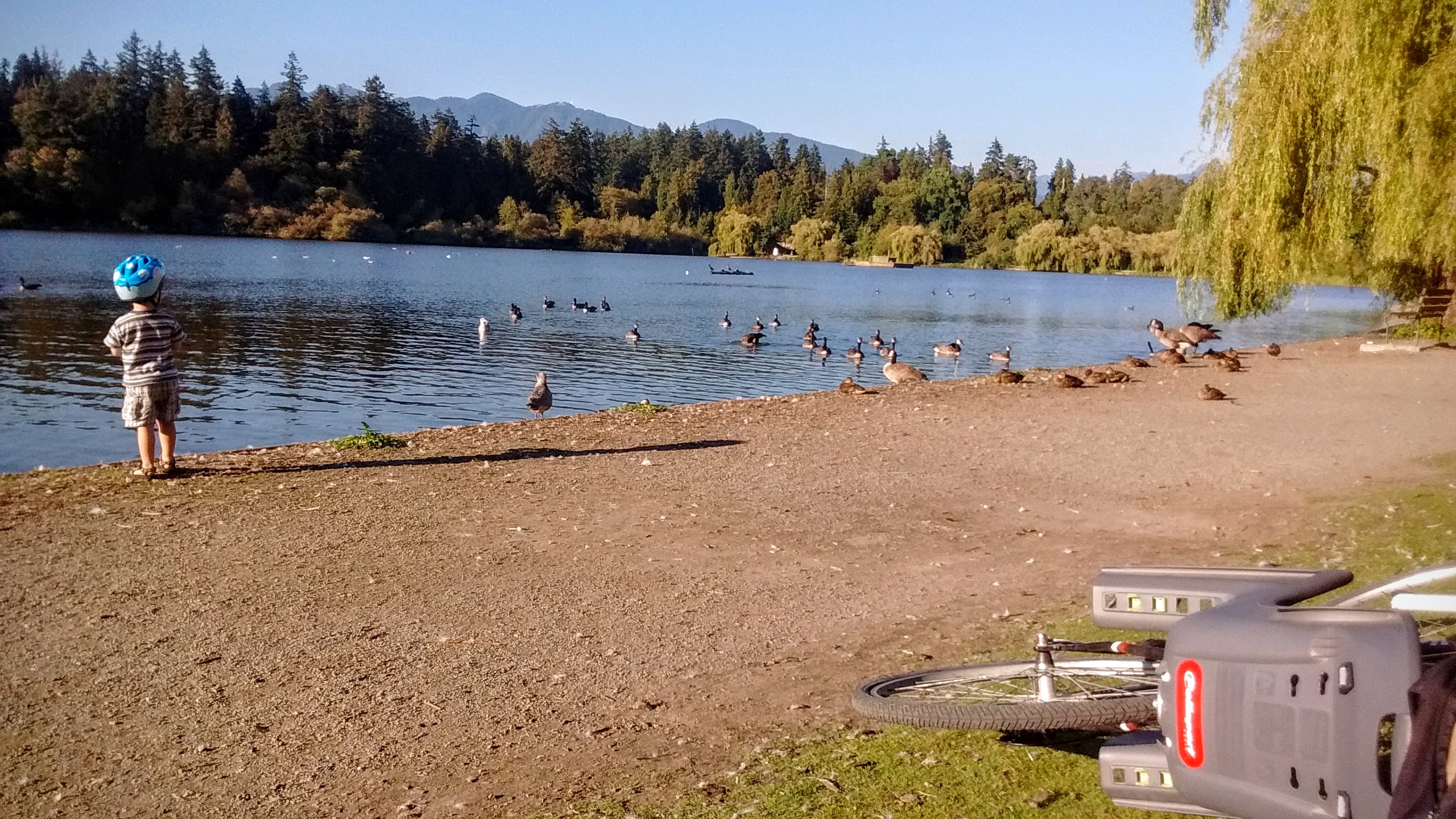 Emerging from Stanley Park, we are now on the north side of downtown, with the waters of Burrard Inlet on our left.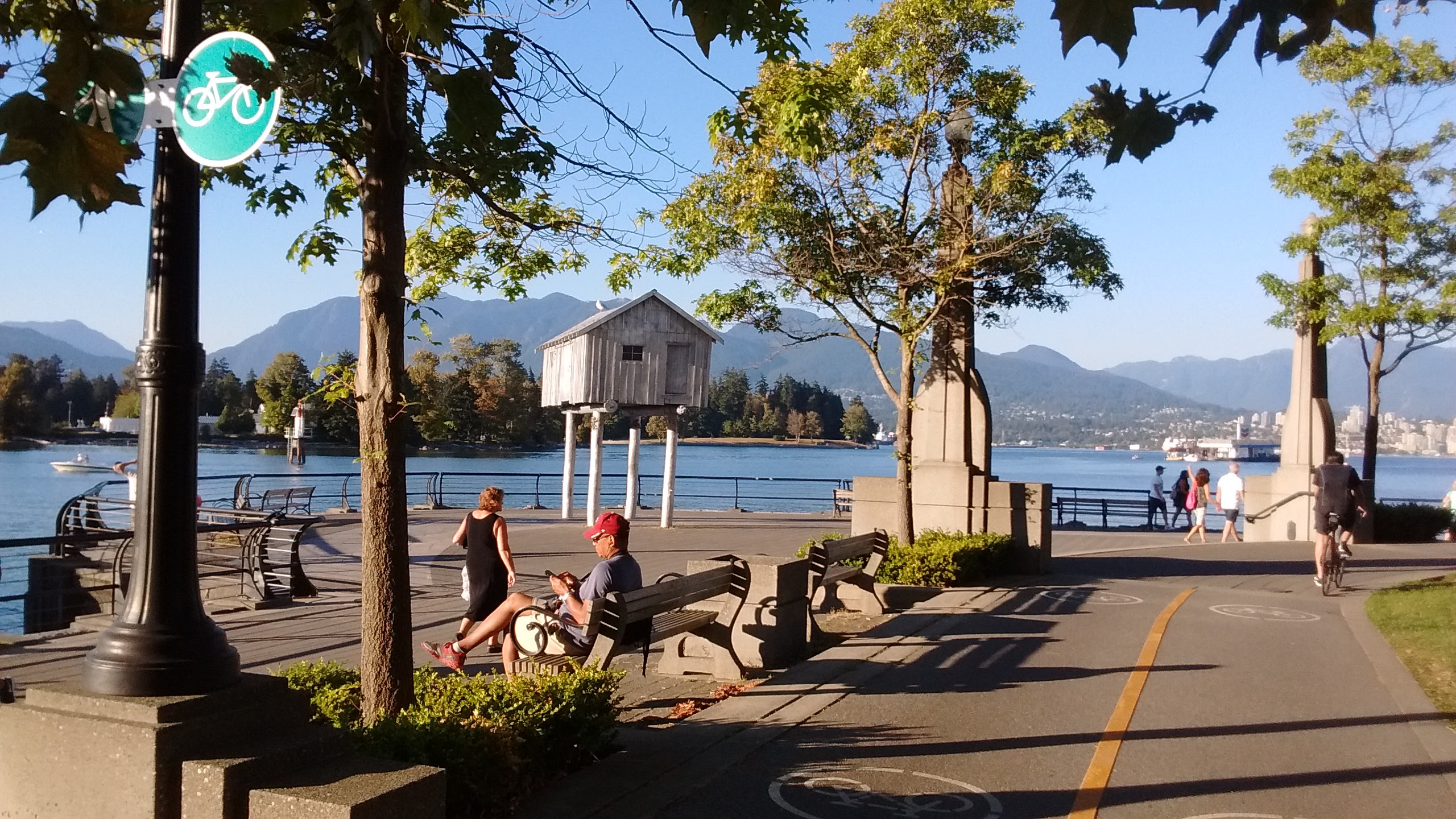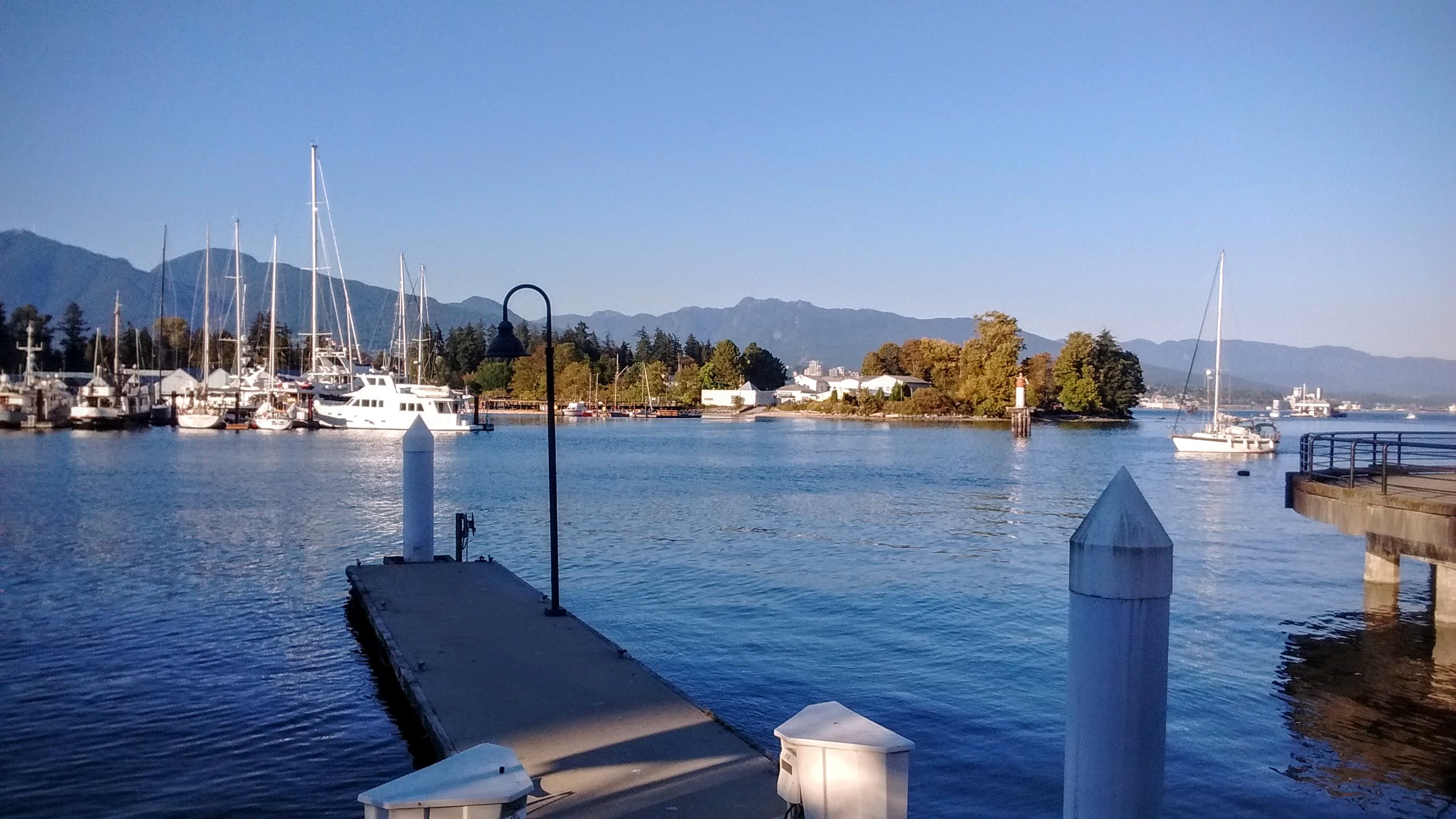 The Seaside route continues along the waterline, with residential high-rises as its backdrop.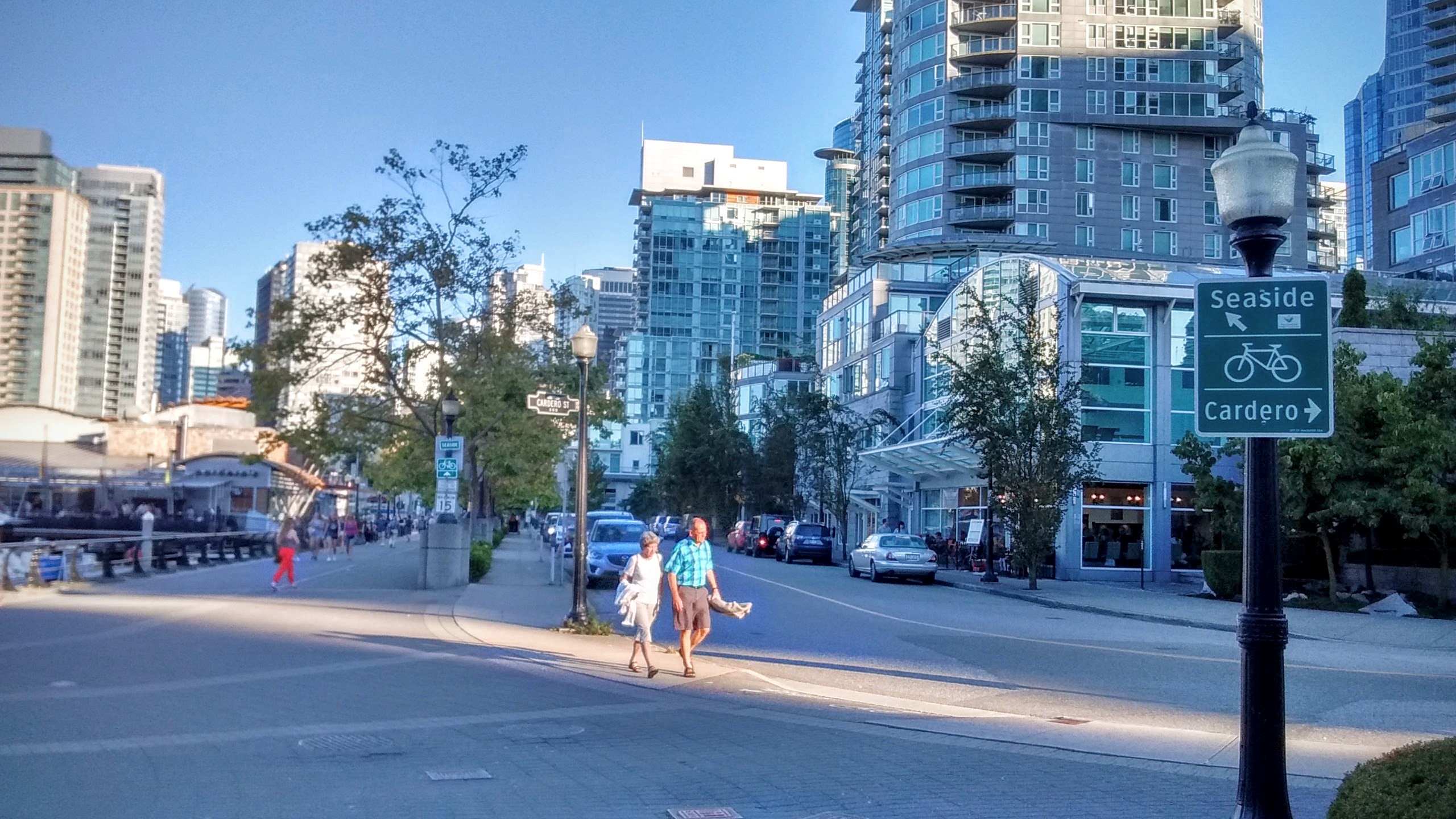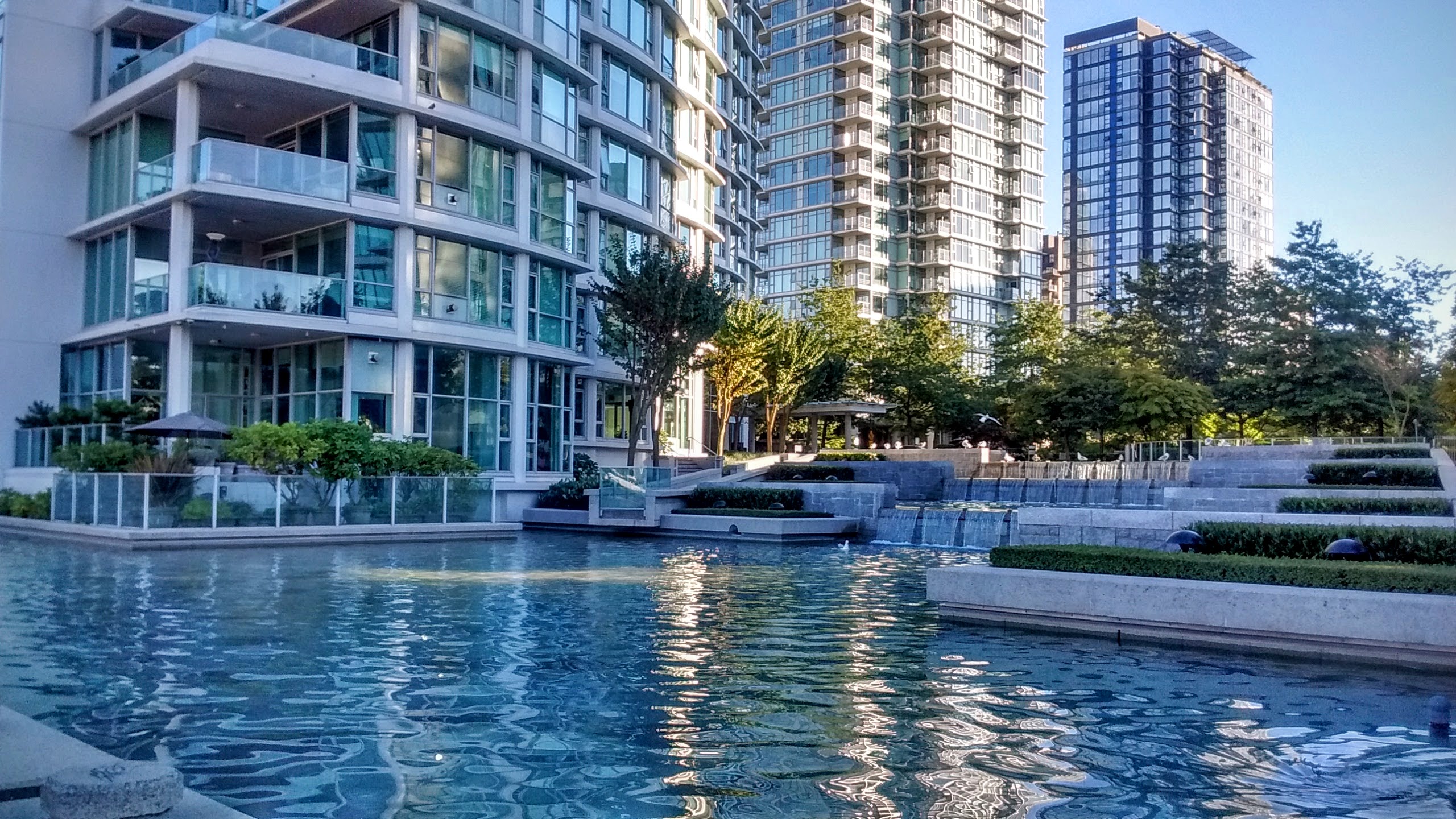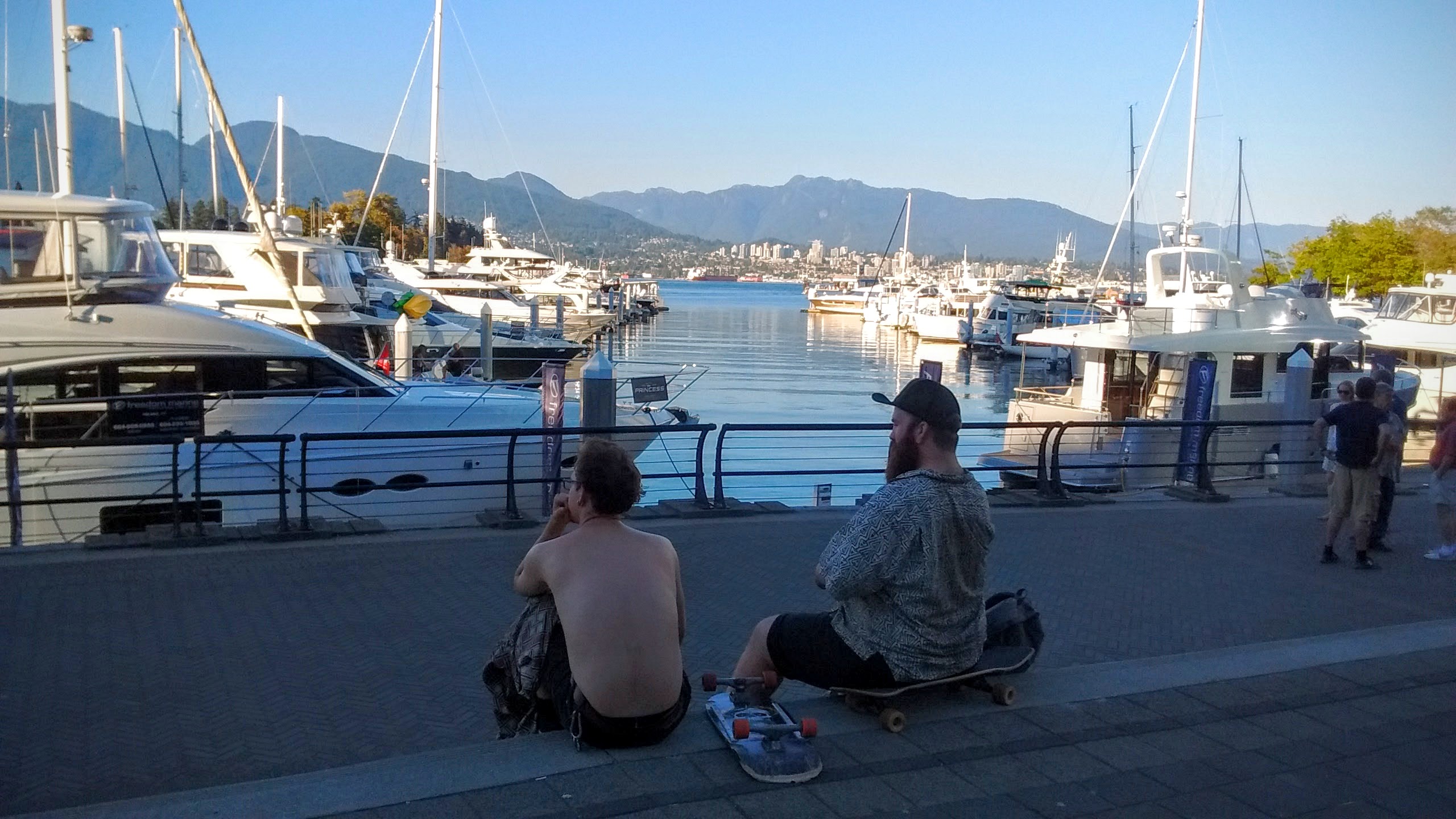 Passing the landmark Canada Place.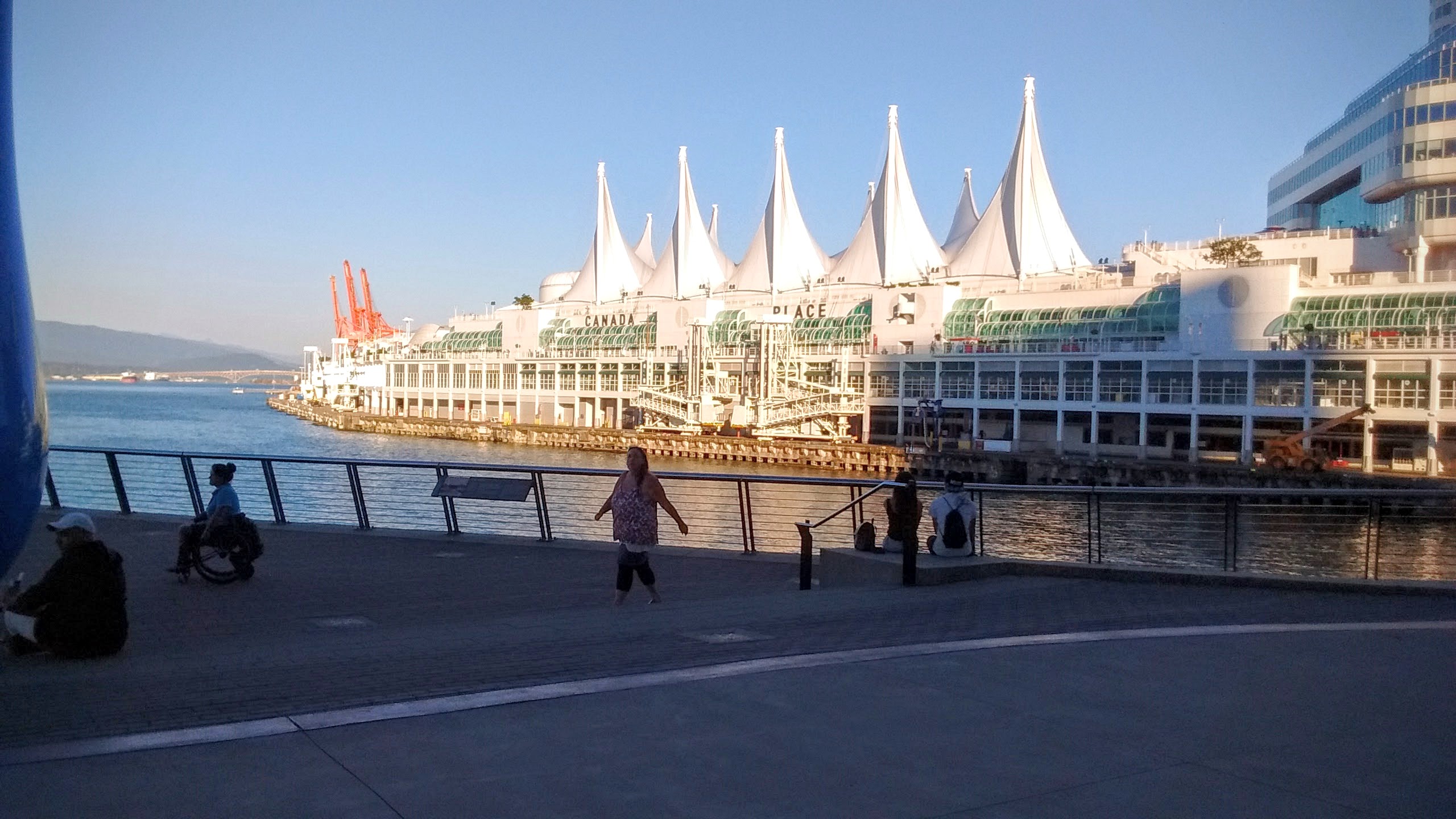 Blazing through Gastown's West Cordoba street, the only section of the route without a designated bike path.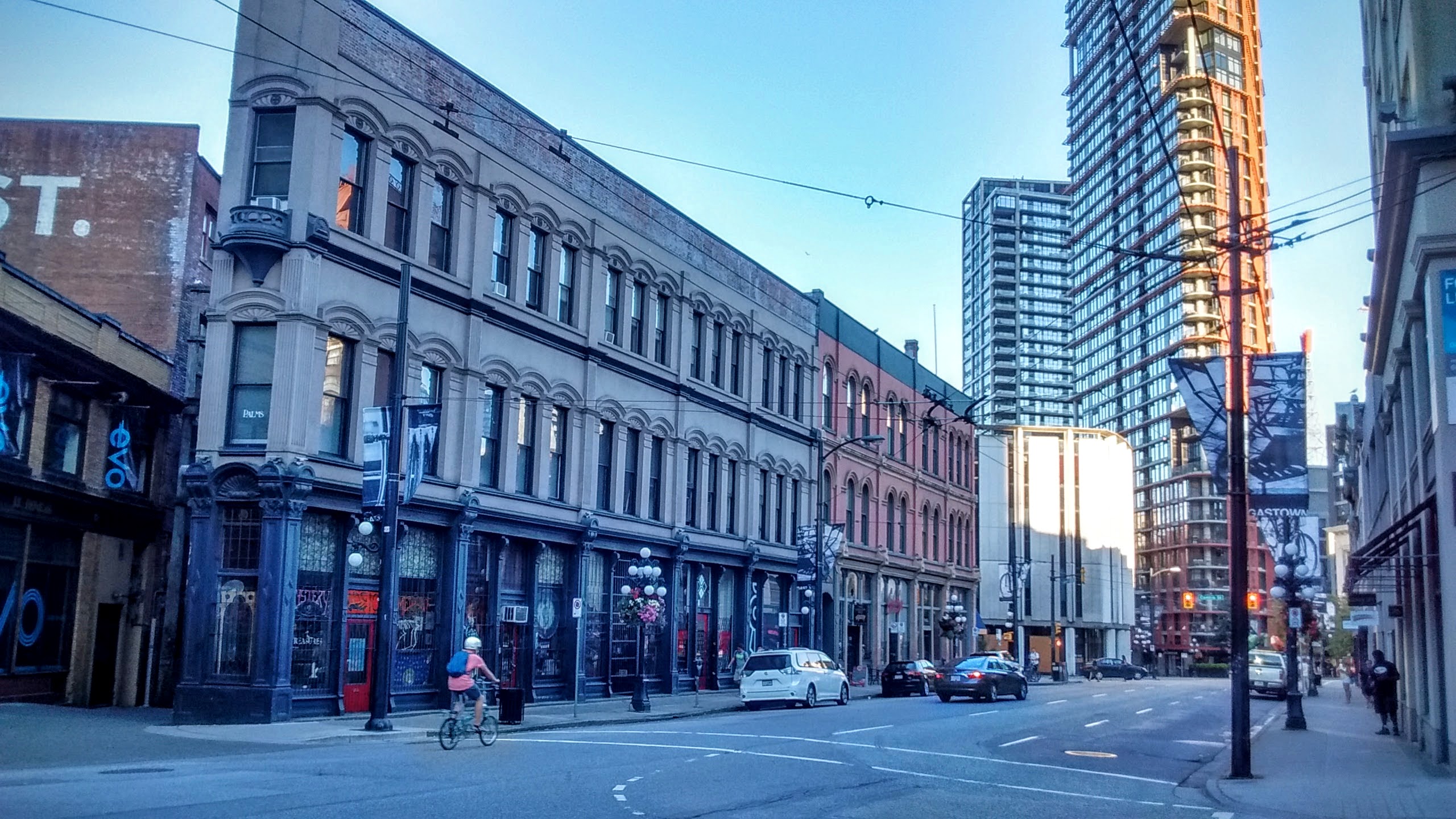 Picking up a bike lane on the corner of Carral street, we now ride south towards East Hastings, passing the homeless that survive on the street.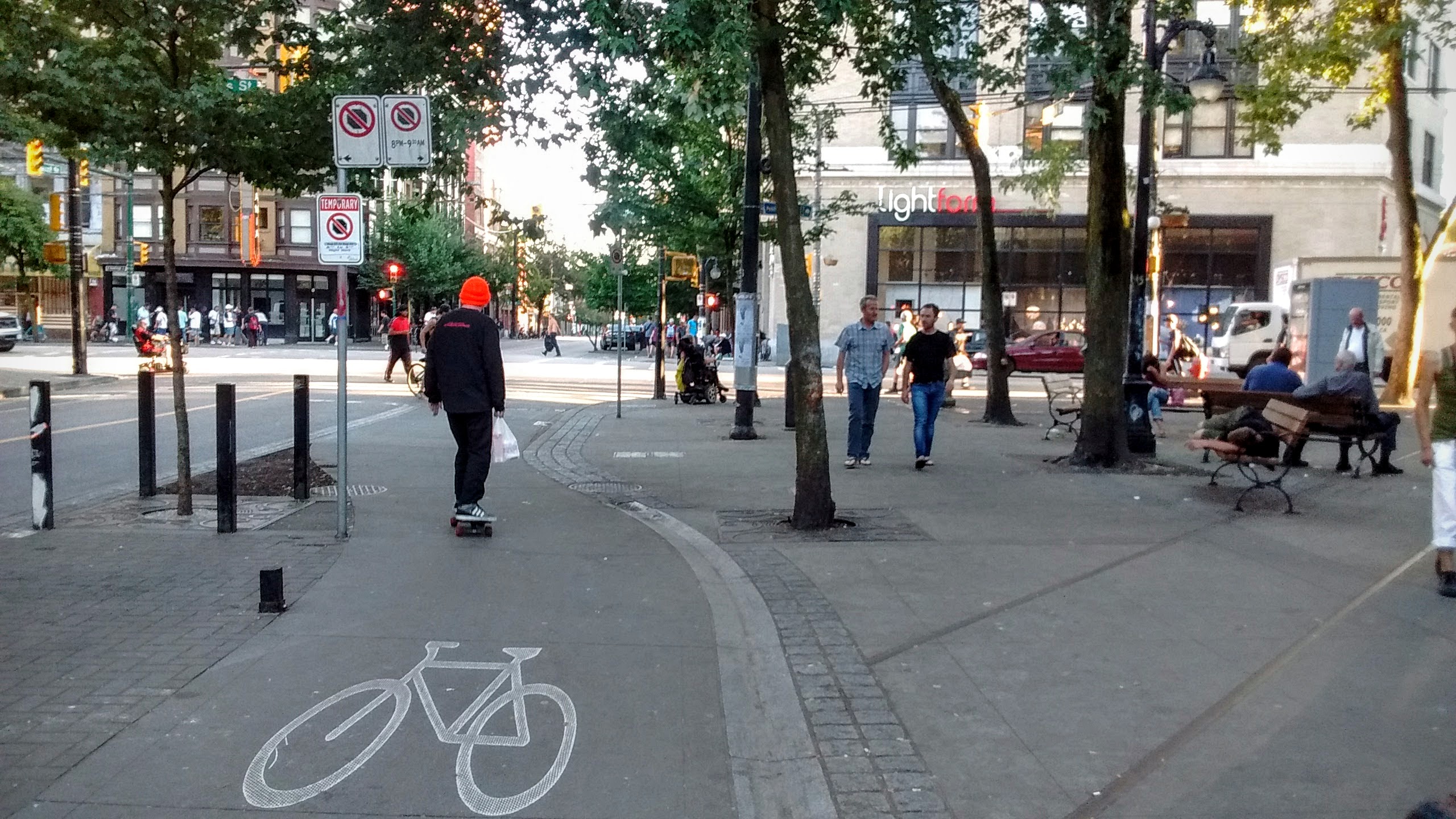 Passing under the SkyTrain overpass (and thanks to Google Photos for stitching together the panorama shot).

And we are back in False Creek, completing our circle around downtown.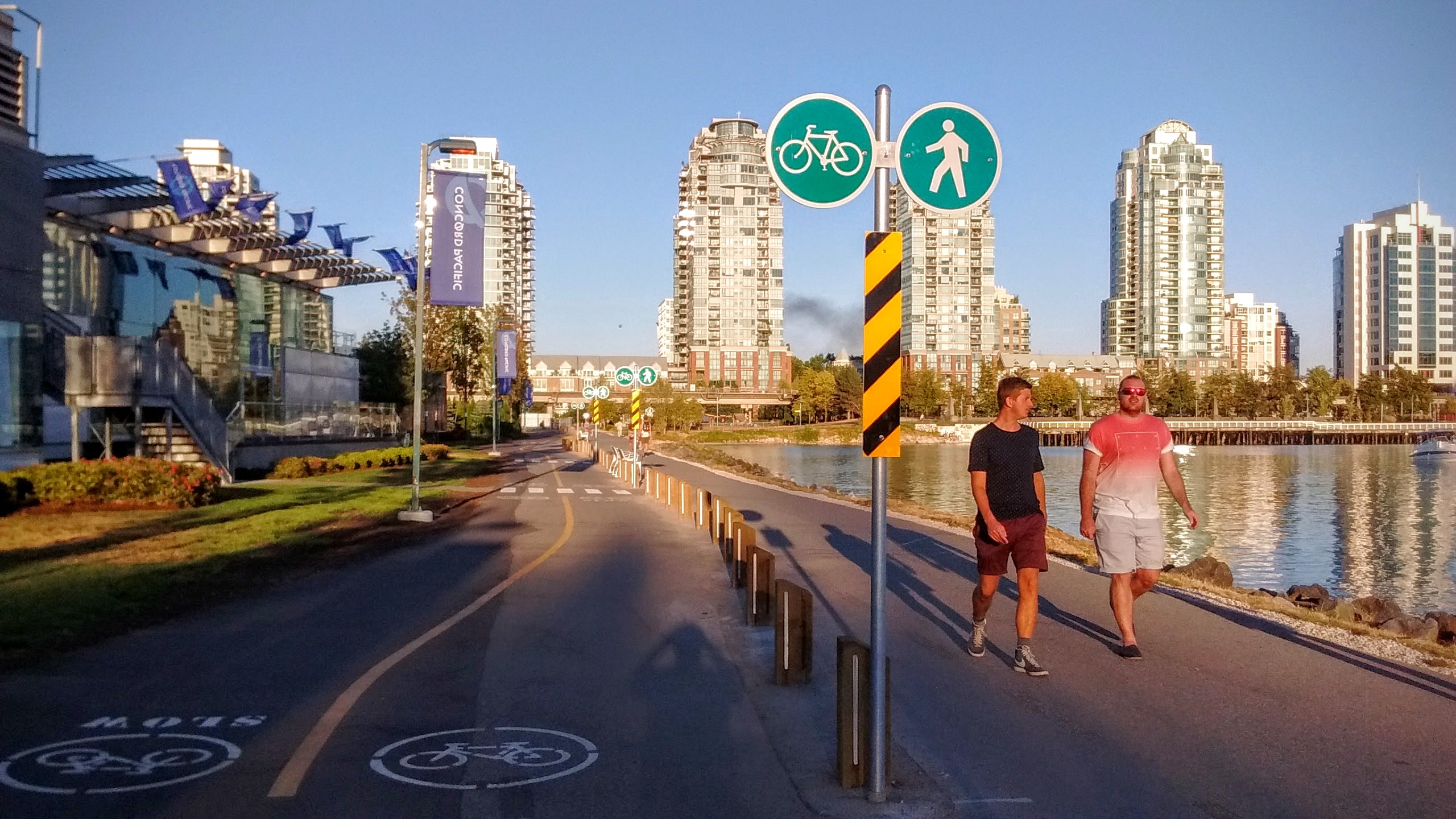 What are your favorite biking routes in Vancouver? Feel free to share in the comments.