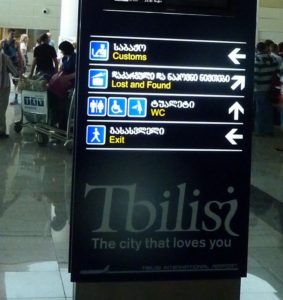 As we stepped out of the plane and into the Tbilisi airport, one of the first things we noticed is the surprising city slogan of Tbilisi. It certainly made us smile, but as we were making our way through Georgia, meeting it's people and experiencing it's culture firsthand, we learned that it's more than just a cute marketing slogan.
A cheap 30-minute bus ride from the airport to the city center (just 0.5 lari which is roughly $0.3) revealed a city in love with statues and monuments.
Finding our hostel wasn't easy – even taxi drivers didn't know where Kahabidze street was. Seeing we were lost, a local man called city information center and guided us to the correct direction. Our hostel, spartan but cheap was on a quiet street, 2 minutes walk from Tbilisi's central Rustaveli avenue.
That evening we took a taxi to the old town to meet with George – a friend of a friend who invited us to an off-street cafe where him and his friends hang-out. Our first meeting with Georgian hospitality was beyond our expectations: George and his friends showered us with warmth, attention, toasts and drinks. Turning my head I suddenly noticed inscriptions in Hebrew – by chance the cafe was just next door to a jewish synagogue. As if it was another way to make us feel home.
We dedicated the next day to see Tbilisi's highlights. Going down from Rustaveli avenue towards Freedom square (formerly Lenin square) we could sense the city's bubbling energy.
Old town on the left bank of river Mtkvari with it's mix of churches, busy streets and monuments is a happy mishmash.
The right bank of Mtkvari has changed quite a bit in recent years during Saakashvili reign. Adding to city's colourful palette we found it very appealing.
The gorgeous Tsminda Sameba church is a stark symbol of the post-soviet independence.
As we were making our way from the church downhill, the patriarch arrived
Stopping for a quick bite
The next day was raining heavily, but we still managed to explore Vake, Tbilisi's modern city center.
Political street art is seen often in Tbilisi:
Tbilisi markets are teeming with opportunities:
Next morning we packed and escaped for 4 days to the magnificent Kazbeg mountains. But we returned to Tbilisi 3 weeks later, just before leaving Georgia, and we had one last stop to make:
Next: we travel to Kazbegi, the gate to the Caucasus mountains