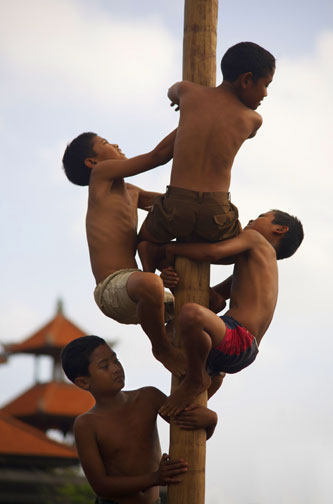 Recently I have been invited to participate in a panel of MBA graduates to discuss and share our experience during Global Strategic Management project (which I took last year) with fresh students. The project was supervised by Sid Amster, a remarkable American businessman , with phenomenal enthusiasm for sharing his experience with the students. Friendly, open and informal, he made sure that we felt that this was the most important course in the MBA.
During the project we were divided into groups, and each group was handed a real company with a real business challenge – be it penetrating new market, making a successful partnership, or finding a new way to monetize existing product.
The project involved a large amount of group effort – from doing an extensive research and contacting experts in the field (contacts that we graciously received from Sid), to preparing a hefty final report and a presentation.
As it turned out, the project was not only a great opportunity to meet a real business challenge, but not less importantly, it was a catalyzer of our group chemistry. When we started it, we were just 4 students sharing sympathy and common goals, but when we finished we were an organic and effectively-functioning mechanism, in which all parts contribute interdependently to create a symbiotic whole (pardon me for somewhat pompous metaphor 🙂 ).
When preparing for the panel, I started to think what really made us successful as a team. What was it that unleashed our creativity, and allowed us to become a "sharp team", as Sid jokingly called us. What I have come up with, while being somewhat superficial, can help to shade a light on the reasons why some groups succeed, while others fail miserably, not only in creating a solid effort, but more significantly, in maintaining relationships.
Disclaimer: nothing of this was planned or thought about in advance. The analysis is in retrospect, so we shouldn't be credited for being overly shrewd or perceptive , we were merely sensible and lucky.
Setting Up Ground Rules– beginning is a very delicate time. Dynamics that are set in motion in the beginning are usually perpetuated for the whole time, thus creating healthy fundamentals is crucial.

Respect – the basis for effective collaboration. Creating a good effort is important, but staying friends is more important. You can question someone's ideas and perceptions, but never question his competence
Openness and Flexibility – leave your ego at the door. Create an environment in which each member of the team feels safe to throw thoughts and ideas in the air without thinking twice. It doesn't mean that all ideas are good – mature people can take criticism, but only when they feel that their ideas received a fair chance, and their rejection was properly motivated
Enthusiasm and Duty – when everyone is passionate about making the best effort, and no one is a free rider, people feel obligated to each other. But when some people work harder than others, tensions appear. Each of us was very sensitive to  the amount of work others had to do. Whenever someone felt that his got less work then others, he felt obliged at least to acknowledge it, and often proposed to divide the work more fairly

Arguments can be creative – our best ideas and breakthroughs were born in an argument. When you have the right conditions (respect, openness, enthusiasm), arguments and heated discussions, instead of becoming a power play of egos, can become a source for synergy and insight
Dividing roles and responsibilities – each one has his own zone of comfort. Identifying roles each one is comfortable with will help create an organic team, in which each one finds his own place. In our group, Slava, being highly effective and organized person, was our natural manager and coordinator; I was speaker and editor; Pasha, with his resourcefulness and outgoing personality was our troubleshooter and energizer; Roma, the only real engineer in the group, was great with numbers and graphs
Synergy – often misused by MBA suits in slogans and corporate talk, its real meaning was somewhat lost for me, until we had some late night sessions working on the final report.  Our communication became so good in that point, and our mutual obligation so strong, that we literally functioned as a whole. One of us could throw an idea, someone else would contradict it, but then find some new fact to support it with. The first would switch to the 'contradiction camp', and others would voice their opinion. Quickly the team would make its mind and move forward. While that may seem as somewhat disorganized and chaotic work mode, that's exactly how synergistic effort looks like: chaotic process in larger context of harmony, that gives birth to highly structured results